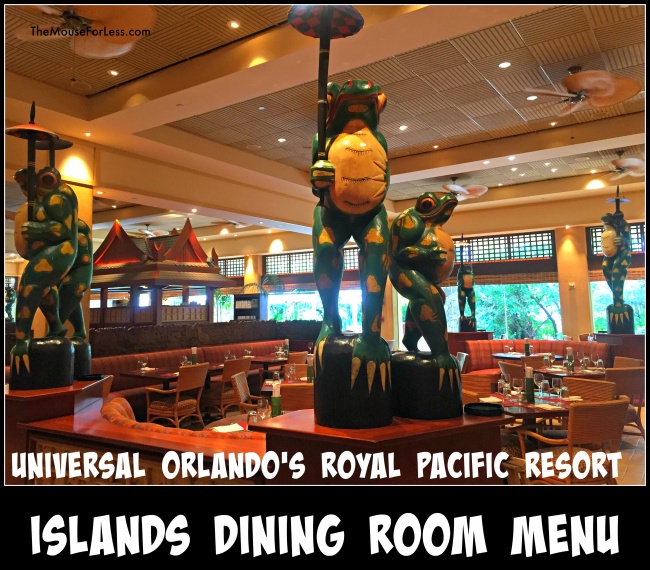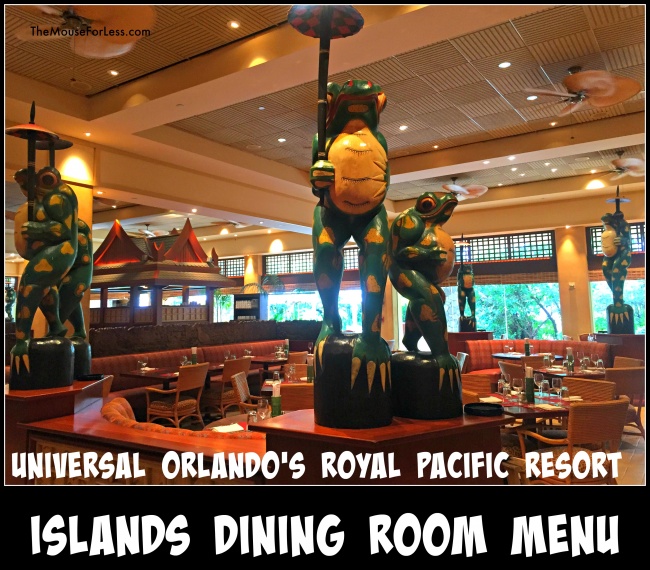 Welcome to the Polynesian Islands at Islands Dining Room! Islands Dining Room now features a wide array of traditional favorites for breakfast, as well as Polynesian-inspired delicacies. For dinner at Islands Dining Room, guests can enjoy Pan Asian cuisine with a modern twist, made with fresh, local ingredients. Enjoy tasty chef-inspired creations featuring noodle bar dishes, rice bowls, wok, and hibachi specialties at Islands Dining Room.
Islands Dining Room is located in the Loews Royal Pacific Resort. Find more Universal Orlando dining locations on our Universal Orlando Resort menus page.
Breakfast Menu Dinner Menu  Drink Menu
Hours of Operation
Breakfast: Monday – Friday: 7:00 am – 11:00 am; Saturday – Sunday: 7:00 am – noon
Dinner: Tuesday – Saturday: 6:00 pm – 10:00 pm; Sunday – Monday: Closed

Planning a Universal Vacation?
Islands Dining Room Menu – Breakfast
Menu Date 05/2021
Coffee & More
Fresh Juice
Choice of Orange, Grapefruit, Mango, Papaya, Cranberry, P.O.G, Guava, Pineapple, Apple, Tomato or V-8 – $4
Tea Forte
Choice of Earl Grey, English Breakfast, Chamomile Citron, Green Mango Peach, White Ginger Pear, Wild Berry Hibiscus – $4
Seattle's Best Coffee
Regular or Decaf – $4
Espresso – $4.25
Double Espresso – $5
Cappuccino & Specialty Coffee – $5
Imported Bottle Water – $4 | $7.50
Imported Sparkling Water – $4 | $7
The Bread Basket
Islands Continental
Chef's choice of market pastries, mixed berries and choice of Juice or Coffee – $13
New York-Style Bagel
Choice of Plain, Cinnamon Raisin or Everything – $5
Freshly Baked Muffins
Choice of Blueberry, Banana Nut, Chocolate or Macadamia Nut – $5
Fresh Griddle
Buttermilk Pancakes
Cinnamon Butter  – $14
Belgian Waffle
Mixed Berries and Sweet Butter – $14
Tahitian French Toast a L'Orange
Caramelized Bananas and Cinnamon Butter – $16
Breakfast Sides
Yukon Gold Breakfast Potato – $5
Pork Bacon or Sausage – $7
Turkey Bacon or Sausage – $7
Mixed Berries – $7
Farm Fresh Eggs
Loews Hotels & Co is proud to serve only HFAC and American Human Certified Cage-Free Eggs
Two Eggs Any Style
Choose One: Bacon, Pork Sausage or Grilled Ham – $14
Custom Omelet
Choose Up to Three: Tomato, Spinach, Onions, Bacon, Pork Sausage, Ham, Chorizo, American Cheese, Cheddar Cheese, Mozzarella, Mushrooms, Peppers – $15
Avocado Toast
Multi Grain Toast, Mashed Avocado, Buttermilk Blue Cheese and Two Poached Eggs – $14
Black Angus Steak & Eggs
6 oz Sirloin, Two Eggs Any Style and Bacon – $19
Healthy Alternatives
Egg White & Smoked Turkey Wrap
Baby Spinach, Mushrooms, Tomatoes – $15
Smoked Salmon
Toasted Bagel, Traditional Accompaniments – $17
Pacifica Fruit Platter
Tropical Fruit, Golden Pineapple, Fresh Berries, Banana Bread and choice of Vanilla Yogurt, Greek Yogurt or Cottage Cheese – $13
Tropical Fruit Parfait
Passion Fruit Yogurt, Toasted Coconut, Dried Fruit, Granola – $9
Irish Steel Cut Oatmeal
Golden Raisins, Cinnamon, Brown Sugar – $7
Dry Cereals – $6
Organic Kashi – $7
Gluten Free Options
Pancakes
Mixed Berries, Cinnamon Butter – $16
Breakfast Pizza
Two Sunny Side Up Eggs, Turkey Sausage, Peppers, Mushrooms – $15
From The Bakery
Choice of Toast, Bagel, English Muffin or Cinnamon Sugar – $5
Enjoy Bottomless Cocktails
Mimosas and Bloody Marys – $15
Islands Dining Room Menu – Dinner
Menu Date 05/2021
Starters
Krab Rangoon (N)
Cream Cheese, Krab, Thai Sweet Chili Sauce – $9
Vegetable Spring Rolls (V, N, D)
Shredded Napa Cabbage and Carrots – $9
Pork Potstickers (N, D)
Seasoned Pork, Carrots, Soy Dipping Sauce – $9
Soup and Salad
Coconut Soup (N, D, GF)
Sweet Coconut, Lemongrass, Ginger, Light Broth – $
Crunchy Thai Salad (D, GF, V)
Mixed Greens, Peppers, Carrots, Edamame, Bean Sprouts, Crunchy Peanuts, Thai Peanut Dressing – $12
add chicken – $6
add shrimp – $9
Asian Chopped Salad (D, GF, V)
Napa Cabbage, Carrots, Peppers, Snow Peas, Toasted Sesame Seeds, Ginger Soy Vinaigrette – $12
add chicken – $6
add shrimp – $9
Chef Specialties
Korean Bulgogi Ribeye (D, N, GF)
Cilantro Rice, Broccolini – $38
General Tso's Chicken (N)
Crispy Chicken, Broccoli, Jasmine Rice, Green and Red Peppers, Onions, Spicy and Tangy Sauce – $20
Sixty South Salmon Bowl (N, D)
Webb's Honey, Pickled Vegetables, Edamame, Cilantro Rice, Carrots, Sambal Oelek, Wilted Spinach – $32
Mongolian Beef (N, D)
Stir-Fried Beef, Scallions, Jasmine Rice, Onions, Shitake Mushrooms, Oyster Sauce – $22

Noodles & Rice
Shrimp Pad Thai (D, GF)
Seasonal Vegetables, Tamarind, Egg, Rice Noodles, Roasted Peanuts – $24
Red Curry Chicken(N, D, GF)
Snow Peas, Red Onions, Peppers, Squash, Thai Basil, Jasmine Rice – $20
Tofu Broccoli Lo-Mein (V, N, D)
Crispy Tofu, Seasonal Vegetables, Mirin, Sweet Soy Glaze – $18
N – Nut Free ~ D – Dairy Free ~ GF – Gluten Free 
Dessert
Jumbo Pineapple Doughnut
Homemade Donut filled with Pineapple Cream and Topped with Coconut Ice Cream – $12
Kona Coffee Macadamia Torte – $6
Yin & Yang Chocolate Oreo Cake – $6
Ginger Creme Brulee – $6
Islands Dining Room Menu – Drinks
Menu Date 01/2020
Wines – Red
Cabernet Sauvignon
Variety of Wines Available
Glass – $9 – $24 | Bottle – $34 – $185
Merlot
Variety of Wines Available
Glass – $14 | Bottle – $52 – $120
Pinot Noir
Variety of Wines Available
Glass – $9 – $16 | Bottle – $34 – $85
Malbec
Variety of Wines Available
Glass – $11 | Bottle – $40 – $68
Blends & More
Variety of Wines Available
Glass – $14 – $24 | Bottle – $40 – $160
Wines – Bubbly
Sparkling & More
Variety of Wines Available
Glass – $12 – $30 | Bottle – $44 – $150
Wines – White
Chardonnay
Variety of Wines Available
Glass – $9 – $14 | Bottle – $34 – $94
Sauvignon Blanc
Variety of Wines Available
Glass – $9 – $14 | Bottle – $34 – $120
More
Variety of Wines Available
Glass – $10 – $12 | Bottle – $36 – $70
Specialty Cocktails
Hollywood Martini
Grey Goose Vodka, Fresh Raspberries – $15
Royal Pacific Sunset
Myer's Dark Rum, Malibu Rum, Oasis Pina Colada, Oasis Mango, Oasis Strawberry – $15
The Bees Knees
Aviation Gin, Honey Simple Syrup, Lemon Juice, Agave Nectar – $15
Royal Martini
Ketel One Vodka, Dry Vermouth, Olive Juice, Blue Cheese Stuffed Olives – $15
Island Mai Tai
Diplomatico Planas Rum, Amaretto, Orange Juice, Pineapple Juice, Cranberry Juice – $15
Royal Blue
Bacardi Coconut Rum, Blue Curacao, Pineapple Juice – $15
Jake's Margarita
Patron Silver, Cointreau, Orange Juice, Fresh Lime Juice – $15
Paradise Sangria
Lunetta Prosecco, Absolute Citron Vodka, Lemon Juice, Peach Puree, Lemon-Lime Soda – $15
Cucumber Kiss
Ketel One Botanicals Cucumber Mint Vodka, Sweet & Sour, Lime Juice, Agave Nectar – $15
Side Car
Martell Blue Swift Cognac, Cointreau, Simple Syrup, Lemon Juice – $15
Sangria Sunset
Ketel One Vodka Botanical Peach Orange Blossom Vodka, Invitation Cabernet, Orange Juice, Pineapple Juice, Lemon-Lime Soda – $15
Beers
Draft
Jake's Original Red Lager, Voodoo Ranger IPA, Stella Artois Pale Lager, Blue Moon Wheat Ale, Michelob Ultra – $8 – $8.50
Craft
Bid Top Hawaiian Lion Porter, Bold City Mad Manatee IPA, First Magnitue Wakulla Hefewizen, Islamorada Island Ale, Ivanhoe Park Joyland IPA – $7.50
Draft Beer
Seasonal Selection Drafts
Please ask your server for current drafts
** Islands Dining Room Menu Items and Prices are Subject to Change **