Universal Orlando Resort Restaurants | Loews Royal Pacific Resort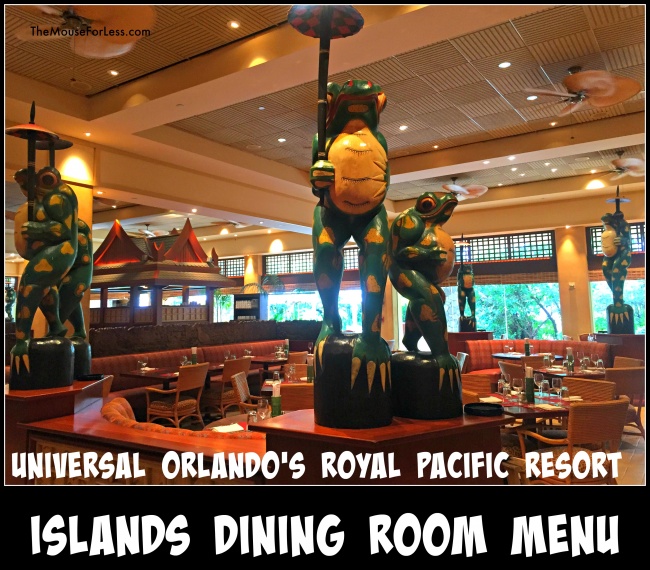 Welcome to the Polynesian Islands! Islands Dining Room now features a wide array of traditional favorites for breakfast, as well as Polynesian-inspired delicacies. For dinner at Islands Dining Room, guests can enjoy Pan Asian cuisine with a modern twist, made with fresh, local ingredients. Enjoy tasty chef-inspired creations featuring noodle bar dishes, rice bowls, wok and hibachi specialties at Islands Dining Room.
Open daily for breakfast Mon-Fri 7:00am – 11:00am; Sat & Sun 7:00am – noon
Open daily for dinner 6:00pm – 10:00pm
Restaurant Info: American/Breakfast, Dinner/$$$$
Breakfast Menu Kids Breakfast Menu
Islands Dining Room Menu – Breakfast
Menu Date: 5/2017
Hot Off the "Press"
Seattle's Best Regular or Decaf Coffee – $4
Cappuccino – $5
Espresso – $4.25
Double Espresso – $5
Tazo Hot Teas
Earl Grey, Decaf Chai, English Breakfast, Green Tea, Chamomile, Mint – $3.50
Juices
Fresh Orange, Fresh Grapefruit – $4
Pineapple, Tomato, Apple, V-8, or Cranberry – $3
Mango, Papaya, P.O.G., or Guava – $4
Fiji Water – sm $4 , lg $7
San Pellegrino – sm $4 , lg $7
Red Bull Energy Drink – $5
Soft Drinks & Iced Tea – $3
Milk – $2.75
Smoothie – $6
Kamehameha's Specialties
Treat yourself like Ali'l with all you can drink Champagne, Mimosas, and Bloody Marys – $12
Bread Basket
Islands Continental – Fresh orange, mango or grapefruit juice, breakfast pastries with butter and preserves, coffee, tea, or milk – $12
Bagel and Cream Cheese – $4
Toast or English Muffin – $3
Breakfast Pastries – $4
Freshly Baked Muffins – $4
Farm Fresh Eggs – all egg entrees served with Yukon Gold breakfst potatoes
Two Eggs
Choice of bacon, sausage, or grilled ham – $12
Custom Omelet
choose three: tomatoes, spinach, onions, bacon, sausage, ham, cheddar cheese, American cheese, chorizo, mozzarella, mushrooms, peppers – $13
Egg White Vegetarian Omelet
spinach, mushrooms, tomatoes – $13
Classic Eggs Benedict
toasted brioche, two lightly poached eggs, Canadian bacon, hollandaise, fresh asparagus – $13
Heirloom Tomato Benedict
English muffin, heirloom tomato, shaved prosciutto, baby spinach, two lightly poached eggs, pesto hollandaise – $14
Paleo Smoked Brisket Hash
slow smoked beef brisket, sweet potato, onion and peppers, two sunny-up eggs, and a side of avocado, tomato-arugula salad – $16
Black Angus Steak & Eggs
6 oz. sirloin, applewood smoked bacon, two eggs any style – $17
Islands "BAT" Egg Sandwich
crisp bacon, arugula, tomato, and fried eggs on Texas toast with melted provolone – $13
Griddle
Buttermilk Pancakes
cinnamon butter and maple syrup – $12
Belgian Waffle
mixed berries, sweet butter, maple syrup – $13
Signature Dishes
Hawaiian Pancakes
toasted coconut, golden pineapple, roasted macadamia nuts – $12
Tahitian French Toast a L'Orange
caramelized bananas, sweet cinnamon butter – $13
Fruit & Cereals
Dried Tropical Fruit Granola Parfait
passion fruit yogurt, toasted coconut – $7
Banana Split
berries, vanilla bean yogurt, granola sprinkles – $8
Pacifica Fruit Platter
tropical fruit, golden pineapple, berries, banana nut bread, choice of vanilla yogurt, Greek yogurt, or cottage cheese – $12
Red Hill Groves Grapefruit Half – $5
Mixed berries – $6
Dry Cereals – $5
Irish Steel Cut Oatmeal with Raisins & Cinnamon – $6
Gluten Free
Gluten Free Pancakes
mixed berries, sugar free maple syrup – $14
Gluten Free Breakfast Pizza
turkey sausage, peppers, mushrooms, two eggs sunny side up – $12
Gluten Free Bagel – $6
Gluten Free Cinnamon Sugar Donut – $5
Gluten Free Toast or English Muffin – $5
Healthy Alternatives
Egg White and Smoked Turkey Wrap
baby spinach, mushrooms, tomatoes – $12
Smoked Salmon
toasted bagel and traditional accompaniments – $14
Sides
Two Eggs Any Style – $7
Turkey Sausage Links – $4
Yukon Gold Potato Hash – $4
Hash Browns – $4
Cottage Cheese or Fruit Yogurt – $4
Turkey Bacon – $6
Islands Dining Room Menu – Kids Breakfast
Menu Date: 5/2017
Breakfast Entrees
Aloha Golden Waffles
with strawberries – $7
Lil' Kahuna Pancakes
with fresh strawberries – $7
Islands Scrambled
eggs-n-cheese with bacon, potatoes, and toast  (whole wheat & seven grain bread available) – $8
Hula French Toast
powdered sugar and maples syrup (sugar free syrup also available) – $7
Surfer Duke's Snack Cereals
rice krispies, fruit loops, frosted flakes, cocoa puffs, raisin bran, special K, wheaties, cheerios – $5 ea.
Loews Loves Healthy Kids
Strawberry and Banana Puree – $6
Broccoli and Carrot Puree – $6
Fun Fruits
seasonal melons and berries – $4
Irish Steel Cut Oatmeal
with raisins and cinnamon – $4
Dried Tropical Fruit Granola Parfait
with peach or strawberry yogurt & toasted coconut – $4
Gluten Free is for Me
Gluten Free Pancakes
with fresh strawberries – $7
Gluten Free Donut
cinnamon sugar – $5
Loews Healthy Drinks
Pink Cow
fresh strawberries & skim milk – $4
Champion Power Drinks
orange or apple juice, whole, skim or chocolate milk, soda, hot chocolate – $3 ea.
Fiji Bottled Water – $4
Islands Dining Room Menu – Dinner
Menu Date: 5/2017
Starters
Salt & Pepper Calamari N
fried calamari , togarashi spice, seasonal vegetables, masago aioli – $12
Crab Rangoon N
crab, cream cheese, thai sweet chili sauce – $9
Coconut Shrimp N, S
apricot Thai chili sauce – $11
Steam Pork Buns D, N
plum glaze, roasted pork, picked vegetables – $10
Beef Satay D
grilled beef skewers, peanut dipping sauce – $10
Chicken Yakitori N,D,GF
grilled chicken skewers in a traditional Yakitori sauce – $9
Vegetable Spring Rolls N,D
shredded napa cabbage and carrots – $8
Pork Potstickers N,D
seasoned pork, carrots, soy dipping sauce – $9
Soups and Salads
Thai Coconut Soup D,GF
sweet coconut, lemongrass & ginger in a light broth – $8
Kobacha Squash Soup D, N
$8
Asian Chopped Salad N,D,GF
napa cabbage, carrots, peppers, snow peas, toasted sesame seeds, ginger soy vinaigrette – $12
Add chicken – $18
Add shrimp – $22
Seven Leaf Salad N,D,GF
organic baby greens, cucumbers, carrots, grape tomatoes, choice of dressing – $12
Add chicken – $18
Add shrimp – $22
Rice and Noodles
Shrimp Pad Thai D,GF
rice noodles, roasted peanuts, tamarind sauce, egg, seasonal vegetables – $22
Teriyaki Beef Stir Fry N,D,GF
onions, baby corn, carrots, straw mushrooms, peppers, jasmine rice – $20
Tofu & Broccoli Lo Mein N,D,
peppers, carrots, broccoli, lo mein noodles – $18
Green Curry Chicken N,GF
snow peas, red onions, peppers, squash, Thai basil, jasmine rice – $17
Wok Experience
Join us on select nights for an all-you-care-to-eat, create-your-own stir-fry buffet, including a customized salad bar and Asian inspired soup station.

Chef Specialties
Filipino Shrimp Adobo Bowl N, S
grilled shrimp, black pepper fried rice, vegetables, tangy adobo sauce – $22
Spicy Ahi Tuna
Togarashi spiced tuna, forbidden black rice, edamame puree, broccolini & sweet chili lime vinagrette, seared rare – $32
Korean Bulgogi Ribeye 
black pepper fried rice, broccolini, kimchee relish – $35
Mongolian Beef N,D, S
stir-fried beef, onions, scallions, shitake mushrooms, oyster sauce, jasmine rice – $20
Kung Pao Chicken or Shrimp S
chicken or shrimp, green and red peppers, onions, straw mushrooms, peanuts, jasmine rice
Chicken – $18
Shrimp – $22
General Tso's Chicken N, S
crispy chicken, onions, broccoli, green and red peppers in a spicy sauce, jasmine rice – $18
Shrimp & Pork Singapore Style Noodles
carrots, snow peas, red onions, bean sprouts, scallions – $22
Pork Ramen Noodles
roasted pork, enoki mushrooms, soft boiled egg- $20
N –  Nut Free ~ D – Dairy Free ~ GF – Gluten Free ~ S ~ Spicy
Desserts
Jumbo Pineapple Doughnut
homemade donut filled with pineapple cream, coconut ice cream – $12
Pineapple-Coconut Candied Ginger Flan – $6
Yin & Yang Chocolate Oreo Mousse Cake – $6
Five Spiced Caramelized Banana Cream Pie – $6
Mango Crepes Samurai, White Chocolate Gelato – $6
Flavors of the Islands
The Golden Monkey
Bacardi Superior, Meyer's Dark, Bacardi 8 year, Lime, Pineapple, Papaya, Sugar – $15
Boragora
Hangar One Kaffir Lime, Goslings Ginger Beer Mint, Blackberries, Raspberries, Agave Nectar – $13.50
South Pacific
Square One Basil, Canton Ginger, Lime, Agave Nectar, Pineapple Juice, Basil – $13.50
Jake's Signature Cocktails
Strawberry Mule
Reyka, Goslings Ginger Beer, Lime Juice, Fresh Strawberries – $15
Mojito
Bacardi Tangerine, Mint, Simple Syrup, Soda, Lime – $15
Margarita
Milagro Barrel Select, Grand Marnier, Sour, Lime, Orange Juice – $15
Island Sunset
Bacardi 8 year, Galliano, Lime, Goslings Ginger Beer – $15
Iced Tea
Old Smoky Sweet Tea Moonshine, Grand Marnier Lemonade, Lemon – $15
Bottle Beer
Domestic – $6
Budweiser, Bud Light, Bud Light Lime, Coors Light, Miller Light, Michelob Ultra, O'Douls
Specailty/Import – $7.25
Blue Moon, Sam Adams, Crispin Cider, Amstel Light, Bass Pale Ale, Corona, Corona Light, Guinness, Heineken, Heineken Light, New Castle Brown Ale,  Stella Artois
Draft Beer & Islands Wines
Seasonal Selection Drafts
Please ask your server for current drafts
Islands Wines
Reds
Context, Pinot Noir – $9 glass, $34 bottle
Lyric by Etude, Pinot Noir  -$16 glass, $62 bottle
Domain Cameros, Pinot Noir – $75 bottle
14 Hands, Merlot – $10 glass, $40 bottle
Decoy, Merlot – $78 bottle
Hess Treo, Red Blend – $13 glass, $48 bottle
Conundrum, Red Blend – $62 bottle
Franciscan Magnificat, Red Blend – $135 bottle
Context, Cabernet Sauvignon – $9 glass, $34 bottle
14 Hands, Cabernet Sauvignon – $10 glass, $40 bottle
Silver Palm, Cabernet Sauvignon – $52 bottle
Justin, Cabernet Sauvignon – $62 bottle
Trivento, Malbec – $10 glass, $40 bottle
Tempranillo, Rioja Vega – $40 bottle
Rancho Zabaco, Zinfindel – $44 bottle
Antinori, Super Tuscan – $65 bottle
Bubbly
Chandon 187ml – $17 bottle
Stella Di Notte, Prosecco – $12 glass, $48 bottle
Zardetto, Prosecco – $52 bottle
Veuve Clicquot "Yellow Label" – $150 bottle
Dom Perignon, Champagne – $295 bottle
Whites
Saint M, Riesling – $11 glass, $42 bottle
Ruffino D'Asati, Moscato – $12 glass, $48 bottle
Laurenz V, Veltliner – $12 glass, $48 bottle
Context, Savignon Blanc – $9 glass, $34 bottle
Brancott, Sauvignon Blanc – $11 glass, $42 bottle
Loveblock, Sauvignon Blanc – $58 bottle
Banfi Le Rime , Pinot Grigio – $9 glass, $34 bottle
Hugel Pinot, Pinot Gris – $15 glass, $58 botle
Context, Chardonnay – $9 glass, $34 bottle
William Hill, Chardonnay – $9 glass,  $34 bottle
Edna Valley, Chardonnay – $11 glass,  $42 bottle
Joel Gott "Unoaked", Chardonnay – $15 glass, $58 bottle
Islands Dining Room Menu – Kids Dinner
Menu Date: 5/2017
Keki Cuisine
All children's meals have a choice of one side and a beverage – $12
Quesadilla
cheddar cheese available with grilled chicken, fish, or cheese
Hot Diggity Dog
Pasta
tomato sauce, meatballs, butter sauce
Grilled Cheese Sandwich
Kids Pizza
cheese, pepperoni, or vegetables
Chicken Tenders
100% Beef Cheeseburger
Surf's Up Sides
Zero Trans Fat Fries
Fresh Fruit Cup
Farm Fresh Garden Greens
Carrots and Celery Sticks
Apple Wedges
Steamed Broccoli
Kids Drinks
Pink Cow
strawberries & fat free milk
Strawberry Lemonade
Kiddie Mai Tai
pineapple & orange juices topped with grenadine
Hawaiian Fruit Punch
guava, mango & papaya juices
Champion Power Drinks
orange or apple juice, soda
Milk Choices
2%, skim, soy, whole or chocolate
Small Fiji Bottled Water
Little Frog Favorites
Build Your Own Sundae
one scoop of vanilla ice cream, oreo cookie crumbs, rainbow sprinkles & chocolate syrup – $5
Chocolate Chip Cookie – $4
Brownies – $4
Baby Puree
all natural, fresh made baby purees – $6
strawberry and banana or carrots and broccoli
** Islands Dining Room Menu and Prices are Subject to Change Without Notice **
Save