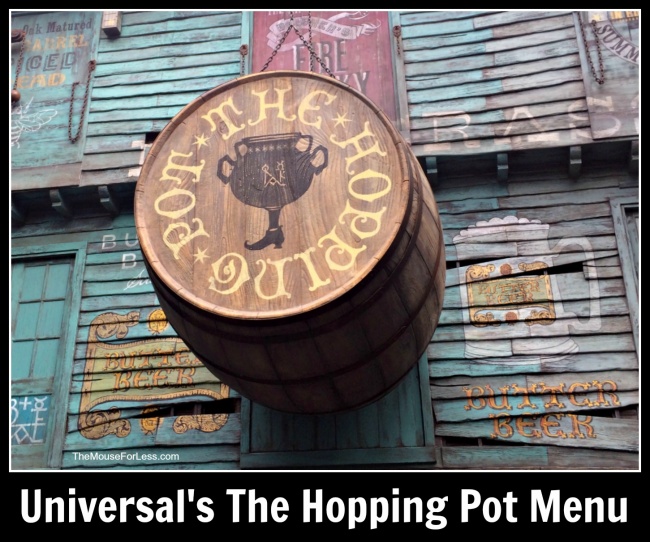 Don't miss the chance to grab a light snack or a wizard's drink at the walk-up counter located in Carkitt Market. The Hopping Pot menu offers a variety of drinks for muggles to choose from. Available options include Butterbeer (regular or frozen) and Pumpkin Juice, as well as some of the lesser-known beverages that are popular in the wizarding world.  This quick-service window also offers alcoholic choices like Fire Whiskey, Wizard's Brew and Dragon Scale. Located close to where Celestina Warbeck and the Banshees perform, The Hopping Pot is a convenient place to grab Butterbeer Ice-Cream before or after a live performance. The nearby picnic tables give you a great place to rest and people watch. Perhaps you can pick out the visiting muggles from the regular wizards and witches that frequent Diagon Alley.
The Hopping Pot is located in the Universal Studios Florida theme park. Find more Universal Orlando dining locations on our Universal Orlando Resort menus page.
Hours of operation vary. Check at the location or see Guest Services for details.
The Hopping Pot Menu
Menu Date 11/2022
Non-Alcoholic Drinks
Butterbeer – A non-alcoholic sweet drink reminiscent of shortbread and butterscotch – $7.99  (Refill $7.99)

Frozen Butterbeer – A non-alcoholic sweet drink reminiscent of shortbread and butterscotch – $7.99  (Refill $7.99)
Hot Butterbeer – A non-alcoholic sweet drink reminiscent of shortbread and butterscotch – $7.99
Tongue Tying Lemon Squash – Sweet and tart lemon flavored beverage served with squashed lemon – $5.49

Otter's Fizzy Orange Juice – Effervescent fresh orange beverage with notes of vanilla and cinnamon = $5.49

Fishy Green Ale – Smooth and creamy with notes of mint and cinnamon and popping blueberry fish eggs – $5.49
Peachtree Fizzing Tea – Fizzy but smooth with flavors of fresh peach nectar and ginger -$5.49
Pumpkin Juice – $4.99

Gillywater – $5.50
Coffee – $3.49
Hot Tea- $3.49
Alcoholic Drinks
Wine – choice of Chardonnay or Cabernet Sauvignon – $9.00
Draught Beer – Wizard's Brew, Dragon Scale, Stella Artois – $12.00

Fire Whiskey – $11.50

Food
Beef Pasties – $10.49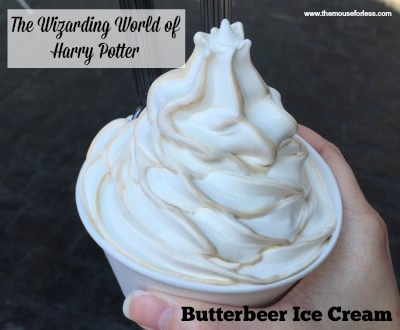 Butterbeer Ice-Cream – $5.49
Chips – $3.49
***The Hopping Pot Menu Items and Prices are Subject to Change***