"I do not like Green Eggs and Ham, I do not like them Sam-I-am." Even if you aren't brave enough for Green Eggs and Ham, there are other options for you at the Green Eggs & Ham Cafe. Enjoy a variety of tater tot options with toppings ranging from pizza favorites to green eggs and ham.
Green Eggs and Ham Cafe is located in the Islands of Adventure Theme Park. Find more Universal Orlando dining locations on our Universal Orlando Resort menus page.
Hours of Operation
Times vary, visit the location or Guest Services for details

Planning a Universal Vacation?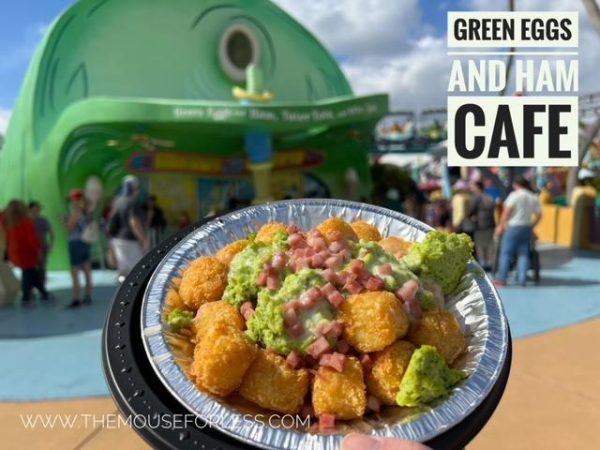 Green Eggs and Ham Cafe Menu
Menu Date 12/2022
Entrees
Carnitas Tots
Roasted pork, jalapenos, tomato salsa, scallions, lime crema and white cheese sauce over tater tots – $10.99

Pizza Tots
Pepperoni, sausage, mozzarella cheese, tomato sauce over tater tots – $10.49
Green Eggs & Ham Tots
Green eggs, diced ham, white cheese sauce over tater tots – $9.99
Buffalo Chicken Tots
Chicken tenders, mozzarella cheese, ranch and buffalo sauce over tater tots – $10.99
Who Hash
Corned beef, onions, white cheese sauce, scallions and tater tots in a Who Hash can – $14.99
Vegan Pizza Tots
Plant based pepperoni, sausage, mozzarella and parmesan cheese over tater tots – $10.49
Beverages
Fountain Soda
Coke, Coke Zero Sugar, Diet Coke, HiC Lemonade, Sprite, Root Beer, Fanta Orange – $4.19
Fuze Sweet Tea – $4.49
Minute Maid Lemonade – $4.49
Powerade
Fruit Punch or Mountain Blast – $5.00
Niagara Bottled Water – $3.75
***Green Eggs and Ham Menu Items and Prices are Subject to Change***