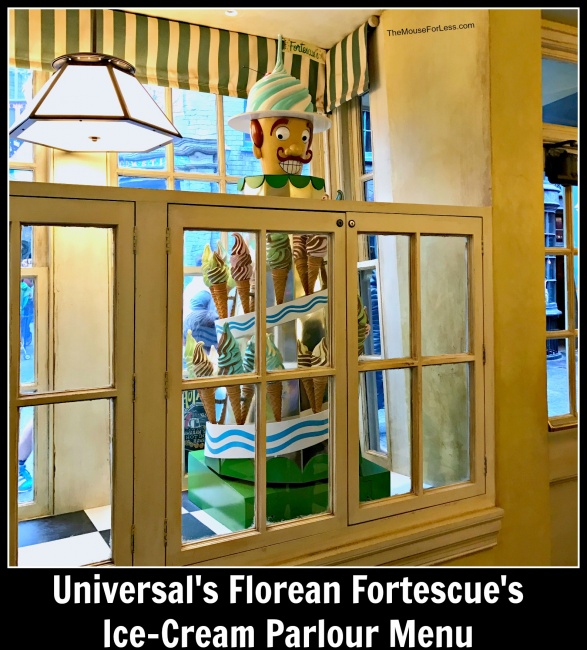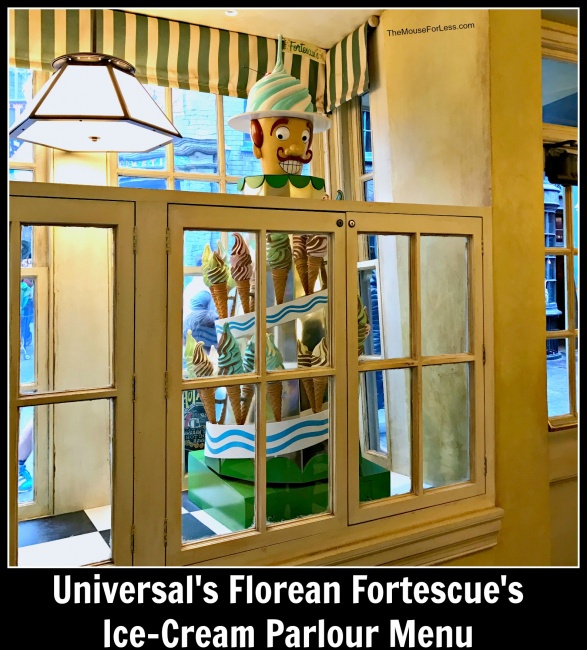 Florean Fortescue's Ice-Cream Parlour was a favorite spot for Harry, Ron, and Hermione when they visited Diagon Alley to get books and supplies for the new school year.  Now Wizards and Muggles can both enjoy the unique flavors on the menu.  For those who want something to drink, Pumpkin Juice is available in bottles along with ciders, teas, and water.  Stop by in the morning for an easy continental breakfast.
Florean Fortescue's Ice-Cream Parlour is located in the Universal Studios Florida theme park. Find more Universal Orlando dining locations on our Universal Orlando Resort menus page.
Hours of operation vary. Check with guest services or the location for times.

Planning a Universal Vacation?
Florean Fortescue's Ice-Cream Parlour Menu
Menu Date 12/2022
Features
Butterbeer Ice-Cream
Served in a Waffle Cone – $5.99
Served in a Souvenir Glass – $8.49
Chocolate Strawberry Peanut-Butter Sundae
Strawberry peanut-butter ice cream with hot fudge, whipped cream and shortbread crumbles. Served in a souvenir glass – $10.49
Soft Serve Ice-Cream
Banana, Chocolate, Granny Smith, Mint, Pistachio, Vanilla, Orange Marmalade, Toffee, Toffee Apple, Strawberries & Cream
Served in a Waffle Cone – $5.99
Served in a Souvenir Glass  – $8.49
Hard Pack Ice-Cream
Chocolate Chili, Apple Crumble, Vanilla, Salted Caramel Blondie, Chocolate, Clotted Cream, Earl Grey & Lavender, Sticky Toffee Pudding, Chocolate & Raspberry, Strawberry & Peanut Butter
Served in a Waffle Cone – $6.99
Served in a Souvenir Glass – $9.49
Sundaes
Served in a souvenir glass with whipped cream and a cherry
Hot Fudge Sundae – $10.49
Hot Caramel Sundae – $10.49
Strawberry Topping Sundae – $10.49
Toppings
Hundreds-and-Thousands, Shortbread Crumbles, Waffle Cone Pieces, Crystals, Chocolate Chips, Chopped Nuts – $1.19 each
***Florean Fortescue's Ice-Cream Parlour Menu Items and Prices are Subject to Change***