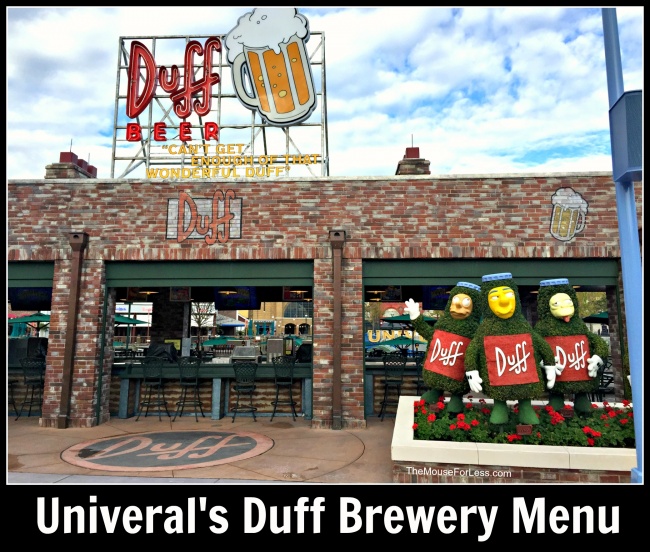 Relax Homer Simpson style at this open-air bar.  Enjoy clips from the Simpsons while enjoying the waterfront seating.   Make sure you take the time to check out the topiaries featuring the seven Duffs and don't miss the photo opportunity to become a Duff while posing with the statue of Duffman!  Duff Brewery is located in the Universal Studios Florida theme park. Find more Universal Orlando dining locations on our Universal Orlando Resort menus page.
Open daily from 11:00 am – Park Close

Planning a Universal Vacation?
Duff Brewery Menu
Menu date 10/2016
Sideshow Bob Foot Long
Footlong Nathan's Famous All-Beef hot dog with chili and cheese – $7.49
Sideshow Bob 2 Foot Long
2 Footlong Nathan's Famous All-Beef hot dog with chili and cheese – $11.99
Mom's Choice Fruit Cup
Fresh cut watermelon, cantaloupe, and honeydew – $3.39
Vegetable Tray
Carrots, celery, cherry tomato, zucchini, and broccoli served with low-fat ranch dressing – $4.99
Bagged Snacks
Lay's Potato Chips, Doritos Chips, Veggie Chips, Pretzels, Bagged Popcorn – $2.79
Peanuts – $1.99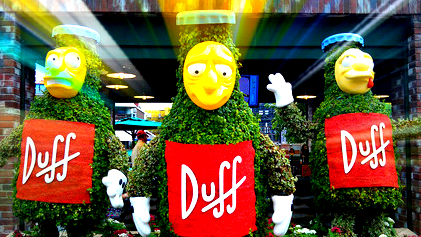 Non-Alcoholic Beverages
Mt. Swartzwelder Apple Drink
Apple Juice, Granny Smith Apple Syrup, Lemonade, and freshly brewed tea. Freshly prepared and served with a specialty garnish – $3.99
Groovy Grove Juice
Orange juice, Lemonade, Blood Orange Syrup, freshly prepared and served with a specialty garnish – $3.99
Mr. Teeny
Lemonade, Pineapple juice, and Blue Curacao Syrup freshly prepared and served with specialty garnish – $3.99
Flaming Moe
Signature Specialty Drink of Springfield, Non-Alcoholic – $7.99
Squishee
White Cherry, Raspberry Lemonade, Banana – $3.99
Buzz Cola
Zero Calorie Cherry Flavored Cola – $3.99
Fountain Beverages
Coca-Cola, Coca-Cola Zero, Diet Coke, Sprite, Fanta Orange, Root Beer, Hi-C Lemonade
Regular – $2.69
Large – $2.99
Bottled Water – $2.75
Alcoholic Beverages
Duff Beer (Hand Crafted, Locally Brewed)
Duff
American style amber lager, flavor of caramel and roasted malt – $6.50
Duff Lite
Traditional pilsner, smooth and refreshing – $6.50
Duff Dry
Toasted dark ale, full flavored, smooth and silky quality – $6.50
Frozen Beverages
Strawberry or Pina Colada – $3.99
** Duff Brewery Menu and Prices are Subject to Change Without Notice **