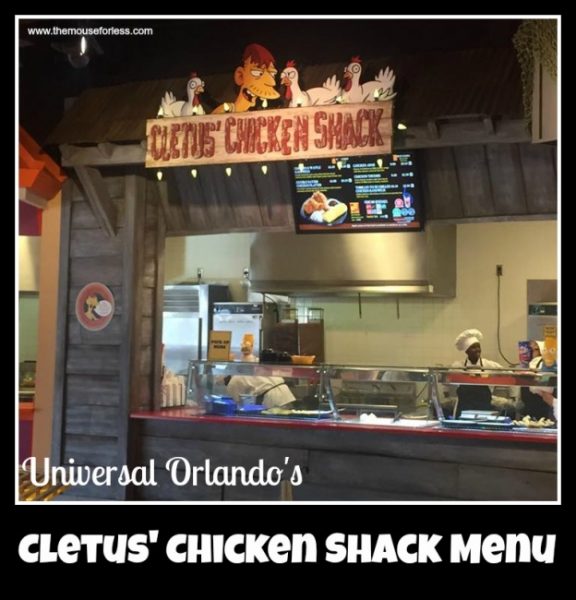 Cletus from The Simpson's serves up fried chicken even better than home cookin'. Cletus' Chicken Shack menu offers variations on everyone's favorite bird.  You can choose from different kinds of sandwiches, wings, tenders, or a platter.
Cletus' Chicken Shack is located in the Universal Studios Florida theme park. Find more Universal Orlando dining locations on our Universal Orlando Resort menus page.

Planning a Universal Vacation?
Cletus' Chicken Shack Menu
Menu Date 9/2022
Chicken
Combo includes entree, side and regular shake or Buzz Cola.  Platter includes entree and side.
Chicken & Waffle Sandwich Combo
Double battered, extra crispy fried chicken breast between two waffles with maple syrup mayo.  Served with tater tots and a regular shake – $17.99
Chicken & Waffle Sandwich Platter
Double battered, extra crispy fried chicken breast between two waffles with maple syrup mayo.  Served with tater tots – $14.49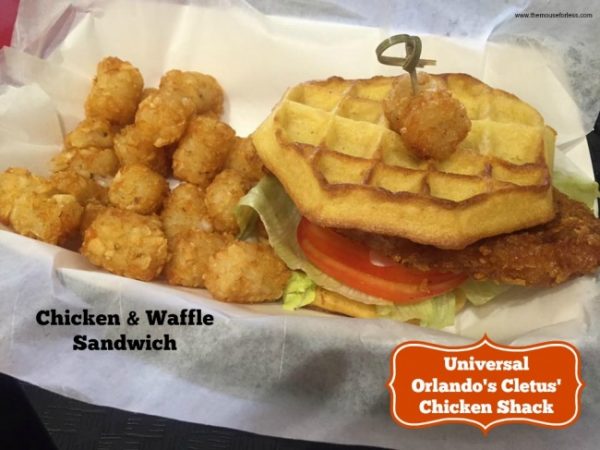 Double Batter Chicken Combo
Corn flake crusted battered fried chicken with mashed potatoes, corn on the cob & coleslaw.  Served with a regular shake – $17.49
Double Batter Chicken Platter
Corn flake crusted battered fried chicken with mashed potatoes, corn on the cob & coleslaw – $13.99
BBQ Chicken Arms Combo
6 BBQ chicken wings with bleu cheese, celery.  Served with tater tots and a regular shake – $16.99
BBQ Chicken Arms Platter
6 BBQ chicken wings with bleu cheese, celery.  Served with tater tots – $13.49
Buffalo Chicken Arms Combo
6 Buffalo chicken wings with bleu cheese, celery.  Served with tater tots and a regular shake – $16.99
Buffalo Chicken Arms Platter
6 Buffalo chicken wings with bleu cheese, celery.  Served with tater tots – $13.49
Chicken Thumbs Combo
Fried Chicken tenders with choice of BBQ sauce or honey mustard.  Served with tater tots and a regular shake – $15.99
Chicken Thumbs Platter
Fried Chicken tenders with choice of BBQ sauce or honey mustard.  Served with tater tots. – $12.49
Thrilled to be Grilled Chicken Sandwich Combo
Grilled chicken with lettuce & tomato on a specialty bun.  Served with tater tots and a regular shake – $16.49
Thrilled to be Grilled Chicken Sandwich Platter
Grilled chicken with lettuce & tomato on a specialty bun.  Served with tater tots – $12.99
Sides
Tater Tots – $4.49
Beverages
Coca-Cola Freestyle Souvenir Cup
Enjoy more than 100 drink choices and refills thru the day with the Coca-Cola Freestyle souvenir cup
Fountain Beverages
Coca-Cola, Coca-Cola Zero, Diet Coke, Sprite, Fanta Orange, Barq's Root Beer, Hi-C Poppin' Lemonade – $4.19
Buzz Cola
Zero Calorie, Cherry Flavored Soda – $4.79
H2O+ Premium – $5.50
Bottled Drinks
Selection of teas, smoothies and juices – from $2.89
Desserts
Milkshake
Choice of Chocolate, Vanilla or Swirled.
Regular – $3.99
Large – $5.99
Large Pink Frosted Donut with Sprinkles – $9.99
***Cletus' Chicken Shack Menu Items and Pricing are Subject to Change***