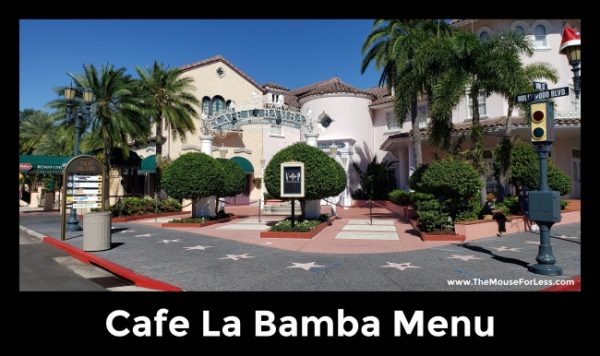 A fountain courtyard proceeds this beautiful building, inspired by the legendary Hollywood Hotel. The eye-catching quick service restaurant is home to a Southern California Mexican-inspired menu featuring burritos, tacos, bowls and the original Tres Leches served only at La Bamba.
Cafe La Bamba is located in the Universal Studios Florida theme park. Find more Universal Orlando dining locations on our Universal Orlando Resort menus page.
Universal Dining Plan participant.

Planning a Universal Vacation?
Cafe La Bamba's Menu
Menu Date 01/2023
Protein Choices
Pollo Asado-grilled chicken marinated in a blend of garlic, orange juice and lime juice
Baja Shrimp-seared shrimp seasoned with chile, coriander and cumin
Carne Asada-grilled beef seasoned with chile, coriander and cumin
Mojo Pork-braised pork cooked in a blend of garlic, orange juice and lime juice
Vegan Chorizo-plant based sausage with chile, smoked paprika and garlic
Portobello el Pastor-roasted mushrooms marinated in pineapple, chipotle and lime juice
Burritos
Deluxe Burrito
flour tortilla, cilantro rice, black beans, choice of protein, cheese and pico de gallo with guacamole, sour cream and roasted corn salsa – $15.99
Burrito
flour tortilla, cilantro rice, black beans, choice of protein, cheese and pico de gallo – $14.99
Vegan Deluxe Burrito
flour tortilla, cilantro rice, black beans, choice of protein, vegan cheese and pico de gallo with guacamole, vegan sour cream and roasted corn salsa – $16.49
Vegan Burrito
flour tortilla, cilantro rice, black beans, choice of protein, vegan cheese and pico de gallo – $14.99
Bowls
Deluxe Burrito Bowl
served in a bowl with no tortilla, cilantro rice, black beans, choice of protein, cheese and pico de gallo with guacamole, sour cream and roasted corn salsa – $15.99
Burrito Bowl
served in a bowl with no tortilla, cilantro rice, black beans, choice of protein, cheese and pico de gallo – $14.49
Salad
chopped romaine lettuce, choice of protein, cheese, pico de gallo and lime chipotle vinaigrette – $14.49
Deluxe Vegan Burrito Bowl
served in a bowl with no tortilla, cilantro rice, black beans, choice of protein, vegan cheese and pico de gallo with guacamole, vegan sour cream and roasted corn salsa – $15.99
Vegan Burrito Bowl
served in a bowl with no tortilla, cilantro rice, black beans, choice of protein, vegan cheese and pico de gallo – $14.49
Vegan Salad
chopped romaine lettuce, choice of protein, vegan cheese, pico de gallo and lime chipotle vinaigrette – $14.49
Tacos
Tacos
3 soft flour tortillas with choice of protein, cheese and pico de gallo – $13.49
Vegan Tacos
3 soft flour tortillas with choice of protein, vegan cheese and pico de gallo – $13.99
Sides and Extras
Fresh Salsa Flight – $6.99
hand cut Pico de Gallo, roasted corn salsa and spicy tomatillo with lime salted corn tortilla chips
Lime Salt Chips & Guacamole – $7.99
Lime Salt Chips & Queso – $6.99
 Lime Salt Chips
Side Guacamole
Side Queso
Side Salsa
Side Cilantro Rice
Side Black Beans
Side Baja Shrimp
Side Carne Asada
Side Mojo Pork
Side Pollo Asado
Side Portobello Al Pastor
Side Vegan Chorizo
Side Pico de Gallo
Side Sour Cream
Kids' Entrees
Kids Tacos
choice of meat, cheese, romaine lettuce, served with tortilla chips and fruit – $7.49
Kids Quesadillas
choice of chicken or cheese served with tortilla chips and fruit – $7.49
Desserts
Horchata Tres Leches Cake
vanilla cake soaked in horchata with dulce de leche – $5.99
Beverages
Fountain Soda
Coca-Cola, Diet Coke, Coke Zero Sugar, Cherry Coke, Sprite, Minute Maid Lemonade, Fanta Orange, Root Beer – $4.29
H20+ Premium – $5.50
Powerade  – $5.50
Fruit Punch, Mountain Berry Blast
Milk – $3.69
2% or chocolate
Minute Maid Juice – $3.29
apple or orange
Coffee, Hot Tea, Cocoa
choice of coffee, decaf, hot tea or hot cocoa
Espresso, Cappuccino
choose from a variety of espresso and cappuccino
Alcoholic Beverages
Bud Light – $9.50
Dominga Mimosa Sour – $10.00
High Noon Pineapple Seltzer – $11.25
Modelo – $10.50
Sierra Nevada Hazy Little Thing IPA – $11.50
Spellbound Cabernet Sauvignon – $9.00
Beringer Founder's Estate Chardonnay – $13.00
Fantinel Prosecco – $13.00
A to Z Riesling – $13.00
Sangria – $13.00
Wine Stream's Red Sangria, with blackberry and orange
Margarita – $14.50
El Jimador blanco tequila, Dekuyper triple sec, lime juice, agave nectar, sat, with a lime wedge
1925 Mimosa  – $13.00
Fantinel prosecco, triple sec and orange juice
Grapefruit Paloma – $14.00
El Jimador blanco tequila, lime juice, simple syrup, smoked sea salt, topped with Fresca and a lime wheel
Spicy Mango Margarita – $11.50
El Jimador blanco tequila, Gran Gala, mango, pineapple and lime juices, simple syrup, jalapeno extract, Hella smoked bitters, salt with a lime wedge
***Cafe La Bamba's Menu Items and Prices are Subject to Change***