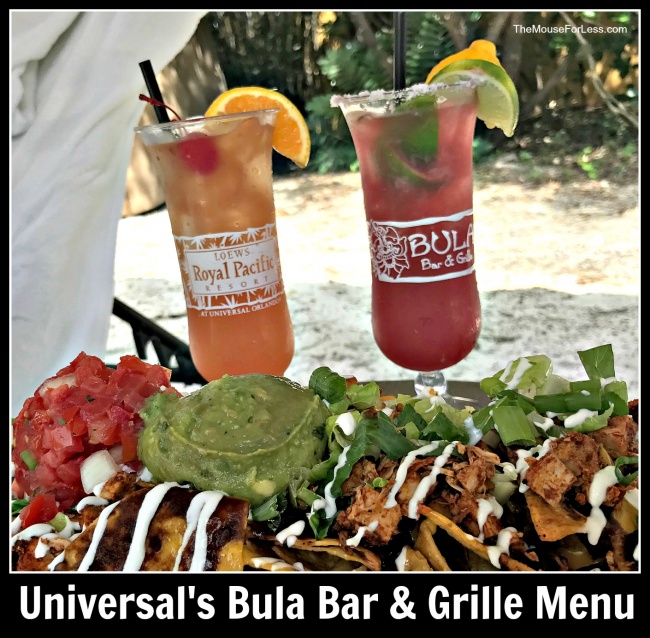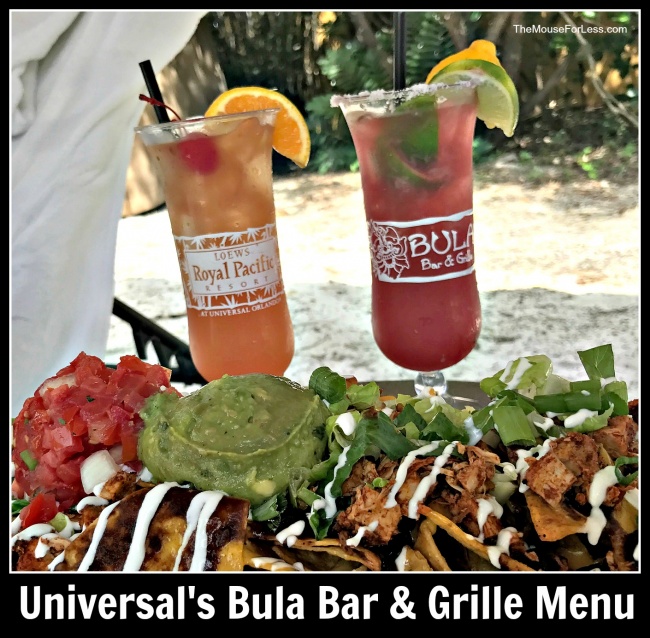 "Bula" is a greeting used to welcome people on the island of Fiji. The poolside atmosphere of Bula Bar & Grille will make you feel welcome as you spend time relaxing at the pool. The menu for Bula Bar & Grille has a tropical flair, but also offers familiar sandwiches and burgers.
Bula Bar & Grille is located in the Loews Royal Pacific Resort. Find more Universal Orlando dining locations on our Universal Orlando Resort menus page.
Hours of Operation
Monday – Sunday 11:00 am – 11:00 pm
Lunch & Dinner Menu Drink Menu

Planning a Universal Vacation?
Bula Bar & Grille Menu – Food
Menu Date 10/2022
Bula Starters
Bula's Shipwrecked Loaded Nachos
Bula's famous nachos with black bean salsa, cheddar cheese fondue, sour cream, pico de gallo, guacamole, shredded lettuce and choice of grilled chicken or seasoned beef – $18
Roasted Red Pepper Garbanzo Dip
Served with grilled pita bread, carrots and celery – $8
Big Kahuna Chicken Quesadilla
Sweet onion, roasted red pepper, grilled chicken, cheddar and pepper jack cheeses – $16
Black Bean Quesadilla
Sweet onions, roasted red peppers, black bean salsa, cheddar and pepper jack cheeses – $13
Tropical Fruits of the Islands
Mixed melons, pineapple, strawberries, grapes and vanilla yogurt – $12
Add Assorted Cheeses – $5
Asian Chicken Salad
Grilled marinated chicken, chopped romaine lettuce, cucumbers, snow peas, mandarin orange segments, carrots, crispy wontons, chili-lime vinaigrette – $18
Chicken Caesar Salad
Grilled chicken, chopped romaine, Italian herb croutons, parmesan cheese, Caesar dressing – $18
Substitute grilled fish in place of grilled chicken – $5
Handhelds
Burgers, wraps and sandwiches are served with one side item: french fries, fresh fruit or garden greens
Bula Burger
Angus beef, adobe ham, pineapple pico de gallo, cheddar cheese, brioche bun – $18
Beyond Burger
Pea protein patty, lettuce, onion, tomato jam, coconut roll – $20
Turkey Wrap
Smoked turkey, lettuce, tomato, bacon-Boursin spread, spinach herb tortilla – $16
Huli Huli Chicken Sandwich
Grilled chicken breast, tomato, pepper jack cheese, Huli barbeque sauce, pineapple aioli, coconut bread – $17
South Pacific Tacos
Three tacos made with flour tortillas, Bula slaw, crispy wontons, chili-lime vinaigrette and choice of grilled fish or grilled chicken – $18
Polynesian Pork Tacos
Three tacos made with flour tortillas, pulled pork, pickled red onions, grilled pineapple, Bula slaw, crispy wontons, scallions – $17
Hoisin-Glazed Fish Sandwich
Grilled fish, Bula slaw, samba mayo, ciabatta bun – $18
Korean Pulled Pork Sandwich
Korean barbecue pulled pork, Asian slaw, brioche bun – $17
Pizza
Cheese Pizza – $12
Pepperoni Pizza – $13
Loews Loves Kids
Kids meals are served with one side item: french fries, fresh fruit or garden greens
Hot Dog – $12
Chicken Fingers – $12
Grilled Cheese Sandwich – $12
Kid's Burger – $12
Mac N Cheese
Whole wheat pasta – $12
Grilled Chicken Sandwich – $12
Desserts
Pop Fusions Gourmet Fruit Pop
Available flavors include pineapple mango or blueberry lemonade – $6
Chocolate Chip Cookie Sandwich – $6
Snickers Ice Cream Bar – $6
Bula Bar & Grille Menu – Drinks
Menu Date 10/2022
Non-Alcoholic Beverages
Soft Drinks
Coke, Diet Coke, Sprite, Ginger Ale – $3.50
Lemonade – $3.50
Iced Tea – $3.50
Juice – $3.50
Milk – $3.50
Fiji Bottled Water
Small – $4
Large – $7.50
Smoothies
Strawberry, Pina Colada, Passion Fruit, Mango, Banana, Raspberry, Peach Lemonade, Ice Cream, Blue Raspberry – $7
Beers
Canned Beer 
Assorted Beers, Ciders & Seltzers – $8 – $9
Beer Bucket (6) – $42-45
Draft Beer
Assorted Beers – $8-$16
Wines
By the Glass
Assorted Wines – $10 – $17
By the Bottle
Assorted Wines – $40 – $68
Signature Cocktails
All Cocktails
15 oz. Souvenir – $16
45 oz. Souvenir – $38
Tooters – $5
Margaritas
Cadillac Margarita
Patron Silver Tequila, Cointreau and sour mix with your choice of classic lime, strawberry, passion fruit, mango, raspberry, or peach mix
Jalapeno Margarita
Patron Silver Tequila, Cointreau, fresh jalapeno, lime and sour mix
Spicy Tiki Mango Margarita
Tres Generaciones, mango puree, cayenne pepper, sour mix
Frozen Cocktails
Maui Sunset Colada
Bacardi Pineapple Rum, passion fruit, pina colada mix, strawberry swirl
Kontiki Daiquiri
Bacardi Light Rum, Myers's Original Dark Rum float with your choice of strawberry, passion fruit, mango, raspberry, peach, banana, blue raspberry or pina colada mix
Bula Coco
Selvarey Coconut Rum, pina colada, banana puree, Baileys Irish Cream float
Key Lime Krush
Grey Goose Vodka, margarita mix, ice cream mix, Midori float
Rocks
Lagoon Lemonade
Maker's mark Bourbon, peach puree, lemonade
Rose Water Rush
Tito's Handmade Vodka, St-Germain Elderflower Liqueur, pink grapefruit soda
Haka Mai Tai
Bacardi Light Rum, Cointreau, Disaronno Originale, orange, pineapple juice, Bacardi Black Rum floater
Wild Orchid
Ketel One Vodka, Cruzan Rum, Seagram's Gin, triple sec, Midori, sour mix
Hawaiian Mule
Deep Eddy Ruby Red Vodka, fresh mint, lemon, lime, ginger beer
Captain's Rum Runner
Captain Morgan Spiced Rum, blackberry brandy, creme de banana, orange juice, pineapple juice and grenadine
Kona-Jito
Bacardi Coconut Rum, Bacardi Pineapple Rum, fresh mint, lime soda, pina colada mix
Ocean Breeze
Hendrick's Gin, Blue Curacao, Chambord, lemonade
***Bula Bar & Grille Menu Items and Pricing are Subject to Change***