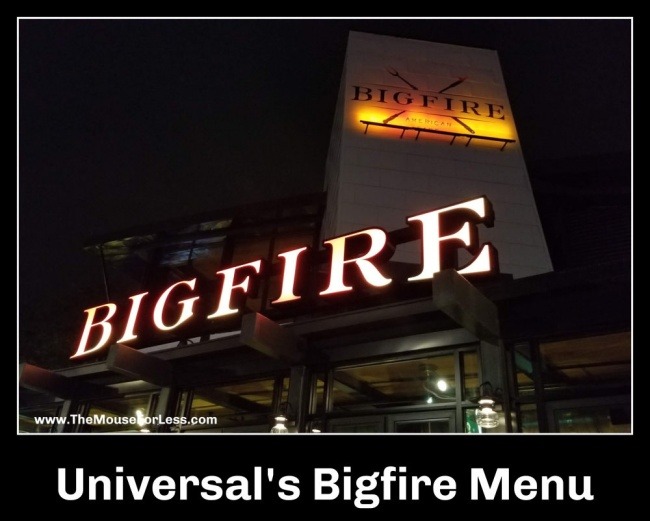 Walk into Bigfire and feel like you're transported to a lakeside summer house. The Bigfire menu continues the theme of family vacations, featuring American favorites cooked over an open fire. You'll want to leave room for desserts after dining on steaks, seafood, or simpler sandwiches for the fabulous desserts, including their version of s' mores.
Bigfire is located in Universal Orlando's Citywalk. Find more Universal Orlando dining locations on our Universal Orlando Resort menus page.
Dinner Menu  Dessert Menu Drink Menu Kids' Menu
Hours of Operation
Sunday – Thursday: 4:00 pm – 10:00 pm
Friday – Saturday: 4:00 pm-midnight

Planning a Universal Vacation?
Bigfire Menu – Dinner
Menu Date 11/2022
Starters
Hearth Oven Baked Bread
Bigfire's signature hearth oven baked bread served with herbed butter, orange peach preserves – $7.00
Wood Charred Brussels Sprouts
roasted Brussels sprouts and shishito peppers served over toasted almond smear and topped with micro arugula – $10.00
Smoked Brook Trout Dip
served with housemade crackers – $15.00
Skillet Roasted Mussels
sizzling with herb broth, white wine, chives, smoked salt, grilled bread – $15.00
Oysters Rockefeller
oysters on the half-shell, topped with a béarnaise sauce, spinach, bacon and bread crumbs – $16.00
Bourbon Cheese Fondue
served with crispy cauliflower, blistered shishito peppers, grilled bread, lavosh, hearth grilled baby carrots | add hearth grilled Andouille sausage or cola braised pork  +4  – $16.00
Artichoke Oven Roasted Dip
gruyere, spinach, kale, grilled bread – $12.00
Soups & Salads
Campfire Chili
cozy up by Bigfire's hearthstone grill with a bowl of campfire chili served with sour cream and cornbread  – $8.00
Bigfire "Caesar"
romaine hearts, hearth grilled radicchio, smoked Parmesan tuilles, pumpkin spiced croutons, toasted pumpkin seeds, lemon Parmesan dressing – $14.00
Cobb
Bigfire's signature wood blend grilled chicken, sliced bacon, corn, sweet potatoes, avocado, goat cheese, egg, almonds, honey barbecue dressing, cornbread  – $17.00
Wedge
Avocado, red onions, tomatoes, egg, bacon, blue cheese dressing – $15.00
Add grilled NY strip steak – $7.00
From the Hearth
Many of our menu items are cooked over cherry, pecan, and oak live wood flames on our hearth fire grill. The lumber used in these fires can change the flavor profile of your food.
Bigfire Grilled Steaks
Filet Mignon
8oz – $38.00
N.Y. Sirloin Strip
10oz – $37.00
24 oz. Prime T-Bone – $59.00
16 oz. Cowboy Ribeye – $43.00
Entrees
Hearth Grilled Chicken
hearth grilled bone-in chicken breast, house made herb dumplings, gruyere drop biscuit, red-eye gravy, fire roasted vegetables – $26.00
Colorado Lamb Mixed Grill
hearth grilled lamb loin and sausage, parsnip puree, seasonal vegetables, fired roasted piquillo pepper & mint sauce – $38.00
BBQ Shrimp
blackened, cream sauce, signature coleslaw, cornbread – $25.00
Beer Glazed Scallops
bacon, fire grilled seasonal vegetables, charred hearth bread – $31.00
Hearthstone Seafood Bake
wood oven baked Northern whitefish, shrimp, cold water mussels, andouille sausage, fresh corn, red potatoes, lemon butter – $28.00
Short Rib Pasta
garganelli, oyster mushrooms, sherry cream sauce – $27.00
Dutch Oven Beef Burgundy
red wine, mushrooms, bacon, pearl onions, buttered egg noodles – $29.00
Cauliflower Steak
shishito peppers, roasted vine tomatoes, warm farro salad, charred tomato sauce – $19.00
Catch of the Day
smoked butternut squash risotto, amaretto sabe beurre blanc, marcona almond and cranberry crumble – MP
Bison Striploin
hearth grilled bison striploin, black garlic butter, celery root puree, broccolini, & cippolini onion, finished with an espresso smoked salt – $46.00
Pork 2 Ways
hearth grilled pork tenderloin, apple spiced braised pork belly, bourbon peach butter, cheddar grits, mustard greens, ginger gastrique – $28.00
Brook Trout
served with fire grilled seasonal vegetables, crispy smashed potatoes, tarragon tartar sauce – $28.00
Salmon
served with fire grilled seasonal vegetables, crispy smashed potatoes, creamy tarragon aioli – $30.00
Burgers & Sandwiches
served on a signature Bigfire brioche bun served with Bigfire fries
Signature Bison Burger
red wine aioli, caramelized onions, beer cheese sauce – $20.00
Bigfire Cheeseburger
1/2 lb black Angus beef, cheddar, beefsteak tomato – $18.00
Grilled Chicken
Walnut pesto, orange peach preserves, grilled red onion, smoked cheddar – $17.00
Salmon BLTA
Bacon, lettuce, tomato, avocado, smoked caper aioli – $21.00
Sides
$6.00 each
Crispy Smashed Potatoes
Sweet Corn Pudding
Bigfire Fries
Signature Coleslaw
Fire Grilled Vegetables
Premium Sides
$7.00 each
House Salad
Fire Grilled Jumbo Asparagus
Charred Wild Oak Mushrooms
$8.00 each
Smoked Pork Mac & Cheese
Loaded Smashed Potatoes
Drinks
Fountain Soda
Coke, Diet Coke, Coke Zero, Sprite, Fanta Orange, HiC Pink Lemonade, Rootbeer – $4.49
Iced Tea
Sweet or Unsweetened – $4.49
Hot Chocolate
With marshmallows – $5.00
Cold Hot Chocolate
Semi-sweet chocolate, cocoa, milk, chocolate ice cubes – $5.00
Hot Coffee
Regular or Decaf – $3.49
Cappuccino – $3.99
Latte – $3.99
Espresso – $2.99
Hot Tea
Green, Earl Grey or Decaf – $3.49
Juice
Apple, Orange, Cranberry, Pineapple, Grapefruit or Tomato – $3.19
Milk
2% or 1%, Chocolate – $3.19
Bottled Water
Acqua Panna or San Pellegrino – $5.50
Bigfire Menu – Dessert
Menu Date 11/2022
Desserts
Dutch Apple Pie
Vanilla ice cream – $10.00
Baked Alaska
Chocolate, vanilla, and strawberry ice cream, meringue, torched tableside – $10.00
Skillet Baked Chocolate Cake
Flourless chocolate cake, cherries, bourbon ice cream – $11.00
Tableside S'mores
Marshmallows, graham crackers, chocolate, peanut butter cups – $17.00
Each additional guest – $8.00
Desserts Drinks
Grandpa's Breakfast
Knob Creek Rye Whiskey, cold brew coffee, maple syrup, cinnamon – $14.50
Grown Up Hot Chocolate
Premium hot or cold chocolate, choice of liquor – $15.00
Keep It Simple
Premium coffee, choice of liquor – $14.50
Bigfire Menu – Drinks
Menu Date 11/2022
Some menu items may not be available at this time.
Old Fashioneds
Smoked, Smoked Maple
Knob Creek Smoked Maple Bourbon, beef jerky, smoked over oak – $15.50
The Classic
Classic old fashioned with Bigfire Select Barrel Woodford Reserve – $16.00
Bulleit Blackberry Citrus
Bulleit Bourbon, blackberry, orange – $16.00
PB&J
Skrewball Peanut Butter Whiskey, Four Roses Small Batch Bourbon, St. George Raspberry Liqueur – $15.00
Manhattans
The Classic
Classic Manhattan with Bigfire Select Barrel Woodford Reserve and sweet vermouth – $16.00
Rebel Yell Root Beer Manhattan
Rebel Yell Root Beer Bourbon, pineapple – $14.50
Specialty Cocktails
Sage Apple Sour
St. Augustine Vodka, maple syrup, apple juice, sage – $14.50
Rosemary Salty Dog
Wheatley Vodka, grapefruit juice, rosemary, smoked salt – $14.50
Lakeside Punch
St. Augustine Vodka, orange, pineapple & cranberry juices – $14.50
Raspberry Lemonade
Tito's Vodka, fresh lemonade, St. George Raspberry Liqueur – $14.50
Whiskey
A distilled alcoholic beverage made from fermented grain mash
Michter's
Slaughter House
Jack Daniel's
Bear Gully
Gentleman Jack
Old St. Pete, Sweet Corn Whiskey
Southern Comfort
Southern Comfort, 100 Proof
Rattlesnake Maple Bacon
Stranahan's
Tin Cup
Uncle Nearest, 1856 Premium Aged
Westland Distillery, American Single Malt
Balcones Corn Brimstone
Balcones True Blue
Skrewball Peanut Butter
Bourbon
An American whiskey made using a corn-based mash
Bigfire Select Barrel Woodford Reserve
Michter's
Old Forester
Bird Dog, Small Batch
Bird Dog Chocolate
Wild Turkey
Wild Turkey Longbranch
Basil Hayden
Booker's
Maker's Mark
Maker's 46
Knob Creek
Knob Creek Smoked Maple
Angel's Envy
Blanton's
Jim Beam
Buffalo Trace
Eagle Rare
Stillhouse Black Bourbon
St. Augustine Bourbon
Evan Williams
Yellowstone Bourbon
Bulleit
Bulleit 10 yr
Rebel Yell
Rebel Yell Root Beer
High West American Prairie Bourbon
Four Roses Yellow Label
Four Roses Small Batch
Four Roses Small Batch 100 Proof
Breckenridge Bourbon
Rabbit Hole
Jefferson's Very Small Batch Bourbon
1792 Ridgemont
EH Taylor Jr, Small Batch
Devil's River Small Batch Texas Bourbon
Elmer T Lee
Garrison Brothers, Texas Bourbon
Noble Oak, Double Oak Bourbon
Stagg Jr., 126.4 Proof
Smooth Ambler Contradiction
Smooth Ambler Big Level
Old Rip Van Winkle (Pappy) Bourbon
Widely considered as the world's finest bourbon, extremely rare, highly coveted, limited inventory in house, poured 2 ounces over rock
Currently offering at market price: Old Rip Van Winkle 10 year, Special Reserve 12 year, Pappy Van Winkle's Family Reserve 15 year and 13 year rye
Rye
A spicy dry American whiskey made using a rye based mash
Rittenhouse
Old Overholt
Bulleit
Limestone Branch, Minor Case
Palm Ridge Reserve, Micro Batch
Templeton, 4 yr Rye
Michter's
Whistle Pig Rye
Whistle Pig Boss Hog Rye
Rebel Yell, Small Batch Kentucky Rye
Sagamore Spirit, Cask Strength Rye
Splinter Group, Whip Saw Rye
Wild Buck, American Rye
Balcones Rye
Knob Creek Rye
Draft Beers
Abita Amber – $11.50
Sierra Nevada Pale Ale – $11.50
Sam Adams Seasonal – $11.50
Bell's Two Hearted – $11.50
Lexington Bourbon Barrel Ale – $11.50
Orlando Brewing Organic Blonde Ale – $11.50
Bottles & Cans
Assorted – $8.50 – $10.00
Red Wine
Cabernet Sauvignon
Assorted Wines: Glass – $12.00 – $22.00; Bottle – $41.00 – $116.00
Merlot
Assorted Wines: Glass – $10.00 – $16.00; Bottle – $38.00 – $113.00
Pinot Noir
Assorted Wines: – Glass – $13.00; Bottle – $49.00 – $103.00
Red Blends
Assorted Wines: Glass – $13.00; Bottle – $49.00 – $180.00
Other Reds
Assorted Wines: Glass – $11.00; Bottle – $41.00 – $79.00
White Wine
Chardonnay
Assorted Wines: Glass – $11.00; Bottle $41.00 – $94.00
Sauvignon Blanc
Assorted Wines: Glass – $12.00; Bottle – $45.00 – $56.00
Riesling
A to Z Glass $12.00; Bottle $45.00
Pinot Grigo
Glass – $12.00; Bottle $45.00 – $60.00
Interesting Whites
Assorted Wines: Glass – $15.00; Bottle – $49.00 – $56.00
Sparkling Wine
Assorted Wines
Glass – $15.00; Bottle – $53.00 – $119
Bigfire Menu – Kids
Menu Date 11/2022
Entrees
All meals served with your choice of strawberry applesauce, grapes or fries
Chicken Fingers – $8.00
Cheeseburger Sliders – $8.00
Mac & Cheese – $8.00
Chicken & Beef Skewers – $9.00
Grilled 4oz Sirloin – $9.00
Drinks
Fountain Soda
Coke,Coke Zero, Diet Coke, HiC Pink Lemonade, Fanta Orange, Sprite, Rootbeer – $3.19
Iced Tea
Sweet or Unsweetened – $3.19
Hot Chocolate
With marshmallows – $5.00
Cold Hot Chocolate
Semi-sweet chocolate, cocoa, milk, chocolate ice cubes – $5.00
Juice
Apple, Cranberry, Orange or Pineapple – $3.19
Milk
2% White and 1% Chocolate – $3.19
***Bigfire Menu Items and Prices Are Subject to Change***