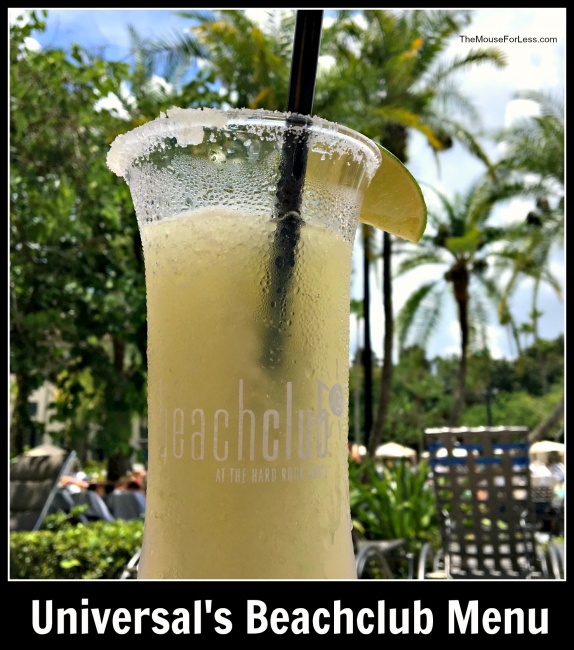 Enjoy fun in the sun like a rockstar at Beachclub! Relax on a lounger, play in the pool, or spend time in a cabana and let the servers bring food and drinks to you throughout the day.  The Beachclub menu offers a wide variety of cocktails, frozen and on the rocks, smoothies, beer, and wine, as well as snacks, sandwiches, and salads. During the day at Beachclub, you can enjoy a DJ or live bands.  At night, the entertainment at Beachclub turns to movies.
Beachclub is located in the Hard Rock Hotel.  Find more Universal Orlando dining locations on our Universal Orlando Resort menus page.
Open daily 11:00 am – 10:00 pm.
Lunch & Dinner Menu  Drink Menu

Planning a Universal Vacation?
Beachclub Menu – Lunch & Dinner
Menu Date 10/2022
Bites
Loaded Nachos
Taco meat or grilled chicken, corn tortillas, three cheeses, lettuce, tomato, sour cream, guacamole, pico de gallo. – $25.00
Chicken Tenders
Buffalo, BBQ or honey garlic sauce. Served with fries. – $15.00
Wings
Buffalo, BBQ, or Honey Garlic sauce – $20.00
Cheese Sticks
Marinara sauce – $12.00
Pretzel Nuggets
Warm pretzel bites with garlic parmesan seasoning. – $14.00
Cheese Fries
Crispy fries, melted cheese, applewood smoked bacon, scallions. – $14.00
Onion Ring Tower
Tower of onion rings on top of a bed of French fries. – $14.00
Chips & Salsa
Corn tortillas – $10.00
Quesadilla
Chicken or steak, guacamole, three cheese, sour cream, pico de gallo. – $20.00
Sample Platter
Cheese quesadilla (1), cheese sticks (3), chicken fingers (3), chips and salsa. – $23.00
ADD: Chicken (+8), shrimp (+$12) or steak (+$8).
Sesame Seared Ahi Tuna
Sushi grade sliced ahi tuna served on wonton chips and shredded cabbage. – $20.00
Hummus
Crudite, warm pita, extra-virgin olive oil. – $16.00
Salads
California Cobb
Romaine lettuce, diced chicken, tomato, cucumber, Applewood smoked bacon, avocado, blue cheese crumbles, choice of dressing. – $22.00
Spinach Salad
Baby spinach, grilled chicken, granny smith apples, dried cranberries, blue cheese crumbles, candied pecans, maple vinaigrette. – $22.00
Greek Quiona Salad
Tri-color quinoa, kale, Nicosia (greek) olives, feta cheese, cucumber, tomato, chickpeas, lemon vinaigrette. – $17.00
Chopped Chicken Ceasar
Grilled chicken, romaine, garlic croutons, parmesan cheese. – $22.00
Sandwiches
Sandwiches are served with your choice of French Fries, House Salad, or Fresh Fruit
1/2 Pound Angus Burger
Fresh Black Angus Beef, Lettuce, Tomato, Red Onion on a Brioche Bun – $21.00
Nashville Hot Chicken Sandwich
Spicy hand breaded chicken breast, house-made sweet pickles, toasted Cusano's bakery bun. – $19.00
Philly Cheesesteak
Shaved ribeye steak, melted provolone cheese, caramelized onions, served on hoagie roll. – $22.00
Hot Dog
All-Beef Hot Dog – $12.00
Flatbreads
Mozzarella Flatbread
Melted mozzarella, crushed tomato sauce, torn fresh basil. – $16.00
Supreme Flatbread
Melted mozzarella, crushed tomato sauce, pepperoni, Italian sausage, diced tomatoes, olives, mushrooms, caramelized onions. – $22.00
Chipotle Chicken Flatbread
Melted three cheese blend, chipotle cream sauce, grilled chicken, Applewood smoked bacon, house-made ranch. – $18.00
Greek Flatbread
Melted mozzarella, extra virgin olive oil base, roasted red pepper, diced tomato, Kalamata olives, red onions, crumbled feta cheese. – $18.00
Entrees
Impossible Burger
Impossible burger patty (vegan), lettuce, tomato, onion. – $21.00
Baja Turkey Burger
Melted pepper jack cheese, chipotle aioli, guacamole. – $21.00
Beach Club Lobster Roll
Maine lobster, sauce Louie, lettuce, served on toasted brioche. – $28.00
Blackened Fish Tacos (3)
Blackened Mahi-Mahi fish, pico de gallo, pickled onions, cilantro, served in flour tortillas. – $21.00
Warm Italian Hoagie
Genoa salami, sopressata, black forest ham, melted provolone, lettuce, tomato, oil and vinegar. – $18.00
Grilled Florida Mahi Sandwich
Grilled Mahi-Mahi fish, lettuce, tomato, onion, served on a brioche bun with remoulade sauce. – $22.00
Teriyaki Chicken Sandwich
Grilled teriyaki chicken, grilled pineapple, Asian slaw, toasted sesame, served on a brioche bun. – $19.00
Beer Brat
Smoked bratwurst, caramelized onions, spicy brown mustard. – $15.00
Desserts
Chocolate Mousse Bite
Silky chocolate mousse, pieces of dark fudge brownie, carmel and sweet whipped cream. – $7.00
Mascarpone Strawberry Cheesecake Bite
Creamy mascarpone cheesecake mousse, fresh strawberry center, sweet whipped cream, baked streusel, and graham cracker crumb. – $7.00
Funnel Cake Fries
Powdered sugar, strawberry and chocolate dipping sauce. – $9.00

Kids' Menu
Chicken Fingers – $12.00
Burger – $12.00
Grilled Cheese – $12.00
Mac & Cheese – $12.00
Pepperoni Pizza – $12.00
Beachclub Menu – Drinks
Menu Date 10/2022
Rocks
Running Blind
Flor de Cana White Rum, Club Caribe Citrus Rum, Bols Banana Liqueur, Bols Blackberry Brandy, Fruit Juices, Splash of Don Q 151 Rum. – $16.00
Hendrick's Experience
Hendrick's Gin, Solerno Blood Orange, Cucumber, Lime, Sour, Soda – $16.00
Grateful Dead
Russian Standard Vodka, Bacardi Rum, Gin, Camarena Tequila, Chambord, Sour, Sprite – $16.00
Beach Club Margarita
Camarena Tequila, Bols Triple Sec, Orange Juice, Sour, Solerno Blood Orange Floater Rocks or Frozen – $16.00
Bahama Mama
RumHaven Coconut Rum, Sailor Jerry Rum, Creme de Banana, Grenadine, Pineapple and Orange Juice – $16.00
Hard Rockin' Lemonade – Lemon Cherry
Don Q Limon rum, sour mix, grenadine. – $16.00
Pineapple Express – Pineapple Cherry
Stoli Vodka, Midori (melon liqueur), pineapple juice, and sour mix. – $16.00
My Paloma – Lime
1800 Silver Tequila, Solerno Blood Orange Liqueur, grapefruit juice, soda, salt rim. – $16.00
Aper-Rock Spritz – Lemon
Grey Goose Vodka, Aperol, orange juice, sour mix, topped with bubbles. – $16.00
Lithium Sunset – Orange, Cherry 
New Amsterdam Mango Vodka, Mango Colada poured over strawberry daiquiri mix. – $16.00
Electric Lady – Lemon, Raspberry
44 North Huckleberry Vodka, raspberry and lemonade daiquiri mix. – $16.00
Cherry Limeade – Lime, Cherry
Three Olives Cherry Vodka, lemonade and margarita daiquiri mix, grenadine. – $16.00
Ship of Fools – Pineapple, Cherry
Sailor Jerry Rum, piña colada mix, RumHaven Coconut rum floater. – $16.00
Blue Rita – Lime, Orange
1800 Silver Tequila, Blue Curacao, orange juice, sour mix. – $16.00
Jalapeno Margarita – Lime
Tanteo Jalapeño tequila, orange juice, agave, cactus pear juice. – $16.00
Cactus Pear Margarita – Lime
Herradura Blanco Silver Tequila, Fresh Victor Cactus Pear and Pomegranate juice, Mexican lime and agave juice. – $16.00
Mango Margarita – Lime
Patron Silver Tequila, mango juice, fresh lime, Solerno Blood Orange Liqueur. – $16.00
Diamond Rita – Lime
Maestro Dobel Silver Tequila, Cointreau, sour mix, orange juice, lime. – $16.00
Strawberry Coconut Frozen Margarita – Lime, Strawberry
1800 Coconut Tequila, strawberry daiquiri mix, lime. – $16.00
Blue Lagoon – Pineapple
Don Q Coco Rum, Don Q Piña Rum, Blue Curacao, pineapple juice. – $16.00
Woodford Mule – $16.00
Beach Club Mule – $16.00
Beach Club Mojito  – $16.00
Mai Tai (Featured Drink)
Papa's Pilar Blonde Rum, Trader Vic's Dark Rum, Almond Liqueur, Pineapple and Orange Juice. – $16.00
Frozen Drinks
Raging Bull
Frozen Red Bull, New Amsterdam Vodka, Bols Triple Sec, Mango Island Oasis – $16.00
Frose
Notorious Pink Rosé Wine, Three Olives Rosé Vodka  – $16.00
Blue Suede Shoes
Blue Chair Bay Banana Rum, Blue Curacao, Pina Colada Island Oasis – $16.00
Daiquiries
Puerto Rican Rum blended with your choice of flavor
Banana • Lemonade • Mango • Peach • Piña Colada • Raspberry • Strawberry – $13.00
Beers
Domestic Draft
Assorted Beers – $8.00 – $12.00
Imported Draft
Assorted Beers – $9.00 – 13.00
Craft Draft
Assorted Beers – $9.00 – 13.00
Build A Bucket
Pick Six – $42.00
Wine
Bubbles
Assorted Wines – Glass $9.00-$20.00; Bottle $32.00-$500.00
White
Assorted Wines – Glass $12.00-$16.00; Bottle $45.00-$60.00
Red
Assorted Wines – Glass $12.00-$28.00
*** Beachclub Menu Items and Prices are Subject to Change***