Cinderella's Royal Table
Dreams Come True Dinner
Magic Kingdom - Fantasyland
Signature Dining (Character)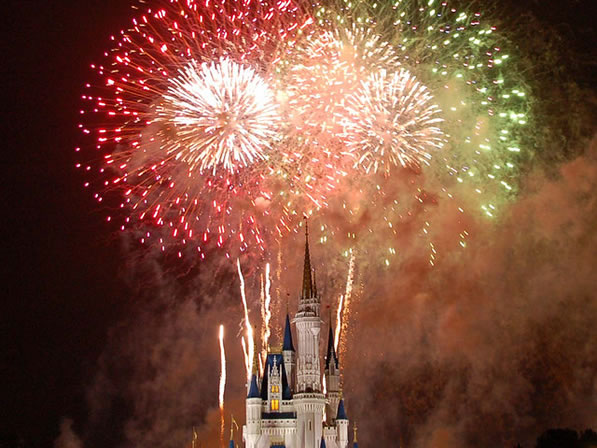 Reviews

Make your once-upon-a-time dreams come true and dine in the one and only Cinderella Castle. Cinderella invites you into the glorious private dining hall of her castle for a storybook meal. Meet characters from Disney's Royal Family at a Fairy Tale Dinner with sparkling effects.
Restaurant Info: American, Breakfast, Lunch, Dinner, $$$

Cinderella's Royal Table Once Upon a Time Breakfast Menu
Cinderella's Royal Table Fairy Tale Lunch Menu

Dinner Menu
Menu Date: 09/2013
Dinner daily from 3:50 p.m. to 10:00 p.m.
Adult Price Range: $66.96 - $71.83
Child Price Range (ages 3 - 9): $40.84 - $43.24
Prices vary by season and includes tax and gratuity.
Two Table Service credits are required per person for those on the Disney Dining Plan.
Price includes Photo Package and Surprise Gift for children ages 3 to 9 - a Magical Sword for the young Prince and a Magic Wand for the Princess.
Before you ascend to the Banquet Hall, you'll have the opportunity for a meet and greet with Cinderella and have a photo taken with Cinderella and your group in the Grand Entry Hall.
The Photo Package includes a picture taken by a Disney photographer. During your meal your picture package will arrive, it will have four 4x6 prints and one 6x8 print of your picture. You'll also get a 6x8 picture of Cinderella Castle, in a Cinderella photo folder (a value of $29.95 plus tax). Complimentary image packages are provided as follows: 1 package per group of 4 paying guests; 2 packages for groups of 5-8 guests and 3 packages for groups of 9-12 guests.
Characters (princes vary at each meal): Cinderella, Ariel, Aurora, Belle, Jamine and Snow White
Appetizers of the Court
Your choice of the following:
Castle Salad
Mixed Greenswith Seasonal Accompaniments
Strawberry and Feta Salad
strawberries, feta, arugula, almonds and vinaigrette
Crawfish and Rock Shrimp with Grits
in a New-Orleans style barbecue sauce with goat cheese grits
A Royal Tasting Of Cheese
A trio of Cheeses with Accompaniments
Soup of the Day
Entrees Royale
Your choice of the following:
Pan-Seared Cod
Pan-Seared Cod, Meyer Lemon Butter, Tomato and Red Quinoa Salad
Oven-Roasted Chicken Breast
Farro Wheat Risotto, Wild Mushroom and Leek Ragout
served with a Stone-ground Mustard Jus
Braised-Pork Shank
Slow-cooked with Root Vegetables served with a Viognier Demi-Glace
Gnocchi with Roasted Vegetables
Eggplant, Mushrooms, Onions, and Squash tossed with Gnocchi,
Arugula, Pesto, shaved Romano and splach of Aged Balsamic
Also available with Farro instead of Gnocchi
As a Vegan Offering without Cheese
Beef Tenderloin
with Roasted Potatoes, Asparagus and a Tarragon Demi-glace
Children's Menu
Choice of one (1) Appetizer, one (1) Entrée, one (1) Beverage, and one (1) Dessert
Appetizers
Garden Salad with Fat-free Ranch Dressing
Bite Sized Cheddar Cheese and Grapes
Entrées
Cheese Pizza
Chicken Nuggets
Desserts
Decorate Your Own Dessert
Choice of: Frosted Cupcake or Vanilla Ice Cream
No Sugar Added Seasonal Sorbet
Yogurt Parfait
Sliced Apples
Beverages
Small Bottled Water
100% Apple Juice
1% Milk
Kids' Whole Meals
For a Nutritionally and Well-balanced offering, the Kids Complete Meals below are available. These meals include the listed entrée, vegetable/side and dessert and choice of one (1) beverage listed above.
Beef Tenderloin
Entrée: Beef Tenderloin served with Mashed Potatoes and Green Beans
Dessert: Yogurt Parfait
Turkey Pot Pie
Entrée: Turkey Pot Pie topped with a Cheese Biscuit
Dessert: Yogurt Parfait
Roasted Chicken Leg
Entrée: Roasted Chicken Leg with Brown Rice Pilaf and Broccolini
Dessert: Sliced Apples
Soft Drinks can be substituted upon request.
Finale
Your choice of the following:
Chef's Dessert Trio
Cinderella sent her Chefs around the world to discover new desserts. They are happy to share three of their favorites with you.
White and Dark Chocolate Surprise
Seasonal Cheesecake
No Sugar Added Seasonal Sorbet
garnished with Berries
Beverages
included in price
Complimentary Refills on Soft Drinks, Coffee, Hot Tea, Iced Tea, Hot Cocoa, Minute Maid Light Lemonade Punch, Apple Juice, Orange Juice, 1% Milk OR Chocolate Milk


Specialty Beverages
Cappuccino - $3.69
Espresso - $3.19
Still or Sparkling Bottled Water - $3.25

Bibbiddi Bobbiddi Brew - A frozen smoothie served a Cinderella's collector's mug. Take home a piece of the castle - $8.20
---
Due to limited seating, the castle meals sell out quickly. Reservations can be made exactly 180 days in advance. This reservation requires payment in full on your credit card. If you need to cancel this reservation you must call 407-WDW-DINE 48 hours prior to your reservation date or you will lose your deposit. If using any of the Magic Your Way plans that include dining, the reservation was guaranteed with your credit card. While you will not be charged in advance, if you do not cancel and do not show up, you will be charged a cancellation penalty.
Optional Celebration Enhancements
Cinderella's Royal Table offers quite a few options to enhance any type of celebration or "just because"!
"Her Royal Highness" Package: This package includes a balloon table centerpiece featuring six Disney Princesses, a tiara adorned with crystals to officially crown the guest of honor "princess for the day," a 6-inch round cake (vanilla or chocolate) personalized with a favorite Disney Princesses (Ariel, Aurora, Belle, Cinderella or Tiana available) and up to 3 words. Cost is $90 plus tax and 18% gratuity ($112.05). A larger, 5-inch tiara is available for an additional $17.00 plus tax and gratuity.
Mickey Package: This package includes a Mickey Mouse Balloon table centerpiece, a personalized Mickey Ears presented by a Royal Attendant, a personalized cake with Mickey Mouse's face. The entire package is $90 plus tax and an 18% gratuity which brings it up to $112.05.
Engraved Glass Slipper: This item comes in clear, blue, and pink and can be engraved with a name (such as Princess _____ ) on one side, the date in the middle, and "Dreams Do Come True", or another message, on the other side. The costs $65.00 plus tax and 18% gratuity.
Cinderella's Signature Slipper Dessert: A white OR dark chocolate slipper, filled with chocolate mousse, served on top of an angel food cake pillow with fresh fruit. The plate can be decorated with a special message. Cost is $12.50 each, plus tax and gratuity. A dark or white chocolate crown for a prince is also available at the same cost ($12.50).
For more information or to reserve, call 407-824-4477 or email wdw.crt.special.events@disney.com.
** Menu and Prices are Subject to Change Without Notice **