Home > Disneyland > Menus > Ariel's Grotto - Disney Princess Celebration
Ariel's Grotto - Disney Princess Celebration
DCA - Paradise Pier
Character Dining for Breakfast/Lunch
World of Color Premium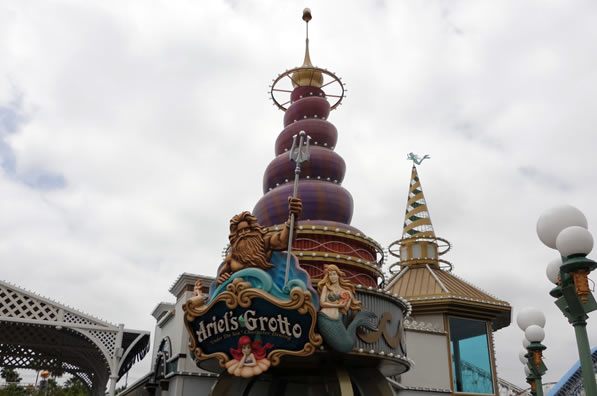 Menu Date: 06/2013

TheMouseForLess Reviews

Join Ariel and her friends at Ariel's Grotto for an enchanting Character Dining experience filled with music, laughter, delicious food and the opportunity to meet Disney Princesses during "Ariel's Disney Princess Celebration."
Restaurant Info: American/Healthy Selections/Vegetarian, Breakfast/Lunch/Dinner, $$ - More than $36 per person
Annual Passport Discounts: Premium - 15%, Deluxe - 10%, Southern California - 10%, Southern California Select - 10%

Princess Character Breakfast
for one set price per person, enjoy a selection of breakfast items, served family style.

Adults - $35.79 (tax included)
Children 3-9 - $19.52 (tax included)
Seatings at 8:30 a.m., 8:40 a.m., 9:00 a.m., 9:20 a.m. and 9:30 a.m.
New Price effective 6/7/13 Adult: $42.30, Children: $21.69
New Price effective 8/19/13 Adult $35.79, Children: $19.52
Starter Tower for the Table
Fresh Cut Fruit - Cantaloupe, Watermelon, Honeydew, Strawberries, and Grapes
Assorted Cheese Plate - Manchego, Cheddar and Baby Bell Gouda with Strawberry, and Garlic Herb and Plain Cream Cheese
Assorted Pastries
Family-Style Breakfast Platter
Selections include: Belgian-style Waffles, Scrambled Eggs, Bacon, Turkey Sausage, Breakfast Potatoes

Lunch/Dinner (on non-World of Color Nights)

Adults - $40.13 (tax included)
Children 3-9 - $21.69 (tax included)
New Price effective 6/7/13 Adult: $44.47, Children: $23.86
New Price effective 8/19/13 Adult $40.13, Children: $21.69
Starter

Antipasti Tower for the Table
Shrimp and Lobster Salad
Prosciutto
Dried Fruit Pieces
Manchego Cheese
Chef's-blend of Marinated Olives
Fresh Fruit
Baby Carrots
Celery Sticks
String Cheese
"Jewels of the Sea" Fruit Gelatin
Mixed Greens Salad served with Ariel's Grotto House Vinaigrette
Sourdough Pull-apart Flower


Entrées

Mafalde Pasta with Italian Sausage
Curly ribbons of Pasta tossed in a Piemonte-style Ragù with spicy Italian Sausage, Sautéed Bell Peppers, and Sweet Onions

Santa Maria-style Tri-tip
Slow-roasted over Rock Salt and Smoked with Red Oakwood served with Cheddar-Herb
Mashed Potatoes and a medley of seasonal Vegetables

Today's Sustainable Fish
served over Wild Rice Pilaf topped with a Sweet-and-Spicy Pineapple Chutney with a medley of seasonal Vegetables
Spinach and Ricotta Agnolotti
topped with fresh Spinach, Sun-dried Tomatoes, Julienne Onions, and Asparagus served in a light Mushroom Broth
Herb-crusted Chicken Breast
served with Cheddar-Herb Mashed Potatoes and a medley of seasonal Vegetables
Cioppino
Lobster Claw, Pink Scallops, Redfish, Green-lip Mussels, Shrimp, and Bilbao Chorizo in a Fire-roasted Tomato Broth

Shared Dessert Platter

Lava Cake
Mini Cookies
Assorted Petite Cupcakes
fresh Berries
Kid's Picks
For children ages 3-9
Seashell Pasta
Pasta Shells lightly tossed in a velvety cheese sauce, then sprinkled with cheddar fish-shaped crackers and served with seasonal fresh fruit

Kids' Cut Tri-Tip
Tri-Tip Strips, cooked hot and tender, with white chedder mashed potatoes, served with seasonal vegetables


Mickey Check Meals
Glazed Chicken on Sugar Cane Skewer
Cuts of Tender Chicken, grilled and glazed over a bed of Rice, served with seasonal fresh fruit
Meetball Lollipops
Hearty Ground Turkey nestled on top of speghetti and house marinara sauce and served with seasonal fresh fruit

All children's meals served with choice of Minute Maid Juice, Dasani Water, Nesquik Low-fat Chocolate Milk or Low-fat Milk

Bar Selections

Non Alcoholic Specialty
Glowing Character Punch Minute Maid Light Lemonade Punch served in a souvenir cup with a glowing Disney Character Light - 6.99

All-Natural Lemonade
Odwalla Lemonade topped with Wildberry Foam - 4.49

1.5 Liter Smartwater - 7.59

1 Liter San Pellegrino - 7.59

Specialty Cocktails

Magical Star Cocktail
Light up your celebration with X-Fusion Organic Mango and Passion Fruit Liqueur, Parrot Bay Coconut Rum, Pineapple Juice, and a souvenir Multicolored glow Cube - $11.00
Superfruit Martini
Van Gogh Açaí-Blueberry Vodka, Stirrings Pomegranate Liqueur, Cranberry Juice, Agave Nectar, and Freshly Squeezed Lemon Juice - 9.75

Habanero Lime Margarita
Patrón Silver Tequila, Habañero Lime, Agave Nectar, and fresh Lime Juice - $10.25

Red Superfruit Sangria
Certified Organic - Eppa Red Sangria made from organically grown grapes and a blend of antioxidant-rich Pomegranate, Blueberry, Açai, and Blood Orange Juices topped with VeeV Açai Spirit - $9.00
Ultimate Long Island Iced Tea
Bacardi Superior Rum, Tito's Handmade Vodka, Hendrick's Gin, Cointreau, and Sweet-and-Sour with a splash of Coca-Cola - $10.75
Featured Draft Beer
Karl Strauss: Amber Lager, Pintail Pale Ale, Red Trolley Ale, Tower 10 IPA, Windansea Wheat Hefeweizen, Blue Moon, Bcar Republic Racer 5 IPA- $7.25
Anaheim Hefeweizen - $7.00


World of Color Nights Prix Fixe Dinners

Adults - $45.56 (tax included)
Children 3-9 - $23.86 (tax included)
3-course prix fixe dinner with American-style menu that features a range of choices from pasta to slow-roasted tri-tip
Guests who purchase a full-service prix fixe dinner also receive a Reserved Viewing ticket for World of Color.

One ticket per prix fixe meal. Each person in the party must order the prix fixe meal in order to obtain admission to the World of Color Reserved Viewing area.
Guest will receive their ticket to World of Color Reserved Viewing from their server after payment of their dining experience.
Please note that World of Color can be cancelled due to technical issues without notice. Dinner packages will not be refunded.
| | | | | |
| --- | --- | --- | --- | --- |
| | | | | |
| | | | | |
| --- | --- | --- | --- | --- |
| | | | | |
** Menu and Prices are Subject to Change Without Notice **