Orlando Airport Travel Information
Most travelers coming to Walt Disney World, or other Central Florida Attractions, will fly into Orlando International Airport, or MCO. MCO is comprised of 2 terminals with 129 gates. The airport offers free Wi-Fi throughout the public areas of the airport terminal. Orlando International Airport Travel Information can be found at http://www.orlandoairports.net/. Before leaving home, be sure to check this airline delay map.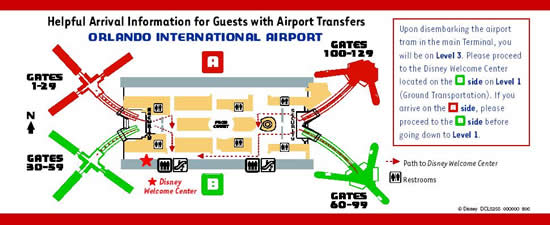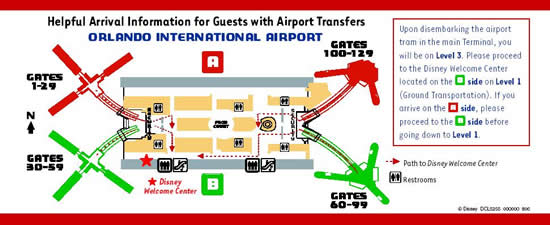 Last minute theme-park shopping is available at the Sea World, Universal Studios and two Disney stores (Disney's "Earport" with park merchandise and the Magic of Disney). If time allows, don't miss some of the specialty stores like Ron Jon Surf Shop, SeaWorld, Harley Davidson, and the Kennedy Space Center store. The airport also has over 20 snack and food vendors and the Hyatt Regency. Orlando International Airport has several restaurants and a bar, including the ninth-floor Hemisphere.
Getting to and from the Airport
With all of the attractions in the Orlando area, a wide variety of transportation options exist that can accommodate any travel party. These can help you get to Walt Disney World, Universal Studios, Port Canaveral, and many other popular attractions in central Florida.
Rental Cars Taxis and Ride Hailing Companies Luxury Sedan, Limo and Van Transfers  Bus Service
Rental Cars
The largest rental car market in the world is represented with all major companies located both in and outside of the airport. For information on Airport car rental options, visit our Car Rental page.
Taxis and Ride Hailing Companies
Taxis and the main ride hailing services (like Uber and Lyft) both operate at MCO and both allow you to request a ride right when you arrive (either by getting in line or through an app). The biggest difference is price, where a good non-surge estimate for Uber or Lyft is around $40 each way, and taxis can easily be double that. It really comes down to needs and personal preference.
Through the Lyft app, you can also request Disney's Minnie Van service.
One note, especially on Uber and Lyft, if you request a larger vehicle or one with a car seat to accommodate your family, you will likely have a slightly longer wait and/or more expensive ride.
Luxury Sedan, Limo and Van Transfers
While guests may choose to rent a car or use a shuttle between the airport and their final vacation destination. For guests wishing for something more private, Luxury Sedan, Limo and Van Transfers are a great option to explore. Depending on the company and the number in your party, you may have a town car, limo, or large luxury SUV. For parties of four or more, private luxury sedan, limo and van transfers are often a better value than taking a shuttle since the rates are per trip, not per person like shuttle services. While rates will vary, you can expect between $75 and $150 each way as a good estimate for a family to travel to and from MCO using a private car service.
There are many different companies serving Orlando International Airport to and from popular destinations. Some of the most popular and well established include Quicksilver Tours and Happy Limo. When utilizing a chauffeured service, you will be met by a driver as you exit the escalators on the way to baggage claim. The driver will help you retrieve your luggage from the carousel and take you to the car. When arranging your private transfers make sure to find out how to identify your driver at the airport. Many airports (including Orlando International Airport) prohibit the solicitation of rides at the airport.
Once you are settled in to your luxury sedan, limo or van, you may choose to make a grocery stop (which should be pre-arranged when making your reservations). Because the grocery stop may have a time limit, it is a good idea to have a grocery list ready.
General guidelines when deciding which type of private transfer work for your party include:
Luxury sedan service (Lincoln Town Car with a capacity of 4 adults)
Luxury minivan service (Toyota Sienna or similar with a capacity of 5 adults)
Full Size Van service (Ford Club Wagon E-350 or similar with a capacity of 10 adults)
Luxury SUV service (Chevrolet Suburban or similar with a capacity of 6 adults)
Stretch limo service (Lincoln stretch limo with a capacity of 8 adults)
Minibus Service (Ford High Top with a capacity of 14 adults)
When booking your luxury sedan, limo and van transfers, make sure to understand the company's gratuity policy. Some companies add pre-pad gratuities to the reservation. Others will not add them and the gratuity is at your discretion. Standard gratuity of 20% is appropriate if you are happy with your driver's service.
For International arrivals and late arrivals (between 11:00 p.m. and 6 a.m.) a surcharge may be added.
Car seat and booster seats are available for for each leg of the trip. Make sure to clearly state your car seat or booster needs at the time of reservation. Not all car seat types are available and those traveling with young children can consider bringing your own car seat. If it is not used on the plane, it can be checked with checked luggage or often gate checked. Airline luggage fees may apply.
Finally, understand your cancellation policies. Many trips become non-refundable if not cancelled at least 48 hours or more in advance. Understand what the policy is and when the credit card will be charged.
Bus Service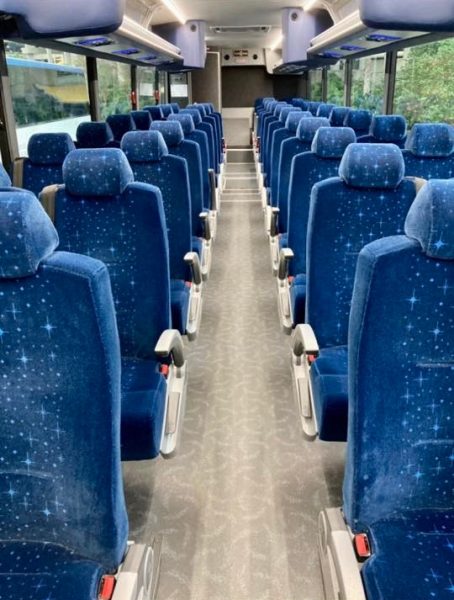 Walt Disney World used to offer a service called Disney's Magical Express, which was a bus service that ran between MCO and the Disney World resort hotels. When that service ended, several options emerged to take its place, but the main one currently operating is called Mears Connect.
With Mears Connect, once you gather your luggage, you will check in and the staff will assign you to a bus that will make stops at several resorts on Disney property. The wait times can vary based on where other vacationers are trying to go. On a return trip to the airport, the same is true, where you will be given a pick up time and then might stop at several other resorts on the way to the airport, so be sure to account for enough time.
Currently, standard pricing is around $20 per adult and $15 per child, but they often run sales or specials.  This service can be easy and convenient, but depending on the size of your group, the cost might start being comparable to a private car service. Mears Connect also has an express option, where you do not share a bus with others, but this is one of the most expensive transportation options, coming in at around $250 for a family of four.
Besides Mears Connect, Orlando also has public buses called Lynx. While these are by far the most affordable, with fare around $2.00, they will also likely take a bit longer and might not drop you off right at your location. This could be a good option if you are staying at a non-Disney hotel, such as on I-Drive, and don't mind figuring out bus transfers.