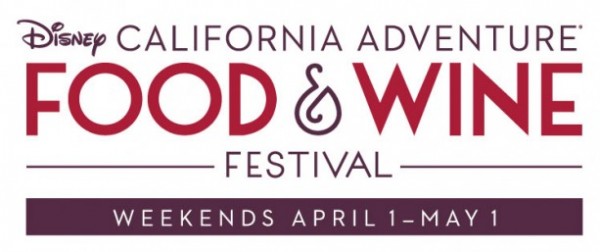 California Adventure Food and Wine Festival
Coming in April, Disney California Adventure will present a unique Food & Wine Festival. Each weekend from April 1-May 1, 2016, the California Adventure Food and Wine Festival will offer a taste of the best of California cuisine. This event has not be presented in California since 2010, so this is a welcome addition to the Disneyland Resort.
The price of admission to the California Adventure Food and Wine Festival is included with regular Disney California Adventure park admission. Some experiences and offerings will have an additional fee. Guests must be 21 years of age or over to participate in some events; valid ID required. Subject to restrictions and change or cancellation without notice.
While there may be some similarities to the Epcot International Food & Wine Festival, the focuses are different. Epcot's festival focuses on international offerings, but the California Adventure Food and Wine Festival will focus on California inspired options.
A new feature of the event will be Festival Marketplaces. Delicious food and beverages from all over the state of California will be available.
Demonstrations and Seminars
Disney California Adventure Food and Wine Festival will include culinary demonstrations, celebrity chef appearances and seminars. While some aspects of the festival are available only guests age 21 and over, expect that there will be something for every member of the family to enjoy at the Disney California Adventure Food and Wine Festival.
Culinary Demonstrations will take place on the Backlot Stage in Hollywood Land. These complementary 30-minute presentations will feature some of the best chefs in the industry. Seating is limited for these demonstrations.
Conducted in the Sonoma Terrace at the Golden Vine Winery, Beverage Seminars are fun and informative presentations about wine, beer and spirits. The 45-minute seminars include up to 3 tastings. Cost is $15 per person plus tax.
Stage 17 in Hollywood Land will be host to the Celebrity Kitchen. Here you can catch some of the biggest names of the culinary world, including superstar chefs Guy Fieri, Graham Elliot, Claudia Sandoval, Robert Irvine and Disneyland Resort Signature Dining Chef Andrew Sutton, as they share tips, treasured recipes and behind-the-scenes-stories and demonstrate how to create their personal favorite dishes. An autograph signing will follow each chef appearance. Cost is $99 per person, plus tax and gratuity.
Beyond the Kitchen: Lifestyle Seminars celebrate springtime in beautiful California. Held in Hollywood Land, these seminars are an opportunity to learn more about exciting topics including gardening, horticulture and health & wellness.
Reservations for Beverage Seminars and Celebrity Kitchen experiences can be made by calling (714) 781-DINE or visiting disneyland.com/dine.
Artist Showcase
Each weekend at Off the Page in Hollywood Land from 2–5 p.m. Disney-inspired artists will be featured. Be sure to stop in to see some of their newest releases and add them to your collection.
April 2–3: Britni Brault, Daniel Killen and Jerrod Maruyama
April 9–10: Dave Avanzino
April 16–17: David Bird, Stephen Cargile, Mike and Patty Peraza and Kurt Steinruck
April 30 – May 1: Steve Adams, Jeremy Fulton, Brian Kesinger, Noah, Mark Page and Javier Soto
For more information about the artists appearing and a sneak peek at their works, visit the Disneyland Theme Park Merchandise Event page.