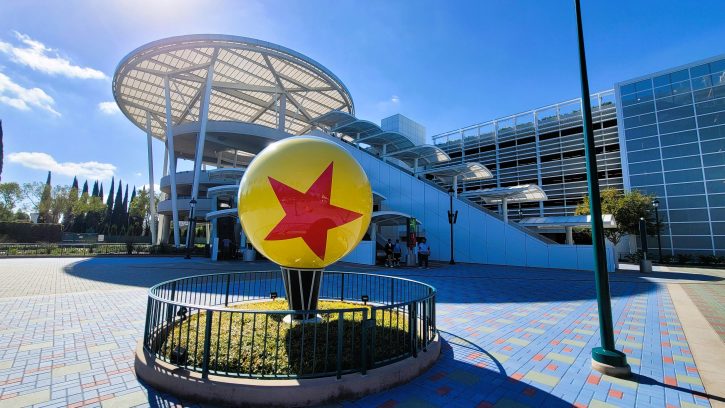 Disneyland parking consists of several parking lots and structures throughout the Disneyland Resort area.  Here are details of where you can park when you visit Disneyland/Disney California Adventure, Disneyland Resorts, and the Downtown Disney District.
Theme Parks Downtown Disney Resort Hotels
Parking at Disneyland Resort Theme Parks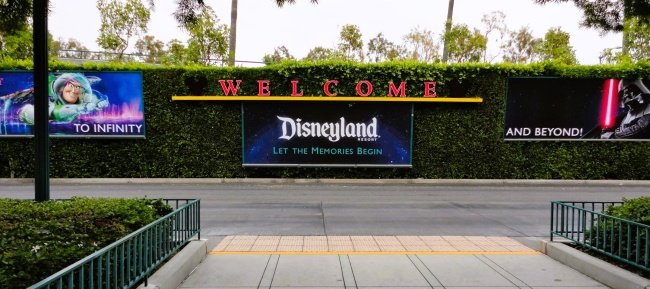 Disneyland parking for the two theme parks, Disney California Adventure and Disneyland are the same.  Due to the two parks' proximity, they do not need separate parking lots for guests. The parking structures utilize trams, while the Toy Story Parking Lot utilizes buses as modes of cost-free transportation between the parking area and the entrance to the theme park. Access to Disneyland parking typically opens one hour before the earliest park opening time and transportation to the parking area continues one hour after the last park closing time.
Available Parking Locations
Mickey & Friends Parking Structure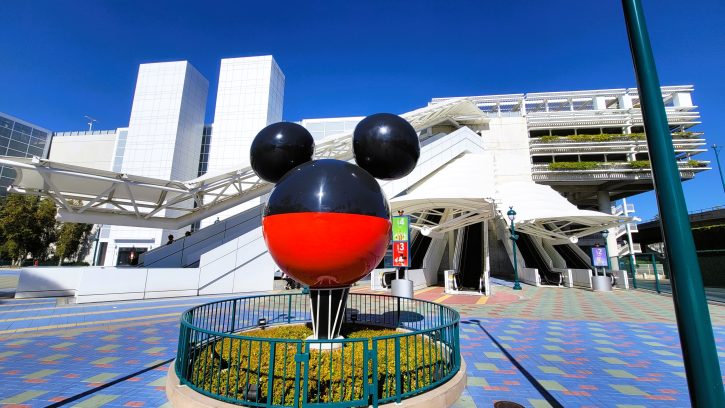 Pixar Pals Parking Structure
Toy Story Parking Lot
Daily Parking Rates
$30 – Cars and Motorcycles
$35 – Oversized vehicles, motor homes and tractors without trailers – Toy Story Parking Lot only
$40 – Buses and Tractor (with extended trailer) – Toy Story Parking Lot only
$50 – Preferred Parking ($20 per vehicle to upgrade pre-purchased parking)
Parking is subject to availability and prices may change without notice.
General Information
@themouseforless Have you wondered how long it takes to get to the front gate once you get to the parking structures at Disneyland? Always plan for half an hour on the safe side in case you are parked on the far side of the Mickey and Friends or Pixar Pala parking structure or if there is a crowd at the security check point and tram loading. Beyond the things that affects the time, the tram ride itself is 4 minutes long 😊 #disneyland #disneylandtrams #disneylandparking ♬ Adventure – André Branney
Acceptable Payment methods include:
Cash (Bills up to $100 are accepted)
Visa, Mastercard, America Express, Discover, JCB, and Diner's Club
Disney Rewards Visa Card or Disney Rewards Redemption Card
Disney Gift Cards
Disney Dollars
Pre-Paid Parking Vouchers
Preferred Parking is located near the elevators and escalators in the Mickey and Friends parking structure. These spots will reduce the amount of walking for guests and ease the challenge of finding your car after a day in the parks. Upon arrival, purchase Preferred Parking and a Cast Member will direct you to the appropriate parking spot.
Disability parking is available at each available parking location. Those requiring disability parking must have either a hanging disability placard or a disability license plate to park in disability parking. Upon arrival, Parking Cast Members will be able to direct you to disability parking. The parking trams can accommodate some with disabilities, but vans are also available to transport guests to the theme parks from the parking areas.
Electric Vehicle Charging Ports are available at the Mickey and Friends Parking Structure. A Cast Member directing parking will be able to direct guests to the electric vehicle charging areas. These are ChargePoint ports and require a ChargePoint card for use. The ChargePoint website is not controlled by disneyland.com, so different terms of use and a separate privacy policy will apply.
Downtown Disney District Parking
Downtown Disney District Parking is at the Simba Lot. This lot is located off of Disneyland Drive, between West Katella Avenue and Disney's Paradise Pier Hotel. Parking in Downtown Disney is available on a first-come, first-served basis. Disability Parking is accessible in the Simba Lot. Self-parking is the only option available in Downtown Disney.
Downtown Disney Daily Parking Rates
Parking is $10 for the first hour at Downtown Disney. Validations apply after the first hour of paid parking.
3-hour parking validation is provided for guests who make any $20 purchase in Downtown Disney locations and will be validated at the time of purchase.
5-hour parking validation is provided for any guest dining at a table-service restaurant. Ask a restaurant employee for parking validation.
Without validation, each additional hour costs $14 and is charged in 30-minute increments with a minimum of $7. The maximum daily parking or lost ticket fee is $66.
*Please note this does NOT include dining or purchases from within Disneyland Resort hotels*
Hotel Parking
Every hotel in the Disneyland Resort has its own private parking lot that is exclusively for that hotel.
Charging stations for electric vehicles are available in each hotel's parking lot; however, customers need to present a ChargePoint card to use them. Disneyland guests can obtain ChargePoint cards through the internet at chargepoint.com. Guests can pay their charges using the mobile app or the physical card (request by mail).
Hotel Parking Rates
Parking Rates for Resort Guests
$35 – Self-Parking rate per night
$40 – Oversized Vehicle Parking rate per night
$65 – Valet Parking rate per night
Rates for Resort Visitors – Not Overnight 
$35 – First hour then $10 every following hour, max $75
$40 – First hour Oversized vehicle then $10 every following hour, max $80
$65 – First hour Valet parking then $10 every following hour, max $135
Guests visiting for dining reservations at Storytellers Cafe or Goofy's Kitchen will receive 3 hour parking free.  Guests visiting for dining reservation at Napa Rose or spa service at Tenaya Stone Spa with a minimum of $125 purchase will receive 5 hours parking free.