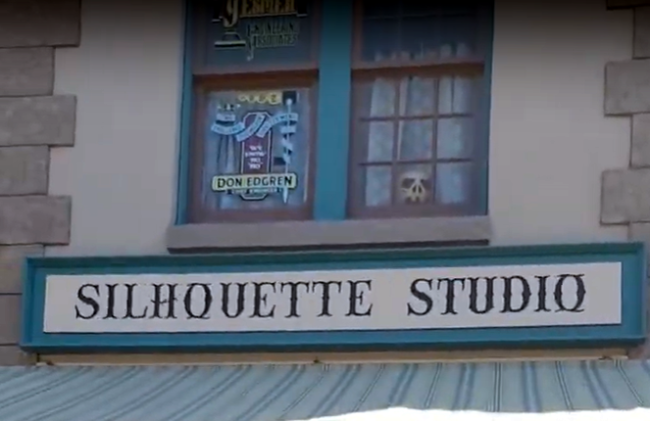 The Silhouette Studio is an old fashioned, artistic experience that fits right in with the theme of Main Street, U.S.A. Equipped with veteran artists, the Silhouette Studio provides guests with an economical memento to cherish for years on end.
Silhouette Studio Location
The Silhouette Studio is located on right side of Main Street, Disneyland facing the castle. Next to the studio, you will find the Crystal Arts store, with the Gibson Girl Ice Cream Parlor adjacent to it.
The Art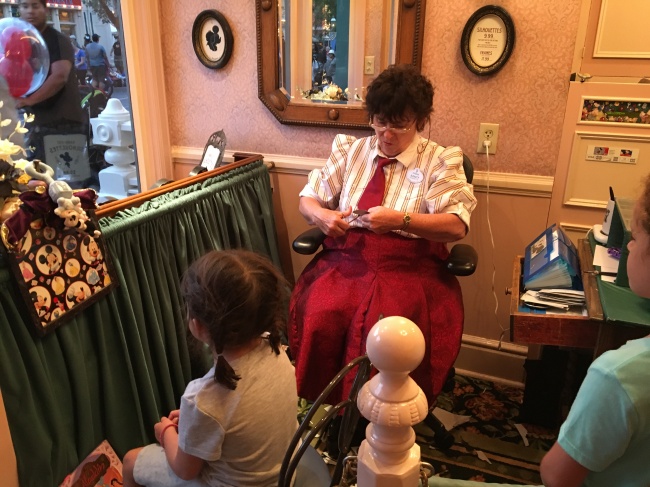 Guests sit in a chair facing a window to main street. Don't get comfortable though! The artist only takes about 60 seconds to complete the portrait! These skilled craftsmen and women can craft one or a multitude of heads into a silhouette, while taking minimal time doing so.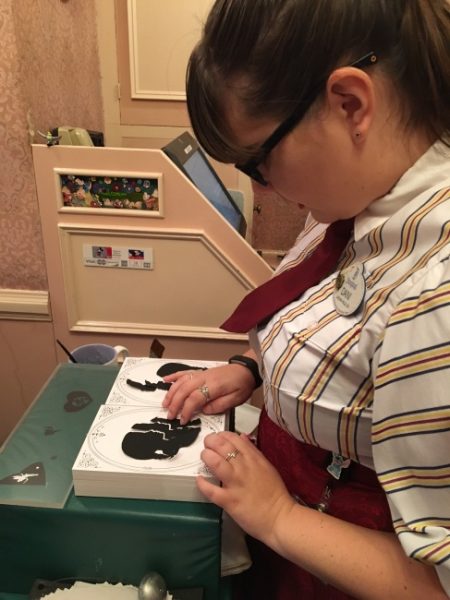 The artist will cut an outline of the guests head out of black paper. In doing this, he or she will actually be constructing two copies of the artwork. If another guest is being placed in the portrait, they will take a seat as the artist will fit their head neatly into the other, and so on until each member of the group is completed. Then, the silhouette will be passed along to the artist's assistant, who will place the pieces together and glue them to a white sheet, with an exclusive Disneyland embroidering. Then, upon request and an additional cost, the artwork will be placed into a frame.
Silhouette Studio Prices
To have an artist create a silhouette portrait of a guest in Disneyland, a park admission ticket is required. Each silhouette is $11.99, with the cost pertaining to each person. Guests can have the artwork framed, with the frames priced at $19.99.
TheMouseForLess Trivia
**Did you know you can have a Disney character silhouette added in the background (extra charge).
**Did you know you can bring a good profile picture of your pet and have your beloved pet's silhouette added to the artwork.

Planning a Disneyland Vacation?
For a Free no-obligation quote, contact our sponsor
The Magic For Less Travel
. Services are provided free of charge and their expert planning advice will help you make the most of your vacation time and money.