Disneyland Resort | Tomorrowland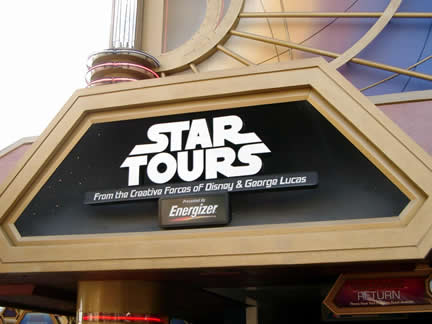 Star Tours – The Adventures Continue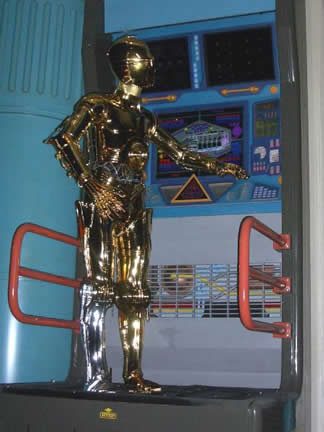 In Star Tours, guests takes on the role of a space tourist. The tour is put together by the Star Tours Travel Agency. The ride queue – a spaceship boarding terminal, is stocked with Audio-Animatronic characters that should look familiar to most (C-3PO and R2-D2 from Star Wars among them) and seem to interact with guests.
Guests are escorted the StarSpeeder 3000 for the simulation ride to begin. Star Tours first opened in 1987 where Rex, the RX-24 begins the ride by saying "I know this is probably your first flight, and it's mine too… ha, ha". This statement sets the stage for the guest to expect the unexpected. The ride was closed for almost a year from July 27, 2010 till May 20, 2011 and coverted to Star Tours: The Adventures Continue.
This is a highly repeatable ride as the ride sequence is randomized.  There are two possible opening segments, three possible primary destinations, three possible hologram messages and three possible ending destion segments.  Together, this allows 54 different possible scenarios.  The main objective of taking the Rebel spy to safety is accomplished no matter which scenario is shown.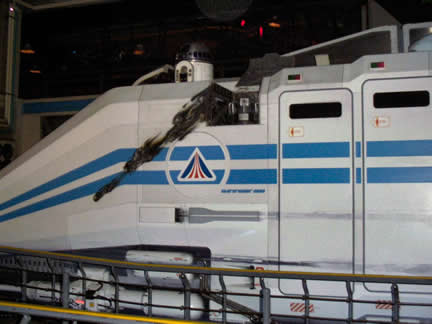 This is a motion simulation ride, for safety, you should be in good health and free from high blood pressure, heart, back or neck problems, motion sickness, or other conditions that could be aggravated by this adventure. Expectant mothers should not ride. Guests must be at least 40″ tall to ride Star Tours.
TheMouseForLess Trivia
** Did you know that the C-3PO and R2-D2 droids in the Disneyland Star Tours are actual props from the original Star Wars film, modified to operate via Audio-Animatronics?
** Did you know that this attraction is built in four of five Disney Parks around the world? It was first opened in Disneyland on January 9, 1987. Disneyland Japan opened the door to their Star Tours on July 12, 1989. On December 15th of the same year, MGM Studios in Florida debut their Star Tours, and on April 12, 1992, Disneyland Paris opened their Star Tours.