Disneyland Resort | Tomorrowland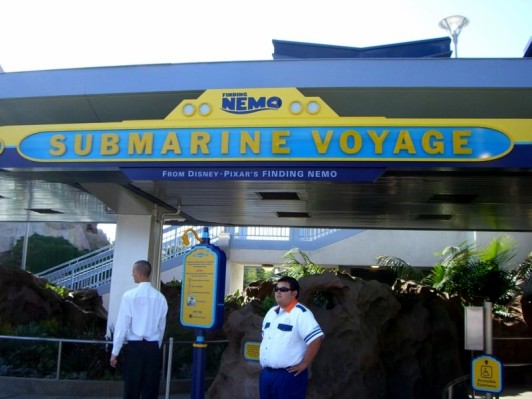 In the Finding Nemo Submarine Voyage, guests board a whimsical yellow submarine – old-timers will recognize these submarines as the ones that they rode in years ago, refurbished to be more comfortable. Guests will dive down into the depths of ocean and venture on a quest with Marlin and Dory to find Nemo. During this journey guests will see familiar faces from the movie "Finding Nemo". Look for Darla and her uncle diving in the reefs, Gill, Jacques and others from the Tank Gang among the wild life, then dive deeper to see and hear Nemo, Marlin and all of their friends before resurfacing to the completion of your journey.
The ride utilizes the same technology as "The Seas with Nemo and Friends" ride that is located at Disney's EPCOT in Orlando, Florida and is a real treat for anyone who has not experienced it before. Each guest will have their own porthole for viewing. There is no height restriction and younger children are encouraged to sit on their parent's lap for a better view. However, towards the end of the ride there are loud noises which may startle and frighten younger children.
The original Submarine Voyage attraction made its debut in Disneyland in 1959 and was loosely based on the movie 20,000 Leagues Under the Sea. The attraction remained the same for 39 years. It subsequently received a makeover including adding elements from the popular "Finding Nemo" movie.