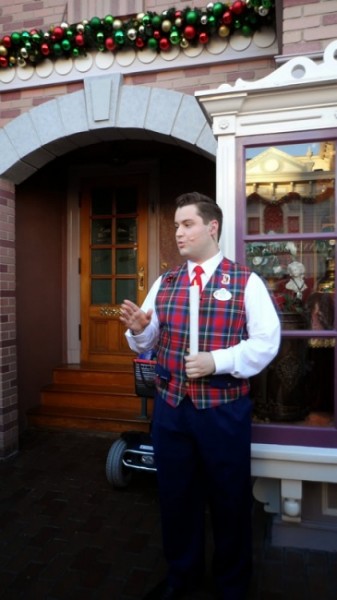 Unique tours and backstage experiences are available throughout the Walt Disney Resort. Unless noted otherwise, tours can be reserved 30 days in advance with a credit card guarantee. Cancellation must occur 48 hours in advance to avoid penalties. Park admission may or may not be required. A photo ID will usually be required when checking in. Photographs are prohibited in backstage areas.
Disneyland Resort Tours Seasonal Tours VIP Tours
Disneyland Resort Tours
Walt's Main Street tory Tour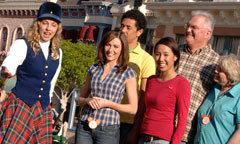 Listen as your dedicated tour guide regales you with behind-the-scenes stories and enchanting tidbits throughout this 90-minute experience. Plus, learn about special links to Walt Disney's boyhood town of Marceline, Missouri.
It all culminates with a visit to Walt's apartment high above the Disneyland Fire Station in Town Square where Guests will have the chance to enjoy refreshments on the patio—for the first time ever!
This experience includes:
A walking tour down Main Street, U.S.A.
A visit to Walt's legendary apartment
Refreshments on the apartment patio
PhotoPass photos of your party with complimentary digital downloads
A commemorative lanyard
Days & Times: Daily
Duration: 90 minutes
Price: $160 per person
Park Admission: Separate Admission Required
Restrictions: All tours accommodate wheelchairs and strollers
Starting Location: Guided Tour Gardens next to City Hall on Main Street, USA
Discounts: N/A
To Reserve:Reserve online or through the Disneyland App
Seasonal Tours
Holiday Time at Disneyland Tour:
Discover the holiday history of Disneyland Park and learn about holiday traditions of cultures around the world on this 2.5 hour tour. Includes priority boarding onto "it's a small world" Holiday, VIP Seating for "A Christmas Fantasy" parade, and a sweet treat and beverage. Available mid November thru early January.
Days & Times: Daily during season.
Duration: 2.5 hours
Price: $110 per person
Park Admission: Separate Admission and Park Reservation Required
Restrictions: recommended for all guests.
Starting Location: Guided Tour Gardens next to City Hall on Main Street, USA
Discounts: N/A
To Reserve: Reserve online or through the Disneyland App
Disneyland Resort VIP Tours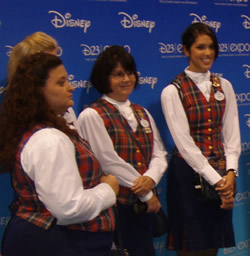 Imagine discovering all the magic and adventure awaiting you at either one of the Disneyland Resort theme parks, with a Disneyland VIP Tour Guide as your personal ambassador.  Your VIP Tour Guide will customize your visit through special seating for Disneyland parades, select live stage shows and the distinct variety of restaurants around the Disneyland Resort.  Disney's professional and knowledgeable VIP Tour Guides will also share their insight and experience with you throughout your tour.
Disneyland VIP Tour:
VIP Tours provide hassle-free planning, reserved viewing of certain nighttime spectaculars and stage shows, priority access to many attractions, and personalized attention and hospitality. VIP Tour Coordinators can help you preplan major items such as start times, special celebrations, specific family priorities for the day and special dining needs. They can also help you book Disneyland Resort dining reservations. The result will not be a minute-by-minute itinerary, but will allow you the flexibility to make impromptu changes along the way.
Days & Times: Daily
Duration: 7 hours minimum, 10 hours maximum
Price Range:Starting at $3,500, you and up to 9 other Guests can enjoy a customizable VIP Tour.
Park Admission: Separate Admission Required
Restrictions: recommended for all guests.
Starting Location: Guided Tour Gardens next to City Hall on Main Street, USA
Discounts: none available
To Reserve: Call (714) 300-7710