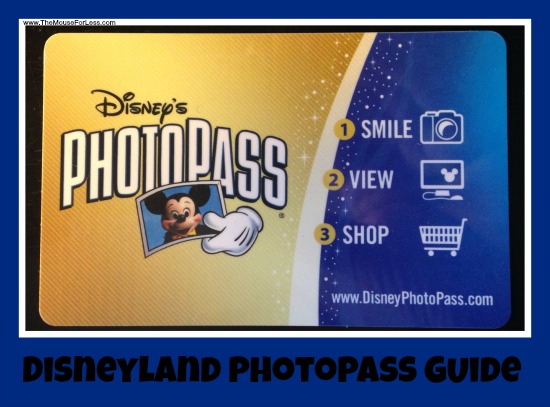 Disneyland Resort PhotoPass Guide
Do you ever find that the one who holds the camera rarely ends up in the vacation pictures? Disneyland has a service called PhotoPass that allows everyone to be in each photo together. The Disneyland Resort PhotoPass system is a great way for everyone to get in the picture in front of a variety of popular photo locations at the Disneyland theme parks.
Disneyland Resort PhotoPass photographers are set up in several key places throughout both Disneyland and Disney California Adventure Park to take your photographs. Some Disney PhotoPass photographers can even add cool graphics (Magic Shots), like Tinker Bell, to further enhance the photo.
To get started, simply visit a PhotoPass photographer in the park. You will receive a PhotoPass card that you will use each time you visit a photographer. When you get home (or using an internet connection while traveling), visit www.DisneyPhotoPass.com and enter the card number. You will be able to view and edit photos from your account. PhotoPass photos are only available to view for 45 days after they have been claimed. In addition, Disneyland Resort PhotoPass photos can also be viewed at a Photo Shop inside one of the theme parks.
It doesn't cost anything to have Disney PhotoPass photographers take your photo. However, there is a charge to download photos, to buy images on Disney's PhotoCD, or to purchase unique gifts that display your favorite vacation photos. A list of the available Disney PhotoPass products can be found on the MyDisneyPhotoPass website. Disney PhotoPass photographers will even take your photo with your own camera, too.
PhotoPass+ Packages
Disney PhotoPass+ offers high-resolution digital files of photos for one price. Disney PhotoPass+ includes photos that are taken on the date shown on the Disney PhotoPass+ card and for the 14 days before that date.
The cost of the Disneyland PhotoPass+ is $99.95 if purchased in the parks and $69.95 if purchased pre-arrival, plus applicable tax.
The following are included in the Disney PhotoPass+ purchase:
Photos taken by Disney PhotoPass photographers
Certain attraction photos
Photos from select dining locations
A Disney PhotoCD with your PhotoPass+ photos on it
Limited license agreement to allow printing at local photo labs
In addition to locations around the theme parks, photos from select attractions and character dining experiences can be added to your PhotoPass card.
Participating Attractions:
Space Mountain
Splash Mountain
Guardians of the Galaxy – Mission: BREAKOUT
The Incredicoaster
Radiator Springs Racers
Participating Character Dining Locations:
Goofy's Kitchen
Plaza Inn
Disney PhotoPass+ Includes:
PhotoPass+ Card and Lanyard
Print Packages at select Dining locations
Digital Downloads of select Attractions
PhotoPass Sales Centers and View Stations
Where PhotoPass+ Vouchers can be Redeemed:
Main Street Photo Supply in Disneyland park
Kingswell Camera Shop in Disney California Adventure park
Disney PhotoPass+ – One Day $39 Get all your Disney PhotoPass photos, attraction photos, dining photos and Magic Shots—and enjoy 45 days to download each and every happy moment. Keep them, share them on Facebook and relive the memories.
Disney PhotoPass+ One Week $69 Get all your Disney PhotoPass photos, attraction photos, dining photos and Magic Shots—and enjoy 45 days to download each and every happy moment. Keep them, share them and relive the memories.
Expiration Extension – $19.95 Enjoy extra time to purchase digital download rights and prints! Disney PhotoPass photos expire 45 days after capture, but a one-time Expiration Extension allows you to have 60 days after capture to view your photos and decide which ones you want.
PhotoPass Locations at Disneyland Resort
Click here to view or download a PhotoPass location maps for Disneyland Resort or use the menu on the same page to select a location for PhotoPass tips. Note: Disney California Adventure map has not yet been updated to include Cars Land, Buena Vista Street and other recent changes to the park. Some of the tips for both parks are terribly outdated.
Disney Photopass photographers are also available at the following Disneyland dining locations: Goofy's Kitchen, Ariel's Disney Princess Celebration.
Disneyland guests now have the option to add souvenir photos to their PhotoPass cards for the following Disneyland Resort attractions: Splash Mountain and Space Mountain at Disneyland park and California Screamin' and Tower of Terror at Disney California Adventure park. Guests may either purchase the digital download for $14.99 or purchase the on-site 5″ x 7″ photo for $14.99 and get a digital download for free. Photos may be loaded onto your existing PhotoPass card or onto a separate ride PhotoPass, but each of these cards will have different expiration periods. While the standard PhotoPass card has 30 days to access photos, and another 30 days to purchase, the separate ride PhotoPass card will have 30 days to access photos but only 10 days to download before the photo is deleted.

MouseForLess Disneyland PhotoPass+ Tips:


The Disneyland PhotoPass+ is available for pre-arrival purchase at a $30 savings. Use this special link to purchase Walt Disney World PhotoPass+ at Pre-Arrival Savings of just $69.95 (plus tax). To take advantage of the pre-arrival purchase offer you must order at least 14 days prior to your vacation.

For comparison purposes, on-ride photos at the 5 available attractions would cost $14.95 each ($74.95 total), photo packages at the 4 available dining locations would cost $30 each ($120 total), the included PhotoCD would cost $69.95 if purchased separately. This would bring the grand total of everything you get in the PhotoPass+ package to about $265 if components were all purchased individually, and this does not even take into account the $39.95 value of Disney's Gallery CD.
Regular PhotoPass photos taken in the parks may be added to your PhotoPass+ card by visiting one of the Disneyland Resort Photo Centers before the end of your trip.