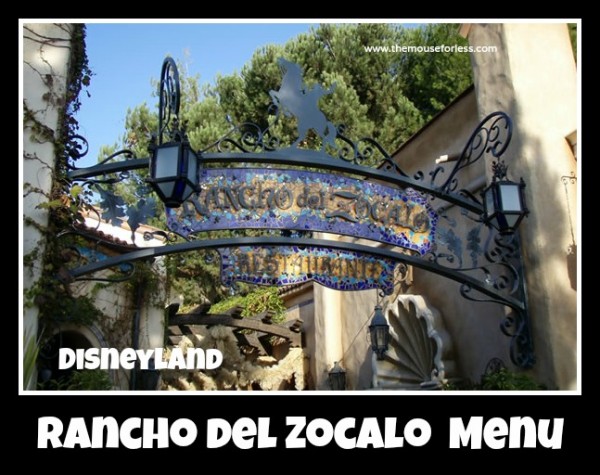 Savor south-of-the-border specialties that are "muy delicioso." A beautiful Spanish food court-style restaurant, this hacienda kindles the spirit of early California's romance and heritage. Take a look at the Rancho del Zocalo Restaurante Menu for breakfast, lunch, and dinner.
Rancho del Zocalo Restaurante is located in Disneyland theme park.  Find more Disneyland dining locations on our Disneyland Resorts menus page.
Restaurant Info: American/Healthy Selections/Mexican/Vegetarian, Lunch/Dinner, $ – Less than $14.99 per person
Annual Passport Discounts: Signature Passport, Premium, Signature Plus Passport: 15%
Annual Passport Discounts: Deluxe, Southern California Select, Southern California Passport: 10%
Breakfast Menu  Lunch and Dinner Menus  Kids Menus

Planning a Disneyland Vacation?
For a Free no-obligation quote, contact our sponsor
The Magic For Less Travel
. The Magic For Less Travel is an Authorized Disney Vacation Planner and has been helping guests plan magical vacations since 2002. Receive the best prices and free travel planning services. Their fee-free services will help you save time, money, and stress while planning a vacation designed around you and your needs!
Rancho del Zocalo Restaurante Menu – Lunch and Dinner
Menu Date: 03/2023
Entrees
Fire-grilled Half Chicken
Marinated with Chile and Citrus served with Mexican Rice and Refried Beans – $14.99
Red Chile Enchilada Platter
Three Cheese Enchiladas topped with Red Chile Sauce served with Mexican Rice and Refried Beans – $12.99
Trio of Street Tacos
Beef, Chicken and Cauliflower served in Corn Tortillas with Tomatillo Sauce, garnished with Onions and Cilantro served with Mexican Rice and Refried Beans – $13.99
Burrito Sonora with Beef
with Refried Beans, Rice and Cheese wrapped in a Flour Tortilla and topped with a traditional Guajillo Sauce served with Mexican Rice and Refried Beans – $13.49
Burrito Sonora with Chicken
with Refried Beans, Rice and Cheese wrapped in a Flour Tortilla and topped with a traditional Guajillo Sauce served with Mexican Rice and Refried Beans – $12.49
Plant Based
Cauliflower Tacos 
topped with Cabbage Slaw and Tomatillo Sauce served with Mexican Rice and Refried Beans – $13.99
Salads
Tostada Salad with Marinated Chicken
presented in a crispy Tortilla Shell with Mexican Rice, Refried Beans, chopped Lettuce, Cilantro-Lime Vinaigrette, Sour Cream, Guacamole, and Pico de Gallo, topped with Cheese – $12.79
Tostada Salad with Chicken 
presented in a crispy Tortilla Shell with Mexican Rice, Refried Beans, chopped Lettuce, Cilantro-Lime Vinaigrette, Sour Cream, Guacamole, and Pico de Gallo, topped with Cheese – $13.49
Mexican Chicken Caesar Salad
Grilled Chicken, Lettuce, House-made Caesar Dressing, Pepitas and Cotija Cheese – $11.99
Sides
Crispy Chips con Limon – $3.99
Crispy Chips con Limon with Salsa – $4.98
Side Mexican Rice – $2.49
Side Reffried Beans – $2.49
Side Corn Tortillas – $1.99
Kids' Disney Check Meals
Bean and Cheese Burrito
served with Rice, Applesauce, Vegetables and choice of Small Lowfat Milk or Small DASANI® Water. Meets Disney Nutrition Guidelines for Complete Meals without substitutions – $7.99
Chicken Taco
served with Rice, Applesauce, Vegetables and choice of Small Lowfat Milk or Small DASANI® Water. Meets Disney Nutrition Guidelines for Complete Meals without substitutions – $7.99
Desserts
Cinnamon Crisps – $4.49
Chocolate Flan Cake
Caramel Flan with Chocolate Cake – $5.49
Beverages
Assorted Fountain Beverages – $4.59
DASANI® Bottled Water – $4.39
smartwater® – $4.89
Minute Maid® Apple Juice – $2.49
Minute Maid® Fruit Punch – $1.99
Nestle® NESQUIK® Chocolate Milk – $3.99
Lowfat Milk – $2.49
Coffee – Regular or Decaffeinated – $3.79
Hot Cocoa – $3.79
Hot Tea – $3.79
Souvenir Sipper
includes Soft Drink at time of purchase – $13.99
Travel Mug
choice of Beverage at time of purchase – $11.49
Gluten Allergy Friendly
Fire-grilled Half Chicken
Marinated with Chile and Citrus served with Mexican Rice and Refried Beans
Trio of Street Tacos
Beef, Chicken and Cauliflower served in Corn Tortillas with Tomatillo Sauce, garnished with Onions and Cilantro served with Mexican Rice and Refried Beans
Disney Check Meal – Kids' Chicken Taco
served with Rice, Applesauce, Vegetables and choice of Small Lowfat Milk or Small DASANI® Water. Meets Disney Nutrition Guidelines for Complete Meals without substitutions
Egg Allergy Friendly
Fire-grilled Half Chicken
Marinated with Chile and Citrus served with Mexican Rice and Refried Beans
Trio of Street Tacos
Beef, Chicken and Cauliflower served in Corn Tortillas with Tomatillo Sauce, garnished with Onions and Cilantro served with Mexican Rice and Refried Beans
Burrito Sonora with Beef
with Refried Beans, Rice and Cheese wrapped in a Flour Tortilla and topped with a traditional Guajillo Sauce served with Mexican Rice and Refried Beans
Burrito Sonora with Chicken
with Refried Beans, Rice and Cheese wrapped in a Flour Tortilla and topped with a traditional Guajillo Sauce served with Mexican Rice and Refried Beans
Cauliflower Tacos
topped with Cabbage Slaw and Tomatillo Sauce served with Mexican Rice and Refried Beans
Tostado Salad with Beef
presented in a crispy Tortilla Shell with Mexican Rice, Refried Beans, chopped Lettuce, Cilantro-Lime Vinaigrette, Sour Cream, Guacamole, and Pico de Gallo, topped with Cheese
Tostado Salad with Chicken
presented in a crispy Tortilla Shell with Mexican Rice, Refried Beans, chopped Lettuce, Cilantro-Lime Vinaigrette, Sour Cream, Guacamole, and Pico de Gallo, topped with Cheese
Disney Check Meal – Kids' Bean and Cheese Burrito
served with Rice, Applesauce, Vegetables and choice of Small Lowfat Milk or Small DASANI® Water. Meets Disney Nutrition Guidelines for Complete Meals without substitutions
Disney Check Meal – Kids' Chicken Taco
served with Rice, Applesauce, Vegetables and choice of Small Lowfat Milk or Small DASANI® Water. Meets Disney Nutrition Guidelines for Complete Meals without substitutions
Fish/Shellfish Allergy Friendly
Fire-grilled Half Chicken
Marinated with Chile and Citrus served with Mexican Rice and Refried Beans
Cauliflower Tacos
topped with Cabbage Slaw and Tomatillo Sauce served with Mexican Rice and Refried Beans
Burrito Sonora with Beef
with Refried Beans, Rice and Cheese wrapped in a Flour Tortilla and topped with a traditional Guajillo Sauce served with Mexican Rice and Refried Beans
Burrito Sonora with Chicken
with Refried Beans, Rice and Cheese wrapped in a Flour Tortilla and topped with a traditional Guajillo Sauce served with Mexican Rice and Refried Beans
Disney Check Meal – Kids' Chicken Taco
served with Rice, Applesauce, Vegetables and choice of Small Lowfat Milk or Small DASANI® Water. Meets Disney Nutrition Guidelines for Complete Meals without substitutions
Milk Allergy Friendly
Cauliflower Tacos
topped with Cabbage Slaw and Tomatillo Sauce served with Mexican Rice and Refried Beans
Peanut/Tree Nut Allergy
Fire-grilled Half Chicken
Marinated with Chile and Citrus served with Mexican Rice and Refried Beans
Red Chile Enchilada Platter
Three Cheese Enchiladas topped with Red Chile Sauce served with Mexican Rice and Refried Beans
Trio of Street Tacos
Beef, Chicken and Cauliflower served in Corn Tortillas with Tomatillo Sauce, garnished with Onions and Cilantro served with Mexican Rice and Refried Beans
Burrito Sonora with Beef
with Refried Beans, Rice and Cheese wrapped in a Flour Tortilla and topped with a traditional Guajillo Sauce served with Mexican Rice and Refried Beans
Burrito Sonora with Chicken
with Refried Beans, Rice and Cheese wrapped in a Flour Tortilla and topped with a traditional Guajillo Sauce served with Mexican Rice and Refried Beans
Cauliflower Tacos
topped with Cabbage Slaw and Tomatillo Sauce served with Mexican Rice and Refried Beans
Tostada Salad with Beef
presented in a crispy Tortilla Shell with Mexican Rice, Refried Beans, chopped Lettuce, Cilantro-Lime Vinaigrette, Sour Cream, Guacamole, and Pico de Gallo, topped with Cheese
Tostada Salad with Chicken
presented in a crispy Tortilla Shell with Mexican Rice, Refried Beans, chopped Lettuce, Cilantro-Lime Vinaigrette, Sour Cream, Guacamole, and Pico de Gallo, topped with Cheese
Disney Check Meal – Kids' Bean and Cheese Burrito
served with Rice, Applesauce, Vegetables and choice of Small Lowfat Milk or Small DASANI® Water. Meets Disney Nutrition Guidelines for Complete Meals without substitutions
Disney Check Meal – Kids' Chicken Taco
served with Rice, Applesauce, Vegetables and choice of Small Lowfat Milk or Small DASANI® Water. Meets Disney Nutrition Guidelines for Complete Meals without substitutions
Soy Allergy Friendly
Fire-grilled Half Chicken
Marinated with Chile and Citrus served with Mexican Rice and Refried Beans
Trio of Street Tacos
Beef, Chicken and Cauliflower served in Corn Tortillas with Tomatillo Sauce, garnished with Onions and Cilantro served with Mexican Rice and Refried Beans
Disney Check Meal – Kids' Chicken Taco
served with Rice, Applesauce, Vegetables and choice of Small Lowfat Milk or Small DASANI® Water. Meets Disney Nutrition Guidelines for Complete Meals without substitutions
** Rancho del Zocalo Restaurante Menu and Prices are Subject to Change Without Notice **