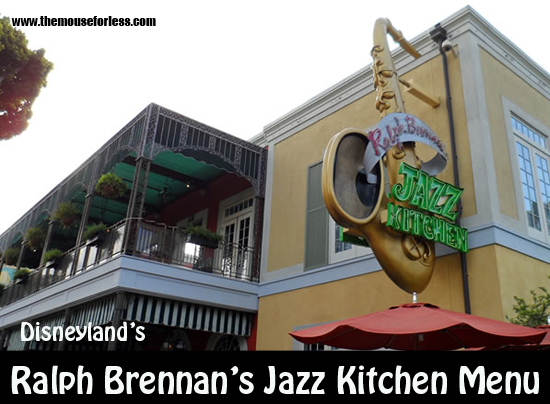 At Ralph Brennan's Jazz Kitchen, as part of a total entertainment and dining experience, every detail of this Big Easy-inspired restaurant delivers the tantalizing sights, sounds and tastes of New Orleans.
Ralph Brennan's Jazz Kitchen is located in the Downtown Disney District.  Find more Disneyland dining locations on our Disneyland Resorts menus page.
Restaurant Info: Cajun-Creole, Steak. Unique and Themed Bars and Lounges, $$ – Between $15.00 and $35.99 per person.
Annual Passholders receive a 10% discount. 
Lunch/Dinner Menu  Kids' Lunch/Dinner Menu  Drink Menu
Ralph Brennan's Jazz Kitchen Lunch/Dinner Menu
Menu Date: 06/2021
Soups, Salads and Starters
Gumbo Ya-Ya
Andouille Sausage, Roasted Chicken, Holy Trinity, simmered with Creole Seasonings in a rich Dark Roux thickened Broth, served over Green Onion Rice – $12.00
French Quarter Salad
Mixed Baby Greens, Candied Pecans, Roma Tomatoes, tossed in our House-made Apple Cider Vinaigrette – $9.00
French Quarter Salad with Fried Chicken
Mixed Baby Greens, Candied Pecans, Roma Tomatoes, tossed in our House-made Apple Cider Vinaigrette – $16.00
French Quarter Salad with Blackened Salmon
Mixed Baby Greens, Candied Pecans, Roma Tomatoes, tossed in our House-made Apple Cider Vinaigrette – $22.00
Caesar Salad
crisp Romaine Lettuce, Roma Tomatoes, Shaved Asiago Cheese, Creole Caesar Dressing, Rosemary-Garlic Ciabatta Bread – $13.00
Louisiana Crawfish Spring Rolls
Fire-roasted Corn Relish, Chile-Garlic Dipping Sauce – $17.00
Dippin' Tots
Parmesan-Herb tossed Tater Tots with Sriracha Mayo and Alabama White Sauce for dippin' – $14.00
Popcorn Calamari
Flash-fried and served with our House-made Creole Mustard Aïoli and Marinara Sauce – $18.00
Sandwiches
Jazz Kitchen Cheeseburger
Certified Angus Beef Burger, Pepperjack Cheese, Roma Tomatoes, Red Onion, Pickles, Creole Mustard Aïoli, served with Fries – $20.00
Fried Chicken BLTA Po-Boy
Cajun-spiced Fried Chicken, Applewood-smoked Bacon, Romaine Lettuce, Roma Tomatoes, Creole Mustard Aïoli, served with Fries – $19.00
Impossible Burger
Plant-based Burger, Roma Tomatoes, Red Onion, Pickles, Creole Mustard Aïoli, served with Fries – $21.00
Entrees
Pasta Jambalaya
Roasted Chicken, Andouille Sausage, Gulf Shrimp, Caramelized Onions, Bell Peppers, Garlic, Roma Tomatoes, Creole Seasoning, Spinach Fettuccine, Jambalaya Pan Sauce – $33.00
Blackened Chicken "Mac & Cheese"
Applewood-smoked Bacon, Caramelized Onions, Oven-roasted Tomatoes, Baby Arugula, Penne Pasta, Smoked Gouda Cream Sauce, Rosemary-Garlic Ciabatta Bread – $30.00
Gulf Shrimp A La Creole
Gulf Shrimp, Sauce Piquant, Tempura Catfish, Green Onion Rice, Cajun Tartar Sauce – $28.00
Fried Chicken Caesar Salad
Cajun-spiced Fried Chicken, crisp Romaine Lettuce, Roma Tomatoes, Shaved Asiago Cheese, Creole Caesar Dressing, Rosemary-Garlic Ciabatta Bread – $21.00
Blackened Salmon
Cajun-spiced North Atlantic Salmon, Green Onion Rice, Bacon-braised Southern Greens, Lemon Butter Sauce – $29.00
NOLA BBQ Shrimp and Grits
Gulf Shrimp simmered in a New Orleans "BBQ sauce" with Roasted Garlic, Lemon, Worcestershire, Creole Seasonings, served over Andouille Sausage and Parmesan Grits – $31.00
Desserts
Beignets 
French Donuts topped with Powdered Sugar (5 per order) – $12.00
Double Chocolate Bread Pudding  Souffle
Semisweet Chocolate, White and Dark Chocolate Ganache – $14.00
Make it a la mode – $1.99
Please allow 25 minutes to prepare
Bananas Foster Glazed Beignets
Banana Rum Icing, Cinnamon Sugar dust, Caramel drizzle, Vanilla Bean Crème Anglaise – $15.00
Ralph Brennan's Jazz Kitchen Kid's Lunch/Dinner Menu
Menu Date: 03/2020
Kids' Appetizers
Celery and Carrot Sticks
served with Ranch Dressing
Kids' Entrées
Crispy Chicken Tenders
With Honey-Mustard Dipping Sauce. Includes Appetizer, choice of Entree and choice of Side – $12.00
Penne Pasta and Meatballs
With Tomato Sauce and Parmesan Cheese. Includes Appetizer, choice of Entree and choice of Side – $10.00
Jazz Kitchen Junior Cheeseburger
On a Toasted Sesame Seed Bun. Includes Appetizer, choice of Entree and choice of side – $11.00
Kids' Sides
French Fries
Fresh Fruit
Ralph Brennan's Jazz Kitchen Drink Menu
Menu Date: 06/2021
New Orleans Specialty Drinks
Cat – 5 Hurricane
Don Q Rum, Myers's Rum, Orange Juice, Pineapple Juice, Grenadine, float of Don Q 151 Rum
Sazerac
Sazerac Rye Whiskey, Herbsaint and Bitters
Mint Julep
Woodford Reserve Bourbon, House-infused Mint Simple Syrup and fresh Mint Leaves
Pineapple Milk
Skyy Pineapple Vodka, Piña Colada Mix, and Dole® Pineapple Juice
Raspberry Rum Runner
Cruzan Coconut Rum, Myers's Dark Rum, Creme de Banana, Pineapple and Orange Juices
Louisiana Lemonade
Cruzan Citrus Rum, Raspberry Liqueur, Lemonade, Sprite®
Southern Peach Sweet Tea
Deep Eddy Sweet Tea Vodka, Peachtree Schnapps, and Lemonade
Mardi Gras Mojito
Don Q Cristal Rum, Mint-infused Simple Syrup, Lime Juice, and Sprite®
The JK Bloody Mary
Absolut Vodka, Celery Salted Rim, garnished with Lime and Pimento-stuffed Olive
Cajun Bloody Mary
Absolut Peppar, Creole Seasoned Rim, Crystal Hot Sauce, Pimento-stuffed Olive
** Ralph Brennan's Jazz Kitchen Menu and Prices are Subject to Change Without Notice **