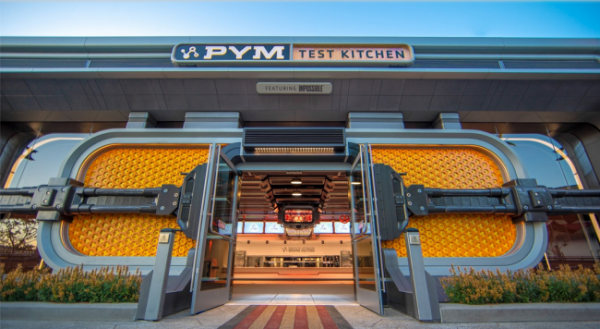 Image Courtesy the Walt Disney Company

Refuel with Ant-Man and The Wasp's size-defying fare at this epic eatery at Avengers Campus!
On an urgent mission to fight hunger? Head to Pym Test Kitchen for phenomenal food at unusual scales! Utilizing the revolutionary shrink-and-grow technology of Pym Particles, Ant-Man and The Wasp lead a team of research chefs as they pioneer a menu packed with inventive-sized entrees, tiny treats and shareable bites that provide the perfect power-up.
This old lab facility-turned-quick-service restaurant features a seating area and bar amidst décor that incorporates remnants of ongoing experiments—gigantic soda cans, humungous condiment bottles and massive cellphones recycled into menu boards. Stop by to taste-test their latest innovations in food science and conquer uncontrollable appetites on the spot!
Pym Test Kitchen is located in the Disney California Adventure theme park. Find more Disneyland dining locations on our Disneyland Resorts menus page.
Restaurant Info: American, Healthy Selections, Lunch/Dinner $ – $14.99 and under per adult
Legacy Passholder Discount A: 15%
Legacy Passholder Discount B: 10%

Planning a Disneyland Vacation?
For a Free no-obligation quote, contact our sponsor
The Magic For Less Travel
. The Magic For Less Travel is an Authorized Disney Vacation Planner and has been helping guests plan magical vacations since 2002. Receive the best prices and free travel planning services. Their fee-free services will help you save time, money, and stress while planning a vacation designed around you and your needs!
Pym Tasting Lab Menu
Menu Date: 08/2022
Sized to Share
Quantum Pretzel
453.8 grams, Bavarian-style, with Sharp Cheddar Cheese-Beer Sauce – $12.99
Elote Pretzel
5 oz. Pretzel topped with Corn 3 ways, Cilantro Sprigs, Radish, Cotija and Flavored Crema – $10.49
Entrées
Pym-ini Sandwich
Salami, Salame Rosa with Pistachio Nuts, Rosemary Ham, Provolone and Sun-dried Tomato Spread on Toasted Focaccia, served with Marinara Dipping Sauce and Arugula Salad – $14.49
Family-sized Pym-ini Sandwich
Salami, Salame Rosa with Pistachio Nuts, Rosemary Ham, Provolone and Sun-dried Tomato Spread on Toasted Focaccia, served with Marinara Dipping Sauce and Arugula Salad. Serves 6-8 guests. – $99.99
Not so Little Chicken Sandwich
Fried Chicken Breast, Teriyaki and Red Chili Sauces, and Pickled Cabbage Slaw on Brioche, served with crispy Potato Bites – $15.49
Caesar Salad and Colossal Crouton
Hearts of Romaine, Kalamata Olives, Pickled Onions, Caesar Dressing, Garlic Crouton and Parmesan Crisps – $12.49
PB3 Superb Sandwich
PB&J with Banana and Candied Bacon on Pym Particle Bread, served with Micro Banana Smoothie and crispy Potato Bites – $12.99
Plant-Based
Impossible™ Spoonful
Rigatoni and Ditalini Pastas, Plant-based Meat-balls, Tomato Sauce, Dairy-free Parmesan and Micro Basil – $13.99
Lunch and Dinner Sides
Side Arugula Salad – $4.99
Side Slaw – $1.99
Side Marinara Sauce – $.89
Side Candied Bacon – $3.79
Sides
Side Potato Bites – $2.99
Side Cuties® Mandarin – $1.49
Side Cheese Beer Sauce – $.89
Kids' Disney Check Meals
PB&J Flavor Lab
assemble your own experiment – smooth Peanut Butter, Strawberry Jelly and Pym Particle Bread, served with a Cuties® Mandarin, Dannon® Yogurt and choice of Small Lowfat Milk or Small DASANI® Water. Meets Disney Nutrition Guidelines for Complete Meals without substitutions – $7.99
Mini Pasta and Impossible™ Meat-balls
Rigatoni and Ditalini Pastas, Plant-based Meat-balls, Tomato Sauce and Dairy-free Parmesan, served with a Cuties® Mandarin, Coconut Milk Yogurt and choice of Small Lowfat Milk or Small DASANI® Water. Meets Disney Nutrition Guidelines for Complete Meals without substitutions – $8.99
Red Particle Mini-Meals
Subatomic Chicken Sandwich
crispy Breaded Chicken Breast on a Soft Roll, served with a Cuties® Mandarin, Dannon® Yogurt and choice of Small Lowfat Milk or Small DASANI® Water – $9.99
Teeny Pym-ini
Toasted Ham and Provolone Sandwich with Marinara Dipping Sauce, served with a Cuties® Mandarin, Dannon® Yogurt and choice of Small Lowfat Milk or Small DASANI® Water – $9.99
Dessert
Celestial-sized Candy Bar: Choco-Smash CANDY Bar
Choco Smash Candy Bar with Dark Chocolate, Peanuts, Caramel, Nougat and Chocolate Brownie – $7.99
Beverages
Assorted Fountain Beverages – Regular – assorted Coca-Cola® Freestyle and Gold Peak® Tea offerings – $3.99
Assorted Fountain Beverages – Large – assorted Coca-Cola® Freestyle and Gold Peak® Tea offerings – $4.49
DASANI® Bottled Water – $3.99
Proton Punch – Lemonade, Berry Puree, Cherry Flavor-filled Boba and Grenadine-filled Pipette – $6.49
Banana Smoothie – 16oz – $5.99
Lowfat Milk – $1.99
Coffee – $3.19
Hot Cocoa – $3.19
Simply® Orange – $4.69
Cold Brew Coffee – $4.99
Nitro Cold Brew Coffee – smooth and rich Cold Brew Coffee infused with Nitrogen – $4.99
Novelties
Glowing Pym Particle Capsule
Light up your Beverage with a Red or Blue Glowing Pym Particle Capsule – $5.49
Glowing Pym Particle Disc
Light up your Beverage with a Red or Blue Glowing Pym Particle Disc  -$5.49
Enlarged Pingo Doce Soda Can
Oversized Can filled with Pingo Doce or your favorite Coca-Cola® Beverage – $22.99
Alcoholic Beverages
Flying Embers Hard Kombucha Orange Passion Mimosa
Citrus, Tangy Kombucha, with hints of Passion Fruit and Guava (ABV 6.9%) – $12.00
Sierra Nevada Hazy Little Thing
Hazy IPA, Chico, CA (ABV 6.7%) – $12.00
Beer Mimosa
Sierra Nevada Hazy Little Thing IPA with Simply® Orange Juice – $13.00
** Pym Test Kitchen Menu and Prices are Subject to Change Without Notice **