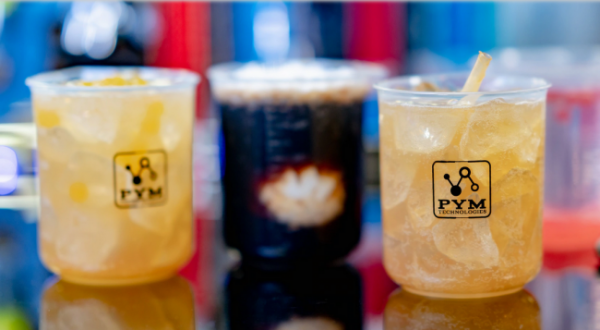 Image Courtesy the Walt Disney Company

Pym Technologies, known for their revolutionary Pym Particles, operates this advanced research and development space in Avengers Campus where they can tinker with brilliant new brewing systems. Now, for the first time ever, members of the public are invited to taste the results!
Don't shrink from the opportunity to check out what's brewing at this innovative beverage laboratory, including specialty craft beers and beer cocktails.
Pym Tasting Lab is located in the Disney California Adventure theme park. Find more Disneyland dining locations on our Disneyland Resorts menus page.
Restaurant Info: American, Beverages $ – $14.99 and under per adult

Planning a Disneyland Vacation?
For a Free no-obligation quote, contact our sponsor
The Magic For Less Travel
. The Magic For Less Travel is an Authorized Disney Vacation Planner and has been helping guests plan magical vacations since 2002. Receive the best prices and free travel planning services. Their fee-free services will help you save time, money, and stress while planning a vacation designed around you and your needs!
Pym Tasting Lab Menu
Menu Date: 08/2022
Snack
Snack Molecules
Mini Pretzels, Honey-roasted Peanuts, and Sweet and Spicy Popped Sorghum – $7.50
Beer Cocktails
Molecular Meltdown
Garage Marshmallow Milk Stout, with Vanilla Ice Cream and Miniature Marshmallows – $18.00
The Regulator
Patron Silver Tequila and Golden Road Mango Cart Wheat Ale, with Mango and Habanero Syrups, and Mango Flavor-filled Boba – $17.00
Honey Fusion
Plymouth Gin and Elysian Space Dust IPA, with Lemon Juice and Honey Syrup, and a Honey Straw – $16.00
Cocktails
X-Periment
Patrón Silver Tequila, with Mango and Habanero Syrups, and Mango Flavor-filled Boba – $19.00
Honey Buzz
Plymouth Gin, Lemon Juice and Honey Syrup with a Honey Straw – $18.00
Particle Fizz
Endless Summer Hard Seltzer – Watermelon Açaí with Fruit Flavor-filled Boba – $16.00
Beers
BarrelHouse Brewing Co., Strawberry Daze, Blonde Ale
Strawberry-flavored (ABV 5.0%) – $12.00
Bootlegger's Brewery, El Chango
Mexican – American-style Lager, Fullerton, CA (ABV 5.3%) – $12.00
Golden Road Brewing, Mango Cart
Mango Wheat Ale, Los Angeles, CA (ABV 4.0%) – $10.75
SLO Brew, Cali-Squeeze
Blood Orange Hefeweizen, San Luis Obispo, CA (ABV 5.4%) – $12.00
Elysian Brewing, Space Dust
IPA, Seattle, WA (ABV 8.2%) – $12.00
Karl Strauss® Brewing Co., Sun Drops
Hazy IPA, San Diego, CA (ABV 4.0%) – $12.00
Garage Brewing, Marshmallow Milk Stout
Temecula, CA (ABV 7.1%) – $12.00
Endless Summer Hard Seltzer – Watermelon Açaí
San Diego, CA (ABV 5.0%) – $12.00
Calicraft Hard Fruit Spritz 
Passion Fruit, Orange and Guava-flavored (ABV 5.0%) – $13.25
Beverages
Popping Particle Punch
Non-Alcoholic Carbonated Pineapple Hurricane with Grenadine and Flavor Bursts – $6.49
smartwater – $4.50
Novelties
Pint-sized Pints Mini Beer Flight
Oversized Ruler Flight Board with Mini Beer Steins – $35.00
Glowing Pym Particle Capsule
Light up your Beverage with a Red or Blue Glowing Pym Particle Capsule – $5.49
Glowing Pym Particle Disc
Light up your Beverage with a Red or Blue Glowing Pym Particle Disc – $5.49
** Pym Tasting Lab Menu and Prices are Subject to Change Without Notice **