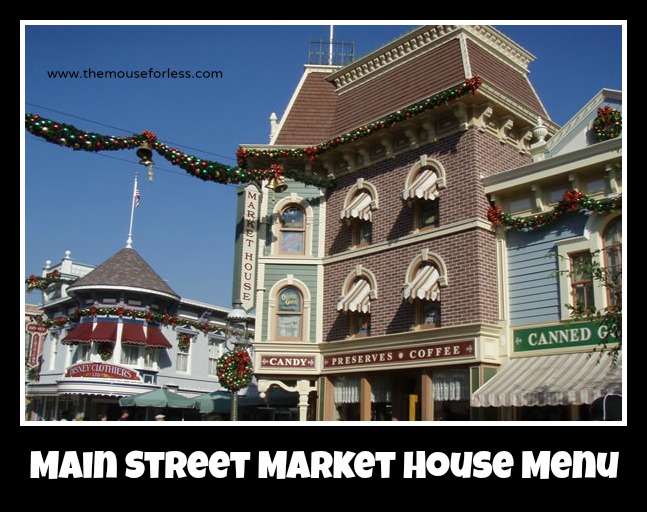 At Market House you can find Starbucks signature beverages, delicious artisan breakfast sandwiches and a wide selection of baked goods as well as Disney-favorite sweet treats, such as divine cookies and brownies.
Market House is located in Disneyland theme park.  Find more Disneyland dining locations on our Disneyland Resorts menus page.
Restaurant Info: American, Healthy Selections, Vegetarian, Quick Service.
Lunch/Dinner, $ – $14.99 and under Per Adult
Breakfast Sandwiches and Wraps Snacks Assorted Desserts Frappuccino® Blended Beverages Starbucks Refreshers™ Espresso & Coffee Cold Brew and More Teavana® Tea Hot or Iced Other Beverages

Planning a Disneyland Vacation?
For a Free no-obligation quote, contact our sponsor
The Magic For Less Travel
. The Magic For Less Travel is an Authorized Disney Vacation Planner and has been helping guests plan magical vacations since 2002. Receive the best prices and free travel planning services. Their fee-free services will help you save time, money, and stress while planning a vacation designed around you and your needs!
Market House Menu
Menu Date: 03/2023
Breakfast Sandwiches and Wraps
Impossible™ Breakfast Sandwich – $5.99
Double Smoked Bacon, Cheddar and Egg Sandwich – $5.99
Sausage, Cheddar and Egg Breakfast Sandwich – $4.99
Slow-Roasted Ham, Swiss and Egg Breakfast Croissant – $5.99
Bacon and Gruyere Sous Vide Egg Bites – $5.49
Roasted Tomato and Mozzarella Panini – $6.19
Snacks
Applesauce – $3.99
Mini Babybel® snack cheese – 3 pack – $3.49
Assorted Pastries
Assorted Pastries
Check for Daily Selections
Assorted Desserts
Mickey Cookie – $5.49
Cake Pop – $2.49
Chocolate Chip Cookie – $3.99
Mickey Sugar Cookie – $4..49
Frappuccino® Blended Beverages
Caramel Frappuccino® Blended Beverage
Tall – $5.79
Grande – $6.29
Venti – $6.79
Mocha Frappuccino® Blended Beverage
Tall – $5.79
Grande – $6.29
Venti – $6.79
Java Chip Frappuccino® Blended Beverage
Tall – $5.79
Grande – $6.29
Venti – $6.79
Coffee Frappuccino® Blended Beverage
Tall – $5.29
Grande – $5.79
Venti – $6.29
Vanilla Creme Frappuccino® Blended Beverage
Tall – $5.29
Grande – $5.79
Venti – $6.29
Double Chocolaty Chip Creme Frappuccino® Blended Beverage
Tall – $5.79
Grande – $6.29
Venti – $6.79
Matcha Green Tea Creme Frappuccino® Blended Beverage
Tall – $5.79
Grande – $6.29
Venti – $6.79
Strawberry Creme Frappuccino® Blended Beverage
Tall – $5.79
Grande – $6.29
Venti – $6.79
Starbucks Refreshers®
Pink Drink Starbucks Refreshers® Beverage
Tall – $5.49
Grande – $5.99
Venti – $6.49
Trenta – $6.99
Dragon Drink Starbucks Refreshers® Beverage
Tall – $5.49
Grande – $5.99
Venti – $6.49
Trenta – $6.99
Pineapple Passionfruit Starbucks Refreshers® Beverage
Tall – $4.79
Grande – $5.29
Venti – $5.79
Pineapple Passionfruit Lemonade Starbucks Refreshers® Beverage
Tall – $5.49
Grande – $5.99
Venti – $6.49
Trenta – $6.99
Strawberry Açaí Starbucks Refreshers® Beverage
Tall – $4.79
Grande – $5.29
Venti – $5.79
Trenta – $6.29
Strawberry Açaí Lemonade Starbucks Refreshers® Beverage
Tall – $5.49
Grande – $5.99
Venti – $6.49
Trenta – $6.99
Paradise Drink Starbucks Refreshers® Beverage
Tall – $5.49
Grande – $5.99
Venti – $6.49
Trenta – $6.99
Mango Dragonfruit Starbucks Refreshers® Beverage
Tall – $4.79
Grande – $5.29
Venti – $5.79
Trenta – $6.29
Mango Dragonfruit Lemonade Starbucks Refreshers® Beverage
Tall – $5.49
Grande – $5.99
Venti – $6.49
Trenta – $6.99
Espresso and Coffee
Caramel Macchiato
Tall – $5.49
Grande – $5.99
Venti – $6.49
White Chocolate Mocha
Tall – $5.49
Grande – $5.99
Venti – $6.49
Flat White
Tall – $5.29
Grande – $5.79
Venti – $6.29
Cappuccino
Tall – $4.49
Grande – $4.99
Venti – $5.49
Caffe Latte
Tall – $4.49
Grande – $4.99
Venti – $5.49
Caffe Mocha
Tall – $4.99
Grande – $5.49
Venti – $5.99
Caffe Americano
Tall – $3.99
Grande – $4.49
Venti – $4.99
Freshly Brewed Coffee – Regular or Decaf
Tall – $3.69
Grande – $3.99
Venti – $4.29
Pumpkin Spice Latte
Tall – $5.90
Grande – $6.49
Venti – $6.99
Apple Crisp Oatmilk Macchiato 
Tall – $6.19
Grande – $6.69
Venti – $7.19
Cold Brew and More
Iced Coffee
Tall – $3.69
Grande – $3.99
Venti – $4.29
Trenta – $4.59
Starbucks® Cold Brew Coffee
Tall – $4.49
Grande – $4.99
Venti – $5.49
Trenta – $5.99
Chocolate Cream Cold Brew
Tall – $4.49
Grande – $4.99
Venti – $5.49
Vanilla Sweet Cream Cold Brew
Tall – $4.99
Grande – $5.49
Venti – $5.99
Trenta – $6.49
Salted Caramel Cream Cold Foam Cold Brew
Tall – $5.29
Grande – $5.79
Venti – $6.29
Trenta – $6.79
Pumpkin Cream Cold Brew
Tall – $5.19
Grande – $5.69
Venti – $6.19
Iced Chocolate Almondmilk Shaken Espresso
Tall – $5.99
Grande – $6.49
Venti – $6.99
Teavana® Tea Hot or Iced
Teavana® Shaken Iced Tea – Black or Passion Tango™
Tall – $3.69
Grande – $3.99
Venti – $4.29
Trenta – $4.79
Teavana® Shaken Iced Tea Lemonade – Black or Passion Tango™
Tall – $4.29
Grande – $4.79
Venti – $5.29
Trenta – $5.79
Chai Tea Latte
Tall – $4.99
Grande – $5.49
Venti – $5.99
Matcha Green Tea Latte
Tall – $4.99
Grande – $5.49
Venti – $5.99
Hot Tea
Tall – $3.69
Grande – $3.99
Venti – $4.29
Beverages
Assorted Coca-Cola® Beverages – $4.89
DASANI® Bottled Water – $4.39
Minute Maid® Juice Box – $2.49
Simply Orange® Orange Juice – $4.99
smartwater® – $4.89
** Market House Menu (Starbucks) and Prices are Subject to Change Without Notice **