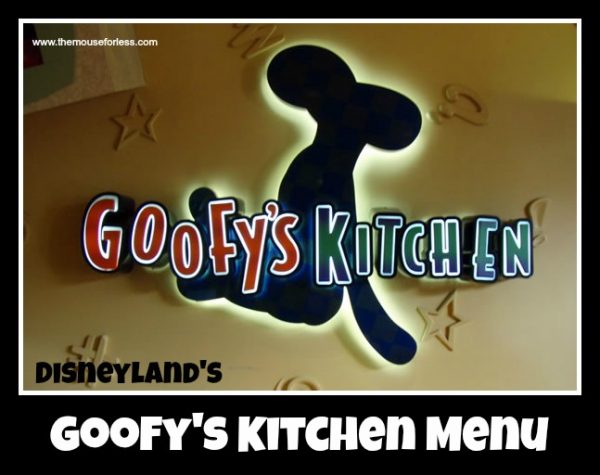 Rub elbows with Goofy and his pals at this winningly whimsical buffet with many inventive culinary surprises. Goofy's Kitchen is a great place to throw birthday parties too, so if you are celebrating a big day, be sure and come party Disney-style! Plenty of great choices for kids of all ages.
Goofy's Kitchen is located in the Disneyland Hotel.  Find more Disneyland dining locations on our Disneyland Resorts menus page.
Restaurant Info: American. $$$ – $35 to $59.99 per adult
Annual Passport Discounts: Premium, Signature, Plus Passport – 15%
Annual Passport Discounts: Deluxe, California Select, Passport – 10%

Planning a Disneyland Vacation?
For a Free no-obligation quote, contact our sponsor
The Magic For Less Travel
. The Magic For Less Travel is an Authorized Disney Vacation Planner and has been helping guests plan magical vacations since 2002. Receive the best prices and free travel planning services. Their fee-free services will help you save time, money, and stress while planning a vacation designed around you and your needs!
Goofy's Kitchen Breakfast Menu
Menu Date: 09/2022

Brunch Selections
Create-your-own omelet station
"Mickey Mouse" Pancakes
"Mickey Mouse" Waffles
French Toast
Sausage
 
Bacon
Eggs Benedict
 
Fresh Fruit
Muffins
Desserts
Pastries
Chicken Breast Nuggets
Goofy's Peanut Butter Pizza
Soft-Serve Yogurt with Toppings
Daytime Non-Alcoholic Mocktails
Grapefruit Spritzer
Juices of Ruby Red Grapefruit and fresh Lime topped with Soda Water – $6.00
All-natural Lemonade
Minute Maid® Premium Lemonade with fresh Raspberries – $6.00
Sparkling No-jito
fresh Lime Juice, Agave Nectar, and Mint topped with Soda WaterDaytime Cocktails – $6.00
Daytime Cocktails
Blood Orange Margarita
Sauza Conmemorativo Añejo Tequila, Cointreau, fresh Lime Juice, and Solerno Blood Orange Liqueur – $15.00
Paloma
Don Julio Blanco Tequila with juices of Ruby Red Grapefruit and Lime topped with Soda Water – $15.00
Bacardi Mojito
Bacardi Superior Rum, fresh Lime Juice, Agave Nectar, and Mint topped with Soda Water – $15.00
Antioxidant Lemonade
Van Gogh Açaí-Blueberry Vodka, Minute Maid® Premium Lemonade and Pomegranate Juice topped with Sprite® – $15.00
Whiskey Cocktail
Kikori Japanese Whiskey and Dolin Dry Vermouth with Luxardo and Orange Bitters – $17.25
Kentucky Mule
Buffalo Trace Kentucky Straight Bourbon, fresh Lime Juice and Agave Nectar topped with Ginger Beer – $16.25
Ultimate Long Island Iced Tea
Bacardi Superior Rum, Tito's Handmade Vodka, Hendrick's Gin, Cointreau, and Sweet-and-Sour with a splash of Coca-Cola® – $16.25
Apricot "Glow-tini"
Aperol, Luxardo Apricot Liqueur, Orange Juice, La Marca Prosecco and a souvenir Glow Cube – $19.50
Red Sangria
Beso Del Sol Red Sangria made from a 100% natural marriage of Spanish Tempranillo Grapes, Orange, Blood Orange, and Lemon Juices with a touch of natural Cinnamon – $12.50
Blood Orange Mimosa
La Marca Prosecco, Solerno Blood Orange Liqueur, Orange Juice, and Grenadine – $17.50
Habanero Lime Margarita
Patrón Silver Tequila, Habanero Lime, and House-made Sweet-and-Sour – $16.25
Spicy Watermelon Margarita
Patrón Silver Tequila, Habanero Lime, Watermelon, and fresh Lime Juice – $16.25
Walk the Plank
Bulleit Rye Whiskey, Orange Juice, Orgeat (Almond), and fresh Lemon Juice garnished with Luxardo Gourmet Maraschino Cherries – $15.00
Smoked Turkey
Wild Turkey 101 Bourbon, Red Stag Black Cherry Bourbon, Grenadine, and Minute Maid® Premium Lemonade with a hint of Hickory Smoke, garnished with Luxardo Gourmet Maraschino Cherries – $16.75
Moscow Mule
Russian Standard Vodka, fresh Lime Juice and Agave Nectar topped with Ginger Beer – $15.50
Piña CoLAVA
Bacardi Raspberry Rum with Piña Colada Mix and Raspberry Purée – $15.25
Captain's Mai Tai
Captain Morgan Original Spiced Rum, Bols Amaretto, and Tropical Juices topped with a float of Myers's Original Dark Rum – $15.25
Magical Star Cocktail
X-Fusion Organic Mango and Passion Fruit Liqueurs, Parrot Bay Coconut Rum, Pineapple Juice, and a souvenir multicolored Glow Cube – $18.00
White Sangria
Beso Del Sol White Sangria made from 100% natural blend of Airen White Spanish Grapes, Lemon, Peach, and Mango Juices – $12.50
Beer and Hard Cider
$8.50 – $12.00
Sparkling Wine and Rose
$11.00 – $23.00/glass
White Wine
$11.00 – $16.00/glass
Red Wine
$13.00 – $23.00/glass
Goofy's Kitchen Dinner Menu
 Menu Date: 09/2022
Carving Station
Fresh Catch of the Day
Seasonal Vegetables
Tossed Salad
Fresh Fruit
Grilled Hot Dogs
Assorted Pizzas
Goofyroni and Cheese
Dessert Station
Soft Serve Yogurt with Toppings
** Goofy's Kitchen Menu and Prices are Subject to Change Without Notice **