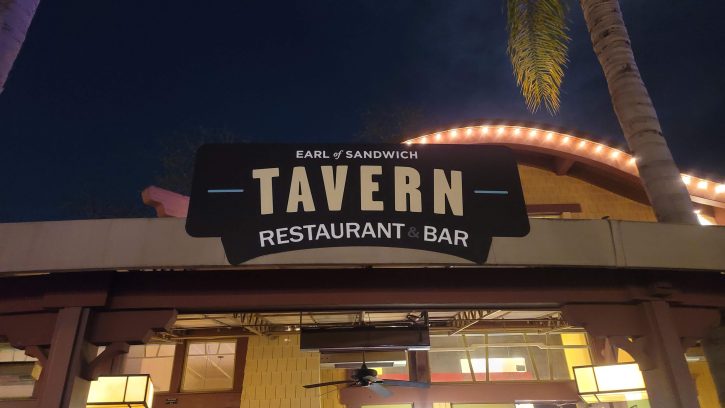 Serving lunch and dinner as a sit down restaurant, the Earl of Sandwich tavern serves a variety of traditional pub fare, including fish and chips, sandwiches, burgers and more.
Earl of Sandwich Tavern is located in the Downtown Disney District.  Find more Disneyland dining locations on our Disneyland Resorts menus page.
Restaurant Info: American Cuisine. Quick Service, $$ – $15 to $34.99 per adult

Planning a Disneyland Vacation?
For a Free no-obligation quote, contact our sponsor
The Magic For Less Travel
. The Magic For Less Travel is an Authorized Disney Vacation Planner and has been helping guests plan magical vacations since 2002. Receive the best prices and free travel planning services. Their fee-free services will help you save time, money, and stress while planning a vacation designed around you and your needs!
Earl of Sandwich Tavern Menu for Lunch/Dinner
Menu Date: 03/2023
Starters
Twice-Cooked Buffalo Wings
chicken wings baked & then fried to perfection & tossed in buffalo sauce, served with celery, carrots & bleu cheese dressing – $13.00
Wild Mushroom Quesadilla
large flour tortilla stuffed with assortment of mexican cheeses, assorted wild mushrooms & zucchini blossoms – $12.00
French Loaf Garlic Bread
half-loaf of bread served open face, roasted garlic butter, provolone, mozzarella & oregano served with homemade marinara – $9.00
Soup – Service in a bread bowl
Tomato Basil Bisque
creamy tomato bisque with shaved parmesan – $15.00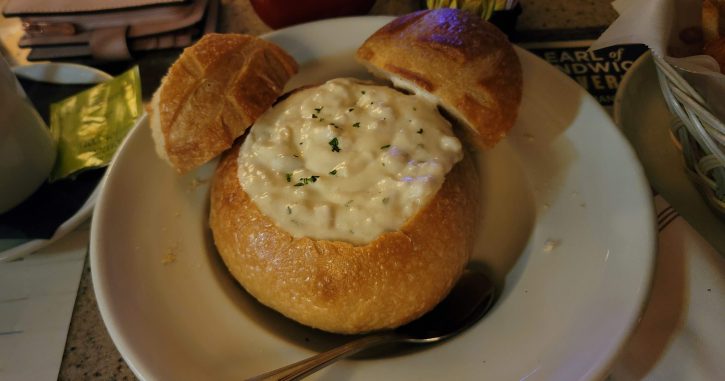 Clam Chowder
creamy clam chowder with potatoes & vegetables – $15.00
Salads
Hollywood Bowl
romaine lettuce tossed with thousand island dressing then topped with houseroasted turkey breast, bacon, swiss cheese, hard-boiled egg, avocado, aroma tomato, cucumber & croutons – $24.00
Steakhouse Salad
house mix, sliced bistro steak, avocado, roma tomato, cucumber, bleu cheese crumbles, parmesan, crispy onion straws & caesar dressing – $29.00
Caesar Salad 
romaine, garlic caesar dressing, housemade croutons & parmesan cheese – $18.00
Mixed Green Salad
romaine, iceberg, tomato, red onion, radishes, served with balsamic vinaigrette – $16.00
Add-Ons
Chicken – $8 • Salmon – $9 • Steak – $9
Sandwiches – served with house fries or fruit cup – add a cup of soup for $5.00
B.E.L.T. Sandwich
two farm fresh eggs over-easy with vine-ripened tomatoes, applewood smoked bacon, butter leaf lettuce & herb aioli on sourdough bread – $24.00
Turkey Club
smoked turkey breast, applewood bacon, swiss cheese, lettuce, tomato & mayonnaise on sourdough bread – $22.00
Buffalo Chicken Sandwich
fried chicken tenders, tossed in tangy buffalo sauce, topped with cheddar cheese on a brioche bun Chimichurri Steak – $22.00
Sandwich 
grilled skirt steak, mayo chimichurri sauce, sautéed peppers & onions, queso panela cheese, tortilla strips & chipotle ranch on a grilled roll served with a side of giardiniera – $26.00
Mac-N-Cheese Burger
8 oz. patty, six cheese mac-n-cheese, cheddar, crispy onion straws, lettuce, tomato, pickle & special sauce on a brioche bun – $24.00
Downtown Burger
8 oz. patty, caramelized onions, special sauce, american cheese & pickles on a brioche bun – $22.00
Entrees
Sesame Ginger Salmon
grilled salmon with soy-ginger glaze, served with cilantro rice & green bean blend – $32.00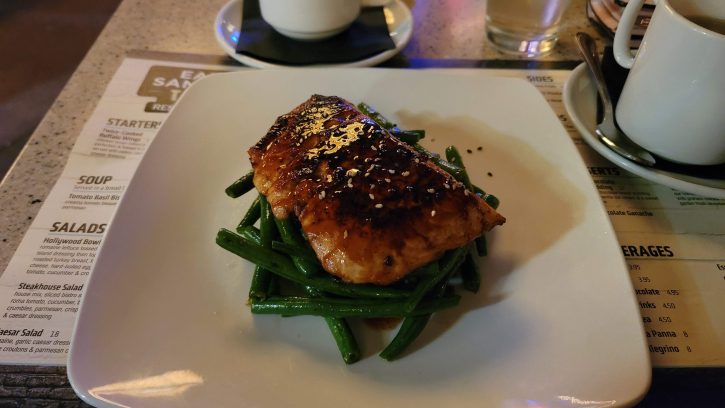 Spaghetti & Meatballs
house-made marinara, meatballs, shaved parmesan, served over spaghetti – $25.00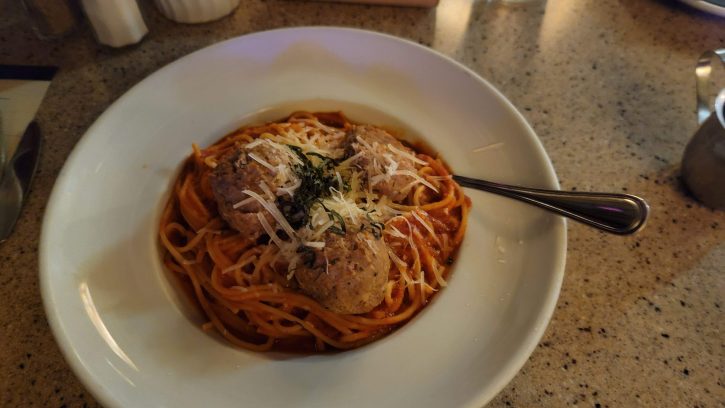 Fish Tacos
mahi-mahi, pickled onion, creamy slaw, chipotle salsa, cilantro – $27.00
Fish & Chips
crispy cod with our house-made tartar sauce, coleslaw & french fries – $26.00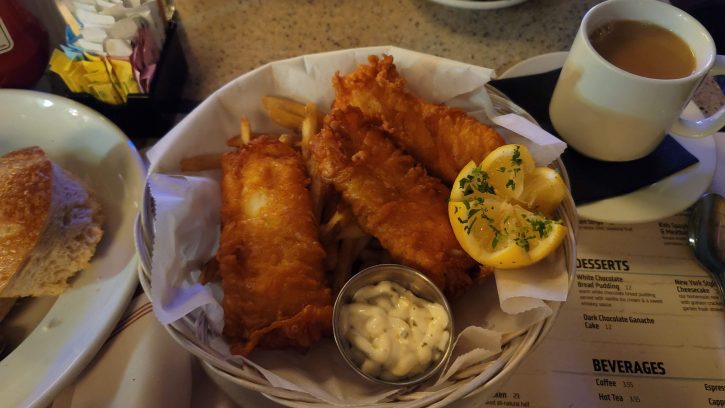 Chicken Fettuccine Alfredo
sliced chicken breast & fettuccine tossed in rich parmesan & fontina cheese cream sauce – $24.00
Roasted Prime Rib of Beef
served with roasted garlic mashed potatoes & green bean blend – $38.00
Slow Roasted Chicken
tender, juicy, slow-cooked all-natural half chicken breast & pan gravy with roasted garlic mashed potatoes & green bean blend – $29.00
Sides
Home Fries – $6.00
Garlic Mashed Potatoes – $6.00
Green Bean Blend – $6.00
Macaroni & Cheese – $6.00
Cilantro Rice – $6.00
Fruit Cup – $6.00
Kids Menu
Grilled Cheese
cheddar cheese, fries, seasonal fruit – $12.00
Chicken Strips
chicken strips, fries, seasonal fruit – $12.00
Kids Mac & Cheese
macaroni & cheese, seasonal fruit – $11.50
Kids Spaghetti & Meatball
house-made marinara, meatball, shaved parmesan, served over spaghetti – $11.50
Desserts
White Chocolate Bread Pudding
warm white chocolate bread pudding served with vanilla ice cream & a sweet whiskey sauce – $12.00
Dark Chocolate Ganache Cake – $12.00
New York Style Cheesecake
our homemade new york style cheesecake with graham cracker crust topped with garden fresh strawberries & purée – $12.00
Beverages
Coffee – $3.95
Hot Tea – $3.95
Hot Chocolate – $4.95
Soft Drinks – $4.50
Iced Tea – $4.50
Acqua Panna – $8.00
S.Pellegrino – $8.00
Espresso – $5.00
Cappucino – $6.50
Latte – $6.50
** Earl of Sandwich Tavern Menu and Prices are Subject to Change Without Notice **