Disneyland features various Disneyland Snack Carts that are located all around the theme park. Each offers a variety of treats, such as ice cream novelties, bottled beverages, chips, pretzels, popcorn, and more.
Snack Carts are located throughout the Disneyland theme park.  Find more Disneyland dining locations on our Disneyland Resorts menus page.

Planning a Disneyland Vacation?
For a Free no-obligation quote, contact our sponsor
The Magic For Less Travel
. The Magic For Less Travel is an Authorized Disney Vacation Planner and has been helping guests plan magical vacations since 2002. Receive the best prices and free travel planning services. Their fee-free services will help you save time, money, and stress while planning a vacation designed around you and your needs!
Fruit Stand – located on Main Street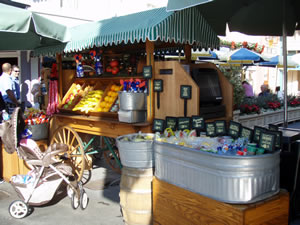 Trail Mix
Mister Fan
Dill Pickle
Kid's Foodles
Watermelon
Pineapple Spear
Apples with Caramel dipping sauce
Mango Slices
Seedless Grapes
Super Fruit Blend
Minute Maid Juice Box
Small Bottled Water
Odwalla Juice
Simply Orange
Simply Limeade
Whole Fruits
Corndog Truck – Main Street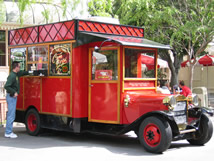 Hand Dipped Corn Dog
King Size Bag of Chips
Coca-Cola, Diet Coke, Sprite or Lemonade
Bottled Water
Fruit Stand – Tomorrowland by Tomorrowland Terrace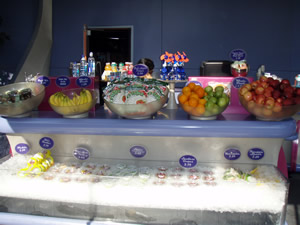 Trail Mix
Whole Fruit
Juji Apple Crisps
Mister Fan
Smooshed Fruit Snack
Pickle
Kid's Foodles
Super Fruit Blend
Apples with Caramel Dipping Sauce
Seedless Grapes
Watermelon
Pineapple Spear
Bottled Water
Popcorn Stand – In Front of Castle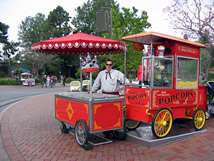 Bottled Beverage
Bottled Water
Popcorn
Cappuccino Stand – In front of Frontierland Entrance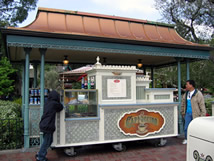 Cappuccino
Cafe Mocha
Cafe Latte
Nescafe Coffee
Espresso
Nestle Hot Cocoa
Hot Tea
Assorted Bottled Beverage
Frozen Treats Cart – Located at the Entrance of Adventureland

Bottled Beverage
Bottled Water
Nestle Frozen Lemonade
Nestle Frozen Strawberry Lemonade
Frozen Banana
Mixed Fruit Sorbet
Nestle Mickey Premium Ice Cream Bar
Dreyer's Dibs
Haagen Dazs Ice Cream Bar
Cotton Candy
Indy Fruit Cart – Adventureland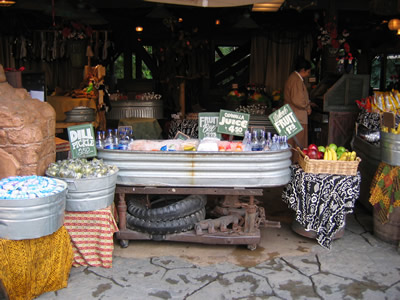 Whole Fruits
Odwalla Juice
Fruit Box (selections change depending on the season)
Veggie Cup
Ice Cold Bottled Dansai Water
Ice Cold Coca-Cola
Dill Pickle
King Size Chips
Popcorn Stand – In New Orleans Square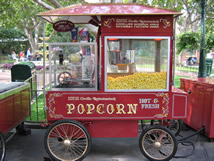 Bottled Beverage
Bottled Water
Popcorn
Soft Frozen Lemonade Cart – Located in front of Haunted Mansion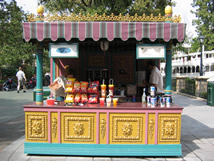 Frozen lemonade Clear Quart (includes beverage at the time of purchase)
Frozen lemonade Regular
Coffee
Hot Cocoa
Souvenir Travel Mug
King Size Chips
Fruit Cart – Located Between New Orleans Square and Critter Country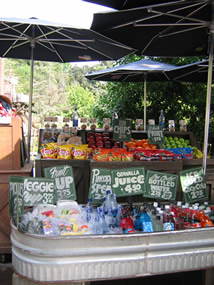 Whole Fruits
Odwalla Juice
Fruit Box (selections change depending on the season)
Veggie Cup
Ice Cold Bottled Dansai Water
Ice Cold Coca-Cola
Dill Pickle
King Size Chips
Popcorn Stand – In Fantasyland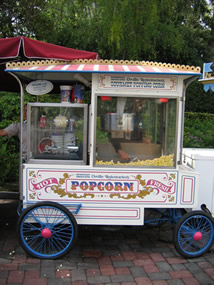 Bottled Beverage
Bottled Water
Vitamin Water
Popcorn
Pretzels Stand – In Fantasyland
Pretzel with Cream Cheese Filling
Mickey Mouse Pretzel
Mickey Mouse Pretzel with Cheese
Assorted soda
Dasani Water
Frozen Treats Stand – In Toontown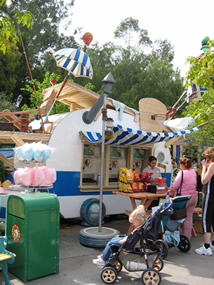 Cotton Candy
Frozen Minute Maid Lemonade
Frozen Fanta Orange
Frozen Fanta Wild Cherry
Frozen Blue Raspberry
Clear Quart (includes beverage at the time of purchase)
Regular
King Size Chips
Turkey Leg Stand – Between Fantasyland and Tomorrowland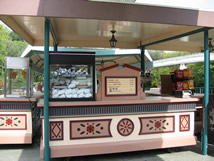 Turkey Leg
Chimichanga
Corn on the Cob
King-Size Chips
Bottled Beverage
Bottled Water
Frozen Drink Stand – Between Fantasyland and Frontierland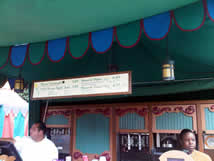 "Frozen" Lemonade
"100% Frozen Apple" Juice
Coffee
Hot Cocoa
Souvenir Sipper (Frozen Lemonade or Frozen Apple Juice included at the time of purchase)
Souvenir Travel Mug (Coffee or Hot Cocoa included at the time of purchase)
** Menu and Prices are Subject to Change Without Notice **