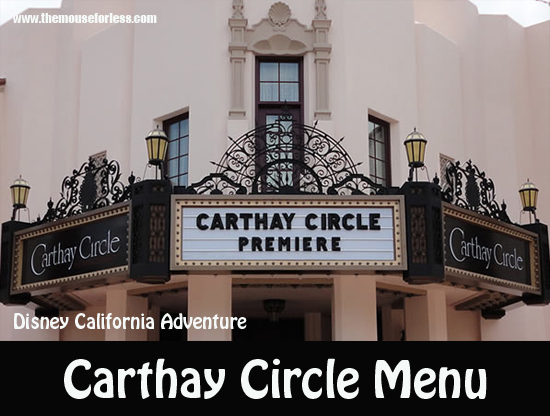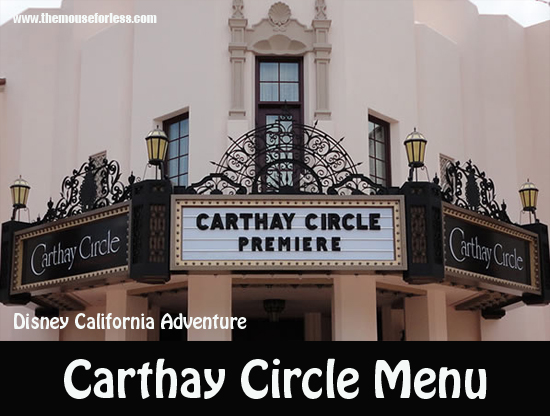 Carthay Circle Restaurant is the first restaurant in the world to open its doors with 92 sommeliers. Carthay Circle Restaurant has 250 international wines, carefully chosen with a strong emphasis on California vineyards to match the "Southern California cuisine." Dine here late evening on the restaurant's balcony seating area (or slip out during your meal), and you can enjoy Disneyland's fireworks show high above Sleeping Beauty Castle when it's scheduled.
Carthay Circle Restaurant is located in the Disney California Adventure theme park.  Find more Disneyland dining locations on our Disneyland Resorts menus page.
Restaurant Info: American, Dinner, $$$ – More than $35.00 to $59.99 per adult
Annual Passport Discounts: Signature Passport, Premium, Signature Plus Passport: 15%
Annual Passport Discounts: Deluxe, Southern California Select, Southern California Passport: 10%

Planning a Disneyland Vacation?
For a Free no-obligation quote, contact our sponsor
The Magic For Less Travel
. The Magic For Less Travel is an Authorized Disney Vacation Planner and has been helping guests plan magical vacations since 2002. Receive the best prices and free travel planning services. Their fee-free services will help you save time, money, and stress while planning a vacation designed around you and your needs!
Carthay Circle Restaurant Dinner Menu
Menu Date: 11/2022
Starters
Citrus Cured Ceviche of Cobia 
Smashed Avocado, Cucumber, Sesame Seeds, Spicy Ginger-Soy – $26.00
Steamed Black Mussels and Shrimp
In Refreshing Green Chili Broth with Toasted Bread – $24.00
Spanish Yukon Potato Croquettes 
Manchego Cheese, Sorio Choizo, Roasted Garlic Aïoli – $18.00
Cheese Stuffed "Arepa" 
Slowly Braised Chicken, Poblano Chiles, Cilantro Lime Crema – $20.00
Autumn Seasonal Salad 
Roasted Apples, Spiced Pecans, Cheddar Cheese Hush Puppies – $18.00
Italian Wedding Meatball Soup 
Chicken Meatballs, Ditalini Pasta, Parmigiano Reggiano, Basil – $18.00
Entrees
Turkey Scallopini
Butternut Squash, Pepitas, Tangerine, Pomegranate Vinaigrette – $46.00
Butternut Squash Raviolis 
Braised Lamb Shoulder, Portobello Mushrooms, Lamb Jus – $48.00
Signature Thick Cut Pork Chop 
Roasted Pears, Market Cauliflower, Toasted Almonds – $48.00
Sautéed Fish of the Day 
Pumpkin-Coconut Lemongrass Broth, Soba Noodles, Fresh Herbs – $50.00
Grilled New York Marinated with Za'atar 
Mediterranean Red Pepper-Cashew Pistou, Salisy, Sesame – $64.00
Sides
Warm Cheddar Parkerhouse Rolls
Calabrian Chili-Pinenut Romesco – $14.00
Side Yukon Gold
Buttery Mashed Potatoes – $11.00
Roasted Brussels Sprouts 
Cashews, Mint, Sweet and Sour Vinaigrette – $14.00
Desserts
Molten Chocolate Caramel Cake 
Popcorn Granola, Popcorn Ice Cream, – $15.00
Pumpkin Cheesecake Cannolis 
Candied Pumpkin, Pepitas, Pomegranite Seeds – $15.00
Kids' Meal
Orecchiette Pasta with Marinara 
served with Seasonal Fruit and choice of Small Low-fat Milk or Small DASNI® Water – $12.00
Classic Cheese Quesadilla 
served with Seasonal Fruit and choice of Small Low-fat Milk or Small DASANI® Water – $12.00
Orange Dragon Chicken Skewers 
served with Seasonal Fruit and choice of Small Low-fat Milk or Small DASANI® Water – $12.00
Kids' Desserts
Hazelnut Crunch Mickey Pop – $10.00
Non Alcoholic Beverages
Rose Petal Soda 
locally sourced Purified Sparkling Water flavored with delicate Rose Essence and garnished with an edible Sugar-glazed Organic Rose Petal – $5.25
Wildberry Lemonade 
All Natural Lemonade with flavors of Blackberry, Strawberry, Raspberry, and Blueberry with a Spritz of Purified Sparkling Water – $6.50
Twin Bill
A Classic Combination of natural Lemonade and Iced Tea lightly sweetened with Organic Agave Nectar – $6.00
Shirley Temple 
Sprite® with Grenadine and Maraschino Cherries – $5.25
Roy Rogers
Coca-Cola® with Grenadine and Maraschino Cherries – $5.00
Acqua Panna 
Still (1L) – $7.50
San Pellegrino 
Sparkling (1L) – $7.50
Assorted Fountain Beverages 
Coca-Cola®, Diet Coke®, Coca-Cola® Zero Sugar, Sprite®, Fanta® Orange, Barq's® Root Beer, POWERADE® Mountain Berry Blast, or Minute Maid® Zero Sugar Lemonade – $5.25
Coffee 
Regular or Decaf $4.25
Hot Cocoa – $4.25
Curtain Call
Irish Coffee 
Jameson Irish Whiskey, hot Coffee and two Sugar Cubes topped with frothy Cream – $15.50
Vintage Coffee 
Baileys Irish Cream, Tuaca, and a splash of hot Coffee served in a snifter glass with a stick of Cinnamon – $15.50
B-52 Coffee 
Grand Marnier, Kahlúa, Baileys Irish Cream, and hot Coffee topped with fresh House-made Whipped Cream – $16.50
Brandy Alexander 
Brandy, Dark Crème de Cacao, Cream, and Nutmeg chilled and served up – $15.25
Disney Family of Wines
Fess Parker Chardonnay, Santa Barbara County 
Glass $11.00
Bottle $45.00
Kurt Russell Gogi "Goldie" Chardonnay, Santa Rita Hills 
Glass $21.00
Bottle $85.00
Kurt Russell Gogi "Southpaw" Pinot Noir, Santa Rita Hills 
Glass $26.00
Bottle $132.00
MacMurray Ranch Pinot Gris, Russian River Valley
Glass $13.00
Bottle $55.00
Silverado Cabernet Sauvignon, Napa Valley
Glass $21.00
Bottle $85.00
Classic Cocktails
Carthay Martini
Classically prepared with Hendrick's Gin or Double Cross Vodka, Lillet Blanc Dry Vermouth, and Gourmet Blue Cheese-Truffle Olives served with an Ice Sphere – $19.50
Carthay Mai Tai 
Surfrider Rum, Luxardo Maraschino and Orgeat (Almond) Syrups, Pineapple and fresh Lime and Grapefruit Juice, tapped with Myer's Original Dark Rum, garnished with an Orange Wedge and Luxardo Cherry – $19.00
Negroni 
Beefeater Gin, Campari, and Carpano Antica Sweet Vermouth served over Hard Cubed Ice – $17.50
Ernest's Daiquiri 
Bacardi Superior Rum, Luxardo Maraschino Liqueur, fresh Lime and Grapefruit Juice, and Organic Agave Nectar served up – $17.75
Aviation Cocktail 
Plymouth Gin, Crème Yvette Violet Liqueur, Luxardo Maraschino Liqueur, and fresh Lemon Juice, served up – $19.50
Side Car 
Hennessy V.S. Cognac, Cointreau, fresh Lemon Juice, and Agave Nectar with a Lemon Peel and a Sugar Rim – $18.00
Pimm's Punch 
Pimm's No. 1 Liqueur, Plymouth Gin, Strawberry, and Lemonade – $18.00
Ginger Rogers
Plymouth Gin, Luxardo Apricot Liqueur, Noilly Prat Dry Vermouth, and a hint of fresh Lemon Juice, served up – $17.50
Tequila Daisy 
Don Julio Reposado Tequila, Cointreau, Crème de Violette Liqueur, fresh Lime Juice, Organic Agave Nectar, and Egg Whites, served up – $19.50
The Derby 
Bulleit Bourbon, fresh Grapefruit Juice, and Honey, served up $16.50
Scotch Mist 
Johnnie Walker Black Label Scotch with a Lemon Peel – $16.50
Pisco Sour  
El Gobernador Pisco, fresh Lime Juice, Organic Agave Nectar, Angostura Bitters, and Egg Whites – $17.50
Carthay Manhattan 
Bulleit Rye Small Batch American Whiskey, Carpano Antica Sweet Vermouth, Angostura Bitters, and Luxardo Gourmet Maraschino Cherries served with an Ice Sphere made from locally sourced Purified Water – $19.50
Carthay Old Fashioned 
Woodford Reserve Bourbon with Angostura Orange Bitters, a Luxardo Gourmet Maraschino Cherry, and served with an Ice Sphere – $19.50
Classic Gin and Tonic 
Hendrick's Gin and Premium Tonic – $16.50
Dill Gin and Tonic 
Plymouth Gin, Premium Tonic, Zesty Deli Dill Pickle Brine, locally grown Organic Dill, and Lemon Peel – $16.25
Botanical Gin & Tonic 
Hendrick's Gin, Premium Tonic, Star Anise, Cardamom, and Mint – $16.75
Sparkling Mare 
Saint-Hilaire Sparkling Wine, St-Germain Elderflower Liqueur, and Aperol Orange Aperitif – $17.25
Double Pear Martini 
Double Cross and Absolut Pears Vodkas, Pear Nectar, and fresh Lime Juice complemented with a marinated Baby Pear, served up – $19.50
Bourbon Crusta 
Bulleit Bourbon, Cointreau, Luxardo Maraschino Liqueur, and fresh Lemon Juice with a Lemon Peel and a Sugar Rim – $18.50
Carthay Club Mojito 
Bacardi Superior Rum, Organic Mint from nearby farms, fresh Lime Juice, and Organic Agave Nectar topped with locally sourced Purified Sparkling Water served over Crushed Ice – $18.00
Bloody Mary 
Hanson of Sonoma Habanero Organic Vodka, Bloody Mary Mix, Barbecue Bitters, and Dill Pickle Brine garnished with a locally grown Organic Dill Sprig and a dehydrated Horseradish-crusted Tomato Slice – $18.00
**Menu and Prices are Subject to Change Without Notice **