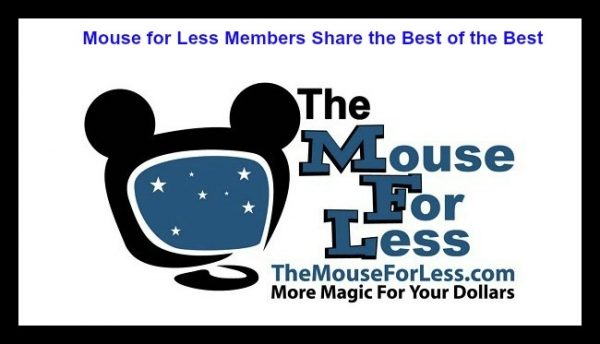 MFL members' share some of their ideas on Disney Travel Journal Binding.    If you would like to add an idea to this page, please send it to info@themouseforless.com.
Disney Travel Journal Binding ideas
I found a very The Mouse For less way to bind these pages together. I simply found an extra 3 prong folder with pockets left over from school shopping for my son. I use the prongs to put the journal pages in. The pockets can be used to keep any special things he picks up during our stay, such as park maps, or birthday cards (we are going for his 8th bday.) I will decorate the front using Diseny Stickers I have around the house or can pick up cheap. I know my son will love this. It will be included in is Bday basket I make up and put in his room before he gets there!–Heather
---
One possibility is to cut the front and back from a cereal box. Use the two journal cover pages to cover the picture sides of the two cardboard pieces, and use these for your front and back. Next punch 3 holes in the cardboard and journal pages. I would also suggest placing those plastic ring reinforcements over the holes on the journal pages. Finally, find some nice ribbon and thread everything together an an attractive manner.–Binnie
---
I was thinking of printing the pages out on card-stock (heavier paper). Then punching the 3 holes in the side and putting it in a binder for the trip. When we got home, I think I would take it out of the binder and make a scrapbook "cover" for it and just tie red, black and yellow string, ribbon, or rafia through the 3 holes and store it in the scrapbook as an extra piece.–Debi
---
You could take a file folder and cut it in half if it is larger than an 8 1/2 X 11 sheet of paper. Then you can easily design the cover on it.–John
Read on for more ideas on Disney Travel Journal Binding
---
Another thing you could do would be to get the 8 1/2 x 11 page protectors, slide the travel pages in and put them in a scrapbook. You could leave the scrapbook cover plain, or decorate it Disney style. Not totally $$less, but not too expensive either.–Cindy
---
I've printed the pages out on acid free stock to preserve them.–Linda
---
Disney Travel Journal Binding- Here's what we did, I went to Office Max and got a 5 pack (cuz each of my 3 kids wants one!) of report covers, the cheaper cardstock type ones, different colors. I then purchased some dividers and some plastic page protectors, You could get these cheaper by shopping around, Office Max and Office Depot both will price match each other and USED TO (not sure if they still do) offer 150% off if you found a better price (yep you could get some stuff for next to nothing!) Next I am printing out the journal pages and slipping them into the page protectors, the kids decorated their covers with stickers and writing, and my oldest daughter divided each up into seperate areas for each park. Another option would be to get those rings (like in a 3 ring binder, but just the rings loose) and just clip them around the page protectors, you can get a box of them for a couple bucks at Target or Walmart in Office Supplies.–Mic
---
I happen to favor binding the book with thread. You need two heavier cover boards. This can be plastic laminated wrapping paper cut to the right size, heavy weight paper, cardboard covered with pretty paper. Then you get an awl or icepick, something long and sharp. Clip all the pages of your book together. Then at regular intervals, punch an odd number of holes into the "book". Get some embroidery floss or similar thread. You can coat the first few inches in super glue or nail polish to make it easier to thread. Just be sure to let it dry.
Go to your local office supply store and pick up a "report cover". They have some lovely ones. Just punch, staple, or fasten with the appropriate method and voila! If you but them in packs you can make several trips look nice and uniform.
For the true preservationists, make sure you use archival quality paper and thread. If you decide to glue anything make sure it is archival glue available at the crafts store. And since it is a journal, also use archival pens. Otherwise the rest of the book will be intact but the writing will yellow/fade. These kinds of pens are usually available in the scrapbook aisle. –Freecia
---
Disney Travel Journal Binding -I just wanted to share with everyone, that I made the Kids travel journal from the MFL website. It came out fantastic!! I bought a large package of plain white card stock paper at my local wholesale store and I printed out the pages on the card stock, flipping the pages over so that they could be printed on both sides of the pages. I then got some report covers, with the clear plastic cover, and I three hole punched the pages and put them into the report cover. I also bought a pencil pouch that has the three holes in it. I found one that was fabric and has a mesh pocket along with other pockets and is zippered. I put this in the report cover along with a small pack of crayons, a pencil and sharpener, and a cool gel pen. I also wrote in nice script my nephews name on the cover along with the date. It looks very professional and because I printed on both sides of the paper it isnt too thick, plus the card stock is nice and firm to write on.
I also made a journal for my other nephew who is only 5. I used the front cover to the travel journal and personalized it. I printed out the alphabet and number pages to put inside. I also put a few blank pages and a few coloring pages inside for him to color on.–Brad
---
Disney Travel Journal for Adults
Disney Travel Journal for Kids
More Free Downloads from The Mouse for Less
We hope you enjoyed these ideas for Disney Travel Journal Binding!   If you have any suggestion for other pages you think we should offer please email info@themouseforless.com