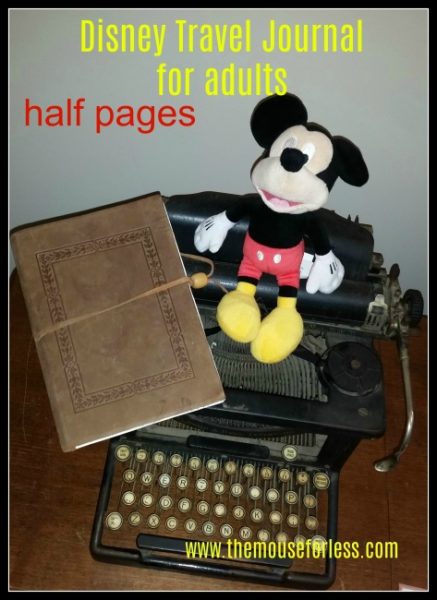 Pick and choose pages to design your very own travel Disney Travel Journal Adults Half Pages Version.   Select the pages you would like for your journal and click on the title of the page to view and print the page. You will need to have the free program Adobe Acrobat Reader to print the pages.
You can either print both sides of the letter size page then cut in half, punch holes then insert into the planner or print one side, fold the page then punch holes to insert into the planner. Tape or staple the bottom of the folded page and it can double as an open top pouch for receipts and other flat keepsakes.  The pouch method is a great way to keep things all in one place, but if you don't want to keep them with you on the rest of your trip, perhaps a ziplock in your room can collect things and you can insert them later.
Can't find what you are looking for?  We offer a Disney Travel Journal Adults Version with full pages as well as binding ideas, and of course a Disney Travel Journal Kids Version.   (many of the kids pages could be used by adults as well, personalize your journal the way you want it!)  Save these pages for your scrapbooking notes, to plan a future trip and to refer back to.   Anything to do with your Disney memories, videos, slide shows, you can refer back for the name of a restaurant or show or possibly wait times for rides, so you know which ones to try to get fast passes for next time.
Whatever you choose, personalize your Disney Travel Journal Adults Half Page Version so it works best for you!

Other Journal pages from your friends at The Mouse for Less:
Full Sheet Adult Travel Journal
Looking for more educational and download ideas?  Check here for homework pages, word searches, luggage tags and so much more to make your trip more magical.    Make sure and share some of your favorites in our Facebook Group