TheMouseForLess would like to let you know about a wonderful program. This program is for children with life threatening illnesses and for their families. It is called "Give Kids The World" and as MFL members, we can help do exactly that… Give Kids The World. This is a wonderful, caring organization that works with the Make A Wish Foundation, in giving families with terminally ill kids a 6 day vacation to Orlando and WDW free.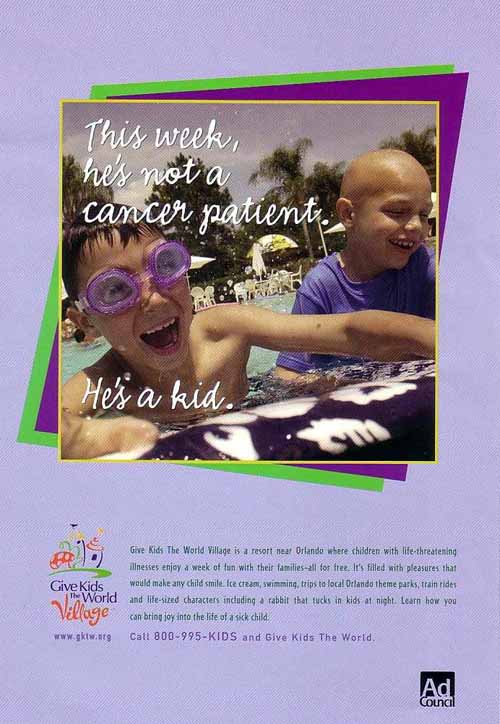 Give Kids The World Village has suite-type accommodations for 138 families. The Village has an onsite gingerbread restaurant, an ice cream palace, a pool, and many activities. Every Thursday is Christmas at the Village. Characters visit the Village as well, especially for the kids who are too ill to do very much. This is a wonderful non-profit organization with some fabulous volunteers who really go out of their way to make these trips special.
If you would like a better idea of what Give Kids The World is, please visit their website at www.gktw.org .
If you are planning a trip to WDW and would like to tour GKTW, please contact MFL member, Beccy Hosoda at bhosoda@gmail.com . GKTW loves having our members come by to see exactly what the Village is like. And trust us. Once you've seen GKTW first hand, it will hold the same special place in YOUR heart as it does in ours.
If you don't have a trip in the works or don't have the time for a personal visit, you can still see Give Kids The World by taking a few moments to look at our Photo Essay titled
" A Tour Of Give Kids The World " . This essay will give you a good look at this magical place that we're all so willing to help. Once you've seen it, you'll know why!
Now, introductions aside, we all know that in reality, FREE is never really FREE. There are always people somewhere that make these free things "happen". There are many ways that YOU can help Give Kids The World continue to provide such a wonderful "free" vacation to these children and families that so badly need it.
As a group, we have been donating our time, our money, and our gifts, to GKTW for years. We have collected and donated hundreds of baseball caps, made and filled gift bags for several different holidays throughout the year, and sent large numbers of disposable cameras and thermometers. Barbara has collected numerous strollers and packages left at Disney resorts (by our members) for donation to the village and we have sent enough VCR tapes to stock a library! We've given up our coffee, sending the cash we would have spent to GKTW instead. We've collected coupons and joined together to send for free gifts and bears from Build-A-Bear. We've donated our unused hotel soaps, shampoos and lotions, and uncountable toys and other miscellaneous gifts.
Every year, we concentrate on one major donation. The last two years we elected to help the families preserve their memories by purchasing over 200 scrapbook albums and we made and donated over 2000 (yes! 2 THOUSAND) hand-made scrapbook pages! This was in addition to the continual year-round donations that our members give.
Our current "drive" on The Mouse For Less is a very worthwhile one. This year, MFL member (and GKTW volunteer), Barbara Harris, has come up with a wonderful new idea which we are sure you will all love. We know we can count on you, as usual, to get behind this idea and help us to make it extra special!
Every year in December, each of the villas is decorated for the holiday season. As you can imagine with all of the new additions at the Village, there are a lot more villas to decorate. Each villa is decorated by volunteers who give both their time and provide the decorations.
With your help, we would love to be responsible for one villa. We have some local volunteers (MFL members) to do the decorating, but if you are going to be in the area during "decorating time" and would like to help out, we know Barbara would love to see you. What we are REALLY in need of, of course, are the decorations. On our list of needs are:
At least 2 trees. Pre-lit trees would be best (although not necessary).
Lots and lots of ornaments! Please, NO GLASS ORNAMENTS! This is for safety reasons.
Lights (indoor/outdoor)
Other miscellaneous decorations (nothing perfumed or secular to reflect the many nationalities of the guests).
We will thank you in advance for all of your help and donations. One thing we can always count on is the generosity of our wonderful MFL members!
Here, you can see how one person (with an idea and the help of others) can really make a difference! Please read about Ellissa Schatz' Give Kids The World project.
All of us do not have the time, the know-how or the energy required to undertake a project like Elissa's. But we can still help. GKTW graciously accepts donations in order to keep this magical place running, day after day, year after year. Please know, there is no donation too big or too small! Each donation is just as important as the next.
Hasbro has created a Special Edition Give Kids The World version of the popular children's game, CandyLand! You will stroll down the Avenue Of Angels with Mayor Clayton, Ms. Merry and other GKTW favorites!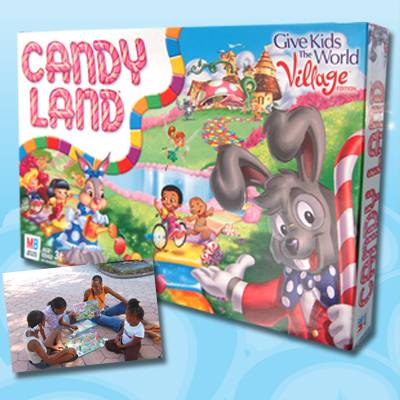 The game is available from the GKTW online gift shop at Candy Land: Give Kids The World Village Edition.
For more information, visit the Give Kids The World website.