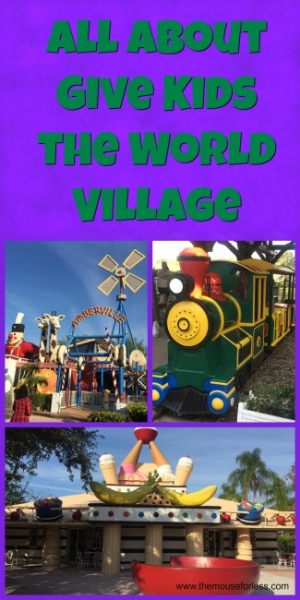 About Give Kids the World
Give Kids the World is a wonderful location for children with life threatening illnesses and their families. As Mouse For Less members, we can help to Give Kids The World. This is a wonderful, caring organization that works with the Make A Wish Foundation, in giving families with terminally ill kids a six day vacation to Orlando and Walt Disney World free.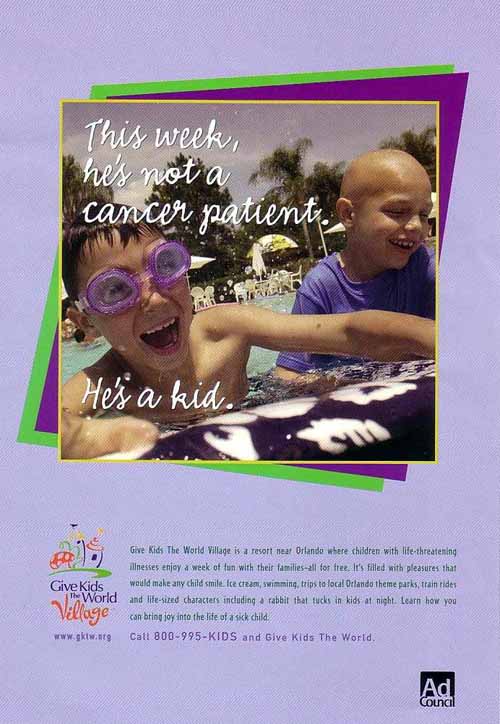 Give Kids The World Village is an 84-acre facility that has suite-type accommodations for families. The Village has an onsite gingerbread restaurant, an ice cream palace, a pool, and many other fun activities. The Village celebrates holidays, with every Thursday is Christmas at the Village. In addition, Characters from both Disney and Universal visit the Village as well, especially for the kids who are too ill to do very much. Give Kids the World is a wonderful non-profit organization with some fabulous volunteers who really go out of their way to make these trips special. Give Kids The World loves having The Mouse For Less Members come by to see exactly what the Village is like. And trust us, once you've seen GKTW first hand, it will hold the same special place in YOUR heart as it does in ours.
If you would like a better idea of what Give Kids The World is, please visit their website at www.gktw.org .
Give Kids the World Village Photo Tour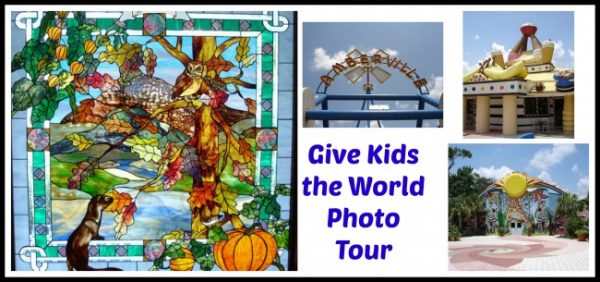 These stepping stones are found all around the Village.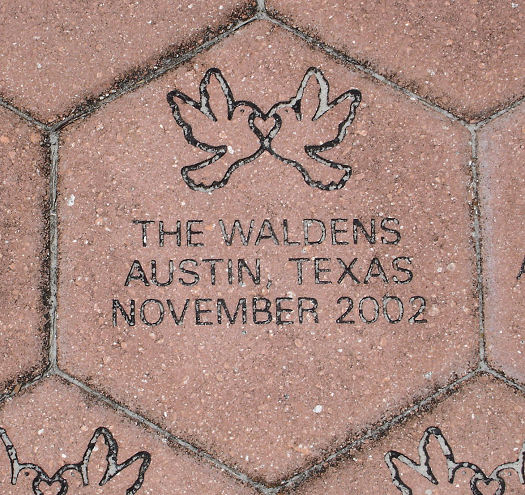 The atmosphere of Give Kids the World is all whimsy and fun.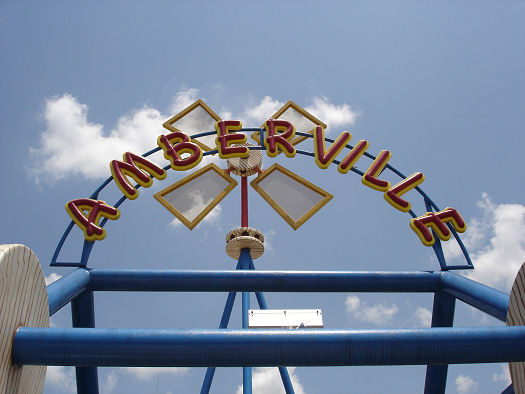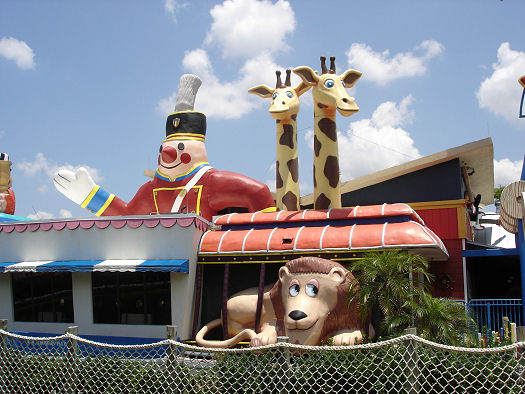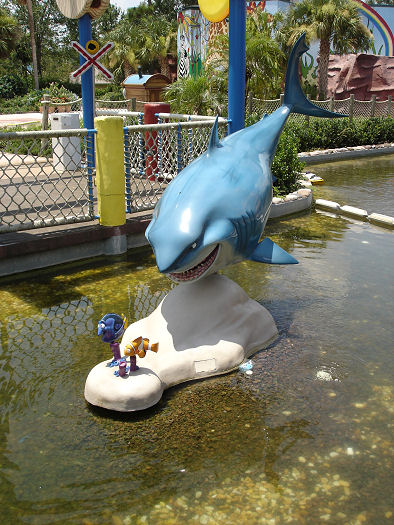 Bruce, Nemo and Dory swim in the moat around Amberville.
Inside Amberville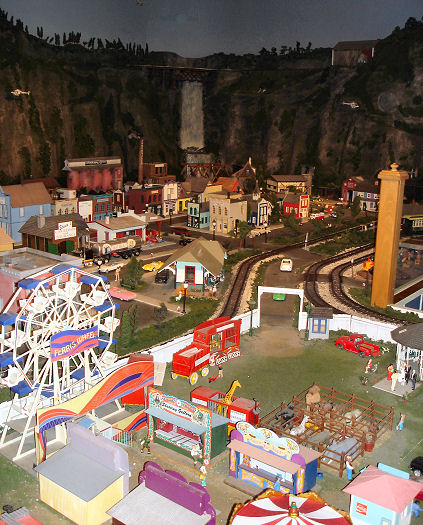 This is the model city and railroad is located inside of Amberville at Give Kids The World Village. Here, you can make the train run, turn on lights, start the ferris wheel spinning, all with the touch of buttons located around the edges of the model train area. Even adults will enjoy taking in all the details.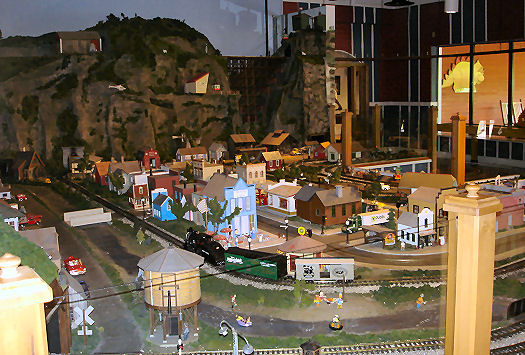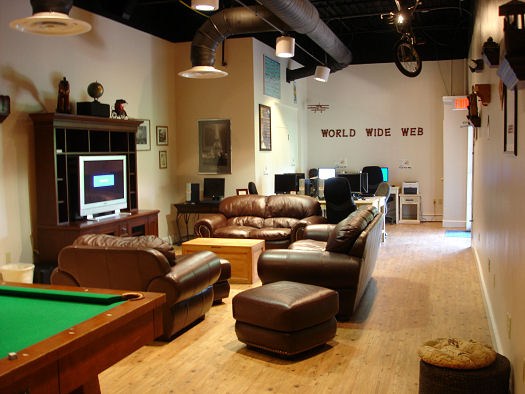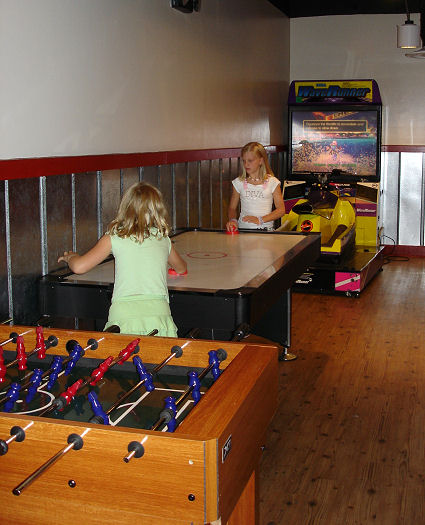 Remote Control Boats, Ahoy!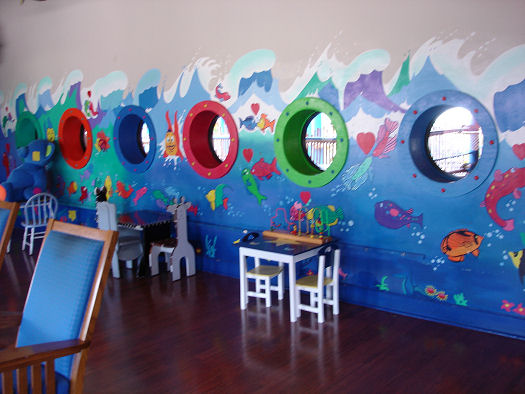 This is the back side of the room where the "controls" are for the radio-controlled boats.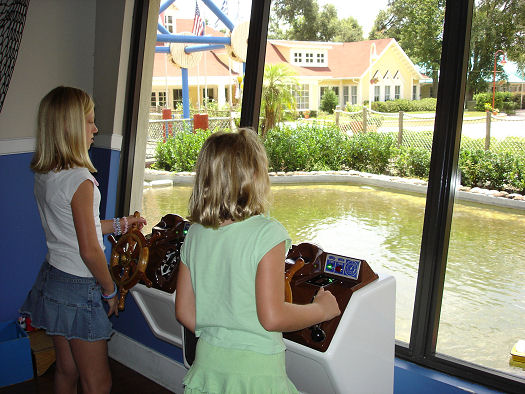 Here you can see the boats being "Captained" from inside the train station. The boats are outside in the moat.
Julie's Safari Theater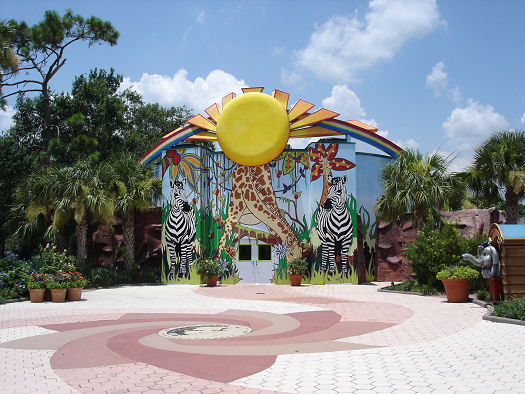 The Screen Dreams movie theatre has 120 seats.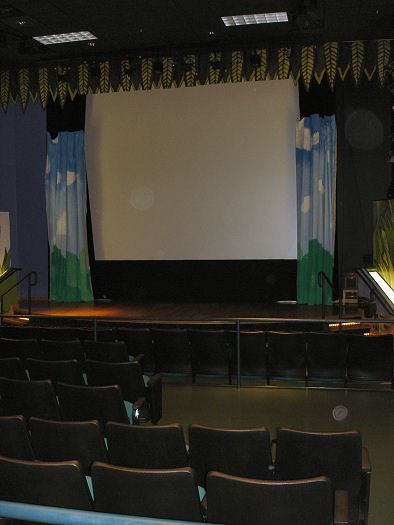 The Screen Dreams movie theatre is also where Mickey and Minnie do a Meet and greet and take photos. Each family gets an 8×10 photo to take home with them.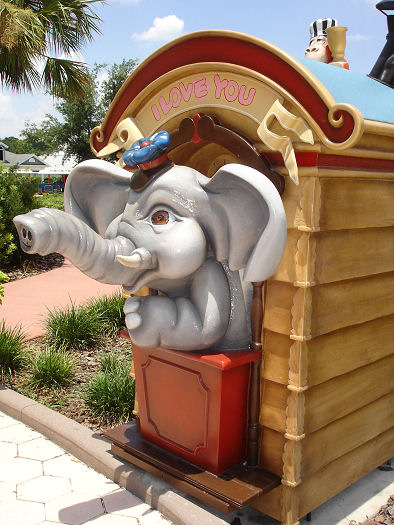 Throwing away trash has never been so much fun! There are several of these "friendly" trashcans around the village.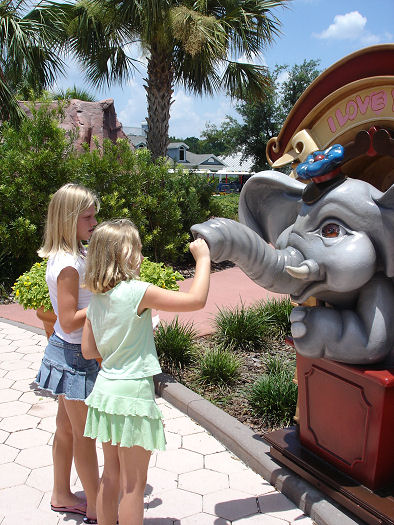 If you hold your trash up to the elephant's nose, it gets SUCKED inside!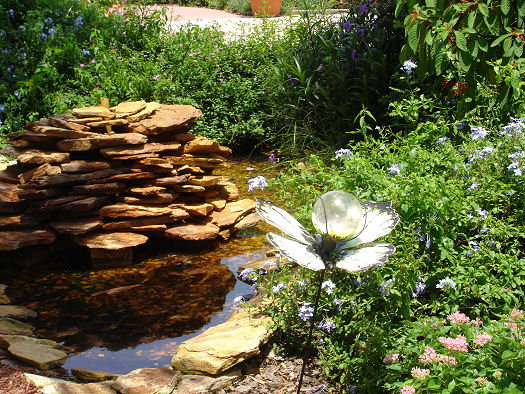 Here's a peek at the peaceful Butterfly garden.
The Ice Cream Palace
The Ice Cream Palace which serves all sorts of ice cream, along with sandwiches, hot dogs and drinks for a quick lunch during the day.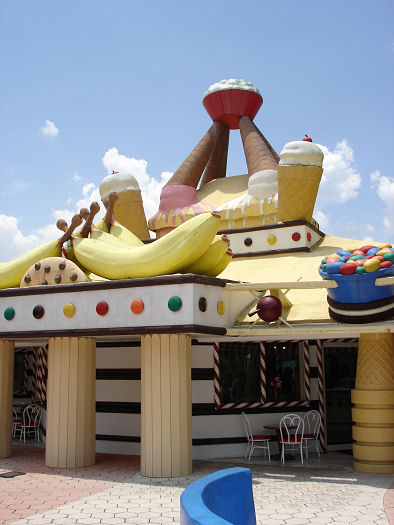 Bunny Bucks which friends of visiting families can use to 'purchase' food items.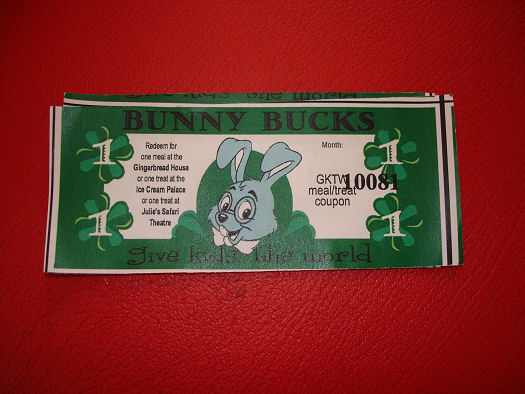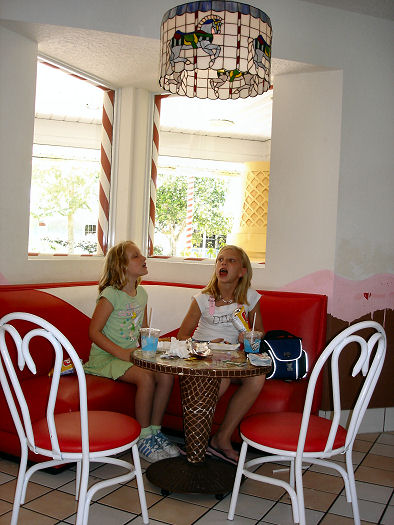 Table bases inside the Ice Cream Palace are shaped like ice cream cones!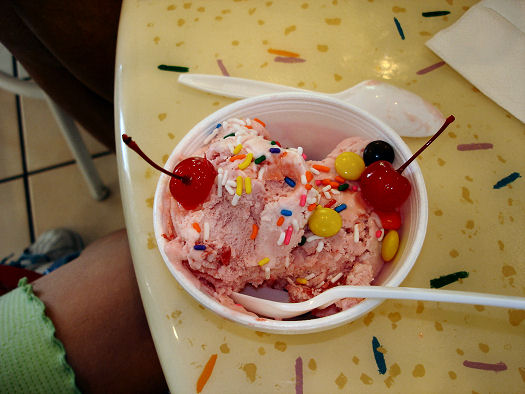 Yum!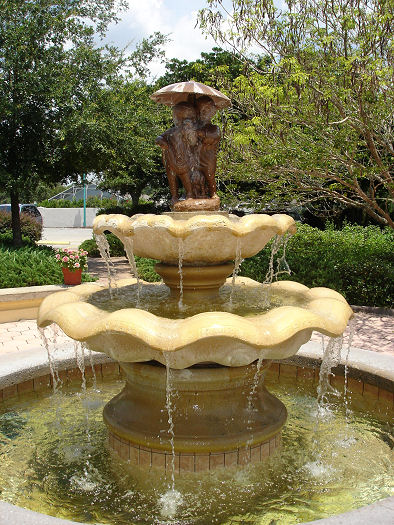 The fountain in the courtyard
The Chapel
The Chapel at Give Kids the World is lovely.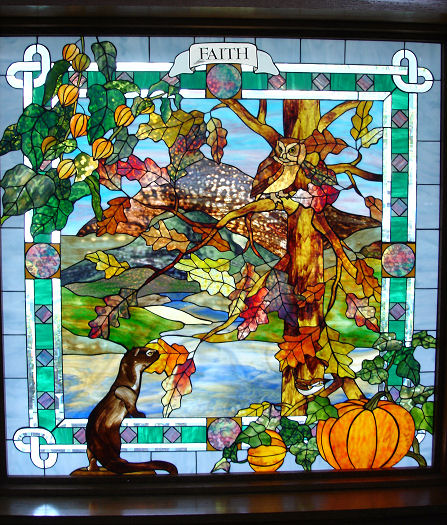 Faith stained glass window in the Chapel.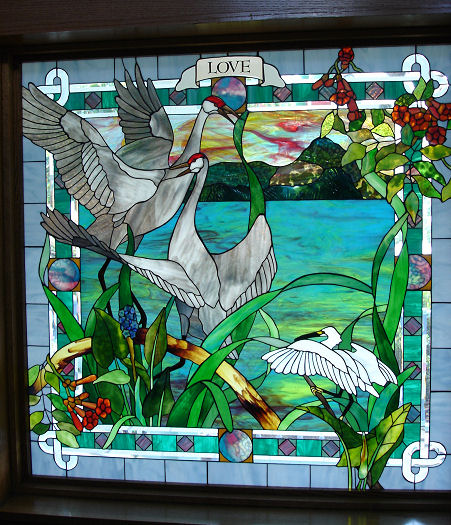 Love stained glass window in the Chapel.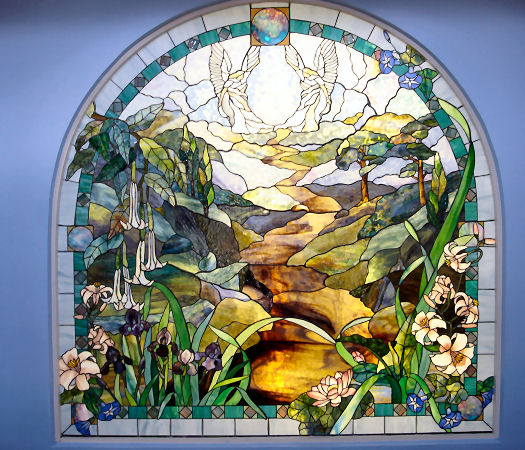 Another stained glass window in the Chapel.
The Castle of Miracles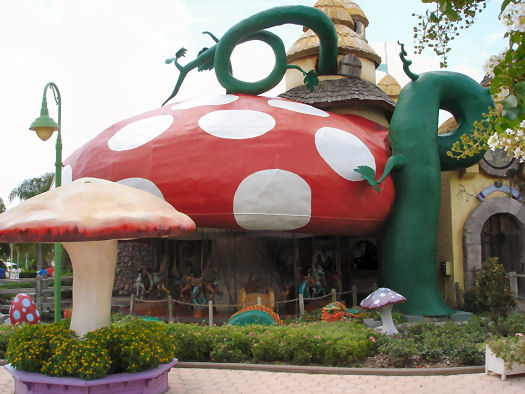 Give Kids The World Village would not be complete without The Castle of Miracles, which was built in 1994. Just outside the door to the Castle is a beautiful carousel which was brought over from Holland. You can ride on roosters, pigs, lions, unicorns and seahorses. Additionally, kids and adults alike can roll right up onto the back of a turtle or a snail to join in the fun of a good old-fashioned carousel ride. These two animals were uniquely built for special guests in wheelchairs.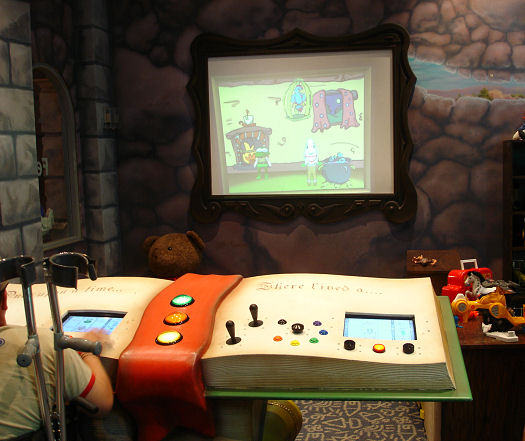 The interactive game inside of the Castle of Miracles was built by engineering students at Carnegie-Mellon. Their professor is the parent of a former wish child who stayed at Give Kids the World Village.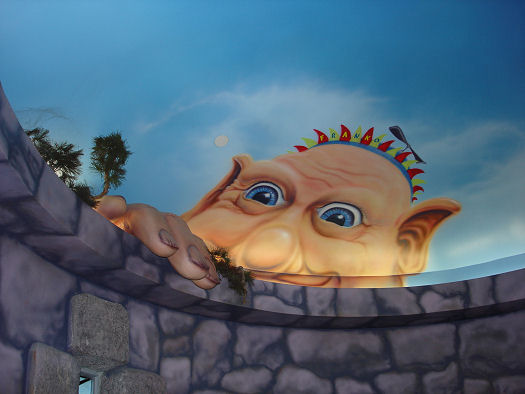 Look out for the GIANT hiding on the Fe Fi Fo Fun Room ceiling!
The Fe Fi Fo Fun Room contains some great toys, dress up costumes and an awesome supply of LEGOS!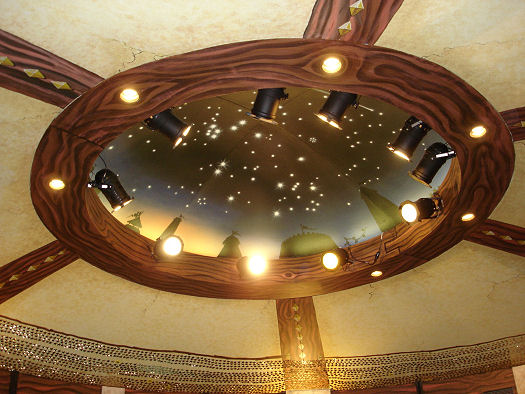 As they check in at the Village, each Wish Child is given a gold star on which they sign their name. After making a wish, they leave their star in the Castle and at night after everyone is asleep, the bewitching Star Fairy places their star on the ceiling to shine brightly for all to see. Currently, gold stars cover the majority of the Castle sky as a permanent reminder of those Wish Children who have visited before. Families frequently return many years later and are overjoyed to see their Wish Child's special star still keeping watch over the Village.
There is a bottomless wishing-well inside of the Grand Hall.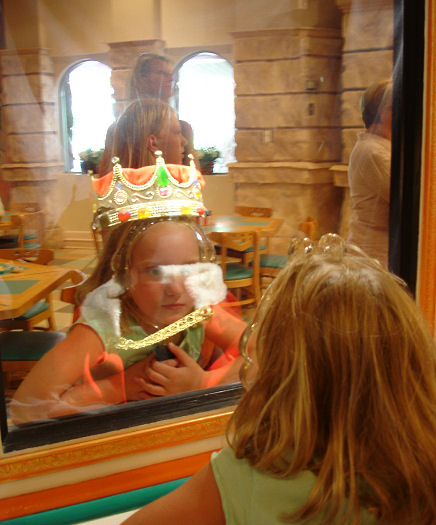 The "Magical Mirror" inside of the Grand Hall transforms our little girls into Queens! The girls place their face in to a "circle" which triggers the transformation.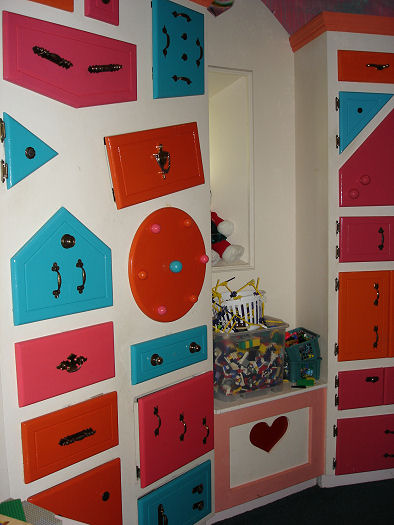 There is a wall full of drawers and cabinets inside the Castle that can be open, closed and pulled causing lots of funny noises!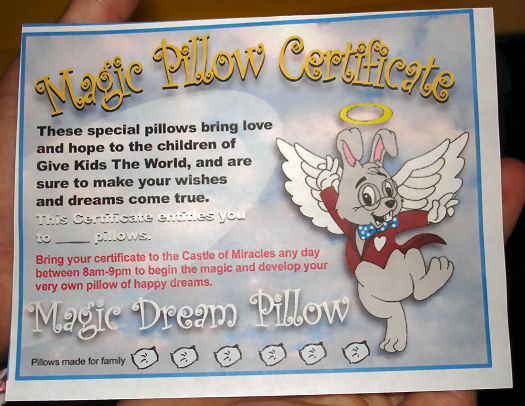 This certificate is given to families when they check in – it is redeemed in the Castle for a magic pillow – several Mouse for Less list members have made the pillowcases that are donated!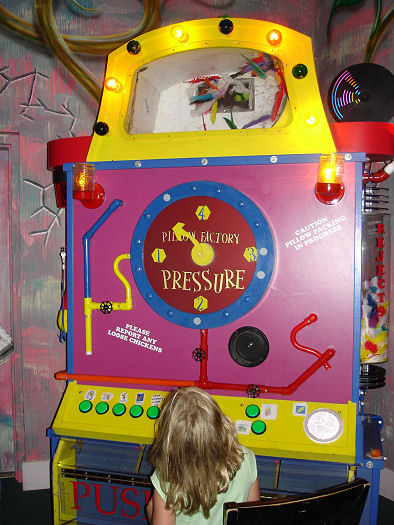 This is the magic pillow machine. As the pillow is "made", it chugs and churns and feathers fly! Then, POOF!!! Out comes your special pillow. Alisha too, shares her own personal pillow.
Gingerbread House and Towne Hall
This is the Gingerbread House. Meals here are provided by Perkins. In 1989 the house cost $600,000 to build. This was all raised by donations. Staffed by 16 full and part-time Perkins employees, breakfast, lunch and dinner are served.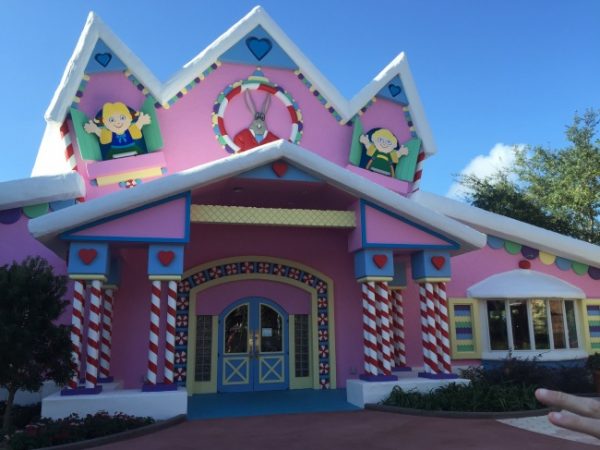 Visiting families have donated more than 1000 dolls which are displayed around the building's ceiling. There are dolls dressed in national costumes, a history of Barbie and even some Disney Princess's. There is also a player piano that plays lots of childhood tunes!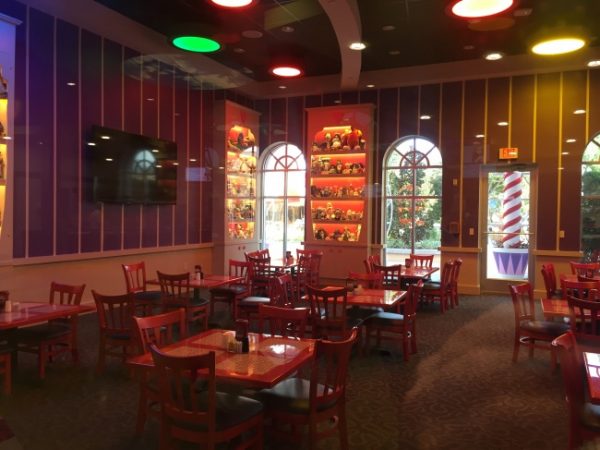 The various dining stops at the Towne Hall and the Gingerbread House. These are all brought to life thanks to corporate sponsorships.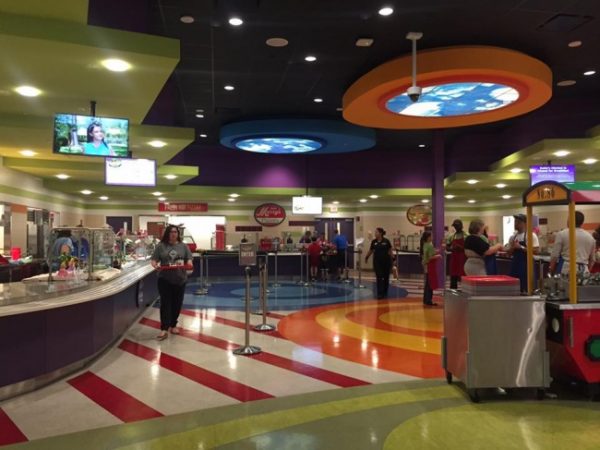 The Hoppening Place
Here, fun events take place like character meet and greets, parties, Village Idol, and more.

Ol' Elmer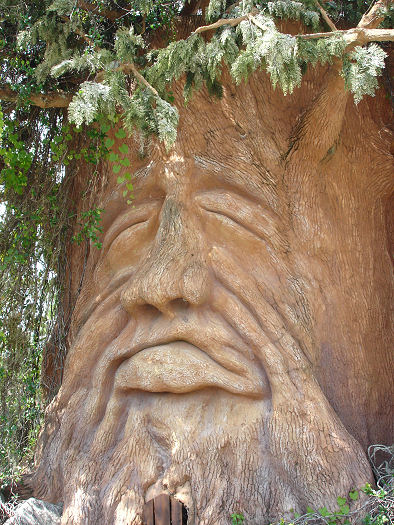 Ol Elmer can be found between Gingerbread House and the pool.

Ol Elmer has a sign which doesn't tell you that he SNORES!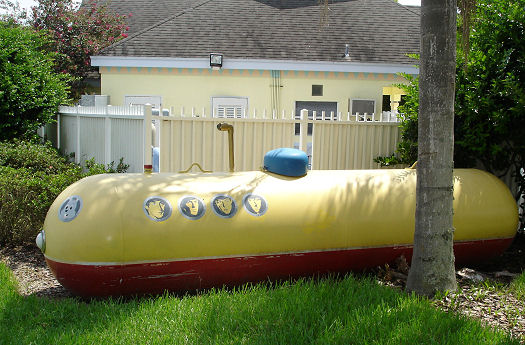 Special permission was granted GKTW to paint their gas tanks. By law, these must be white and easily spotted. As you can see, they are now "yellow submarines", complete with John, Paul, George and Ringo – the Beatles.
Park of Dreams
This is inside pool area. This is where Shamu dances during the Monday night pool parties – A D.J. also sets up here.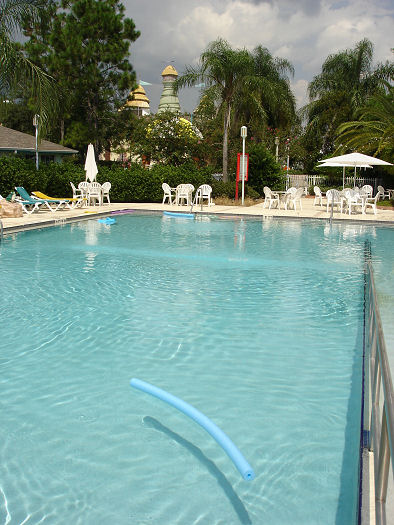 The pool is complete with a ramp and a plastic wheelchair to give access to those in wheelchairs. There was one touching story of a disabled father of one of the wish children who, due to the ramp and chair, was able to swim with his children for the very first time.
Happy Harbor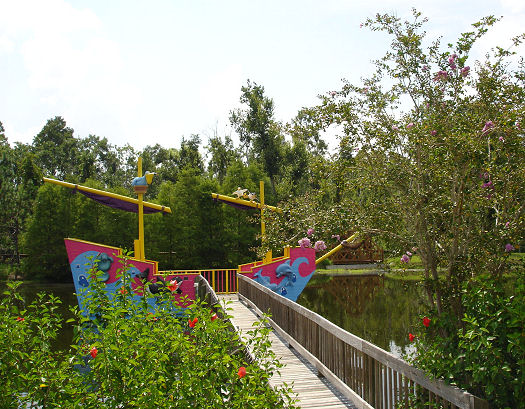 This is Happy Harbor Fishing Pond. You can fish off of this boat in the fully-stocked lake. It's just behind the pool.
Mayor Clayton's House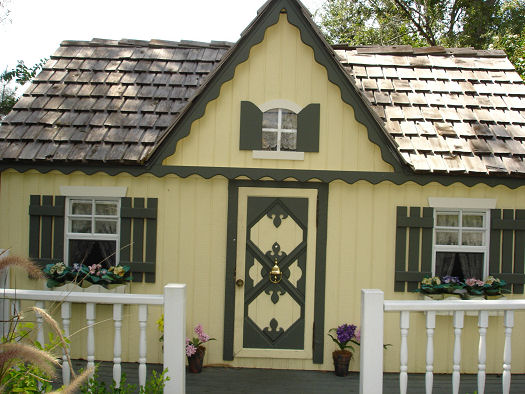 Mayor Clayton's (miniature) house is complete with miniature furniture that the kids can sit on.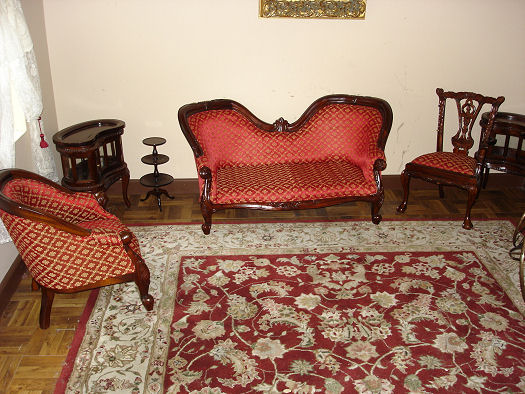 The "sitting room" inside of Mayor Clayton's house.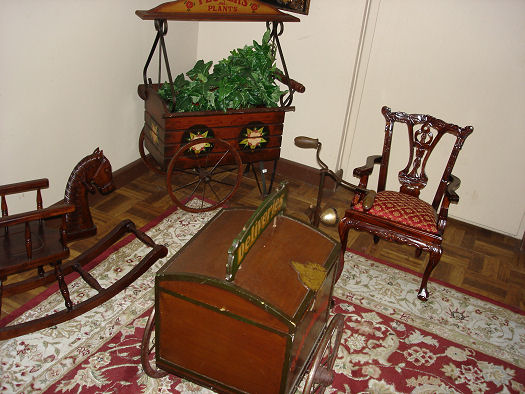 Without something to compare to, this miniture furniture looks lifesize!
Accommodations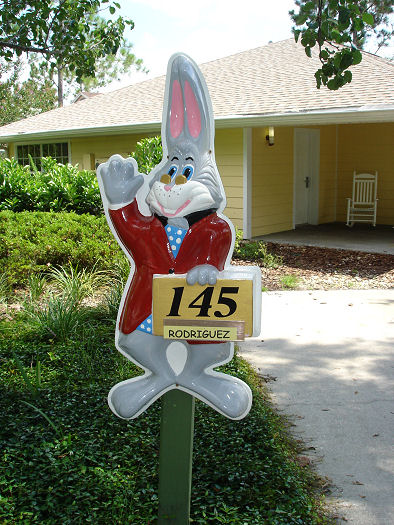 Each family stays in a 2 bedroom villa, complete with a living room and full kitchen.
Marc's Dino-Putt
Named after Marc McConnell (an inspirational child who visited GKTW), Marc's Dino-Putt is a 7 hole putt-putt golf course. It was donated by Universal Studios Orlando. There is plenty of room for wheelchairs on this course. Each hole has a special effects trick in addition to the sound of roaring or yapping dinosaurs whenever the ball makes it in the cup.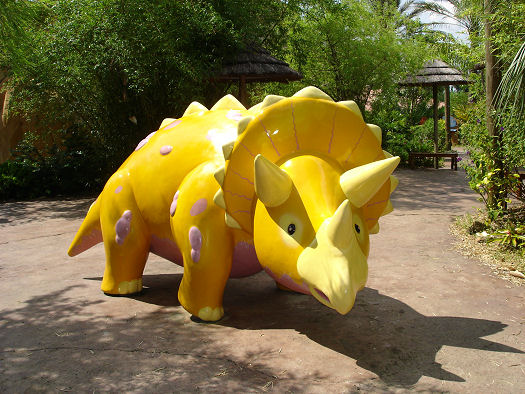 You will find 11 of the world's friendliest dinosaurs here. The designers used cheery colors and smooth skin and features when designing these dinosaurs, to make them fun, not scary, to the children that visit.
How You Can Help
Now, we all know that in reality, FREE is never really FREE. There are always people somewhere that make these free things "happen". There are many ways that YOU can help Give Kids The World continue to provide such a wonderful "free" vacation to these children and families that so badly need it.
As a group, we have been donating our time, our money, and our gifts, to Give Kids The World for years. We have provided many things in the pas, such as hundreds of baseball caps, made and filled gift bags for several different holidays throughout the year, and sent large numbers of cameras and thermometers. We've also collected numerous strollers and packages left at Disney resorts (by our members) for donation to the village! We've given up our coffee, sending the cash we would have spent to Give Kids The World instead. We've collected coupons and joined together to send for free gifts and bears from Build-A-Bear. We've donated our unused hotel soaps, shampoos and lotions, and uncountable toys and other miscellaneous gifts.
Here, you can see how one person (with an idea and the help of others) can really make a difference!
All of us do not have the time, the know-how or the energy required to undertake a project like Elissa's. But we can still help. Give Kids The World graciously accepts donations in order to keep this magical place running, day after day, year after year. Please know, there is no donation too big or too small! Each donation is just as important as the next.
Hasbro has created a Special Edition Give Kids The World version of the popular children's game, CandyLand! You will stroll down the Avenue Of Angels with Mayor Clayton, Ms. Merry and other GKTW favorites!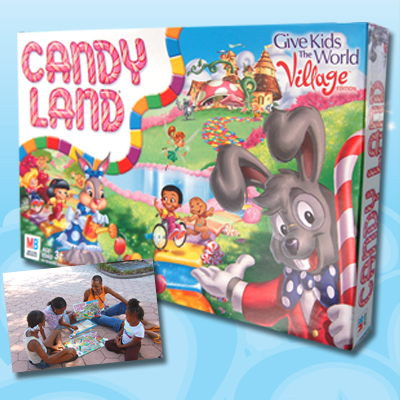 The game is available from the GKTW online gift shop at Candy Land: Give Kids The World Village Edition.
Looking for other gifts you can purchase? Their online store allows you to buy things like jewelry (like Alex and Ani), apparel, mugs and cups, ornaments, magnets, plush, and more.
In addition to making donations, you can also choose to volunteer at Give Kids the World. Volunteering at Give Kids The World Village inspires hope, creates priceless memories, and helps kids with life-threatening illnesses and their families celebrate life. It means being a part of an organization that is truly unique. And it means giving your best and feeling your best.
To volunteer, you must complete the application and go through the screening and training process. It doesn't take long and it is a wonderful way to give back while you're in the Orlando area.