Captain Cook's Snack Company
Disney's Polynesian Resort
Quick Service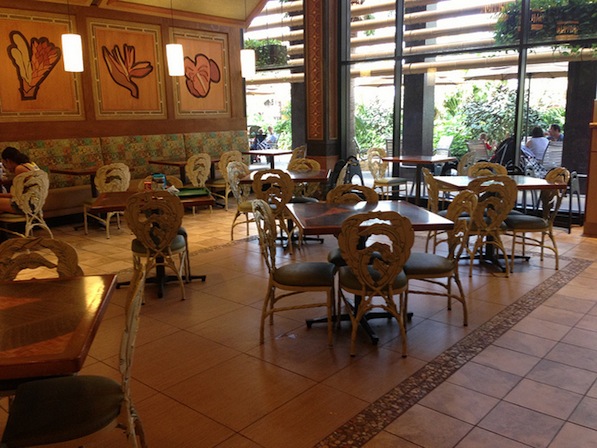 Menu Date: 7/2013

Reviews

Explore the American cuisine offered at this convenient quick service restaurant. Specialties include pastries, hamburgers, salads, pizzas, fresh fruit and novelty ice cream treats. It's a real discovery!
Restaurant Info: American, Breakfast/Lunch/Dinner/Snack, $
Lunch/Dinner Menu
*S - Denotes a Snack on the Disney Dining Plan
Served 11:00 a.m. - 11 p.m.
Sandwiches, Salads and Stir-Fry
Served from 11am-11pm
All sandwiches served with Asian Slaw, Chips, Steamed Vegetables or Fries
Fish of the Day (after 5 p.m.) - $10.69

Aloha Pork Sandwich - $8.99
with pulled pork, barbecue sauce, pineapple cole slaw, cheddar, cucumbers
and tomatoes on warm pineapple coconut hoagie roll

Chicken Sandwich - $8.99
1/3 lb. Angus Bacon Cheeseburger - $9.39
Pork Nachos - $7.59
Multigrain Turkey Club - $9.99
(Grown-Up) Grilled Cheese - $7.99
Caesar Salad with Chicken - $7.99
Polynesian Tossed Salad - $8.79
Stir-Fry Noodles with Chicken - $8.49
Flatbreads $7.99 - $9.69
Served from 11am-11pm
Hawaiian Flatbread
Cheese and Pepperoni Flatbread
Flatbread of the Day
Kid's Meals
For Guests Ages 9 and Under
All meals include a choice of two side items: Grapes, Applesauce, or Carrot Sticks
and choice of Small Lowfat Milk or Small Dasani Water
Cheeseburger - $5.99
Grilled Cheese or Chicken Nuggets - $5.99
Turkey and Cheese Sandwich - $5.99
*Minute Maid Juice Box, French Fries or Cookie Substituted Upon Request
Mickey Check Meals
For Guests Ages 9 and Under

Chicken and Pineapple Skewer - $6.99
with Salad Greens Tossed in a Citrus Dressing

Sweet-and-Sour Chicken Stir Fry - $6.99
with Pineapple and Seasonal Vegetables

Seasonal Fish (available 5-9 p.m.) - $6.99
with Vegetable Medley and Mandarin Oranges

Meets Disney Nutrition Guidelines for Complete Meals without substitutions.
*Minute Maid Juice Box, French Fries or Cookie Substituted Upon Request
Sides
French Fries - $2.49 *S
Polynesian Chips - $1.89 *S
Poly Side Salad - $3.99 *S
Steamed Vegetables - $1.99 *S
Pineapple Dole Whip - $3.49 *S
Soup of the Day - $2.99 *S

Grab and Go Side Options
Sushi - $8.99
Side Salad - $3.99 *S
Smucker's Uncrustables - $2.99*S
Celery and Carrots - $3.69 *S
Apple Slices with Caramel - $3.49 *S
Fruit Cup - $3.59 *S
Pineapple Cup - $3.99 *S
Apple - $1.29 *S
Dannon Yogurt - $2.19 *S
Yogurt Parfait - $4.59 *S

Captain Cooks Bakery
Assorted Muffins - $2.79 *S
Assorted Cookies - $2.39 *S
Apple Pie - $3.59 *S
Brownie - $3.49 *S
Gourmet Cupcake - $3.99 *S
Chocolate Croissant - $2.99 *S

Beverages
Fountain Drinks: Coke, Diet Coke, Coke Zero,
Sprite Fanta Orange Soda, Minute Maid Light Lemonade - $2.19 *S

Hot Tea, Nestle Hot Cocoa, or Coffee (Regular or Decaf) - $2.09 *S

Souvenir Refillable Mug with unlimited fountain drinks
hot or iced tea, hot or iced coffee & cocoa during your stay - $15.49

Bottled Drinks:
Dasani Bottled Water - $2.50 *S
Smart Water - $3.50 *S
Vitamin Water - $3.29 *S
Powerade - $3.19 *S
Orange Juice - $3.49 *S
Apple Juice - $1.99 & $2.39 *S
Lowfat Milk - $1.69 *S
Chocolate, Strawberry, or Soy Milk - $2.39 *S
Fuze - $4.29 *S
Illy Coffee or Monster Energy - $4.29 *S
Heineken or Michelob Ultra - $6.50
Budweiser or Bud Light - $5.75
Corona or Bud Light Lime - $6.50
Bacardi Silver (Lemonade or Sangria) - $5.25
Jose Cuervo Margarita - $6.75
Kahlua Mudslide - $6.75
Smirnoff Ice - $6.50
Beringer White Zinfadel - $6.95
Sutter Home Wines (Pinot Grigio, Chardonnay or Merlot) - $6.95
Parducci Wines (Chardonnay or Merlot) - $10.95

Sales Tax Not Included
** Menu and Prices are Subject to Change Without Notice **