This post may contains affiliate links for your convenience. If you make a purchase after clicking a link we may earn a small commission but it won't cost you a penny more! Read our full disclosure policy here.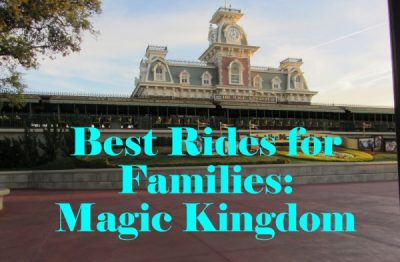 Walt Disney World's Magic Kingdom is a great park for families.  There are numerous rides that everyone can enjoy together.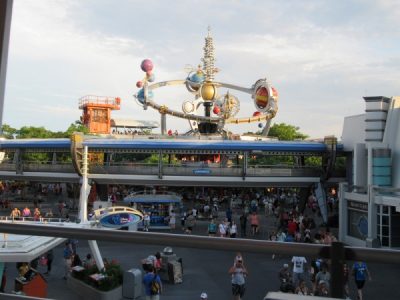 Tomorrowland in Magic Kingdom
In Tomorrowland, families can catch a few rides together.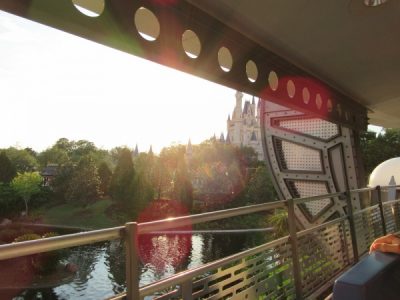 Breathtaking Views from PeopleMover
Start with a calm ride on Tomorrowland Transit Authority PeopleMover.  This elevated ride over Tomorrowland takes riders on a open-air trip through Tomorrowland.  This 10-minutes ride goes through some of Tomorrowland's rides.  Take a glimpse into Buzz Lightyear's Space Ranger Spin and Space Mountain.  Also get great views of the castle.  Tomorrowland Transit Authority PeopleMover is a great way for families to escape the crowds of Magic Kingdom and enjoy some time together.
Families can soar high above Tomorrowland by riding Astro Orbiter.  Kids can become pilots as they take control of their 2-passenger spaceship.  Whirl around the planets as riders determine how high or low you fly in your rocket.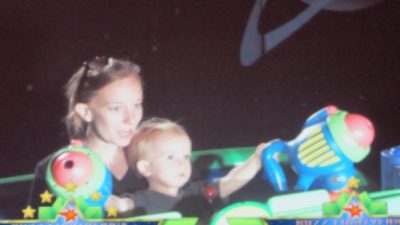 Even little ones enjoy Buzz
Next take on the evil Zurg on Buzz Lightyear Space Ranger Spin.  Riders use the laser to gather points as they shoot targets marked with "Z".  Kids will love the colors and the movement of their star cruiser.  Other members of the family can compete to see who can get the highest rank from Star Cadet to Galactic Hero.  Make sure to smile as there is a picture spot on this ride as well.
After soaring above Tomorrowland and fighting evil in space head over to a low key ride in the Carousel of Progress.  Take a seat in the theatre and enjoy a 21 minute show that takes riders through the improvements of the 20th century and today.  It follows a family through different eras and allow guests to see major technology improvements that take place in the 20th century such as the 1920s, 1940s and present day.  This is a unique ride as it is a revolving theater that rotates around a stationary stage.  Again this is a great way to escape the hustle and bustle and heat of the parks for a while.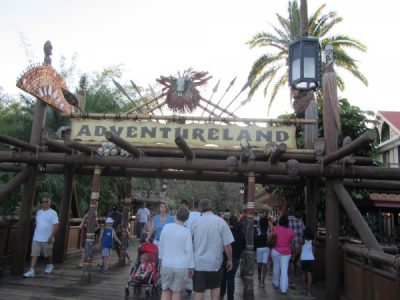 Across the way families can enjoy a couple of rides in Adventureland.  Here guests can take on pirates, fly on a magic carpet and experience the jungles of the world.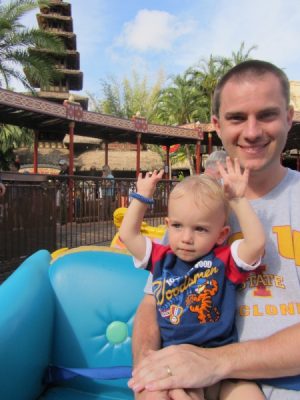 Hands up on Magic Carpet
Magic Carpets of Aladdin is a great place for families to start their adventure.  Families will board a magic carpet that will rise and rotate around a genie bottle and magic lamp.  Like with Astro Orbiter, riders can control their magic carpet moving it up and down as well as tilting it back and forth.  Watch out though as there is a camel that likes to spit.  If riders can plan it right, the camel might surprise riders on their magic carpet.'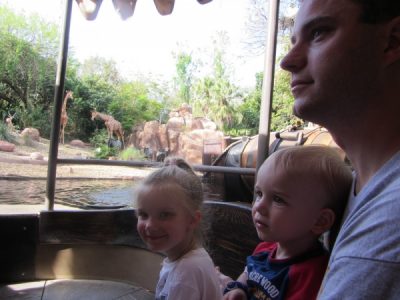 Enjoying the Jungle Cruise
Jungle Cruise is another great ride for families.  Families will board a boat together and travel through the major rivers of the world.  This 10 minutes ride takes riders through the Amazon, Congo, Nile and Mekong River.  Throughout the ride they will be able to experience the great narration from your very own skipper.  This is a ride that will have your laughing together.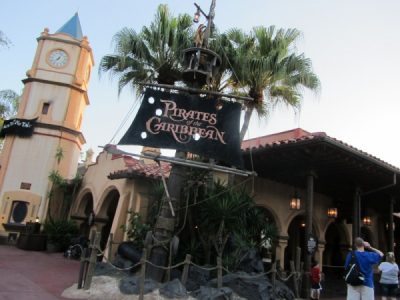 Pirates of the Caribbea
Pirates of the Caribbean is another fun ride for families.  Climb onto a boat and head into the story of the Pirates of the Caribbean.  This 9-minute ride will have families signing to "Yo Ho, Yo Ho" together.  Keep in mind that there are some dark sections as well as a battle scene that might be overwhelming to little ones.  Watch a video to see if all members of the family will enjoy this ride.
Liberty Square is the next spot for families in Magic Kingdom.
Liberty Square Riverboat will take riders on a half-mile adventure on the old steam-powered boat.  Families can find a spot on one of the three levels.  This 17-minutes journey takes riders to an early frontier where villages, mills and inns can be seen.  Riders are also able to see unique views of Big Thunder Mountain Railroad, Splash Mountain and The Haunted Mansion.  A narration will play by Mark Twain that will explain the importance of discoveries and transportation.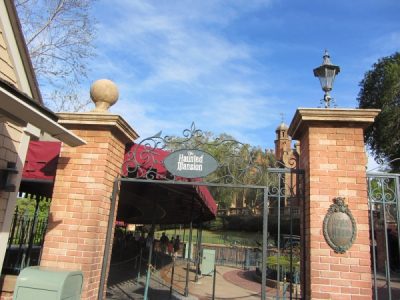 Haunted Mansion
Another option for some families is Haunted Mansion.  Even though this is seen as good for all families, the dark ride might scare some little ones.  Make sure you determine what is best for your family.  Riders will travel through the haunted mansion where ghosts and ghouls are active.  Be aware however of ghosts that might want to join you on the way out.
Fantasyland is the place to be for families.  This area of the park offers the most for families to experience together.
Take flight on Dumbo together.  This classic Disney ride will make everyone in the family feel like a kid again.  Climb aboard the magical elephant and then soar high above Fantasyland.  Try riding it at night for a completely different experience with the lights from the ride.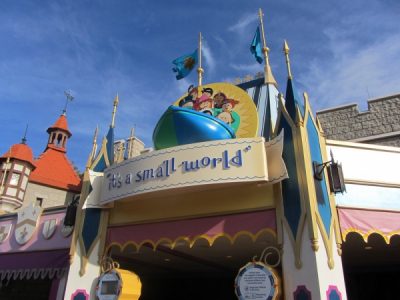 It's a Small World
It's a Small World is another fun ride for the whole family.  Not only can you all sing along together, but this slow boat ride through different countries will help you relax.  This 10-minutes boat ride will take riders through a variety of different countries from all seven continents represented.  Even though adults might not appreciate the song being stuck in their heads for the rest of the day, families can enjoy this nice float around the world.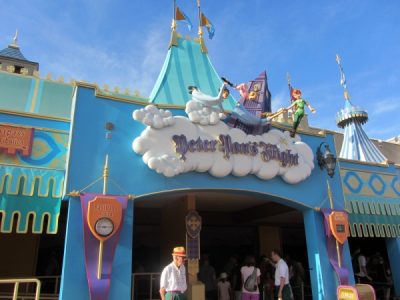 Peter Pan's Flight
Next take flight on Peter Pan's Flight.  Families can board a magical pirate ship and then fly high above the scenes from the classic movie Peter Pan.  See the Darling children in their nursery before swooping into Neverland where Captain Hook and Pan battle one another.  This classic ride is a favorite of many so make sure to get to it early or grab those FastPasses.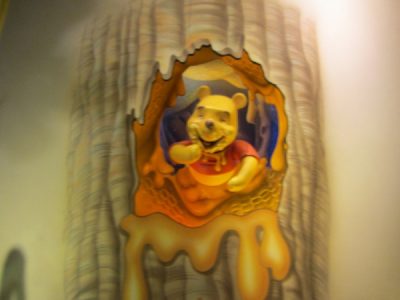 Winnie the Pooh
Head to the Hundred Acre Wood with Pooh and friends on The Many Adventures of Winnie the Pooh.  Riders will bounce and glide through some of the most popular scenes from Winnie the Pooh as stories from the classic tales come to life.  Riders will bounce with Tigger, dream with Pooh and work together to help save Roo.  Families will love seeing their favorite characters in this ride.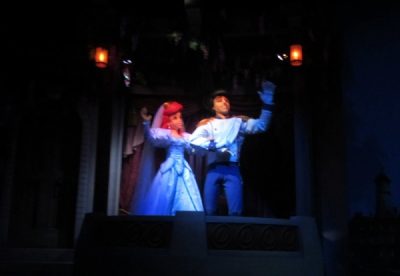 Under the Sea- Journey of The Little Mermaid
From a honey pot to a clam shell, families can head to Under the Sea- Journey of The Little Mermaid.  One of the newer attractions at Magic Kingdom, this ride brings to life the story of Ariel.  Become part of Ariel's world as you head under the sea with her.  Sing songs from the movie, escape Ursula and find Prince Eric on your undersea journey.  Everyone will love this magical ride under the sea.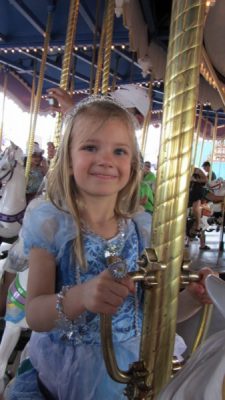 Being a princess on the carrousel
The last stop for families in Fantasyland is the classic Prince Charming Regal Carrousel.  Families can choose from 90 difference horses to climb aboard before galloping off.  Take in all of the sights and sounds of Fantasyland as you spin around.  Catch this ride at night to see it with around 2,000 shining lights.
Fantasyland is truly the place for families within the Magic Kingdom.  From flying elephants to clam shells under the sea, there is so much to do and experience together.
When traveling to Walt Disney World as a family, make sure to experience theses rides in Magic Kingdom together for a magical experience.
What are your favorite attractions to do with your whole family at the Magic Kingdom? Share them in the comments.
Did you like this article? Make sure to share it with your friends! Check below for easy ways to share!
Incoming search terms:
https://www themouseforless com/blog_world/best-rides-whole-family-magic-kingdom/