This post may contains affiliate links for your convenience. If you make a purchase after clicking a link we may earn a small commission but it won't cost you a penny more! Read our full disclosure policy here.
So, you've been bit by the magic? I have been to Walt Disney World, as a child, on 5 or 6 trips.  I always loved it. But the first time I began planning a trip for my own family, it was a whole different experience. I became obsessed with planning every last detail to make the trip perfect. Our kids were 2, 5 and 6 at the time. There were several reasons why we waited to go, but overall I feel like you can take your kids at any age and they will enjoy different experiences each time. But at this point, we felt like the older two were the perfect age and the youngest was old enough to enjoy most experiences as well.
As I said, I planned every detail to the T of this trip. And I do mean, T(ee). I made coordinating T-shirts for us to wear each day. Planning is half of the fun when it comes to a Disney vacation. You dream about the experiences that your family will enjoy and read incessantly about things you can do to up the magic. That said, a few other things we did were made our own autograph books, purchased items for the car trip down, made our own ears, made a few custom Disneybound-type outfits, and created daily plans. If you can imagine, I have a whole area of our spare room that is our Disney vacation command center. A lot of this stuff is stuff you only use on Disney trips.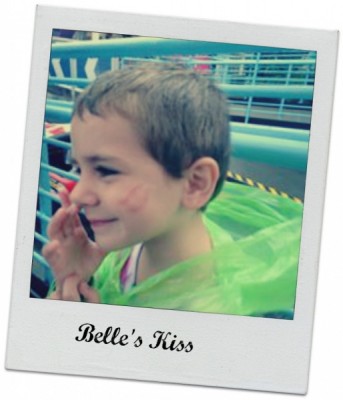 Special moments like this keep you coming back for more!
This first family trip was so special because we got to spend some quality time, where we did not have to worry about work, school, homework and all that boring life stuff. We also got to spend it with some additional Disney-loving family. After getting home and realizing what a fun time we had, we immediately began planning our next trip. This cycle has happened multiple times now. We have been back 6 times now in a 3 year time frame, with another trip planned for the fall. You literally get captured by the magic you experience.
One could argue that there are a few downsides to these frequent trips such as cost, other places to visit, and similar experiences available on other vacations. But in my opinion, our little ones are only little for so long and I want to enjoy these moments of their childhood with them for as long as they enjoy it. I want to impress upon them some of the great qualities about the Disney brand. They have great customer service, they believe in reaching for your dreams, they take pride in being great at what they do, and you are immediately a fun loving kid again when you drive under that sign! There are many ways to enjoy the magic for a more affordable price and our family will enjoy traveling to other destinations when they are a bit older and can appreciate the beauty of other places.
So, what are some things you can focus on for your return trips? I'll start by saying on your first trip, you feel like you have to pack everything in and want to do as much as possible. If you are not returning for a while, I would encourage this, but 9 times out of 10, you leave with a list of things you couldn't get to or experience and so it begins.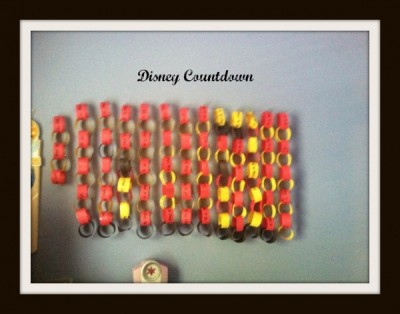 Almost always one of these in our house!
1) We have created many traditions on our trips. Some of which are Afternoon Tea at the Grand Floridian, Guided Bass Fishing in the Seven Seas Lagoon, breakfast at Wolfgang Puck Express on our arrival morning, Pick A Pearl and more. These are things we do every time we go.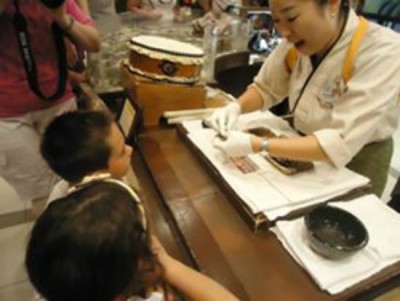 Pick A Pearl in World Showcase Japan Pavilion
2) We have some traditional photos we like to take every year as well. Some are the obligatory icon photos, but others are things like the photos on the carousel, teacups and more. Disney's PhotoPass is a wonderful things for this.
3) Tours- Disney offers all kinds if tours you can enjoy. They range from behind-the-scene type tours in the parks, tours related to the history of Walt Disney World, nature-related tours where you can explore the Wilderness, etc.
4) Special Parties like Mickey's Not So Scary Halloween Party, Mickey's Very Merry Christmas Party, Pirates and Pals Fireworks Cruise, and Dessert parties with the various nighttime shows.
5) Bike, canoe and fishing pole rentals- During the right time of year whenever it's not blazing hot, these are some great activities.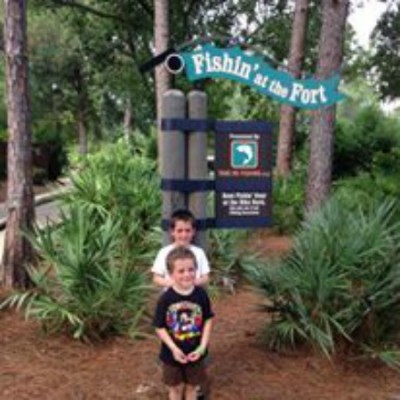 Fishing at Fort Wilderness
6) I find now that I take my time a bit more and can enjoy the little things. This includes doing attractions you may not include normally. Some of my favorites are:
a. Carousel of Progress– This one takes a bit of time to go through. But I feel like I really connect with Walt Disney and his vision for the parks when we enjoy this ride. This was one of the attractions that was featured at the 1964 New York World's Fair.
b. Stitch's Great Escape– This ride is not too popular, but it's something different to explore.
c. Tom Sawyer Island and the Liberty Square Riverboat– Again, these two require a bit of a time commitment, but they are a welcome break from the hustle and bustle of the park.
d. Enchanted Tiki Room– Our family did not enjoy this fantastic attraction until probably Trip #3 or 4. Our kids loved it. This is another example of an original attraction that Walt Disney was part of.
e. Hall of Presidents and Country Bear Jamboree– Confession time! I have to admit here that we have not done these ones, but with our next visit being in late August, I am sure we will take the opportunity to explore the air conditioning, I mean attractions 😉
f. In Epcot, we have yet to view a lot of the movies around World Showcase, as well as Ellen's Energy Adventure and some of the Innoventions attractions. But these will be on our list for the August trip. In Hollywood Studios and Animal Kingdom, the only things we have not done are some of the additional stage shows.
In planning our next trip, I take all of the above into consideration when lightly planning our days. We include our favorites as well, but the pressure is not there to get it all done.
7) Disney Springs– Since they've redone the area, this has become a regular thing for us to include in every trip. We always go to Goofy's Candy Company and get a caramel apple to take home, as well as let the kids each make their own treats.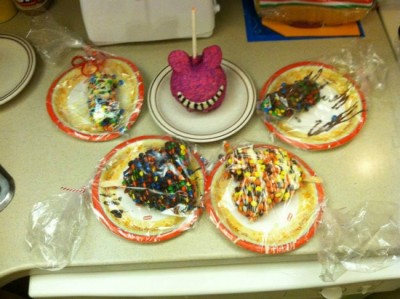 Make you own treats at Disney Springs!
8) Resorts– Each resort is so uniquely themed and has its own areas that you can explore. I could go through them all here for you, but that's a whole different article. Some of our favorites are the Grand Floridian, Fort Wilderness, Port Orleans Riverside, Wilderness Lodge and Animal Kingdom Lodge.
9) Water Parks- Although we haven't been to these, this offers an additional opportunity to explore something new on a return trip.
10) Mini golf- This is something we have yet to enjoy as well.
11) Special Dining Experiences- This could be a whole separate article too. There are so many different dining experiences available. Our first trip, we did a lot of character meals and buffets, as we were on the dining plan. The second time around we decided we wanted to have a bigger focus on actual meals where we were waited on and didn't have to fetch our own food. For all the remaining trips, we have nailed down a few favorites that we go to each time. Some of those are Sanaa, Raglan Road, Kona Café for breakfast, Cape May Café for dinner, and Ohana for dinner.
12) Making magic for other people- This is a fun one. I like to carry extra bubbles, trading pins, lollipops, and little stickers to give to other kids in line around us. It catches people off guard sometimes, but it's so nice to be able to make someone smile.
13) Cast Member interaction- Cast members make the environment at Disney. If you take your time and just appreciate them, you'd be surprised at what a difference they can make in your trip.
14) Interactive programs like Agent P's World Showcase Adventure, Wilderness Explorers and Sorcerers of the Magic Kingdom– We have had tons of fun doing these. Our favorite is Wilderness Explorers. For our August trip, we are even making Up-inspired shirts!
15) Amazing Race game- I found some inspiration on Pinterest on creating your own Amazing Race game. It was a fun way to have a little family competition. It also got us to explore the parks in a different way. It wasn't just trying to get from attraction to attraction, but instead we had to find a certain amount of items, take pictures, get certain items, go through 3 attractions, etc. It was a fun and different way to experience Disney World.
16) Pin trading– This one is a fun way to interact with Cast Members. Each of the kids have started searching for certain collections. Some of our favorite pins have been saved and we created a Disney pin collage with them.
17) Making a family video- Our first trip was documented via traditional scrapbooking, but thanks to YouTube, I saw many other families made videos of their vacations. I loved this idea and was determined to create our vacation soundtrack. Stay tuned for an article on how to do this!
18) World Showcase- Snack and drink around the world. Need I say more? This is a great way to explore the cultures represented in the World Showcase. Some other fun things are taking pictures in the hats from each country, buying a passport and having it stamped around the World, Kidcot stations where you get the representatives in each country to sign your Perry the Platypus or Duffy. One year, we got photo mats and had them write the words "Family" and "Vacation" in their language on the mat.
19) You can always go during certain times of the year. Some of our favorites are the Epcot Food & Wine Festival and the Epcot Flower & Garden Festival. All the kiosks they have with different food and beverage offerings are great. They also offer various classes related to the festival theme for an additional price. Last year, we went for a quick weekend before Christmas and had a blast. It was a quick trip, but we got to experience all the best parts of the holiday season at Disney World. Our favorites were the Once Upon a Christmastime Parade at Magic Kingdom, Candlelight Processional at Epcot, Storytellers around World Showcase and the Gingerbread displays at Contemporary, Grand Floridian and Beach Club. Least I not forget, the characters in Holiday attire!
20) Collecting autographs on different media- The first time around we did our regular autograph books that we created, the second trip we did photo mats and quilt squares (to later make a quilt) and the last time we focused on gathering autographs we used the Disney Jr. Encyclopedia. We don't really focus on autographs too much anymore. We like to focus more on creating unique experiences with them to capture neat photos, whether it's through an outfit, ears, something we brought to show them. Think along the lines of bringing Ariel a dinglehopper, or as we know it, a fork.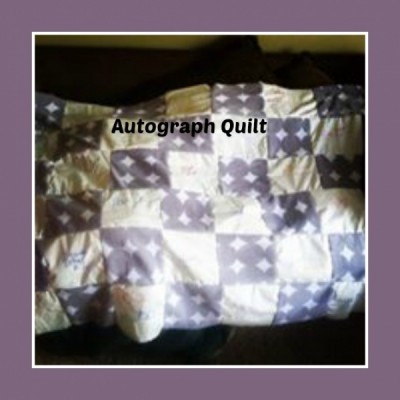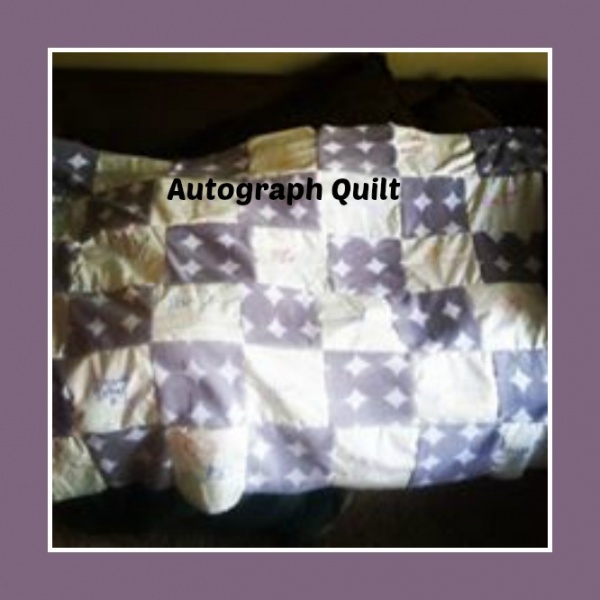 21) Bring other family to share the magic with- We have been so fortunate to share but one of these trips with extended family. In fact, we are not going to know how to act in August, as it will be just our immediate family of 5. Well, we are going to have a blast of course. But it is so cool to share this great place with people you love.
22) RunDisney– I would be remiss if I didn't share with you that we have planned at least 3 out of the 6 trips around RunDisney events. I can't say enough how amazing they are. It has brought all kinds of people into the community of running and motivated people like myself to make a commitment to health. Most importantly, it has brought amazing people into my life that have like minds.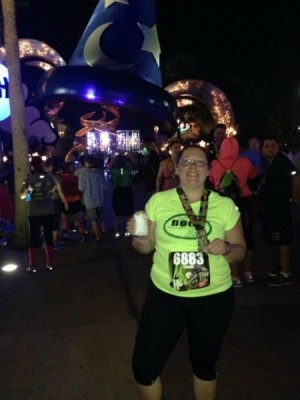 My first runDisney event! Tower of Terror 2014!
I think the only cure for getting bit by the magic is to keep going back to get your fix! I hope you and your family enjoy each and every magical moment, whether it's your first trip or 20th trip! I hope I have provided you with some other ideas to do on your next trip!
What are some of your favorite things to do during each trip? Share in the comments!
Incoming search terms:
https://www themouseforless com/blog_world/captured-magic-things-2nd-3rd-4th-beyond-disney-trips/