This post may contains affiliate links for your convenience. If you make a purchase after clicking a link we may earn a small commission but it won't cost you a penny more! Read our full disclosure policy here.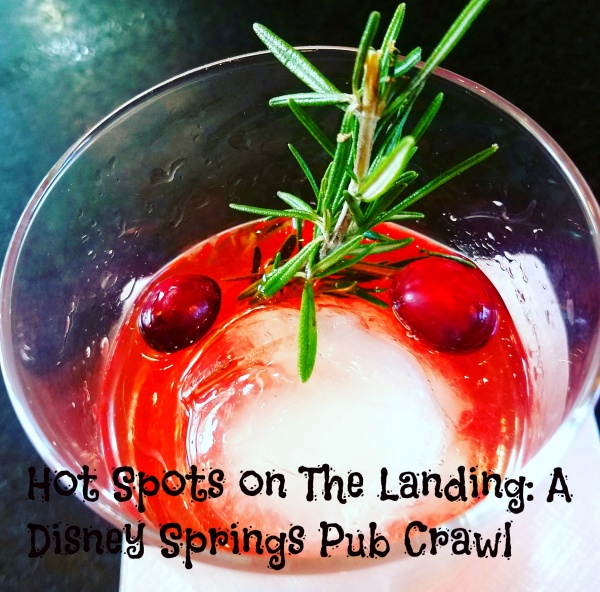 If Disney ever builds a hotel on The Landing at Disney Springs, I will stay there on every visit.  For real. The sheer volume of quality food and drink on such a tiny footprint is enough to make any food lover's head spin. The exponential evolution of the tired old Downtown Disney is creating a destination for both tourists and locals alike. That being said, while this is technically Disney property, it is open to anyone who wants to come. It is not the closed-in, fenced-off, security-checked safe place that is the parks themselves. While I feel completely safe and comfortable in The Springs, I am slightly more aware of my surroundings.  I tend to keep a sharper eye on the littles, strollers, packages and so forth. Now that I have you completely frightened, let's have a cocktail!!
This little 4-stop hot spot tour can take as long or as little as you would like. I have done it in less than an hour and a half, but that was when I had a plane to catch! All of these saloons have bar seating (I have had some of the best meals of my life while sitting at a restaurant bar) and lounge seating.  No reservations are required for the lounge tables. I do, however, recommend you start this tour mid-afternoon to early evening. Crowds start to build the closer you get to the dinner hour. And of course, weekends will be more difficult to navigate with the addition of the locals.  First up…
JOCK LINDSEY'S HANGAR BAR
Always my first stop at Disney Springs. I have been coming here since it opened, and I can't say enough about how chill it is here. The theming is as enveloping as any establishment in The Springs. Indiana Jones fans will have to be scraped off the ceiling! Tons of artifacts can be found everywhere, and even the drink coasters are unique and ever-changing. (I may or may not have a huge collection of these.)
When this joint first opened, they had the best sticky wings around. The wings have since gone away, so if you are craving something similar, try Kona Café at Disney's Polynesian Village Resort. My new go-to here is the Incan Tuna Tacos. These mini house-fried shells are filled with cherry red Ahi tuna, guac, and pico de gallo. A shaved slice of jalapeno garnishes in a perfect way. LOVE the little beauties!
Also, do yourself a favor and try one of the crafted cocktails from the huge menu. My favorite is the Mayor's Reserve. Next Stop on our Disney Springs tour.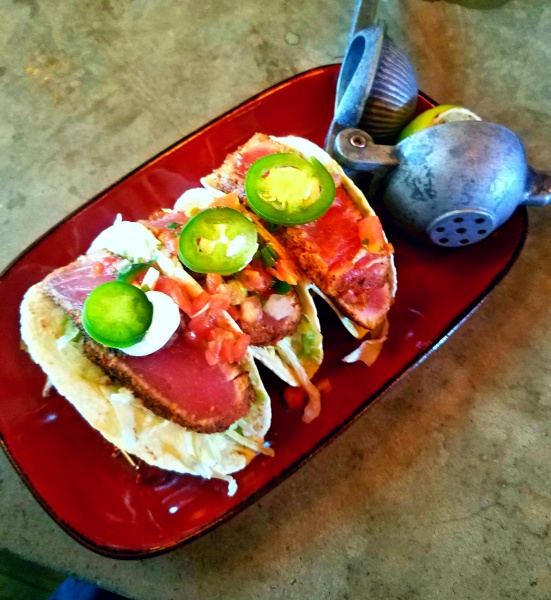 MORIMOTO ASIA
One the most stunningly appointed restaurants on property; possibly anywhere. It's worth the trip alone just to check it out. There is a nice little bar and lounge on the right, just past the check-in desk, and another atop the showstopping staircase that fills your eyes as you enter. I like it upstairs, but both are beautiful.
None of the menu is off limits at the bar, and it is all outstanding.  Sushi, Dim Sum, Ramen, all as authentic as it gets. Chef Morimoto is a genius. There is, however, one dish that you have to try. Have to. The Spare ribs. They are sold as an app(3) or an entrée(6). These little sticks of pig flesh are so cravable, that you may just keep ordering more, and blow off the rest of the tour. I'll allow it.
Chef's take on these ribs starts with a long braise, resulting in a beyond tender product.  So tender that the BBQ snobs in Memphis would kick them out of any competition. But that's ok, we're not in Memphis.
When you place your order, the single cut ribs are dusted with rice flour and flash fried. Then they are tossed in a sauce so sticky and rich, that no napkins are necessary because your fingers will never leave your mouth! Have I oversold it? No way. Trust.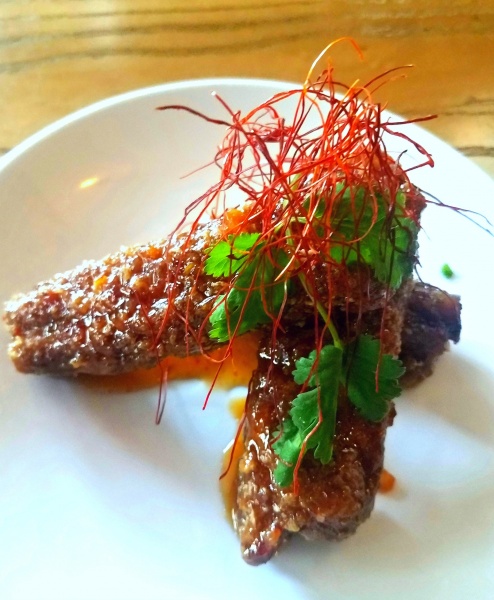 THE BOATHOUSE
The first thing you see when you enter this massive building are the beautiful selections that are iced up at the raw bar. Oysters, clams, shrimp. Gorgeous. Be sure to pick out your favorite species before you decide where you want to sit. (I usually take a picture just in case I forget.) Grab a seat at the enormous rectangular bar, or head down the pier to the 20-or-so seat bar on the dock.
My standard play here is to order a dozen oysters (Blue Point or Kumamoto if possible) and the Truffle Fries. Oh, the Truffle Fries. Doused in truffle oil and fresh parm, then dusted with an entire fistful of fresh parsley. The lemon ailoi dipper pops with that herb topping. I recommend using a fork, as it makes it easier to get large quantities of these crispy spuds into your mouth as quickly as possible.  A MUST DO.
We have also had a full meal here a number of times, and I can't recommend it enough. Not one bad thing to say about this place. This Disney Springs restaurant is a well-oiled machine. Great bartenders, too.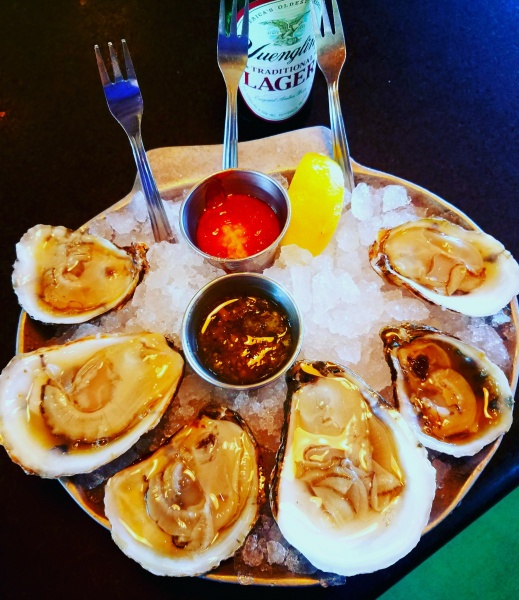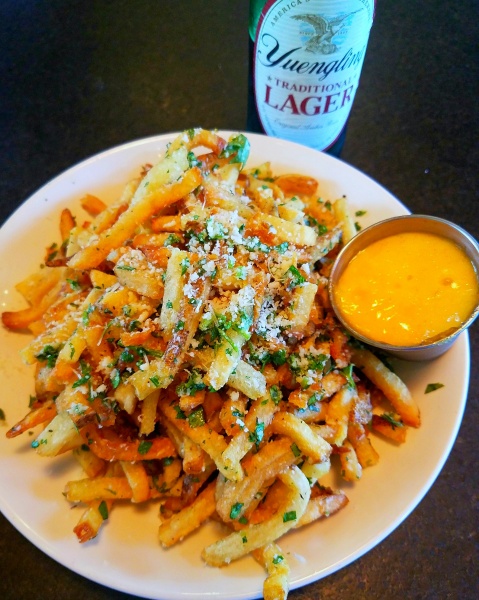 CHEF ART SMITH'S HOMECOMIN'
I didn't save the best for last. The truth is, there is no way I could pick which of these Disney Springs bars are the best. The reason I saved this saloon for last is that they have one of my favorite desserts here. But more on that later.
Chef Art Smith opened this "Florida Kitchen" a couple years ago and it has been one of my favorites ever since. This place is renowned for it's Southern Family style of food, and it is well deserved.  I am a fried chicken junkie, and theirs is probably my favorite. Who am I kidding? It's definitely my favorite. Buttermilk brined overnight and crispy fried, it has yet to disappoint me. You can order it by the piece if you like, and that is what I usually to do when I am hopping around. Thighs for me, please. The Church Lady Deviled Eggs are adorable and yummy, too.
Now, back to that dessert. The Hummingbird Cake. A classic. It looks and tastes like it just came from that glass dome on your Grama's counter. Pineapple and banana cake, cream cheese frosting. SO worth the wait. On your way out, grab a bottle or two of the housemade hot sauce. It's killer. Your friends will be so jealous when you have them over.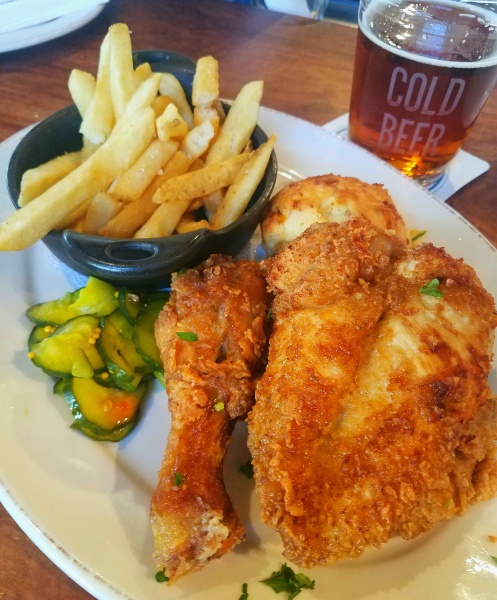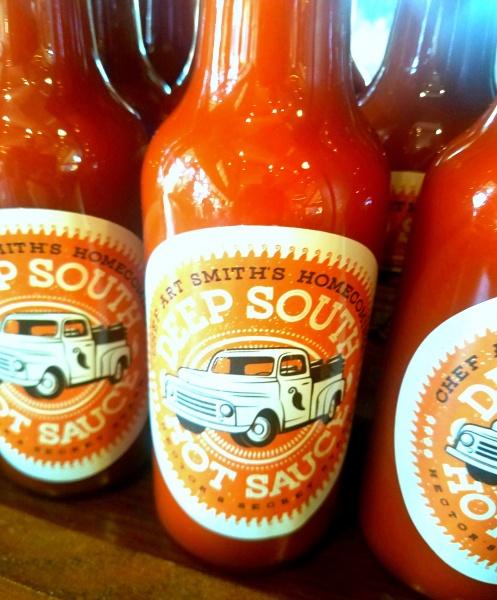 I know there are literally thousands of combinations bars/lounges to plug into your own tour at Disney Springs, but these are my classics. Some of my honorable mentions are:
Wait. What about Wine Bar George? Well, I just got back from a visit there, and I am working on a quick review.
And The Edison? I left it off my list out of kindness.  I have tried it three times, and was either unimpressed or downright angry each time. The service was abysmal on all three occasions. What food I did manage to get was decent, not great. I think it is really cool space, but they have a LOT of work to do. If you happen to end up there, pretend you are going to the restroom, and sneak through the secret back door to Enzo's!
I hope you find the time to leave the parks and spend an afternoon full of cocktails and snacks. Oh yeah, there may be a little shopping there, too!
What are your favorite bars or pubs to visit while touring around Disney Springs? Share in the comments, or on Facebook or Twitter.
Did you like this article? Make sure to share it with your friends! Check below for easy ways to share!
Incoming search terms:
https://www themouseforless com/blog_world/landing-disney-springs-pub-crawl/