This post may contains affiliate links for your convenience. If you make a purchase after clicking a link we may earn a small commission but it won't cost you a penny more! Read our full disclosure policy here.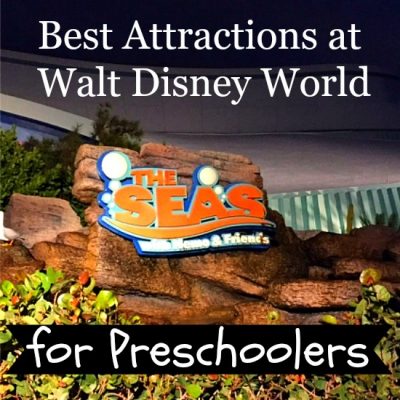 Are you planning a Walt Disney World trip with pre-schoolers?  If so, you probably have lots of questions about what attractions your pre-schoolers can do and what might be most appropriate for them!  Luckily, we have a handy guide for both!  If you're looking for height restrictions, you can find a complete list here.  And you can read on to find the best attractions for pre-schoolers at Walt Disney World!
Since average heights range widely for pre-schoolers, we're going to focus on attractions that have no height limits.  If your child is over 32 inches it opens up a few more options at the Magic Kingdom. If they're 40 inches or above it opens a lot more options at every park!  Refer to the height restriction guide linked above for specific information.
There are character meet and greet opportunities at every park, but I'm not going to list those here.  Every child goes through different stages where they love the characters or are terrified of them.  You're the best judge of whether those will work for your family.  Last year we took our son on two trips 4 months apart and he loved the characters on the first trip and was terrified of them on the second trip – so test the waters and if they don't love them, then don't push it!
Disney's Hollywood Studios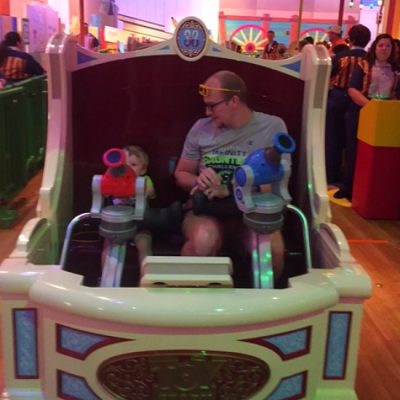 Toy Story Mania! – Interactive rides are always a win for our son. Whether or not your pre-schoolers quite understand the object of the game, they'll love pulling the string and watching the chaos!  It's up to you if you want to ride with your child on your lap or if they want to sit alone.  We let our son ride in his own seat and he loved it!
Disney Junior – Live on Stage! – If your pre-schoolers are fans of Disney Junior characters then this is the place for you!  My son loves Mickey Mouse Clubhouse so this is a no-brainer!  Other characters in the show are: Doc McStuffins, Sofia the First and Captain Jake from Jake and the Neverland Pirates.  The show is fast-moving, has a ton of music and is relatively short (20 minutes) so, never fear, your pre-schoolers won't get bored.
For the First Time in Forever: A Frozen Sing-Along Celebration – This one is best suited for older pre-schoolers (or younger Frozen fans).  The show is a bit longer at a 30 minute run time so you'll want to evaluate your child's attention span before attending.  As the name implies, it's a sing-along so there is no shortage of music and many of the characters from Frozen appear throughout the show.  But, never fear, the characters are at a distance so even character-shy children will enjoy them!
Disney's Animal Kingdom
TriceraTop Spin – Located in the DinoLand U.S.A. section of the park, this is a dinosaur twist on the traditional spinning ride.  It's very similar to Dumbo the Flying Elephant at Magic Kingdom but my pre-schooler loves the classics so we hit them all!  The ride has no height limit and there are controls to move your dinosaur up and down as you go around.  Nothing fancy, but always a hit for us!
Affection Section – Located at Rafiki's Planet Watch, this is the petting zoo section of Disney's Animal Kingdom.  Just getting there is an attraction in itself!  Our son loves trains so the train ride is the first exciting part for him.  Once you arrive at the Affection Section, you'll find goats, sheep, cows, pigs and donkeys that your child can interact with.  Brushes are available so your child can brush the animals if they want.  There are also feed pellets available if they want to feed the animals!  And, of course, there are hand washing stations at the exit.  So you can get your pre-schoolers' hands clean after their animal adventure.
The Boneyard – We just discovered this attraction on our last trip and it was immediately my son's favorite!  The first section of the attraction is an area with slides and a large play area.  You can go down with your child on most of the slides if you feel they may still need some assistance.  The floor of the area is a cushioned rubber so you don't have to worry about scrapes from falls.  The second part of The Boneyard (across a raised bridge) is a fossil dig site!  The site is fully stocked with buckets and shovels (as seen below) so your little explorer can dig up their own fossils.  This attraction is perfect for children who have a lot of pent up energy from waiting in lines or riding in their stroller all day.  In the slide area there are tables for adults to sit at to watch their children play so you can get a break too!  There is only one entrance/exit to the attraction and it is staffed with Cast Members.  The Cast Members will not allow a child to enter or leave without an adult so the entire area felt very secure.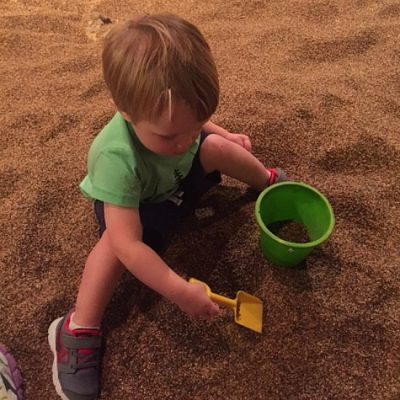 EPCOT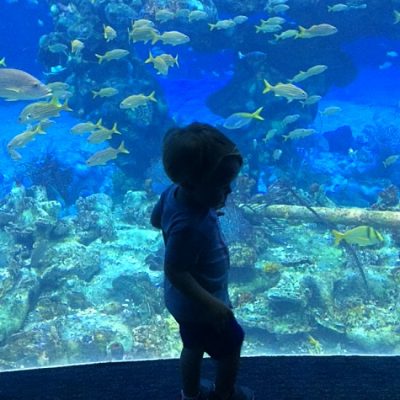 The Seas with Nemo and Friends – Located in Future World, this is a two-for-one attraction for us.  The ride portion is a slow-moving adventure through the underwater world of Nemo, Marlin and Dory.  The music and Finding Nemo characters are perfect for any pre-schooler!  Once you get off the actual ride, you and your pre-schooler can explore the aquarium viewing area.  This might actually be my son's favorite part!  He loves watching the fish and sharks swim around.  If you look hard you'll probably even spot a sea turtle!  There are often divers in the tank, which is fun for little ones as well!
Frozen Ever After – This new attraction is located in Epcot's Norway pavilion in World Showcase.  It's a combination dark ride and boat ride with a little bit of thrill that's perfect for adventurous pre-schoolers!  The attraction features characters and music from Frozen on your adventure through Arendelle. Little ones who love Frozen will love this attraction, but it's also very appealing to those who may have not even seen it before.  Olaf is featured heavily in the attraction and what kid doesn't love a talking snowman?!
Journey into Imagination with Figment – This attraction might not be on your radar for your pre-schooler, but our son loves it!  The attraction travels through different settings quickly so your little one won't lose interest and the music is pretty catchy.  And what kid doesn't love a talking dragon?  Once you exit the attraction there is an interactive play area that kids seem to love!  There are several different activities kids can do here.  The ones that are most pre-school appropriate are the music conducting stations and the play mat area.   The play mat area is shown below, as kids run around on these different colored squares different instruments play!  It's fun for kids and it lets them get out some of that pent-up energy.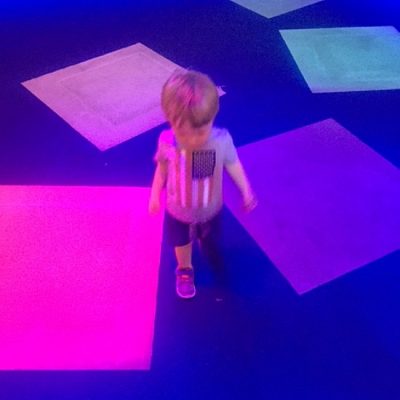 Magic Kingdom
Since the Magic Kingdom has so many rides that pre-schoolers love I'm going to cheat and list several here!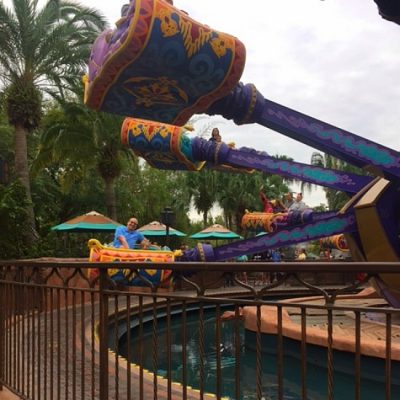 Classic Spinners – Dumbo the Flying Elephant and The Magic Carpets of Aladdin – These two attractions are very similar, just themed on different Disney classics!  They are located in New Fantasyland and Adventureland respectively.  Both attractions feature controls in the vehicle to move your flying elephant or magic carpet up-and-down as you go around.  We love both attractions and usually try to do both on our trips!  Although they are similar, each one offers its own unique twist!  The queue for Dumbo has a play area where your child can play until you are called to get in line for the attraction.  And Aladdin is perfect for warm days as you never know when you might get "spit" on by the nearby camels!
Dark Rides – Peter Pan's Flight, the Many Adventures of Winnie the Pooh and Under the Sea ~ Journey of the Little Mermaid – Disney is well-known for their "dark rides" and there's a good reason for that!  Young children (and adults alike) love these colorful, musical attractions!  All of these are located in Fantasyland and are basically retellings of the movies they are themed after.  My son's favorite is Winnie the Pooh, but I'm sure your child's preferences will vary!
Prince Charming's Regal Carrousel – It's a classic!  What pre-school aged child doesn't love a good carousel?  My son wants to ride the "horsies" every time we walk past this attraction.  Luckily, the wait times are usually low so we often find ourselves riding this one over and over again!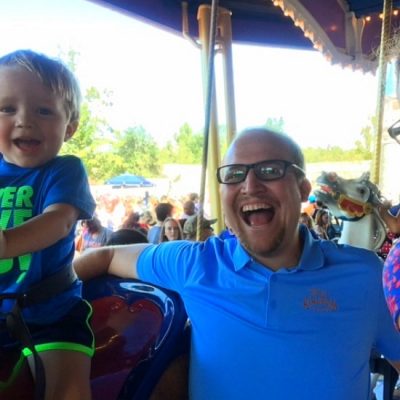 Did I miss any?  What is your pre-schooler's favorite attraction? Share your favorites in the comments and why!