This post may contains affiliate links for your convenience. If you make a purchase after clicking a link we may earn a small commission but it won't cost you a penny more! Read our full disclosure policy here.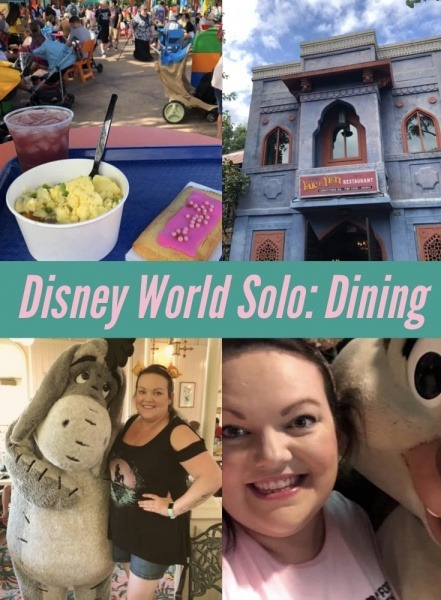 We've talked about planning your Walt Disney World solo vacation, now let's talk about dining; both the planning & the experience! All of the wonderful dining options are possibly my favorite part of any Disney vacation. Whether it be quick service or table service, with over 200 dining locations, the options are endless. Dining can be one of the most intimidating parts of a solo trip. But things are only intimidating if you give them that power! Let's talk about how I tackled my dining on my solo Disney World vacation.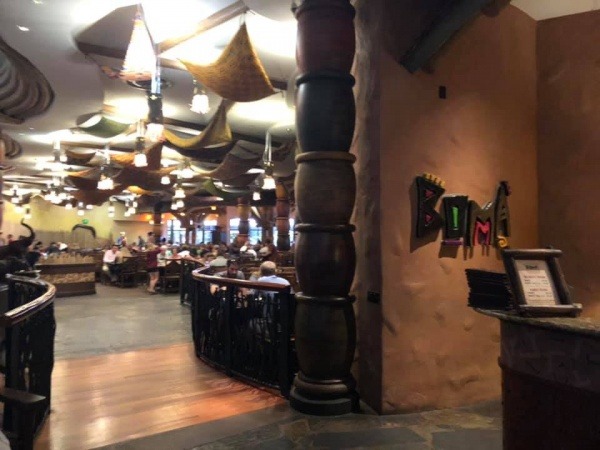 I am a pro Dining Plan user, and I happened to luck into free dining. I had the regular Disney Dining Plan which meant I had 1 quick service, 1 table service & 2 snacks per day. With having a lengthy 12 day trip, I had lots of room for new places to explore. My solo trip was originally a trip for two, so when my Advance Dining Reservation window came, all reservations were made for two people. When it later became a solo trip, I thought long & hard about if I even wanted the dining plan or to partake in any table service meals. I was concerned about getting lonely during meal time & I was even more concerned about the many character meals I had planned being awkward. I decided that in order for my dream trip to be what I wanted, I needed to keep the Dining Plan & reservations – like I had originally planned! I was so excited to have some good eats. Let's review my experiences!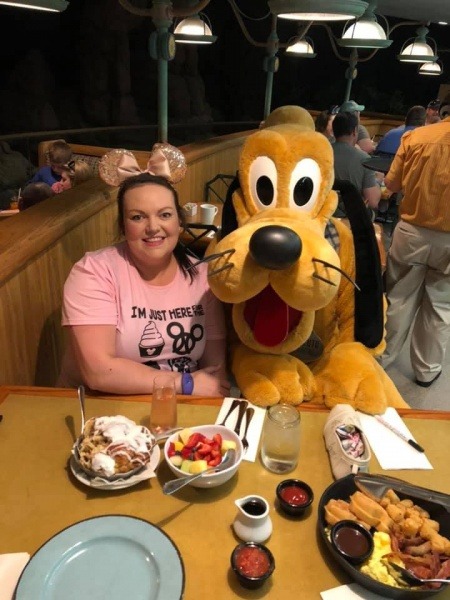 Choosing & Booking Dining Locations
For the most part, I kept my dining reservations as they originally were. I had a lot of character meals, some old favorite restaurants but mostly new ones. I did make some changes of restaurants that were my travel partner's choice that I had already done in the past. I have a lengthy restaurant bucket list, so I simply consulted that & made some changes!  
Although my reservations were made, I never had much trouble changing them. I watched the My Disney Experience app like a hawk. I left all my reservations as 2 people until I was sure I would be dining solo. As I mentioned in my solo planning blog, I made some friends who tagged along for some meals. Also – Disney does not have any "one person" tables. They are all 2 people or more. For this reason, there was no urgency to reduce to 1 person on the reservation. Once I chatted to some of my new friends, I decided to keep a few reservations for them to join but for the most part, I called Disney to make changes & dined solo!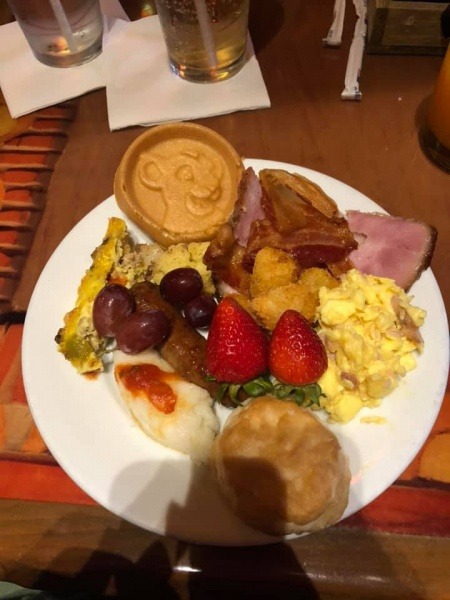 The Cast Member on the Disney Dining line was phenomenal, he was even jealous of my solo dining! He was so excited & told me I had some of the best restaurants on property booked – I was even more excited now!! 
There is no right or wrong when it comes to choosing restaurants for your solo trip. I am able to easily entertain myself, so I wasn't worried about feeling lonely or awkward at table service meals. My biggest tip when considering where to dine is how you think you'll feel. For example, if communal dining (such as Biergarten) is not for you, opt out of those spots. If you don't want to have to sit lonely for your meal to arrive, opt for a lot of buffets. This is one thing I did do a lot of – but it was purely coincidental. If Cast Member shenanigans is not your thing, especially solo, maybe opt out of places like Whispering Canyon and 50s Prime Time Café. With that said, if you're concerned about that or drawing attention, you can always politely tell the Cast Member to not do the fun things & they won't. Sometimes, Cast Members give solo diners that respect anyways!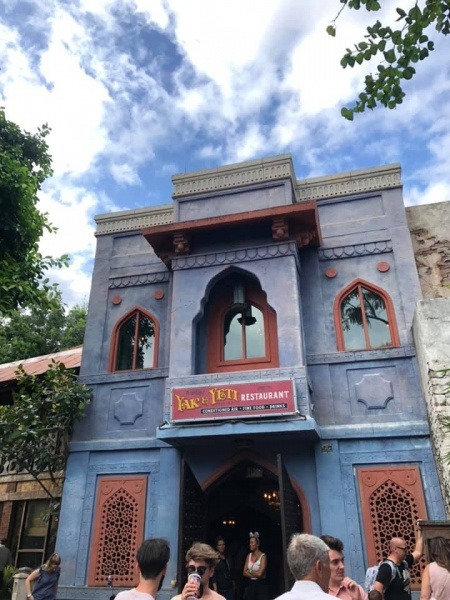 Another tip to keep in mind is that a lot of table service restaurants also have a bar or lounge which has the full menu. You could always do that & still get the full experience! I thought about doing this at 50s Prime Time Café, but ended up having friends join me, so I kept my reservation!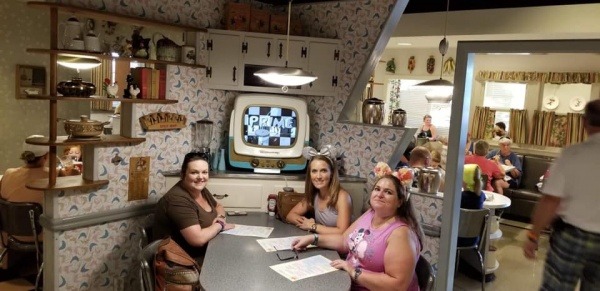 You could also simply skip table service meals entirely. If you are really not comfortable with it, don't do it! This is YOUR trip. There are tons of delicious & fun quick service restaurants on property & you certainly do not have to do any table service meals.  
Last tip I have – just do what makes you happy & comfortable!!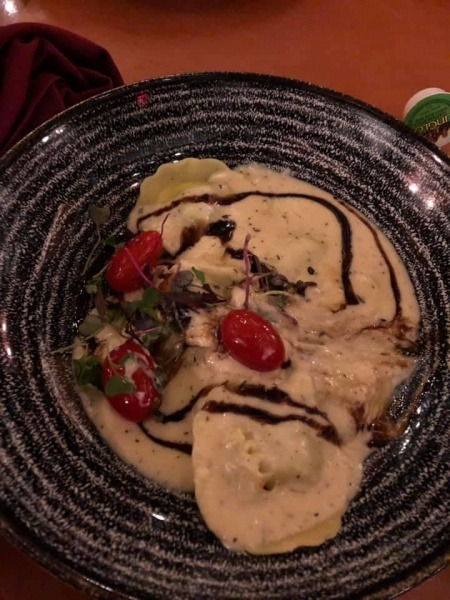 Character Meals
I was hesitant about character meals. I am not a person who gets awkward or embarrassed easily, but I was concerned about funny looks & judgements people might make because I was solo. I was worried about how the Cast Members, and even characters may react. I decided to keep the ones I did have, because I had been so excited for them & it's the best way to meet characters! Two of my character meals, I did have a friend join. I dined at: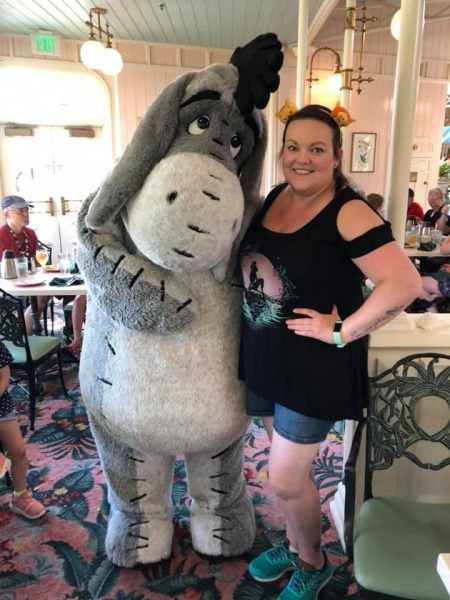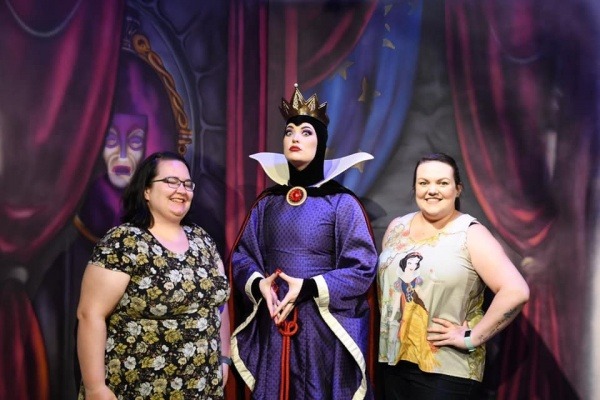 Every single location was awesome – from the food, the characters to the cast members. I actually got MORE attention because I was solo! Most places, the characters even sat down with me to chat & get photos. At Garden Grill, Chip & Dale were jealous of my cinnamon bun & tried to eat some. At Hollywood & Vine, both Mickey & Goofy sat with me. Goofy even held my hand & pretended we were on a date. It was so much fun!!! The only place I felt was a little lacking was Crystal Palace. The food was great, but the characters took a while to come around & when they did come, I was brushed over pretty quickly. I think they were just having an off/busy morning, but compared to characters sitting down with me, it was a little anti-climatic! 
One of my concerns with character meals was how to take photos. I typically asked my neighbouring dining party for a photo if a server or character handler wasn't nearby. Pretty much everyone was more than happy to do it! I offered the same gesture in return. I also took a few selfies too, which actually turned out super cute!!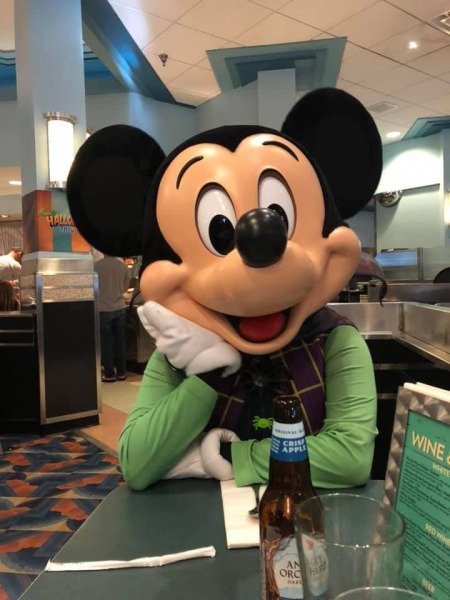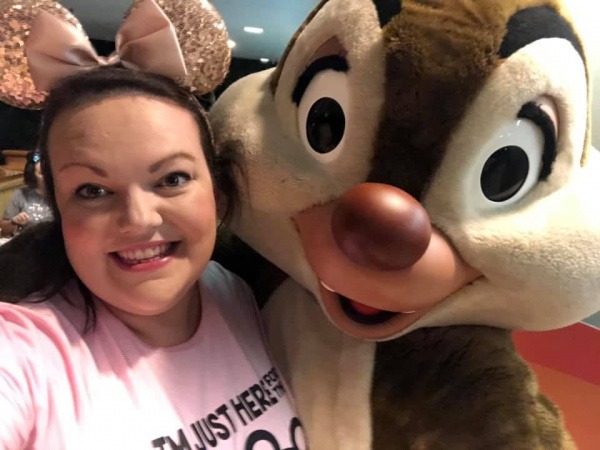 All in all, I was so glad I kept the character meals. They are always my favorite memories & now I get to brag about the extra attention I got from Mickey & pals! I understand being hesitant, and again, you know yourself best, so make sure you're comfortable. I am just here to remind you that I did not feel out of place, get any funny looks & had a ton of fun. It was Disney after all!!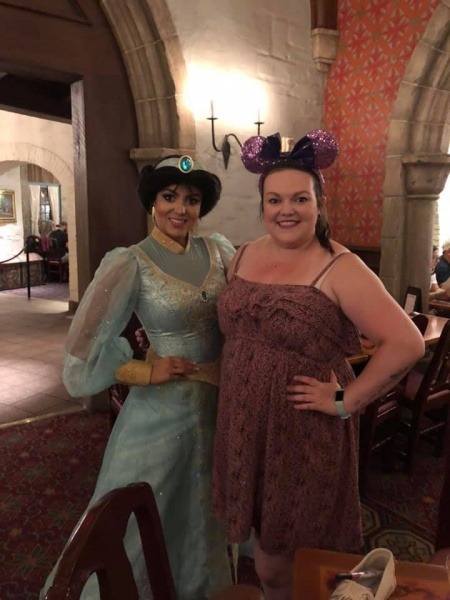 Communal Dining
As we spoke about earlier, if communal dining is not for you, definitely skip the places that have this kind of dining experience. I call myself an "introverted extrovert" – meaning I like my alone time, but I am also outgoing & social. I was nervous to partake in any communal dining experiences at Walt Disney World, but did opt to stick with Biergarten. I had been looking forward to this one, and didn't want to miss out on the experience just because my nerves were getting the better of me!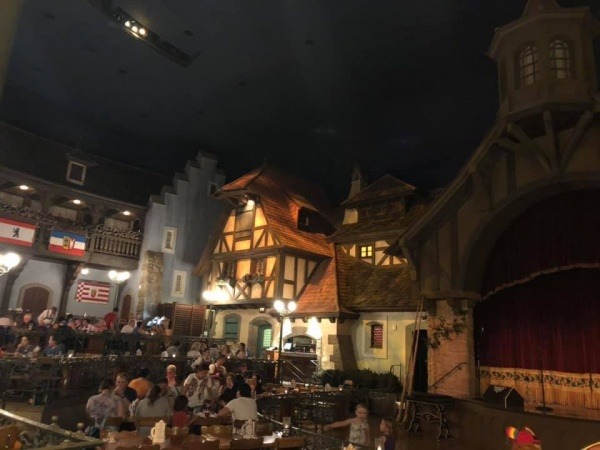 I ended up sitting with a nice family of 5 – the parents were about my age. We chatted the whole meal about all things Disney & our lives back home. It was a really great opportunity to make some new friends!! The food was also phenomenal. I had been indulging in the Epcot Food & Wine Festival all day, so unfortunately I did not get to enjoy dinner as much as I wanted to, but it was delicious & I will absolutely be going back. Even if I hadn't sat with a social family, I would've been comfortable just keeping to myself, enjoying the live entertainment & catching up on social media. Since it's a buffet, you could be in & out as quickly as you wanted to be.  
Another place I went to that encourages communal seating was Trader Sam's Grog Grotto. While I did not dine here, I did want to finally check out this infamous bar & get myself a souvenir cup. After a couple minutes of awkwardly standing alone, I decided to ask a couple if I could sit with them. The lounge style table was so big, that I didn't even have to speak to them if I didn't want to. But I did, and I'm glad I did! We chatted for about an hour while we enjoyed our beverages. The gentleman actually worked for a construction company with Disney, and he had some pretty awesome stories to share.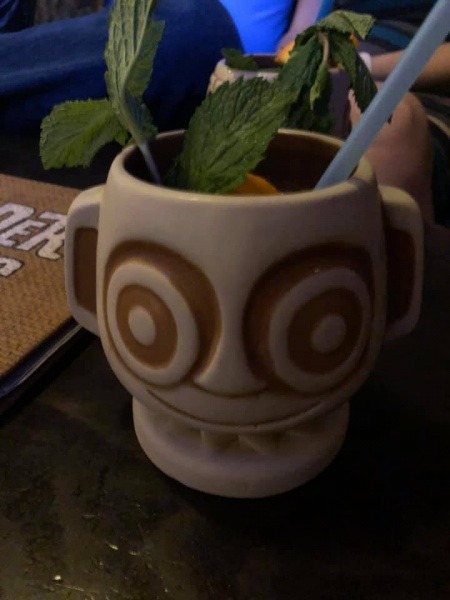 Consider how you'd feel at a communal dining experience before you book it – but don't be afraid to try new things! This solo trip is all about you & new experiences, and what better way to do that than by making friends at dinner.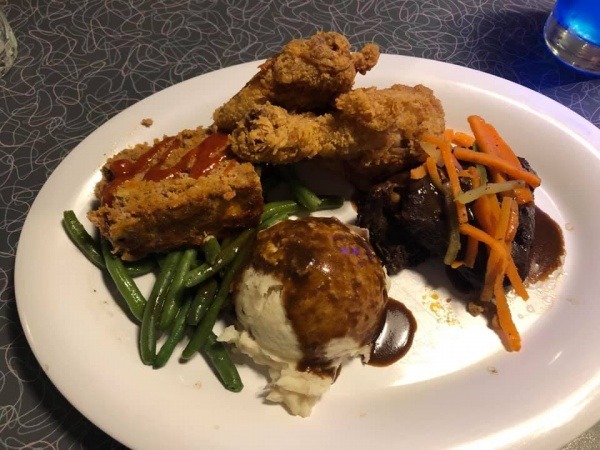 All this said, there's not many places on property that have this kind of experience. A quick search should tell you if you will be seated with others at your restaurant of choice. Other than the above ones I mentioned, some others to keep in mind may include; Sci Fi Dine In Theatre (only communal if you want to sit in a car), Hoop de Doo Revue & a few others. 
Dinner Shows
I did not do any dinner shows on my solo trip. In fact, I haven't done them ever! They are on my bucket list, but I opted out this trip because I was a bit nervous of how I would enjoy them without someone there. I just thought the experience may be more enjoyable with someone to share the fun with! 
After having had my first solo trip, and some communal dining, I think next trip I would be a little more comfortable with doing a dinner show if I wanted to. If you want to – go for it!! You won't be disappointed. Hoop de Doo Revue & Spirit of Aloha are the two dinner show experiences on property. 
Family Style Restaurants
Many of the restaurants on property offer a family style service (as opposed to a buffet) where the food is brought to the table & it's typically all you can eat. I was once again worried about looks I may get from Cast Members & guests for being one person with all that food…but it was too delicious to worry for long!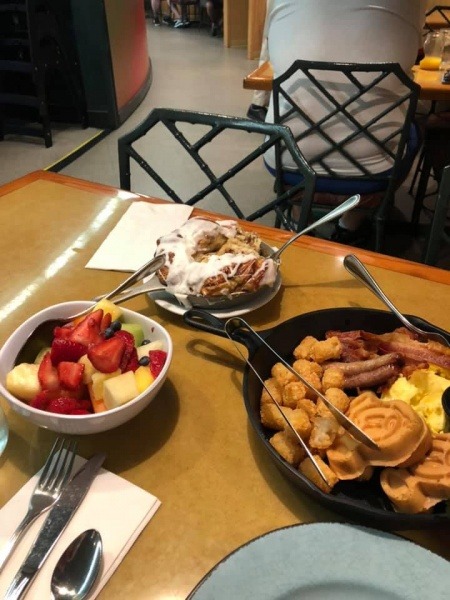 Overall, I had no issues with the family style service. I mostly just felt bad that so much food was going to waste. I had breakfast at Be Our Guest – while this is not family style, the plate of pastries that you get "for the table" is a lot for one person. I came prepared with ziplock baggies however, and whatever I didn't eat, I took for snacks later in the day!! I also enjoyed breakfast at Garden Grill, which was one of my favorite meals of the trip. The food was absolutely amazing, especially that giant cinnamon bun!! It was a lot of food & I never ate close to all of it, but zero regrets. The last family style spot I ate at was 'Ohana for dinner. This one, however, I did have a friend join me! I've dined at 'Ohana many times, and knew it was a lot of food for one person, so I decided to invite a friend or cancel. Now that I've had it, I think I would do it solo if I had to.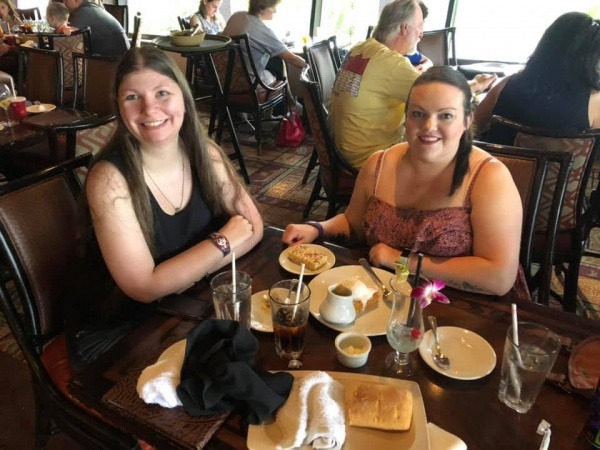 One tip I do have – mention to your server to not bring out the full skillet & then ask for more if you want it. They claimed they did this for me…but it was still a lot of food LOL. However, I still wanted to suggest it because a lot does go to waste if a family skillet is brought out for one person. All in all, I love a good family style dining experience, even solo! 
Miscellaneous Restaurants
Most places I dined at this trip were buffet or family style, which was purely coincidental. I kind of liked that it panned out that way, because again, I could be in & out as quickly as I wanted. Disney is very quick with their serving skills, so even the standard dining places, I wasn't there long.  
One of my favorite things to do this trip was resort hop. Make sure you head outside the parks if you have time to explore some resorts, and dine at the wonderful options available!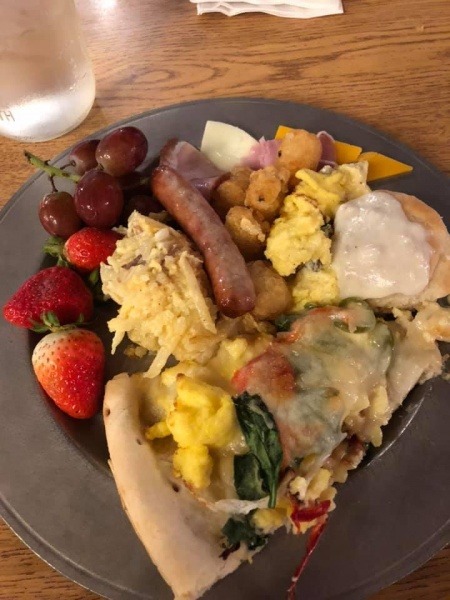 As always, don't forget to enjoy the many quick service options! Not just inside the parks, but in the resorts too. The options are endless. If you are on the dining plan, some places are an amazing use of a credit! My favorite quick service restaurant this trip was Sassagoula Floatworks Factory, where I had the rib eye steak & mac n cheese. It was absolutely delicious & a great use of my dining plan credit.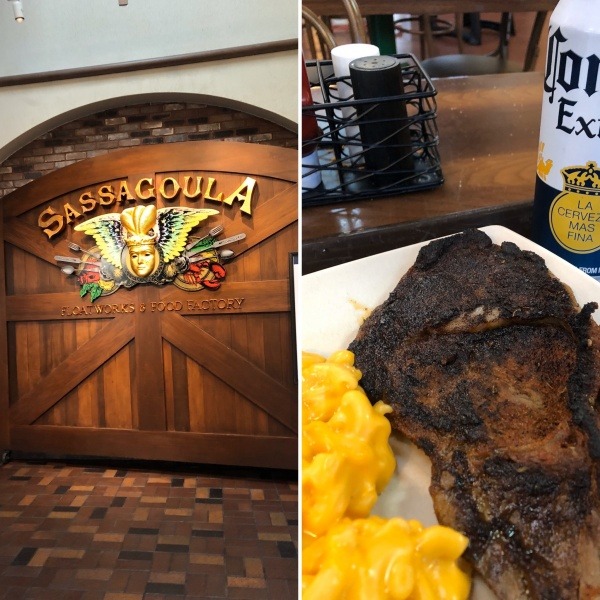 My favorite meal of the whole trip was the Kobe beef burger at Yak & Yeti – seriously phenomenal. Closely followed, was Homecomin' where I had the best fried chicken with a friend of mine.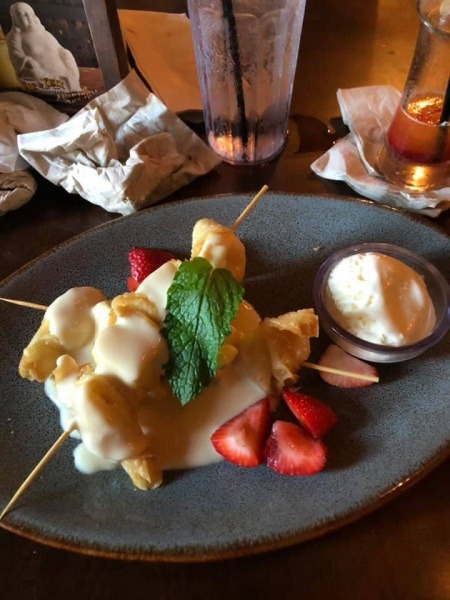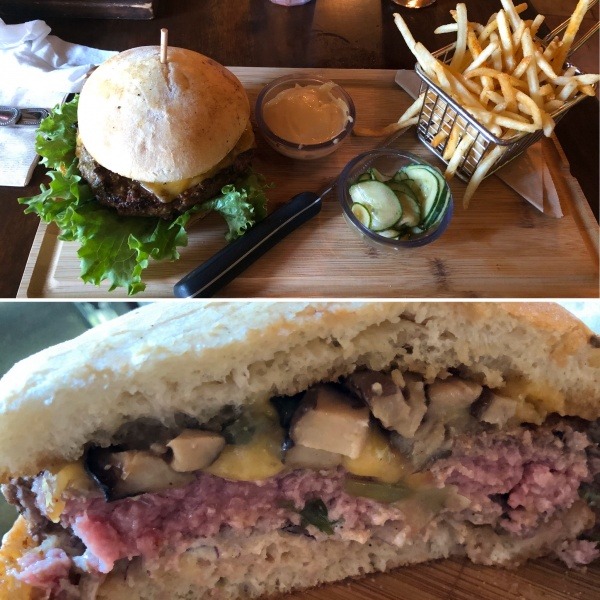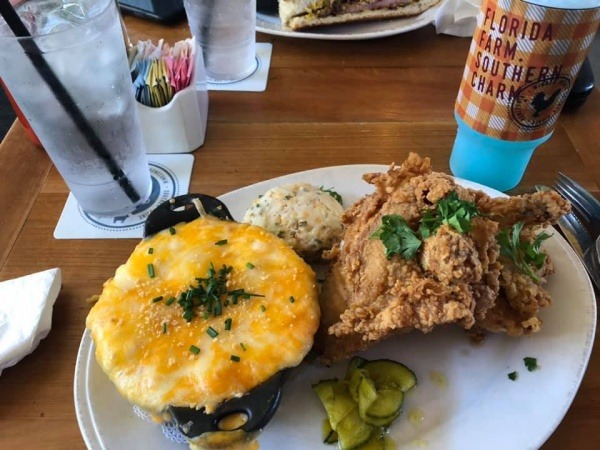 Entertaining Yourself
I kept busy when dining solo, so I never felt bored or lonely while dining. Depending on where you're eating, mingling & meeting new people is not always an option. My solo meal time was usually spent chatting to my server, people watching & updating social media. I am a social media junkie, so I would do most of my updates during meals or in line. I also went prepared with podcast & Netflix episodes downloaded, but never did either during my visit. I wanted to soak up every ounce of the experience, including listening to the ambiance!  
Overall Experience
7 of my 12 table service meals were solo during my stay, and all quick service meals were solo. I never felt awkward or out of place & I was so happy I decided to keep my reservations! The dining options at Disney are one of a kind. Don't miss out just because you're solo. Do what you're most comfortable with. No one says you have to do any table service at all, and no one says you have to do a table service daily like I did. In fact, if I am being honest, 1 a day felt like a lot. Not in terms of the amount of food, but I found myself wishing I hadn't been tied down to a reservation. I don't think I would have changed a thing, however, but if I had just done quick service & a few table service meals, I think I would've been happy too.  
No matter what you decide, make sure you indulge on some delicious dining options during your solo Walt Disney World vacation! 
Have you dined solo on a Disney vacation? What tips do you have? Share in the comments or on Facebook or Twitter!
Did you like this article? Make sure to share it with your friends! Check below for easy ways to share!
Want to visit the Walt Disney World Resort? Contact The Magic for Less Travel for more information and a free, no-obligation quote.

Incoming search terms:
https://www themouseforless com/blog_world/disney-world-solo-series-dining/
best places to eat by yourself disney
booking Disney World restaurant solo
disney wonder solo dining