Resort Restaurants | Fort Wilderness Resort and Campground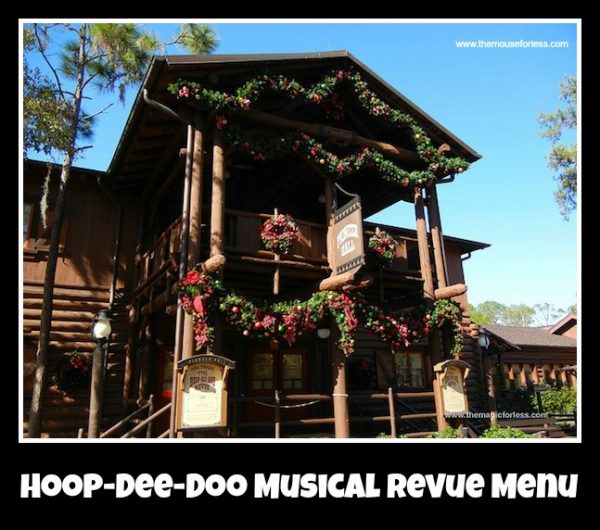 Make hay and get yourself down to this foot-stompin', good time feast. Join the Pioneer Hall Players for 2 hours of rousing Wild West dancing, singing and zany vaudeville comedy
Restaurant Info: American, Dinner Family Style, $$$-$$$$
Find out how you can save money on dining at Walt Disney World by using one of Disney's Dining Plans.
Hoop-Dee-Doo Musical Revue Menu
Menu Date: 04/2019
Booking Information
The Hoop Dee Doo Dinner Show at Pioneer Hall in Disney's Fort Wilderness is presented 4:00 p.m., 6:15 p.m. and 8:30 p.m. every night. Shows may be canceled due to inclement weather.
Prices:
Category 1 – First Floor Seating near stage (including tax and gratuity):
Adults – $72 Children (3 – 9) – $43
Category 2 – First Floor Seating behind Category 1 or Center Balcony (including tax and gratuity):
Adults – $67, Children (3 – 9) – $39
Category 3 – Right and Left Sides of Balcony (including tax and gratuity)
Adults – $64, Children (3 – 9) – $38
An Additional Surcharge is applied during Holiday Seasons
Disney Dining Plan: Guest on the DDP can redeem two table-service meals for either Category 2 or Category 3 seats for the 4 p.m. and 6:15 p.m. shows or Categories 1, 2, and 3 seats for the 8:30 p.m. show.
To make reservations call (407) WDW-DINE up to 180 days prior to your visit. Prepayment is required with credit card. Cancellations may result in charges if made with insufficient notice. Specific policies will be detailed at time of reservation booking. Please mention special dietary needs when making reservations.
Celebrations can be acknowledged during the show. A special occasion cake can be purchased at an additional cost by calling 407-824-2660 between 7 a.m. and 5 p.m. 48-hour advance notice is required for cake purchases.
Family Style Feast
Garden Salad – with House Vinaigrette Dressing
Cornbread
Crispy Fried Chicken
Smoked Barbecued Pork Ribs
Mashed Potatoes
Cowboy Baked Beans
Strawberry Shortcake
Choice of Unlimited Beverage is Included With Your Meal:
Coke, Diet Coke, Sprite, Root Beer, Sprite, Orange Soda, Unsweetened Iced Tea, Milk, Chocolate Milk, Coffee, Hot Tea Selection, Apple Juice, Minute Maid Lite Pomegranate Lemonade, Draft Bud Light, Draft Yuengling Beer, Chardonnay, Rose, Merlot, Sangria. Must be 21 years of age and up to order alcohol and proper ID required.
** Hoop-Dee-Doo Musical Revue Menu and Prices are Subject to Change Without Notice **