This post may contains affiliate links for your convenience. If you make a purchase after clicking a link we may earn a small commission but it won't cost you a penny more! Read our full disclosure policy here.

Part 2: The Solo Trip
Early park time
My first solo park day started at Animal Kingdom. Since I was offsight, I couldn't get my FastPass selections until 30 days out. Flight of Passage FastPasses were long gone by that time, so my best option was to "rope drop" that park. I wanted to get to Disney's Animal Kingdom about an hour and a half before the scheduled park opening of 9:00 a.m.
If you read my previous blog about the ease of getting ready to go as a solo traveler you will remember that I was able to wake up and get out the door within about 30 minutes. My hotel was about 20 minutes away from Animal Kingdom. I was in my car and on my way just after 7:00 am. Disney is one of my happy places, so this early wake up after a late arrival the night before was not hard for me. I was excited and ready to explore.
At Animal Kingdom I was able to easily maneuver around the crowded headed to Pandora without a stroller. After Flight of Passage I decided I needed a snack. Pongu Pongu was open at 9:00 am and serving their famous Pongu Lumpia and….Rum Blossom.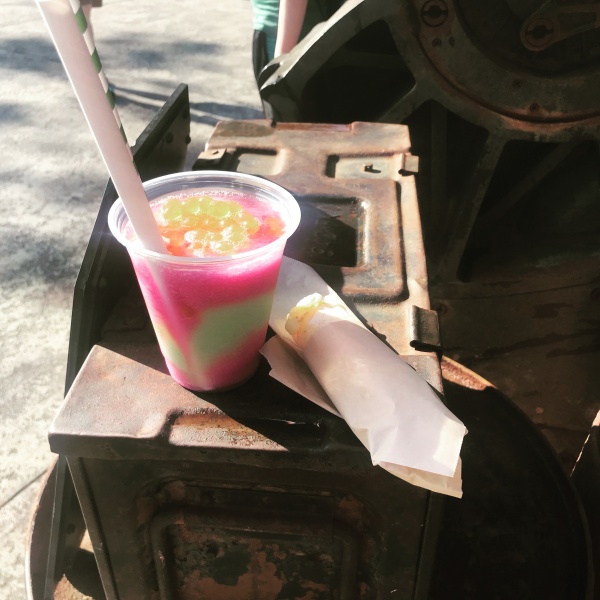 Great stop!
I was able to slowly meander to Kilimanjaro Safaris, sipping on my drink, and enjoying the surroundings. After my safari I decided to just walk around. I stopped at any Photopass photographer I could find, got lost on pathways and hung out with some characters. Actually, I had one of the best character interactions I have ever had with Dug and Russell. I work at a veterinary clinic, so I bought a Dug stuffed animal with a "cone of shame" around his neck. Dug was NOT happy to see this at the character interaction. I explained what a e-collar was used for in the vet field and we ended on good terms.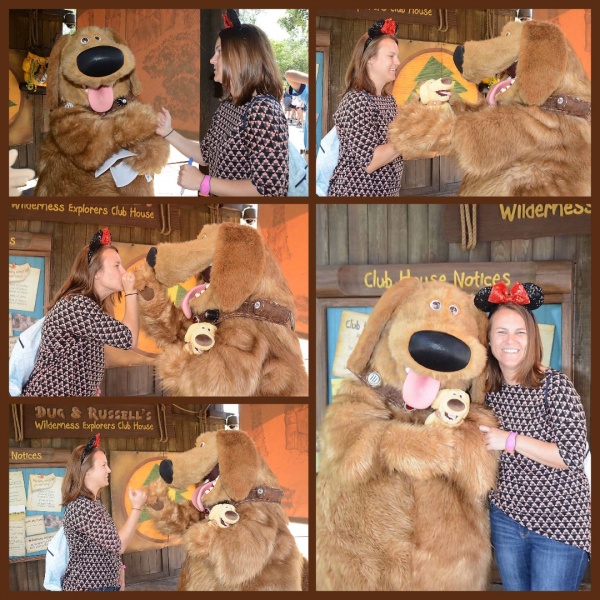 So FUN!
After this interaction I had to high tail it to Tiffins. My family and I ate here in December and we all thought it was delicious. Before my trip I heard about the Tiffin's Talks going on for the 20thanniversary of the park. I was able to score the last seat for this talk. This amazing talk is covered in another blog. But, this is not something I would have ever been able to do if on a family trip. And it was worth every penny!
The rental car search and a late night
After this amazing meal it was time to leave. I headed out to the parking lot to find my rental car…I searched and searched and searched some more. For 20 MINUTES I walked around the my section of the parking lot! The rental car did not have a remote so I could not use the alarm to find it. I just had to wander up and down every aisle…for 20 minutes. Learned a valuable lesson…ALWAYS take a picture of your rental car and the aisle number.
The rest of the day was spent at Give Kids the World, with my shift ending at 9:30 p.m. Since I was alone…I decided to go visit the Disney Character Warehouse at the Orlando Premium Outlets. Why not? They had a couple of Dress Shop dresses on major sale, but unfortunately they were not in my size. I didn't find anything to buy, but I had a lot of fun looking through everything.
Epcot Flower and Garden Festival
The next morning was spent at GKTW. After my shifts I decided to check out the Epcot Flower and Garden Festival. I had been reading all of the food booth reviews and had a check list of items I wanted to try. I also wanted to make sure to get lots of pictures. This time I made sure to take a picture of where my rental car was parked so I could easily return to it later.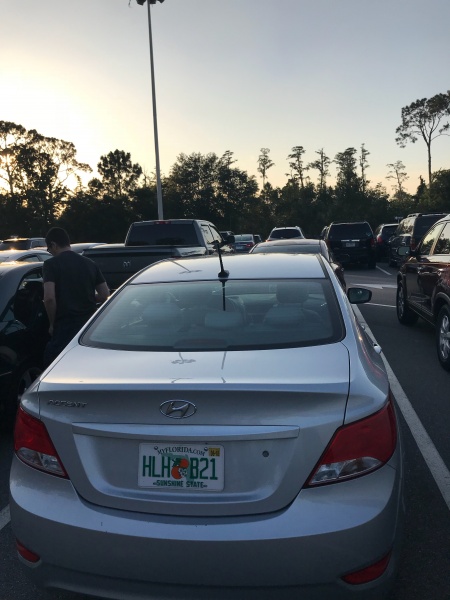 The rental car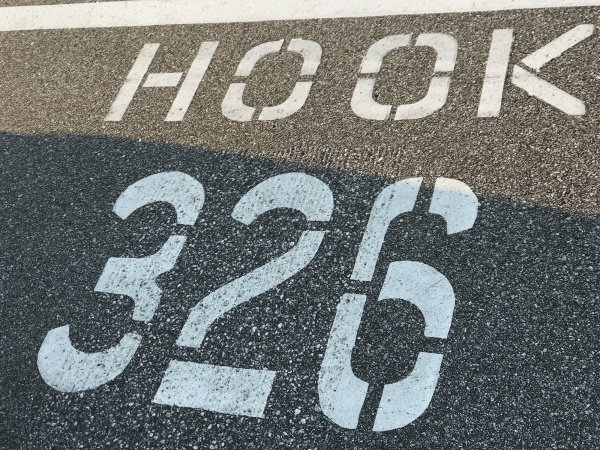 The parking aisle
I was able to ride Spaceship Earth, take some pictures, and then visit my first food booth. If you want to make friends, a delicious berry buckle and mint julep will have everyone talking to you.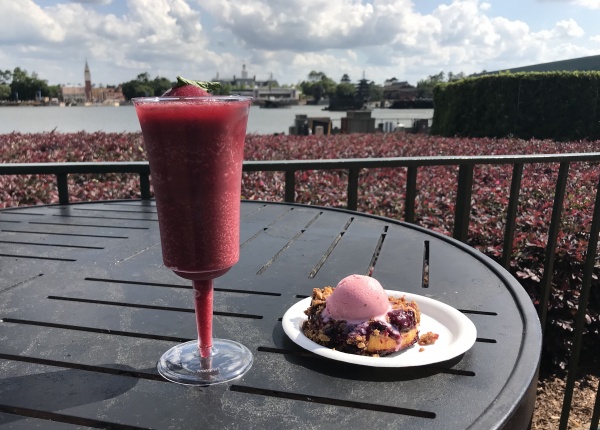 Solo trips are a great way to enjoy the Flower and Garden food booths
I ended up stopping at about four food booths, enjoyed the flowers and took in some live entertainment around World Showcase. One thing that I have been wanting to do is visit the American Adventure, but this in not something my young son would sit through for very long. I haven't seen this show in about 10 years and it was so good! I forgot about great the animatronics and the patriotic storyline. It is definitely recommended.
Late Night at Magic Kingdom
After checking off my food booth wants I headed over the to Magic Kingdom. (I was able to find my rental car very quickly using my pictures.) Normally my family and I stay on site. I don't remember ever taking a ferry boat from the Ticket and Transportation Center to the Magic Kingdom. I made sure to check this off of my bucket list. My trip on the Admiral Joe Fowler was very relaxing.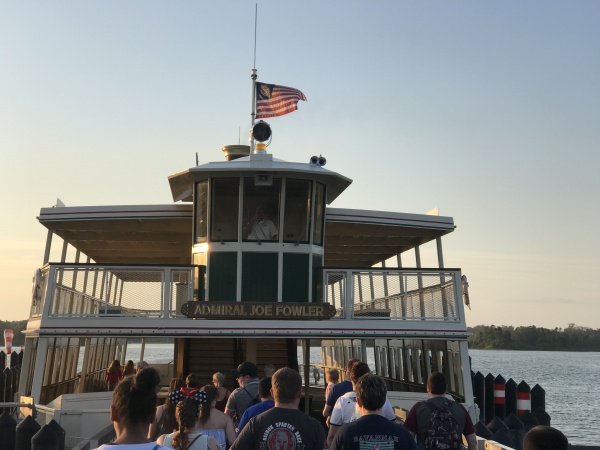 Admiral Joe Fowler helped oversee the construction of Disneyland and Walt Disney World.
The People Mover is one of my favorite attractions at the Magic Kingdom, so it was my first stop. I love relaxing on this attraction, with my feet up and enjoying the second level view of Tomorrowland.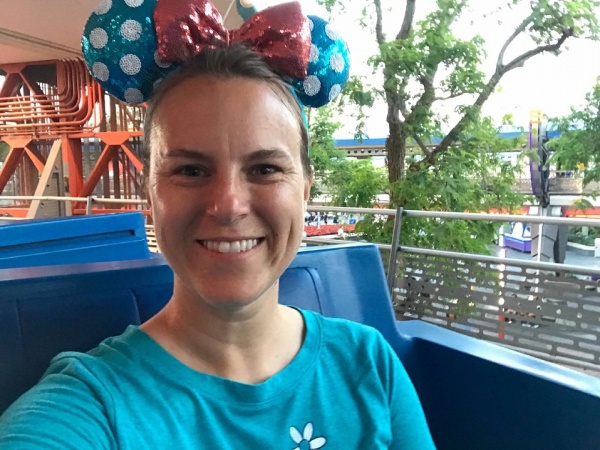 Relaxing on the People Mover
It was about 45 minutes before Happily Ever After and I decided I needed to find a good spot. This is where making friends comes in to play. I found 2 women and 2 kids hanging out right at the end of main street by Casey's Corner. There seemed to be a lot of space around them so I asked if I could join them. They were so nice! They welcomed me in and treated me like a friend. It was a perfect spot and I could see the whole show very well. Much easier to sneak into a great spot when you are by yourself.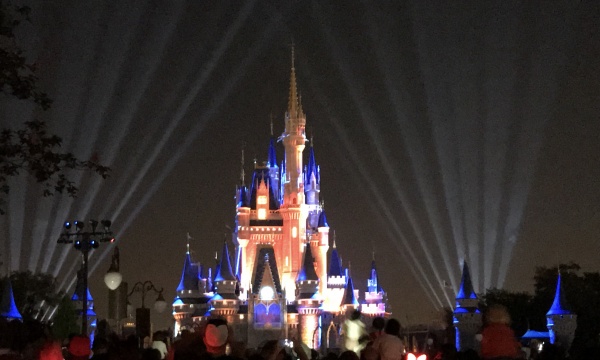 A great view for Happily Ever After
After the show I was able to stay in the park and experience more of the Magic Kingdom at night. FastPasses were abundant. I was able to visit Jungle Cruise, Pirates of the Caribbean, Haunted Mansion, and It's a Small World. About 5 minutes before park closing I got in the standby line for Seven Dwarfs Mine Train. The posted wait time was 50 minutes, but I was on the ride in 18 minutes! I was able to do so much in the last hour and a half the park was open. This is not a time I am usually able to tour the park, as my son would have a small melt down. It's just too late for him.
Even though the park hours were over, Main Street was still open. I took time getting pictures in front of the castle, enjoying some corn dog nuggets at Casey's Corner and just people watching. I watched The Kiss Goodnight several times and let the park mostly empty out. Then I got the picture of my dreams.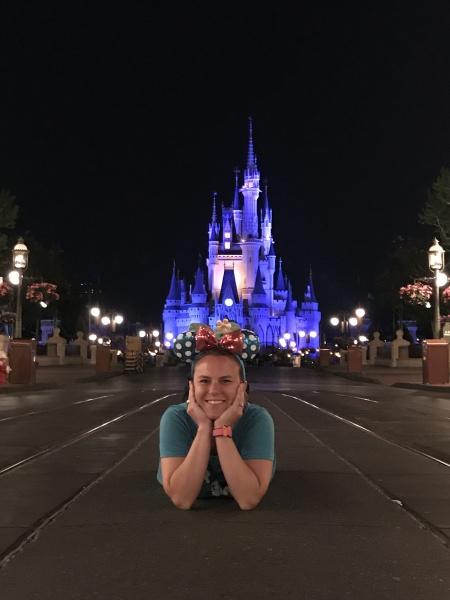 All alone on Main Street!
And I easily found my car!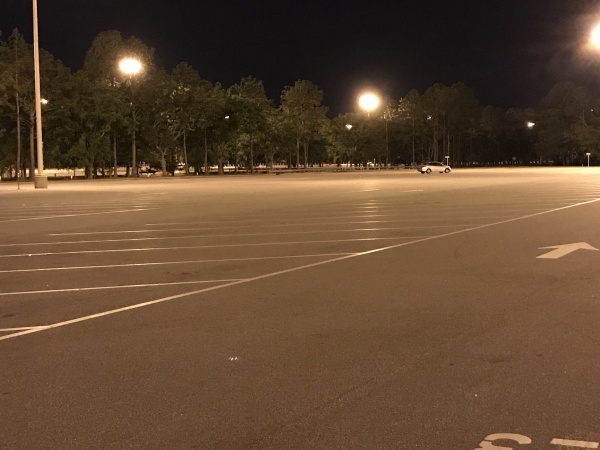 My car was the only one left! No losing it this time!
Lounge time
On my third full day of my solo trip I only had time for one short park stop. But it was very relaxing. I was meeting a friend at Disney's Hollywood Studios. I decided to visit the Brown Derby Lounge. Let me tell you, this place is amazing. No reservations are needed. It is located right outside the main restaurant with a perfect view of the Star Wars: A Galaxy Far Far Away stage show. I sat next to the bar and enjoyed the margarita flight and the famous Cobb salad. My friend was also able to meet me and enjoy the lounge for a bit.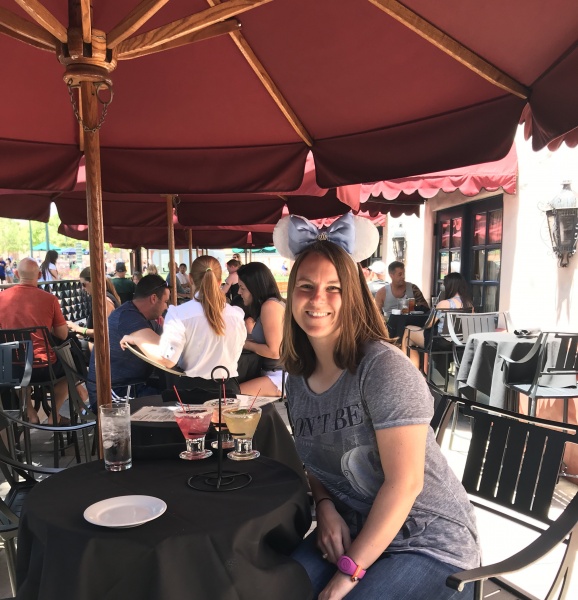 After the visit and relaxing lunch I visited BB8 (he is sooo cute), Kylo Ren (he is sooo scary), Groot and Star Lord and rode the Tower of Terror. It was an awesome short little visit to Hollywood Studios. (And I didn't loose my car.)
Slowly exploring Magic Kingdom
My final morning on my solo trip was spent at Magic Kingdom, because, well it's the Magic Kingdom. The park was opening at 9:00 a.m., but I knew I wanted more time to slowly enjoy Main Street and see the welcome show. I arrived at the Ticket and Transportation Center around 7:30 a.m. and only the resort monorail was running. It was running rather slowly and they could only let on a small group at a time to make sure there was room in the monorail for guests from the Polynesian and Grand Floridian. I have heard that there is also a bus that should run from the TTC to the Magic Kingdom for people trying to get to early breakfast reservations. I wasn't in a hurry so I didn't investigate.
Taking in Main Street slowly and enjoying every corner and window is so lovely. I was also able to ride a Main Street vehicle down Main Street all by myself. I watched the welcome show, Let the Magic Begin, near the bridge to Frontierland. Then I enjoyed Big Thunder Mountain, Splash Mountain, Peter Pan, the Tea Cups, Space Mountain and Carousel of Progress. I also met Mickey, Ariel as a mermaid, Tinkerbell and had a wonderful interaction with the Fair Godmother. The Fairy Godmother was sooo amazing and took so much time with me once she figured out I was volunteering with Give Kids The World. She even asked to send a video to my son.
Famous Imagineers, family members, and an Instagram window can be found on Main Street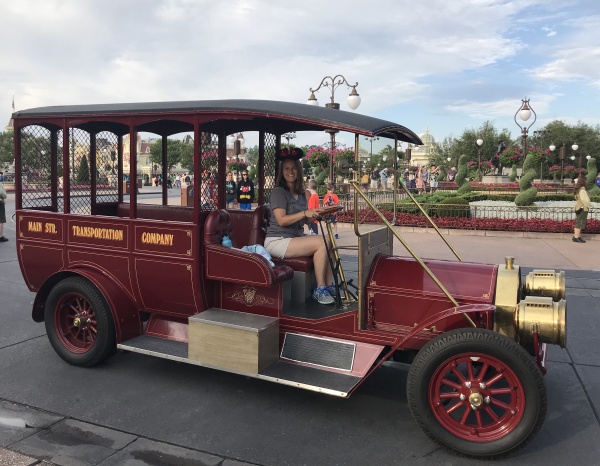 The Main Street Vehicles are a great way to start out your morning at the Magic Kingdom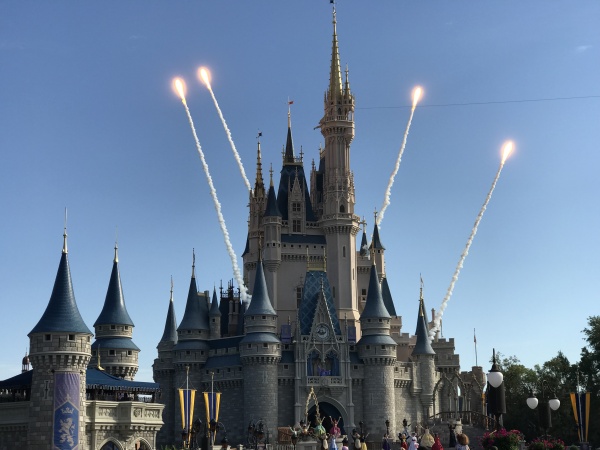 Let the Magic Begin opens Magic Kingdom
I even had time to partake in a pineapple upside-down cake with Dole whip and a cattail! This was all done before 1:00 p.m.! It is much easier to move with a purpose, find FastPasses and make decisions when you are alone.
This trip was absolutely magical. I was able to do so much in a very short time, but also take time to relax. I never felt weird being alone, I never felt out of place and I never felt unsafe. Walt Disney World is a great place to travel alone.
Now I will say that I did miss my family on this solo trip. There are so many memories I have with my husband and son at The Most Magical Place on Earth and I can't wait to make more memories there with them. However, it was very nice to do everything in my timing and to take time to slowly enjoy the things I would like to see that my family might not. If you are thinking about a solo trip, especially as a mom, DO IT! You won't regret it.
Have you ever done a solo trip to Walt Disney World? What tips do you have for actually being in the parks? Let us know in the comments, or on Facebook or Twitter.
Did you like this article? Make sure to share it with your friends! Check below for easy ways to share!
Want to visit Walt Disney World? Contact The Magic for Less Travel for more information and a free, no-obligation quote.