This post may contains affiliate links for your convenience. If you make a purchase after clicking a link we may earn a small commission but it won't cost you a penny more! Read our full disclosure policy here.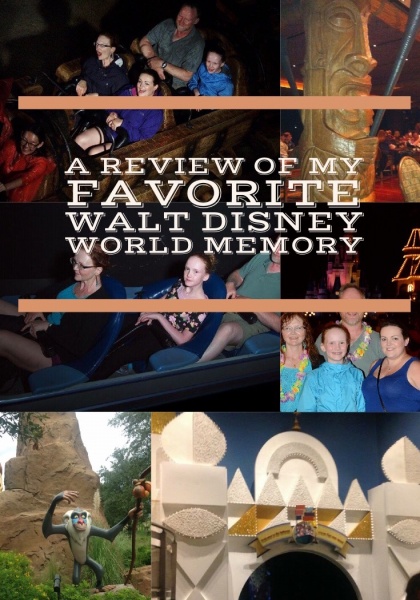 When you've been to Walt Disney World as often as I have, it's hard to pinpoint your favorite magical moment. While I have many favorite moments, one stands out in particular as my favorite Walt Disney World memory.
It was 2015 & my family & I were just embarking upon a land & sea vacation. We were to spend two weeks at Walt Disney World at Disney's Art of Animation Resort. On our arrival night, we had a dinner reservation for 'Ohana & requested to be seated shortly before the Magic Kingdom fireworks would start, so we would have a bird's eye view. I had already enjoyed this unique experience, but it was my family's first time, so they were extra excited.
We grabbed the bus over to the Magic Kingdom & hopped on the monorail to Disney's Polynesian Resort. It had been raining on & off all night, but when we stepped on the monorail, the storm rolled in. We ended up trapped on a broken down monorail for over an hour. We were late for our reservation, we'd miss the fireworks & we were just plain tired from traveling that day. I know, sounds like it's off to a terrible start, right? You wouldn't be wrong. BUT-not only is this the story of my favorite Walt Disney World memory-it is also a fantastic story of why the rain should never deter you.
We finally made it to the Polynesian for our dinner at 'Ohana. They'd received word that the monorail had broken down, and they had no issues seating us. We did have to wait about 20 minutes, but what was another 20 minutes after that long monorail ride? We were worried that by now we'd definitely missed the fireworks & our dreams would be shattered. However, due to the storm, the fireworks show had been delayed as well, and we arrived just in time!
Our meal started out with food for the table filled with noodles, pot stickers & so much more. Then, of course, we got the skewers of meat-beef, pork, chicken & shrimp. For dessert, we had a delicious bread pudding, at which point, we were able to enjoy the fireworks right from our table.
My sister was 11 years old at the time and a very picky eater, so she wasn't a huge fan of the food options, but once those fireworks came on, with the music piped in through the speakers, it was pure magic, and suddenly, the food became delicious. It really is such a unique experience & way to view the Magic Kingdom fireworks, that I have been lucky enough to experience twice.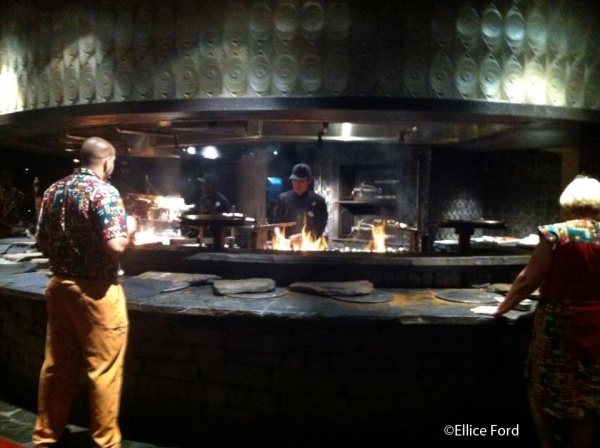 Once we were finished dinner, we had originally planned to call it an evening. On our way back to the Magic Kingdom to grab our bus home to Art of Animation, we noticed that the park was virtually empty & Extra Magic Hours were going on for Guests staying on site. Add to that, the fact that a storm just ended, most Guests didn't want to partake in the Extra Magic Hours. We went to Guest Services and showed our resort ID & headed inside for what ended up being the BEST night.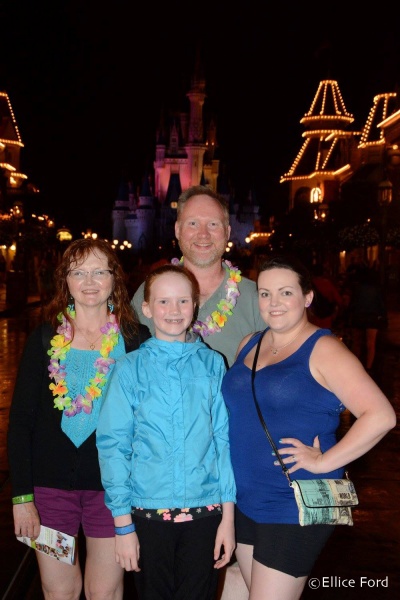 As we made our way through the gates, I checked the wait times on the My Disney Experience app & was astonished at what I saw-virtually walk on rides for almost every single attraction! We started out in Tomorrowland at Space Mountain. We rode it twice & then consulted the trusty app again & headed to Fantasyland.
In just 2 short hours, we rode the following at least once; Big Thunder Mountain Railroad, Splash Mountain, it's a small world, Seven Dwarfs Mine Train, Mad Tea Cup Party, Space Mountain, Under the Sea-Journey of the Little Mermaid, Country Bear Jamboree, Haunted Mansion, Stitch's Great Escape & Met Ariel in her Grotto. Thats 12 rides, some of which we did twice, in just two hours!
It was this trip, when my love for Magic Kingdom grew. We had the place to ourselves, I was able to navigate around quickly, without a map, because that park is home! We had the night of our lives & it has forever stood out in our minds.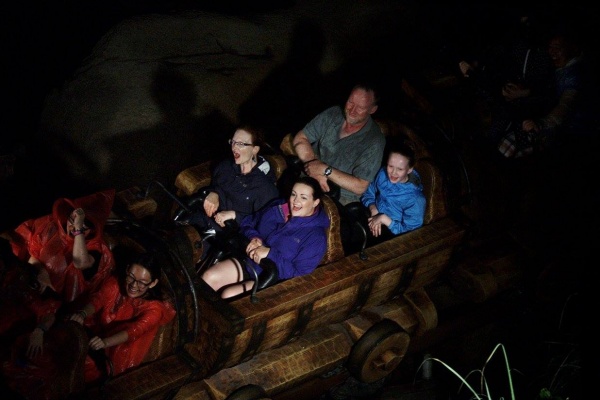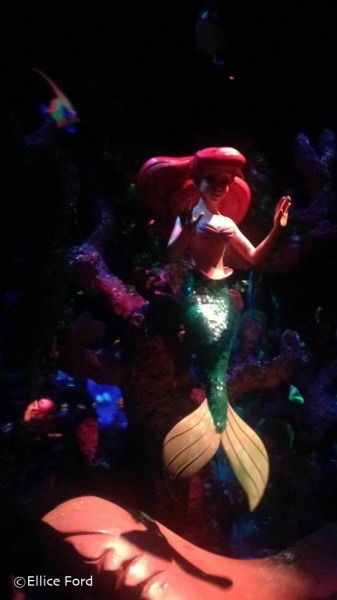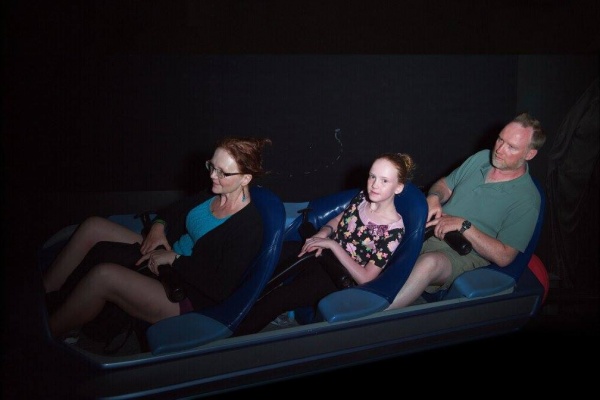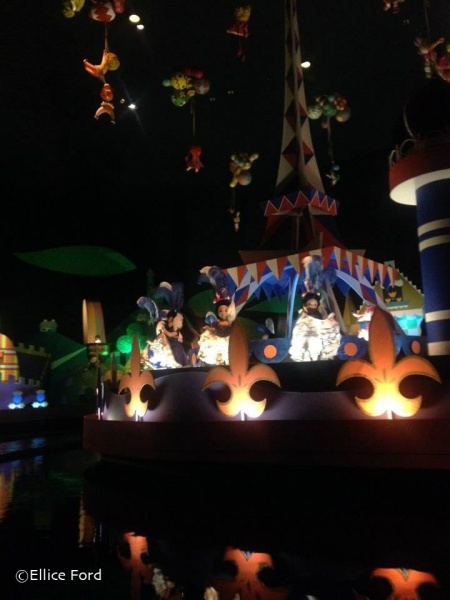 To add to our perfect night, on our way out, we got to experience the Kiss Goodnight on Cinderella Castle for the first time ever. (Editor's Note: This is a sweet little send off that happens at the Magic Kingdom, starting about a half hour after park close and then occurs a few times after. It isn't a major event, but it is the perfect way to say goodnight to the Magic Kingdom.) It was a bucket list item for me & I may have shed a tear or several. To be there until the park shuts down, truly is an exceptional experience. To close out the night with seeing that beautiful castle sparkle, shine & shut down Main Street, was surreal. It just brought the magic of the Magic Kingdom to the next level. I will never forget that moment I shared with my sister on main street.
So here's why I am sharing my favorite Walt Disney World memory with you. Don't let a rainstorm deter you from enjoying the magic. In fact, you may get to experience the parks like never before. You may get to experience new things. And you may even get to enjoy the most magical night with your family. Always be prepared for rain, but also be prepared for magic!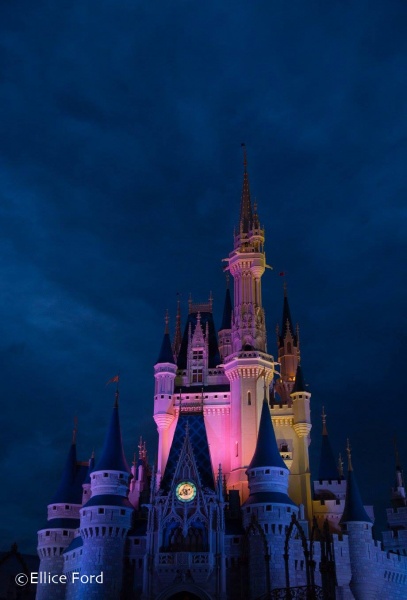 What is your favorite Walt Disney World memory? Have you ever enjoyed an almost empty park? Share your experiences with us in a comment below or on Facebook or Twitter.
Did you like this article? Make sure to share it with your friends! Check below for easy ways to share!
Want to visit the Walt Disney World Resort? Contact The Magic for Less Travel for more information and a free, no-obligation quote.

Incoming search terms:
favorite walt disney world resort memory