This post may contains affiliate links for your convenience. If you make a purchase after clicking a link we may earn a small commission but it won't cost you a penny more! Read our full disclosure policy here.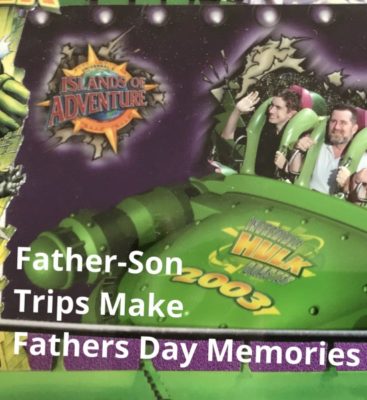 I'm a dad and a son. To me Father's Day is about not only spending time with Dad/the kid but it's also about the memories. I was lucky enough to have a father/son trip to the Universal Orlando Resort with my son, Stu, that created some of the most positive and long-lasting memories. Strong enough to recreate some of them 13 years later.
Impromptu Adventure
Before summer started Pat was laid off so all our vacation plans were put on hold. When Pat got a new (and better) job in early August there was no time for a family vacation. But Pat told Stu and I to take one. Stu and I enjoy rides a lot more then Pat, so the obvious choice was to go where the most thrill rides were at the time; Universal Orlando's Islands of Adventure. We had been there before, but Stu wanted to hit the new rides over again.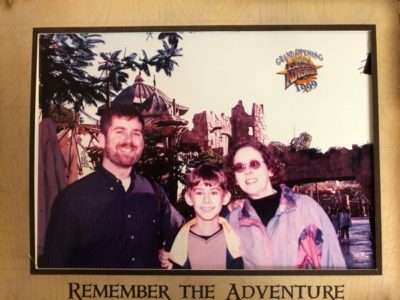 From there planning went into overdrive. School was starting shortly. That also worked in our favor as we were able to get deeply discounted rooms at the Hard Rock Hotel on-site. If I recall, it was less that two weeks since the idea's inception when we boarded the plane to Orlando.
Still, there was an element of risk involved. Stu was 15, a tough age for any kid, and had long ago decided that he didn't want to share a room with his parents on vacation. Yet here he was; sharing a room with Dad.
A Father and Son trip means that you can hit the parks hard
I do recall that we had tickets to both parks, Universal Studios Florida and Islands of Adventure, but my main memories were the manic times we spent at Universal's Islands of Adventure. We established the rules for the long weekend early; we were going to hit every ride and every path on every ride. At the time, Dueling Dragons existed and it had two different coasters, so we had to ride both. Then we discovered a separate line for front row seats so we rode two more times.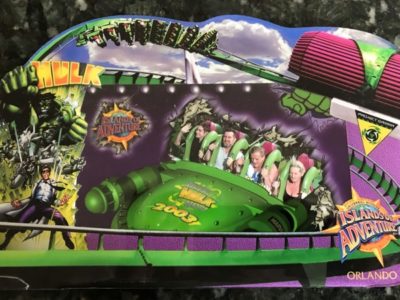 Dudley Do-Right Ripsaw Falls has two paths but only one queue. The paths were randomly assigned. You couldn't time it because sometimes three in a row would go left before one would go right.  We rode the left hand path a number of times before giving up. We kept coming back and trying again. There is some dispute as to how many times we rode before we finally hit the right hand side. The consensus is the low teens. They must have thought we were nuts when we yelled for joy at just being assigned the right-side path.
Getting the fourth side on Doctor Doom's Fear Fall was a lot easier. We just asked. However, having ridden the ride a least a half dozen times before, the fear was gone and we kept up a calm and reasoned discussion of the view while all those around us screamed. We thought that was funny. They thought we were nuts.
If you aren't familiar with the Universal Express, it's the ability to take a shorter queue line that eventually merges with the main queue a few minutes before boarding. The regular pass allows you to do this once per day on each eligible ride. The Unlimited Pass allows you to take the short queue an unlimited number of times.
Our first true experience with the Universal Express Unlimited Pass was on The Amazing Adventures of Spider-man. As we approached Spider-man there was a family pondering which queue to go on. When we explained that they were ineligible for the express pass they headed left and we headed right. When we completed our ride we decided to do it again and while scurrying down the express path we glimpsed the family in the longer queue.
Here's where it gets ugly and where Mom would have stopped us. Upon completing our second ride we looked at each other and without saying a word we ran to the express queue again. All was fun and games until the two lines merged and, you guessed it, the other family was behind us. When we talk about the ride, we laugh at riding the ride three times in a row, but never mention standing in line in front of the family.
Doing the one thing Mom Wanted us to Do; Emeril's Orlando
In 2003, Emeril Lagasse was almost a family member. At least we thought so. Emeril dominated the Food Network and the Food Network was our go to channel when we weren't watching anything else. Mom had one request of her boys on their trip; get a good trip at Emeril's Orlando and report back.
Our memories of Emeril's were a bit sketchy. Sure the food was great. But, after riding Popeye & Bluto's Bilge-Rat Barges in the August heat we were a bit damp. You can't always tell if you are damp in the Orlando humidity. Let's just say, don't wear damp pants on finished wooden chairs. Damp shorts leave a butt print where the wood finished is lifted. You can't warn a fifteen year old boy about butt prints without laughing.  Stu and I can attest to that.
Reliving the Father Son Trip to Orlando 13 years Later
Jump thirteen years ahead. Stu is now on his own living in another city. We invite him and a friend to join us at Disney World and then drive to Fort Meyers, by way of Universal Studios, to see my Mom and Dad for a day. He's all in, especially after he finds out that we are paying. The one thing I ask of him is one more Islands of Adventures ride.
One of the mornings while at Animal Kingdom his friend announces he's tired and heads back to the resort. Pat goes to the resort too leaving Stu and I alone until dinner. In a second we agree that the Magic Kingdom is where we need to be. Disney had, at the time, a bus that went from park to park and skipped security. We hopped on.
By the time we hit the Magic Kingdom, both of us were years younger. Working the My Disney Experience App we moved from ride to ride hitting all our favorites. The three mountains fell before us (Splash, Big Thunder, Space). Pirates of the Caribbean, the Haunted Mansion, The Many Adventures of Winnie the Pooh and Peter Pan all were achieved. We even went to Monsters Inc. Laugh Floor and competed with each other to come up with the stupidest dad jokes. At some point we ate lunch at Cosmic Rays. Why? Because it's fast (Emeril's it isn't). At 58, I don't recall laughing more. Stu told me that he had a great time.
That ride he owed me in Universal Orlando? He picked Dr. Doom's Fear Fall. Luck would have it we got the fourth side again and we rode it like pros, having a casual conversation the whole time. But this time we talked about what a great time we had 13 years previously and for one afternoon at the Magic Kingdom.
The Importance of the Father-Son Trip to Orlando
For us, a Father-Son trip to Orlando was a great way to share experiences that belong to just the two of us. The laughs we shared, and there were many, strengthened the bonds between us. A parent child relationship is not always sunshine and roses. You need to find those opportunities to create positive memories. This Father-Son trip to Orlando did just that and whenever I think of it, I smile.
A Final Note
While Pat is, and will always be, my Disney travel partner I do think a trip to Galaxy's Edge might be a good thing for Stu and I. Pat does not like huge crowds and hasn't seen every Star Wars movie yet. It just seems like a fun thing to do. Maybe Pat can come too …
As for my special memories with my Dad, there's always the 1975 World Series (yeah Dad – you are way cool).
What are some of your favorite memories with your father at a Disney or Universal destination? Let us know your thoughts in the comments or on Facebook or Twitter! 
Did you like this article? Make sure to share it with your friends! Check below for easy ways to share!
Want to visit the Walt Disney World Resort? Contact The Magic for Less Travel for more information and a free, no-obligation quote.

Incoming search terms:
https://www themouseforless com/blog_world/fathers-day-memory-created-on-father-son-trip-to-orlando/