Disney Princess: Story Theater
|
I received this app for the purpose of writing this review.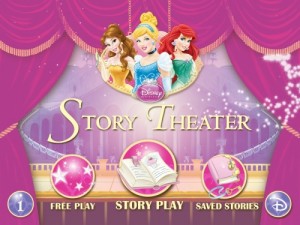 Disney Princess:  Story Theater is an app designed for iPhone, iPod Touch, and iPad.  This app is designed to encourage creative thinking in the younger set, and I am really impressed by how this app comes together.  The Story Theater can either be played in Free Play or in Story Play modes.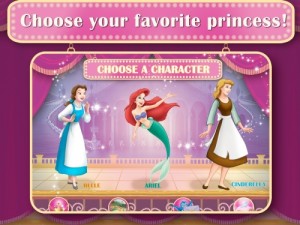 In Story Play mode, your child will be asked to choose the princess she would like to create a story about.  Once she chooses a princess, she will also be asked to choose a location.  For my story, I chose Belle in the Town Square.  After my choices were made, I was presented with a narrator reading a few sentences of the story.  Then, I was able to move Belle around and record my own addition to the story.  Then, I was given options for adding another character.  The narrator read about the schoolgirl I added, and then I was given the opportunity to make my additions to the story.  Finally, I was given some props to choose from, and after the narrator read, I was given another opportunity to move the characters around and record my part of the story.  After the story was complete, I was able to save it.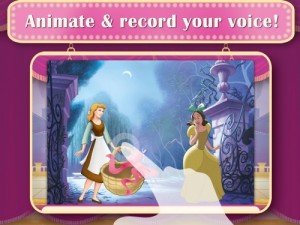 The picture above shows how easy it is to move the characters around the screen when adding your own part to the story.  Each character and prop can be re-sized and rotated.  I understand that my son did a story with a small Ariel standing on her head.  I guess the creative juices were flowing…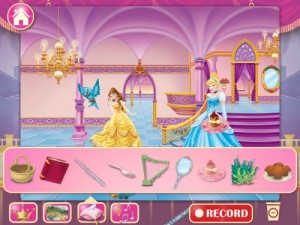 I also like the Free Play mode.  There are so many options to choose from for the location that the story takes place.  Well, I should add that my daughter informed me that she had to create a certain number of stories to unlock some of the different backgrounds.  The background that I have used above is one that had to be unlocked.  Then, princesses and props can be added to make an unique story.  This mode also has the Record function to record the child's story.  What princess do you think your daughter would like to record stories about most?
Disney Princess:  Story Theater is available for $2.99 and provides lots of creative Disney Princess fun.  As always, please verify that your device and iOS is compatible with the app before purchasing.
Disclosure:  I received the Disney Princess:  Story Theater app free of charge for the purpose of this review.  I received no other compensation from the app provider, nor was I required to give a positive review. 
Sponsored Ad:  Would you like to help support The Mouse For Less website in continuing their mission of being THE Disney vacation planning resource?  You can do so by purchasing Disney Princess:  Story Theater from our affiliate link.
Similar Posts:
Incoming search terms:
disney princess royal saloon