This post may contains affiliate links for your convenience. If you make a purchase after clicking a link we may earn a small commission but it won't cost you a penny more! Read our full disclosure policy here.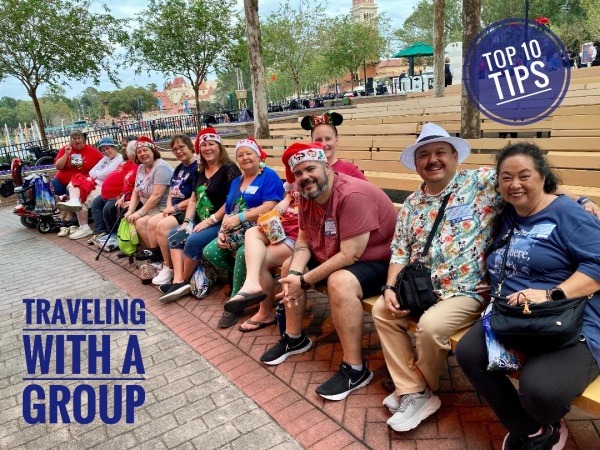 A group of Mouse For Less friends recently took a Second Bi-Annual Walt Disney World Resort vacation.  We had 12-14 people for some activities, and small groups or solo exploring for other times.
We learned some things about group planning during our past 2019 and 2022 trips, and want to pass our tips along to you.
Planning for a trip is part of the fun!  We attempted to use a Google Doc to organize activities for our first trip.  This did not work well.  Not everyone had computers to access the doc, and some members were not comfortable with the technology and editing the doc.
For our second trip, we used a private Facebook group to organize everything.  This was perfect!  We could vote on dining choices, talk about group activities, and take roll calls for those participating in each activity.  We had a post scheduled to go live at 7:00 AM for every morning of our trip to remind everyone of the plans for that day.  The Facebook group acted like a virtual bulletin board during the trip.   We all knew to check the page frequently and that was where we could post to the whole group at once if we were running late or having a change of plans.
Here are some other tips and trick that came in handy for group travel:
1. Not everyone has to stay in the same place. We had people at several different Walt Disney World resorts and offsite. That was fine.
2. Moving a group from Point A to Point B is like herding cats.  Rather than walking as a large group, announce what you are doing next and meet everyone there.
3. Speaking of meeting up, be VERY specific about where you are meeting. "In front of the Castle" is too vast of an area. You'll never spot each other. Even "Near Casey's Corner in front of the Castle" can be confusing. Take a photo of a sign or landmark and say we will be meeting *exactly right here.*  If your meeting place is outdoors, have a backup place in mind in case it is raining.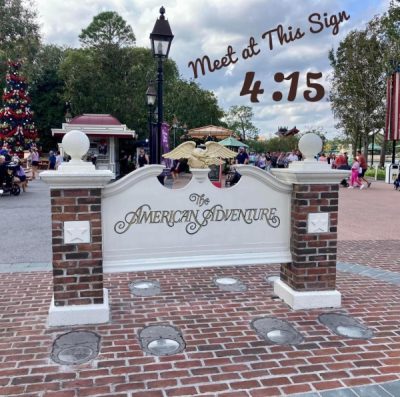 4. We learned quickly on our first trip to not over plan with a large group. We trimmed the planning for our second trip. We planned only two meet ups per day for the group, a meal together and a show together. That was perfect!
A good group activity or show to choose is something that does not require waiting in line.  We decided upon the Tiki Room for our Magic Kingdom day, the Candlelight Processional for our Epcot day, the Frozen Sing-A-Long for our Hollywood Studios Day, and the Finding Nemo: The Big Blue and Beyond show for our Animal Kingdom day.
Two of our meals were quick service locations in resorts so local families without park tickets could join us. One meal was a character breakfast at Cape May which provided plenty of photo opportunities. The other meal was the Candlelight Dinner Package. That took care of the meal and activity for our Epcot Day.
5. Non-group time can be spent solo or in small groups.  Walt Disney World Resort vacations are expensive, and this allows for people to hit up their "must do" choices in each park or to take a break if needed.  We often did settle into small groups to enjoy a ride together.
6. If you do choose to do an attraction with a queue, please be courteous to other families. Enter the queue when everyone is present and stay together in that queue. This prevents the need for group members to try to "catch up" past others who have been waiting in line.
8. Matching shirts help with spotting each other in a crowd! It also helps others, including cast members, know that you are part of a group. We were less likely to get cut off from each other when we wore matching shirts. If matching shirts are not your thing, matching hats are fun too.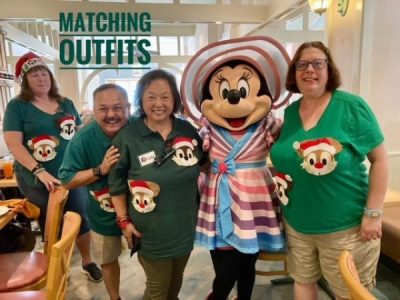 9.  Photos! Be sure to snap a group photo at the meal and/or activity when everyone is present.
10.  If you have dinner at a resort, consider spending some downtime together just chatting and relaxing after dinner.   One of my favorite memories was playing Scattergories at an outside table at Wilderness Lodge!
A little bit of organization and balancing group time with personal time goes a long way in making a trip like this fun and go smoothly.  We had plenty of laughs, made lots of memories, and planned ahead for our 2024 and 2026 adventures!
Did you like this article? Make sure to share it with your friends! Check below for easy ways to share!  
Want to visit a Disney Destination? Contact The Magic for Less Travel for more information and a free, no-obligation quote.