This post may contains affiliate links for your convenience. If you make a purchase after clicking a link we may earn a small commission but it won't cost you a penny more! Read our full disclosure policy here.
We made a Disney recipe at home!
It's been a minute since I attempted a recipe from the Unofficial Disney Parks Cookbook. This time, I decided to try a recipe that was more complicated and had a lot of individual components: Sweet-and-Spicy Chicken Waffle Sandwiches, replicating a dish that is served in Liberty Square in the Magic Kingdom, the heart of Walt Disney World.

Here's what you'll need:

THE CHICKEN:

4 cups vegetable oil for frying (We found we needed more in order to fill our pot to a depth of 2 inches)
1 ½ cups all-purpose flour
1 teaspoon salt
1 teaspoon black pepper
1 teaspoon onion powder
1 teaspoon garlic powder (we substituted half the salt with garlic salt instead)
1 large egg
1 tablespoon room-temperature water
1 ½ pounds boneless, skinless chicken breast, cut into 1 inch-thick strips

The first step in the chicken recipe is to preheat the oven to 170 degrees Fahrenheit. This confused me because nowhere in the recipe does it call for an oven. I suspect that the author left a step out towards the end. I believe she wanted us to put the chicken and the waffles in the warm oven to keep them warm while we assembled the rest of the recipe.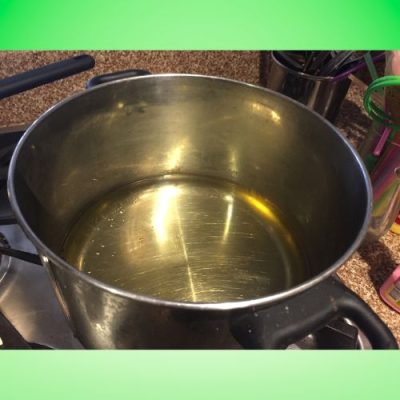 Heating the oil
Next, in a large, heavy-bottomed pot over medium heat, add vegetable oil. Our range top runs very hot so we changed this to medium-low heat. Bring the oil to 340 degrees Fahrenheit. Meanwhile, in a medium shallow bowl, stir together flour, salt, pepper, onion powder, and garlic salt. In a separate bowl, mix the egg and the water.
The chicken is ready to be fried
Next, dredge each chicken strip in flour mixture, then egg mixture, then flour mixture again. Set the pieces aside for five minutes. Prep a plate with paper towels so that you can put the cooked chicken here.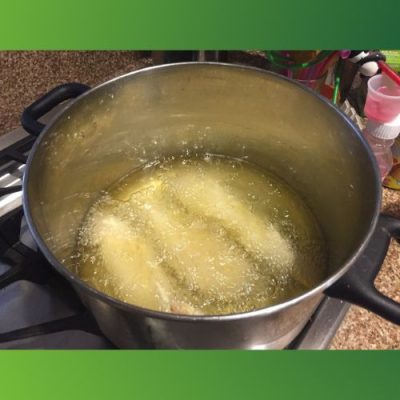 Frying the chicken
Next, carefully lower five strips into the hot oil one at a time and allow to fry until internal temperature reaches 165 Fahrenheit. We fried our chicken three strips at a time and found that they were ready between 7 and 9 minutes.

When they're done, remove from oil onto lined plate. Repeat this for all your chicken.

SPICY-SWEET SAUCE:

2 tablespoons salted butter, melted (we used unsalted and it was fine)
2 tablespoons sriracha sauce
2 tablespoons pulp-free orange juice
¼ cup pure maple syrup
¼ sweet chili sauce (we left this out and we thought it was fine)
1 tablespoon amber honey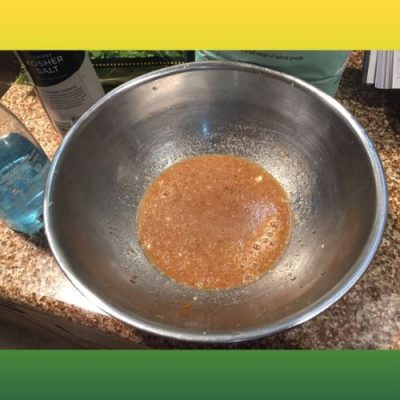 Sweet-and-Spicy Sauce
In a large bowl, mix together butter, sriracha, orange juice, maple syrup, sweet chili sauce, and honey. Put this aside.

THE WAFFLES:

The recipe referred us to a separate chapter in the book for the recipe for Mickey Waffles as served in Africa in Animal Kingdom. The recipe made 10 waffles, and since we didn't need that many, we halved the recipe. I'm giving you the halved version.

1 large egg, separated
¼ cup vegetable oil (we used canola oil)
1 cup whole milk
½ teaspoon vanilla extract
1 cup all-purpose flour
2 teaspoons baking powder
1/8 teaspoon salt
1/8 cup granulated sugar
1/8 cup salted butter, melted (we used unsalted and it tasted great)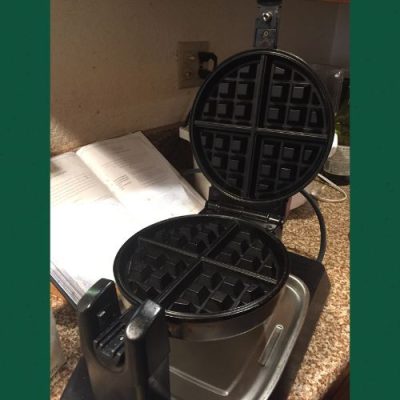 The waffle iron, ready to go!
First, preheat your waffle iron. In a stand mixer, whip the egg white on high until stiff peaks form. The recipe said this should take 5 minutes but ours was done in half that time, possibly because we were only whipping one.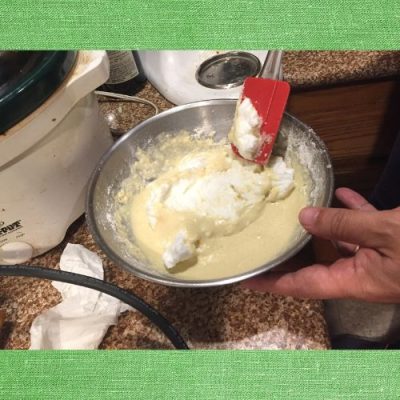 Folding in the egg white
Meanwhile, in a separate large bowl, whisk together egg yolk, oil, milk, and vanilla. Add the flour, baking powder, salt, and sugar. Stir it until combined. Using a spatula, gently fold in the egg white.

When your waffle iron is ready, use a brush to lightly spread a little melted butter onto the waffle iron. Our waffle iron is nonstick so we didn't use very much butter. Scoop ¼ cup batter into the iron and cook.

When the first waffle is done, remove from waffle iron and place on a wire rack on baking sheet in oven. Repeat until all the batter is used up.

THE CHICKEN WAFFLE SANDWICHES:

2 cups fresh coleslaw mix
2 tablespoons coleslaw dressing (we used a coleslaw kit from Trader Joe's)
½ cup fresh arugula leaves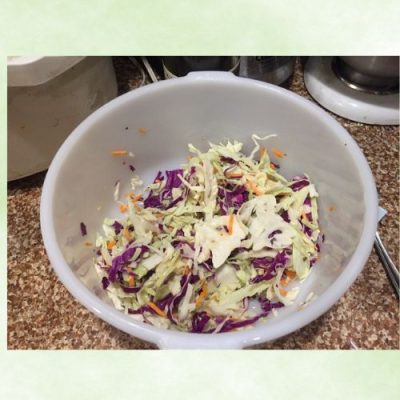 Cole Slaw
First, in a medium bowl, combine coleslaw mix and coleslaw dressing. We decide to make the entire package and had leftover slaw. Top each waffle with ¼ cup coleslaw mixture. The recipe then says to toss the chicken into the spicy-sweet sauce and place the chicken on top of the waffles. We decided instead to put the plain chicken on top and then drizzle the sauce over it, which tasted delicious. Top with arugula. The recipe then says to fold each waffle into a taco shape, but we just used a fork and knife to eat the whole thing as we were not actually walking through a theme park!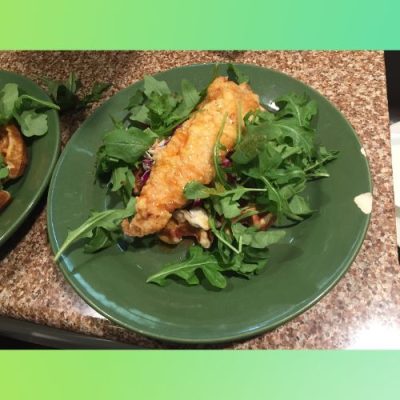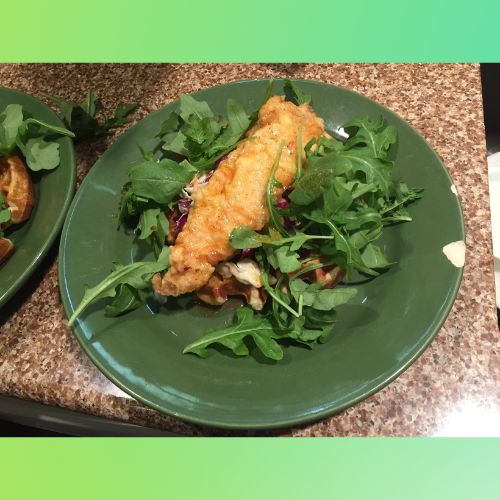 The finished chicken waffle product!
The end results? Fluffy, delicious waffles topped with crispy chicken and drizzled with a sauce that was sweet with a hint of spiciness. If we had used the sweet chili sauce it probably would have been more spicy. Of course, you can always simplify this chicken waffle sandwich recipe by simply using a pre-mixed waffle mix, but we're glad we made it from scratch this time.


Did you like this article? Make sure to share it with your friends! Check below for easy ways to share!  
Want to visit a Disney Destination? Contact The Magic for Less Travel for more information and a free, no-obligation quote.