This post may contains affiliate links for your convenience. If you make a purchase after clicking a link we may earn a small commission but it won't cost you a penny more! Read our full disclosure policy here.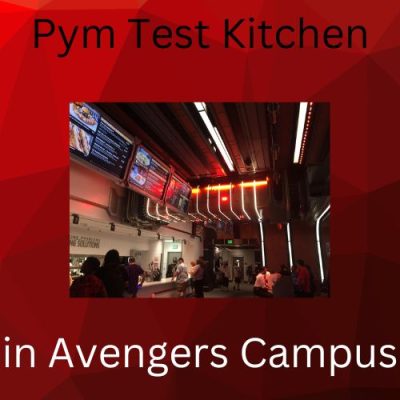 Welcome to Pym Test Kitchen in Avengers Campus!
I am a Marvel fan. I see every Marvel Cinematic Universe movie, I mark my calendar for the days Marvel TV shows debut on Disney+, and I screamed like a 12-year-old fangirl when Charlie Cox and Vincent D'Onofrio joined Kevin Feige onstage at D23 Expo. (I am a HUGE fan of Daredevil, for those not keeping score.) So when we were planning our family's first visit back to Disney California Adventure, I knew we were going to want to check out Avengers Campus.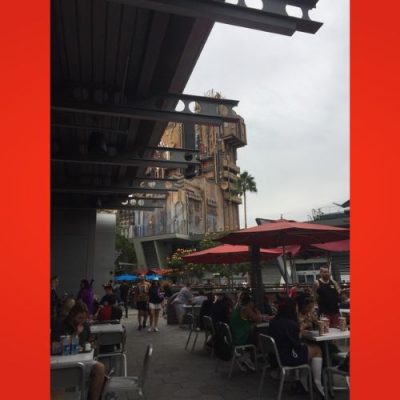 View of Guardians of the Galaxy: Mission Breakout from our table
Besides exploring every nook and cranny of this new land (Peggy Carter's parking space! The She-Hulk bench! The quinjet! The Spider-man ride!) I wanted to eat a meal in the Pym Test Kitchen. On an unusually humid, slightly rainy day, we found it hard to find a table at this counter service establishment. However, with a little patience, we were able to snag one! The outdoor seating area gave us a great view of the goings-on in this section of the park.
The Pym Test Kitchen is themed to be the brainchild of young Cassie Lang, who wrote a school report on how enlarging food items would help alleviate world hunger. She also theorized that shrinking food could help eliminate food waste. You can find this information inside the restaurant.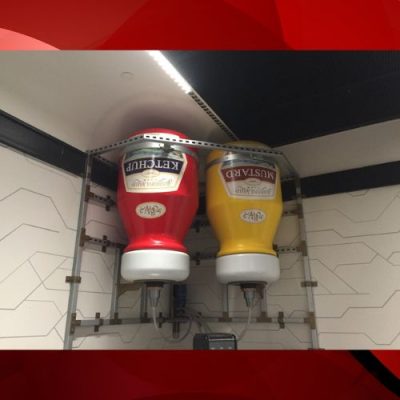 Looks like someone enlarged the condiments
You'll also see a magnificent machine that, the signage tells us, is used to enlarge normal pretzels into a size that will feed the whole family. Cast members here are dressed as scientists. And if you want condiments, well, that's been taken care of as well.

The menu here is rather limited. There are four sandwiches offered, one vegetarian salad, and one vegetarian pasta dish. I was intrigued by the description of the Not so Little Chicken Sandwich, so I decided to order that.
Not so Little Chicken Sandwich
All the entrees are served on a napkin that claims the recipe is Scott Lang's. And all them also have either a large or a tiny component to them. Here, my chicken breast was huge and the bun was tiny! This is definitely a fork-and-knife sandwich.

The chicken was very crispy and nicely cooked. Both the teriyaki and red chili sauces are very mild, so don't be frightened away if you don't like things very spicy. I really enjoyed the pickled cabbage slaw on top. It was crispy and not overdressed.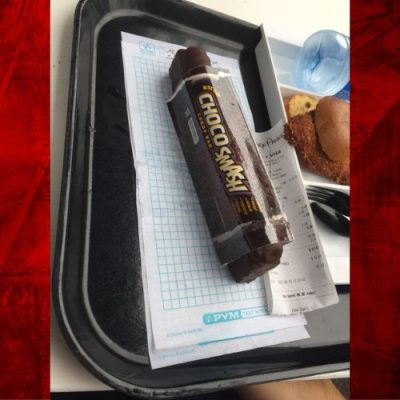 Celestial-sized Candy Bar
There is only one dessert item, but it's a big one. Literally. It is called the Celestial-sized Candy Bar. Note that the packaging reads "Bite-sized." The idea here is that the scientists at the Pym Test Kitchen enlarged a tiny candy bar into something that we easily shared amongst three of us.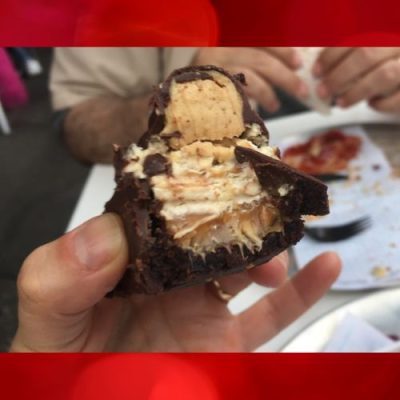 The interior of the candy bar
This is an extremely rich dessert. I absolutely loved it, but there was no way I could have eaten the entire thing. Plan to share this. If you are a fan of dark chocolate like I am, this will definitely hit the spot.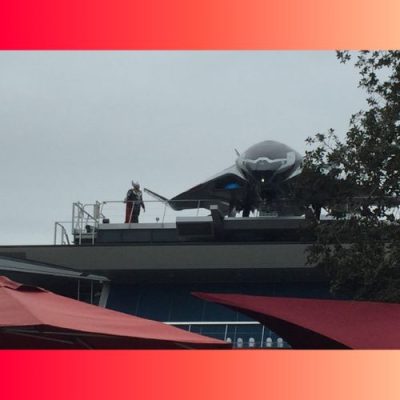 Our view of Thor as we ate dinner!
Despite the limited menu at Pym Test Kitchen, the atmosphere of this restaurant is superb. The theming is fantastic. And the food we ate was very good and satisfying. And where else can you have a meal while watching an Asgardian Avenger walking beside a quinjet?
Did you like this article? Make sure to share it with your friends! Check below for easy ways to share!  
Want to visit a Disney Destination? Contact The Magic for Less Travel for more information and a free, no-obligation quote.
Incoming search terms:
https://www themouseforless com/blog_world/pym-test-kitchen-review/