This post may contains affiliate links for your convenience. If you make a purchase after clicking a link we may earn a small commission but it won't cost you a penny more! Read our full disclosure policy here.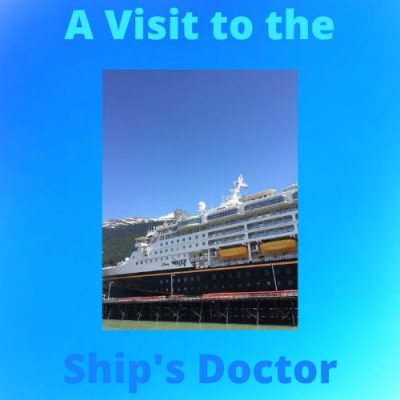 The Disney Wonder

When you're vacationing with Disney, whether that's Disneyland, Walt Disney World, or on the Disney Cruise Line, it's easy to forget that the real world exists. You're immersed in a fantasy world where childhood dreams come true and magic happens all around you.

But the truth is, a Disney vacation IS part of the real world, and like it or not, sometimes things go wrong. In past blogs I talked about having to go to a medical clinic in Walt Disney World, losing my driver's license in Animal Kingdom, and taking a fall in Disneyland. Today I wanted to talk about something we never thought we'd need to do: visiting the ship's doctor on a Disney Cruise.
The Disney Wonder in port
Towards the end of our recent cruise to Alaska, someone in our party became ill in the middle of the night. At first, we weren't sure what to do. We called Guest Services, who put us in touch with the nurse on duty. When we explained the situation, the nurse let us know about the three tiers of service that the onboard Disney Cruise Line Health Center offered.

First, there was emergency medical services. This would happen if someone onboard had a life-threatening, serious emergency. That individual would be evacuated from the ship and brought to the nearest hospital. This was clearly not the case for us.

The second was urgent care, in which we would go to the Health Center without an appointment to get something taken care of right away. She warned us that this was quite expensive and shouldn't be done unless we were seriously concerned about someone's condition. This also was not the case for us.

The third option, which is what we opted for, was to make an appointment with the Disney Cruse ship's doctor during regular operating hours. There would be a charge, but the nurse said that in most cases, guests can get reimbursed by their insurance carriers.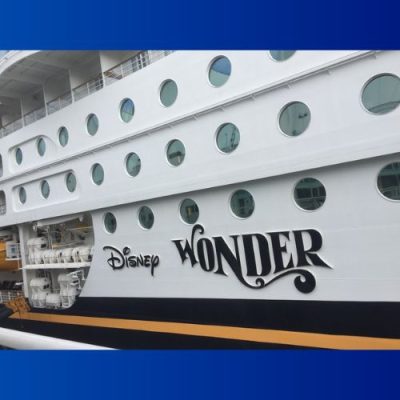 On the Disney Wonder, the Health Center is located on the first deck
We arrived at our appointment promptly at 10:00am the next morning. On the Wonder, the Health Center is located on the first deck. All personnel were masked, and some also wore face shields.

We were escorted into an examination room where a nurse carefully checked the patient's vitals. The nurse pointed out that there was a bathroom adjoining the room in case anyone needed it.

Dr. Alyssa met us very soon afterwards. She gave the patient a thorough examination and gave us instructions for care. She also gave us a small amount of prescription medication in case we needed it.

The doctor also wrote us a letter to excuse us from that day's shore excursion so that we could get a refund. Since the patient was a minor, she said usually they only will refund for the patient and one adult. However, she requested that both parents get the refund, and this request was honored.

She also gave us an itemized bill that we could submit to our insurance for reimbursement. I'm happy to say that we were reimbursed the full amount. She told us to call back that evening to report on how the patient was doing.

All in all, the medical personnel at the Health Center on a Disney Cruise did a great job in calming our fears, making the patient feel better, and helping us to navigate the complexities of the end of our cruise. I hope this post helps you to understand what your options are if someone becomes ill during your Disney Cruise.
Did you like this article? Make sure to share it with your friends! Check below for easy ways to share!  
Want to visit a Disney Destination? Contact The Magic for Less Travel for more information and a free, no-obligation quote.
Incoming search terms:
https://www themouseforless com/blog_world/visit-ships-doctor-disney-cruise/