This post may contains affiliate links for your convenience. If you make a purchase after clicking a link we may earn a small commission but it won't cost you a penny more! Read our full disclosure policy here.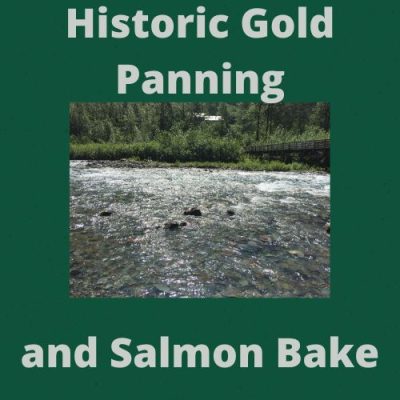 Welcome to Gold Creek in Juneau!
For my family's recent Alaska cruise on the Disney Wonder, we booked a shore excursion called Historic Gold Panning and Salmon Bake. This port adventure took place in Juneau. (But we don't talk about Juneau. HA HA HA! Sorry.)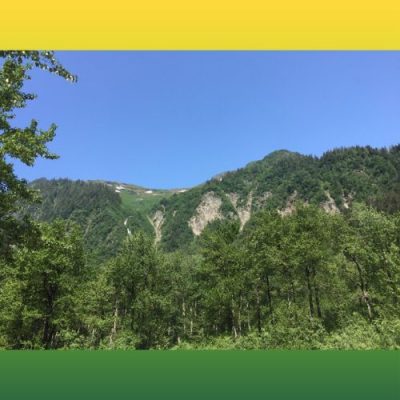 On the way to Gold Creek!
When you go to book your port excursions, you will notice that there are two gold panning adventures listed. One is simply the trip to Gold Creek to pan for gold. The second is that same adventure followed by a salmon bake. We opted to do the adventure with the salmon bake.
Inside the Crown and Fin
The meeting place for this adventure was in the British pub onboard, the Crown and Fin. While we waited for our instructions, we had fun looking around at the British theming. At night, this area is adults-only.

We left the ship and boarded a small bus for a trip away from the city and into the Alaskan wilderness. Once again, everywhere we turned was breathtakingly beautiful. During the drive, our tour guide, John Smith, who was dressed as an old prospector, told us a brief version of the history of Juneau. He also told of the hardships and challenges of being a gold prospector back in the late nineteenth century.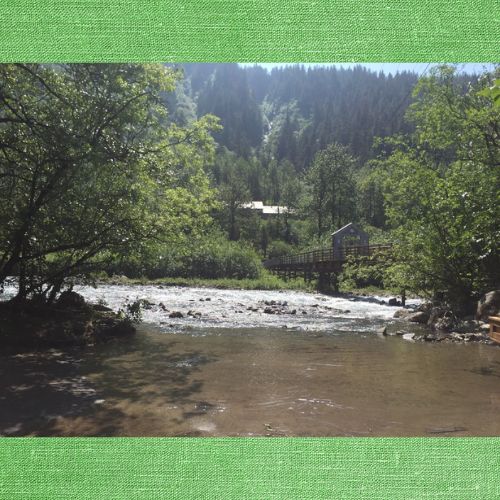 There's gold in that there creek!
Finally, we arrived at Gold Creek, and I challenge you to find a prettier place in which to pan for gold. The water was chilly, but the sun was shining brightly. Several people took off their shoes and socks and waded in the water during the gold panning.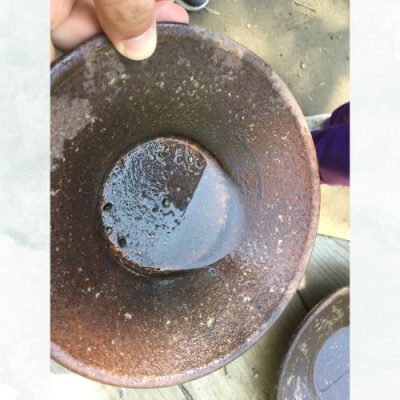 Yes, there are gold flakes in the pan!
I was very skeptical that we'd actually come away with any gold, but after following John's instructions exactly, we all wound up with gold flakes! John was quick to explain that nobody was getting rich off of what we found. "The real treasure here is spending this time with your family," he told us.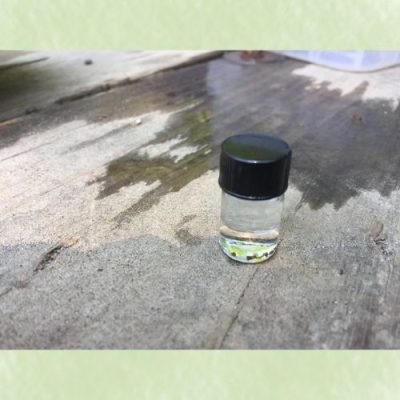 My gold!
He then demonstrated how to transfer our gold flakes into a vial so we could take it home. This gold panning process was painstakingly slow, but it was worth it. It was amazing to see a panful of muddy, grainy water slowly transform into a vial of crystal clear water with sparkling gold flakes inside.

One important note: We spent a good amount of time with wet, dirty hands, both from the creek and from the basins of standing water where we could wash our pans. There were no facilities nearby to wash your hands afterwards. Bring wipes!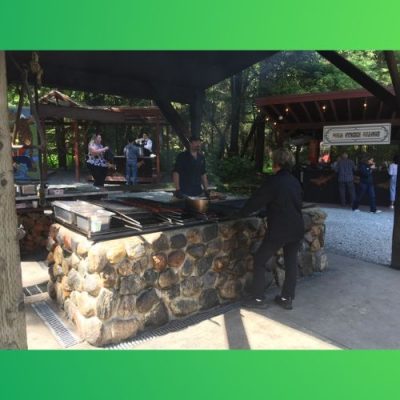 Salmon bake
Next, it was time to board the van and make our way to the salmon bake. As soon as we walked in, the aroma of salmon being cooked over a grill greeted us. There was also a station where you could load up on chowder.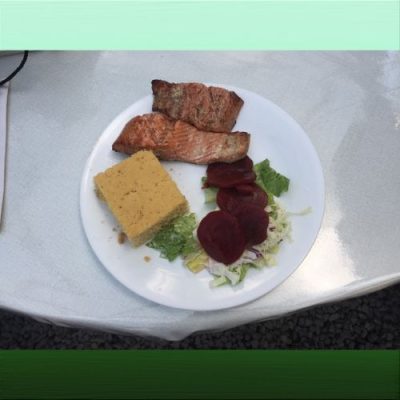 My plate after I visited the buffet
Nearby was a buffet where you could enjoy all the cornbread, Caesar salad, cole slaw, baked beans, beets and black olives as you'd like. A beverage area offered coffee, tea, hot cocoa, water and soft drinks.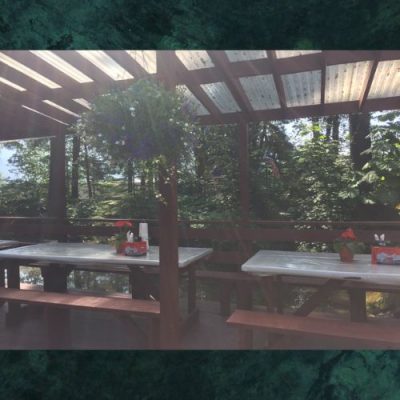 Seating area
There was ample seating outside, and every table was covered in case of inclement weather. Pretty flowers decorated the area. For dessert, you could help yourself to blueberry cake covered with a generous dusting of powdered sugar.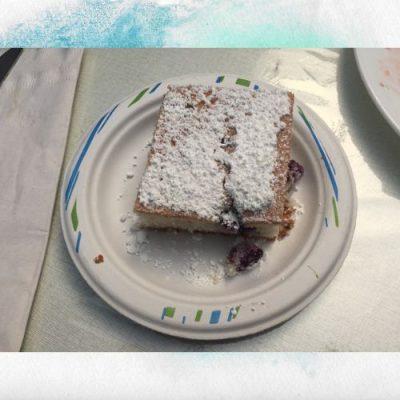 Blueberry Cake
I'm going to honest. If I had a chance to do this excursion again, I would skip the salmon bake. The salmon itself was very good, although I didn't care for the brown sugar glaze that was offered. The rest of the buffet was so-so. Overdressed Caesar salad, soggy cole slaw, cornbread that was fine but certainly not the best cornbread I've ever had in my life – even the blueberry cake was just okay. I would have much rather done the gold panning adventure and then returned to the ship to enjoy lunch at Cabanas or at a sit-down restaurant. I would have even preferred to eat at one of the fast food places on the ship or order room service since it would have cost less, as those options on the ship are included in the price of our cruise.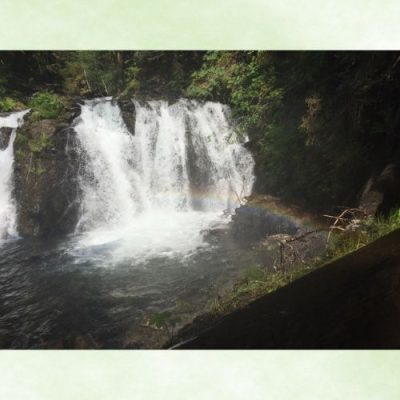 A rainbow stretched across the waterfall
After our meal we got to take a short walk uphill to visit yet another gorgeous waterfall. The incline was very gradual, but the rocks at the top were wet from the spray from the waterfall. You'll have to watch your step here. It amazed me how much cooler it was at the top near the waterfall!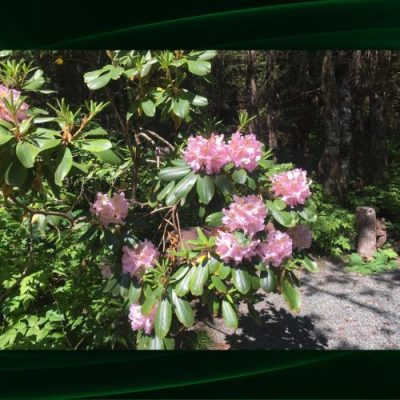 Wildflowers along the trail
There were also basins where we could practice our gold panning skills. This was simply not as interesting as doing it with our guide at the creek. The entire area was practically bursting with colorful wildflowers.

In short, I highly recommend the gold panning portion of this excursion and encourage you to book it. The salmon bake, in my opinion, was not worth the extra cost and should be skipped. Yes, we saw a beautiful waterfall, but there are plenty of other opportunities to see waterfalls during your Alaska cruise.
Did you like this article? Make sure to share it with your friends! Check below for easy ways to share!  
Want to visit a Disney Destination? Contact The Magic for Less Travel for more information and a free, no-obligation quote.
Incoming search terms:
https://www themouseforless com/blog_world/gold-panning-salmon-bake/
disneycruise gold panning review