This post may contains affiliate links for your convenience. If you make a purchase after clicking a link we may earn a small commission but it won't cost you a penny more! Read our full disclosure policy here.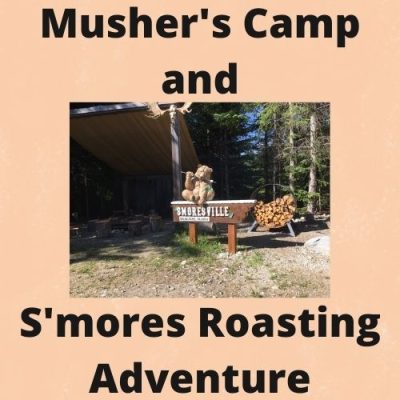 Skagway, Alaska
When my family and I looked at the possible shore excursions we could take during our cruise to Alaska onboard the Disney Wonder, one popped out at us right away: The Musher's Camp and S'mores Roasting Adventure! We were so happy that we were able to book this one.

This port adventure is in Skagway, which is a charming little town that reminded me immediately of the old TV show Northern Exposure. We did not see a moose walking down the street, and we learned on our port adventure that there aren't enough valleys for moose to herd here.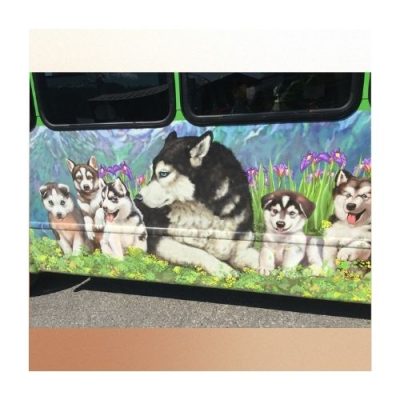 Our bus
For this port adventure, we met right outside the ship. A colorful bus arrived to take us into the Alaskan wilderness. During the bus ride, we learned a lot about Skagway. For example: This year, Skagway had the highest percentage of high school graduates in Alaska. 100% of the seniors graduated. That's right, all three of them. Our tour guide deadpanned, "The prom was awkward."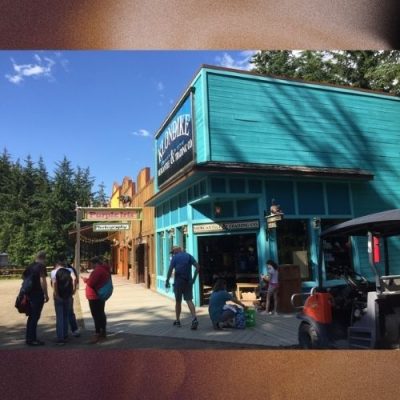 Gift shop
We arrived at the musher's camp and took a brief restroom break before gathering with our small group. The camp is surrounded by beautiful trees. And of course there is a gift shop. It was evident that this is a popular excursion for cruisers.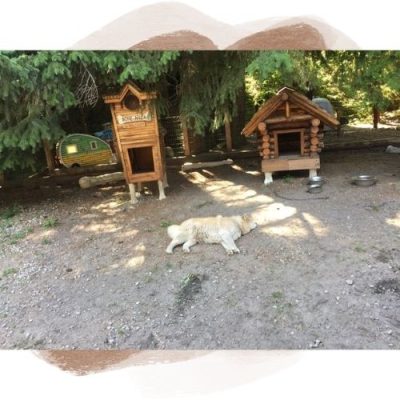 Dog enclosure
We were able to see the mature dogs as they relaxed in their enclosure. There were many humorous signs describing this area as a kind of educational camp for the dogs. We were guided to a small, covered area where a young man explained the history of dog-sledding.
Iditarod display
He showed us two dog sleds. One was an old-fashioned, traditional sled from the days when dog-sledding was the only viable means of transportation through Alaska in the winter months. Then he showed us a sleek, modern dog sled used in the Iditarod, the world-famous race.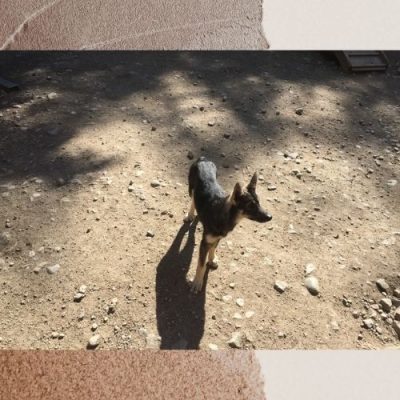 Meet Refried!
We moved on to visit the enclosure for the juvenile dogs. Our guide explained that most sledding dogs are mixed breeds. This particular litter were part Husky and part German shepherd. It was fun to see the dogs play with each other and run around the enclosure. One actually put his paws on top of the fence and licked my daughter's fingers! Incidentally, all the dogs were named after beans. We met Green Bean, Pinto Bean, Chili Bean…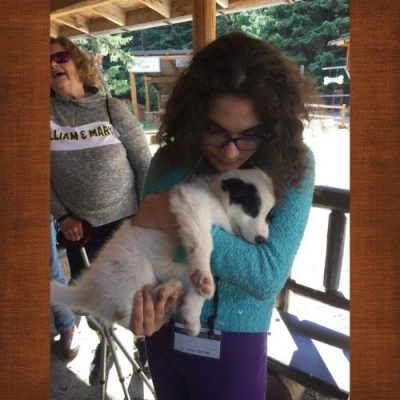 Husky puppy and friend
Our last stop was the highlight of the tour. We got to meet the three puppies: Ricky, Bobby and Rickie Sue. It was our pleasure and privilege to help socialize this puppies. As in, the tour guide handed us each a puppy to cuddle. It was an experience I'll never forget. We were given detailed instructions on how to hold them.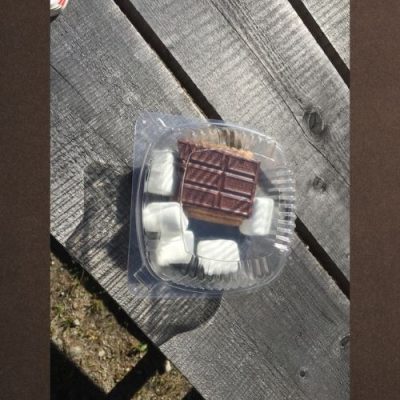 S'mores kit
After the joys of puppy cuddling, and the very difficult job of actually handing them back to the trainers, we were escorted to the s'mores area. There, we were each given a generous package of s'mores ingredients.
Ready to roast!
After roasting our marshmallows over the fire pit, we enjoyed our s'mores! Thankfully there were paper towels to clean ourselves up afterwards, because eating s'mores is a delightfully messy experience.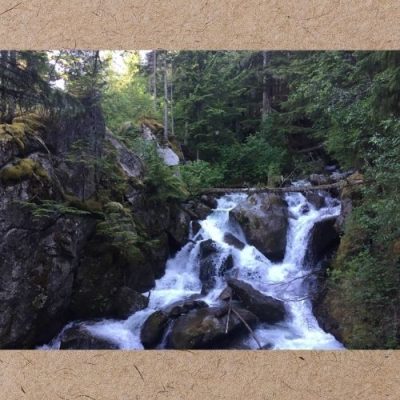 One of the many beautiful waterfalls in Alaska
Now there was time to explore our surroundings. The Disney Cruise Line website mentioned a "short hike" to visit a waterfall. It was more like a very short, leisurely stroll. The waterfall was gorgeous.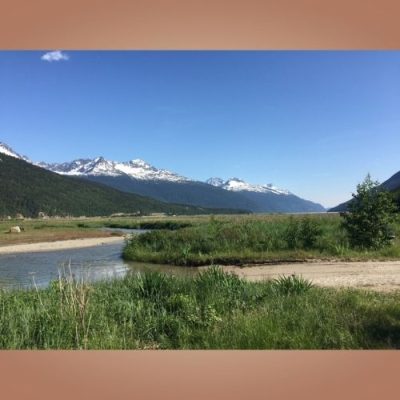 I have a feeling we're not in Los Angeles anymore…
Even the walk back to our bus was breathtaking. I've only ever lived in two places: New York and Los Angeles. And I can promise you, you cannot find views like this there. No matter where you turned, you got an amazing vista.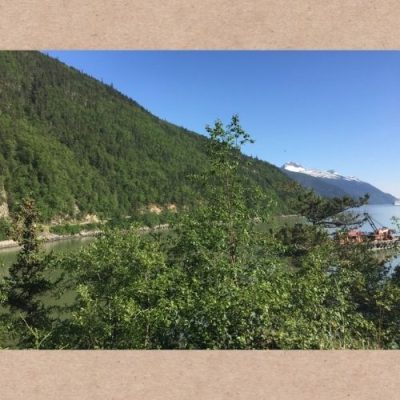 On the ride home
On the bus ride back to the port, we stopped for some more photos. There were so many wonderful places that we all wished we stopped more during the Musher's Camp and S'mores Roasting Adventure, but we needed to get back for our dinner seating.
In short, the Musher's Camp and S'mores Roasting Adventure was an experience my family will never forget. I highly recommend this port adventure.
Did you like this article? Make sure to share it with your friends! Check below for easy ways to share!  
Want to visit a Disney Destination? Contact The Magic for Less Travel for more information and a free, no-obligation quote.