Disney Princess – Royal Party
|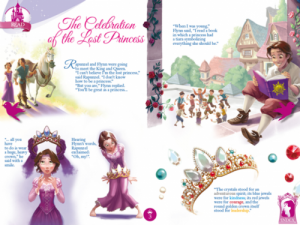 Disney Princess – Royal Party is not a new app, but it sure is a fun one!  There is a lot of princess fun rolled into this app for any princess in your family.  This app celebrates the addition of Rapunzel to the Disney Princess Family and starts with a special story about Rapunzel.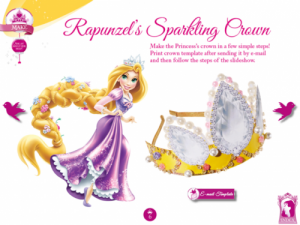 Then, there is a crown for your princess to make.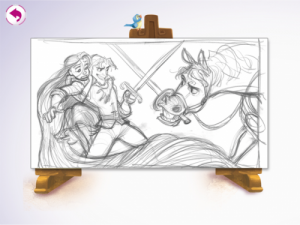 There are several pictures from the Tangled movie in various stages of production.  The detail is stunning!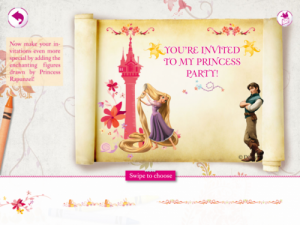 There is a blank invitation for your princess to personalize.  This page starts with the tower and a few flowers on it.  Then, there are options at the bottom to make the invitation her own.  The options include things like characters, birds, flowers, etc.  After she finishes the invitation, she can email it to her friends.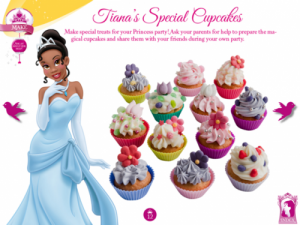 This app even has a recipe for your princess to make her own cupcakes, with your help, of course.  This recipe contains an ingredient list that is combined pictures and words, and it also has very detailed directions.  Just one warning:  The units of measurement for some of the ingredients is grams.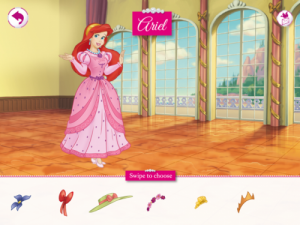 Next, your princess can help Cinderella, Snow White, Jasmine, Ariel, Aurora, and Belle get ready for the party.  Each princess has several outfits and accessories that can be used to make a fabulous party ensemble.  This is like virtual paper dolls.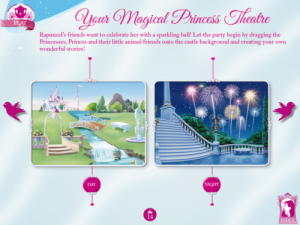 Finally, your princess can stage the party on two different backgrounds.  In the day background, she can add princesses and animals to the scene.  For the nighttime one, she can add princesses and princes to the scene.  The images come over quite large but can be made smaller by pinching them.
The Disney Princess – Royal Party app also contains the normal coloring pages and puzzles.  This app has LOTS of activities to keep your princess occupied  and would make a wonderful addition to your iPad during your holiday travels.  This is an iPad ONLY app.  The $4.99 price seems like a really great deal for all that is included in this app.
Disclaimer:  I received this app free of charge for the purpose of this review.  I received no other compensation from the makers of this app, nor was I required to give it a positive review.  There are affiliate links contained within this post.
Similar Posts: